---

---



Flight Experience Perth Flight Simulator
355 Newcastle Street, Northbridge. (08) 9228 8737
www.perth.flightexperience.com.au

Do your kids need things to do during the school holidays? How about flying a plane? Perth is home to Flight Experience, the original flight simulator entertainment that allows anyone to pilot a Boeing 737. Our state-of-the-art simulator features a fully enclosed cockpit, real instruments and systems, HD visuals, audio, and vibration, all of which creates the closest experience you can get to flying a plane without becoming an actual pilot. During the pre-flight briefing, your child will learn about the aircraft controls and procedures, as well as being introduced to the basic concepts of flight. Once inside the cockpit, a licensed pilot will serve as your child's instructor, guiding them through each step to ensure a successful take off, landing, and more. These school holiday specials are a great way to introduce your children to aviation while creating an inspiring experience they'll never forget!

School Holiday Deals
Junior Jet Flights (Ages 6 and above) — 20 mins — $59 (No Briefing)
30 Min Weekday Flight (18 and under) — $89
60 Min Weekday Flight (18 and under) — $139
60 Min Multi Flight (2 children, ages 6-18, +1 adult) — $169

Flying Start Program (11th, 12th, 18th, and 19th of July)
Flying Start is a unique and exhilarating excursion designed to put children in the Captain's seat of a Boeing 737. Through instruction, activities, and games, children will learn the basics of aviation, aeroplanes, and more in a fun and engaging environment. Each child will then have an opportunity to pilot our state-of-the-art simulator to experience what it's like to be a pilot. Groups are limited to 20 participants each so book quickly!

Flying Start (Grade K-2) 60 mins $ 20child (20 children)
July 4th, 5th & 11th 9.30am - 10.30am

Flying Start (Grade 3-6) 1h 45min $ 30/child (20 children)
July 5th, 11th & 12th 11am - 12.30am

Flying Start (Grade 7-9) 120 mins $ 45/child (20 children)
July 11th & 12th 2pm - 4pm
For ages kindy to adults




---

Spare Parts Puppet Theatre Puppetry Workshops
Fremantle
www.sppt.asn.au

Spare Parts Puppet Theatre has a range of Puppetry workshops available for children these School Holidays!
Both the one and two-day workshops even include a ticket to see our current show The Arrival!
We have workshops to suit all budding puppeteers, check out our website for more information
For ages 4 - 12 years




---

Little Urban Jungle
Perth Town Hall. 11th - 13th July 10am - 2pm. Cost: Free
www.facebook.com/littleurbanjungle

Gymnastics WA and Little Athletics WA are offering kids aged three to 12 the chance to experience some of the fun parts of their sports during the July School Holidays.
The free 'Little Urban Jungle' will be available at the Perth Town Hall from July 11-13 from 10am to 2pm each day.
For ages 3 - 12 years




---

STEMmates
Karrinyup and Riverton. 4th - 14th July.
www.stemmates.com.au

STEMmates is a local initiative that supports the Australian government's renewed focus on STEM education.

With today's economy and tomorrow's innovations being powered by Science, Technology, Engineering and Mathematics (STEM), we believe that learning should not be confined to the classroom.

STEMmates seeks to build, develop and engage kids with fundamental STEM concepts and principles outside the school setting through hands-on activity-based workshops that involve problem-solving, and gathering and evaluating evidence to make decisions.

We have 2 courses on offer for the July 2017 School Holidays and 4 courses available during school term 3.
For more information, visit stemmates.com.au/launch or call 1300 793 465.




---

MIndBuzz
Across Perth. Dates 3rd - 14th July 9am - 3pm. Cost: $67 full day.
www.mindbuzz.com

A day of Minecraft fun and learning at Mindbuzz Camp. If you are 6-14 and love Minecraft then this is for you. We will learn, play and connect with others on multiple servers, learning new skills, Mindbuzz only server when you go home so the learning and fun never stops.
For ages 6 - 14 years




---

Leisurelife Centre, Victoria Park
Victoria Park. 3rd - 14th July. 8am - 6pm. $67 per day. $325 per week.
www.victoriapark.wa.gov.au

Keep your children active and entertained these July school holidays with the Just 4 Kids program at the Leisurelife Centre in East Victoria Park.
It's suitable for children aged between six to 14 years and this time around we have amazing excursions to, Perth Zoo, Reading Cinemas Belmont, Lazer Blaze and Tropical Twist, as well as fun in-house activities including inflatable day, Master Chef cooking, scavenger hunts and more!
Want to join in the fun? Click here to view the full timetable, or call Leisurelife on 9373 5450.
For ages 6 - 14 years




---

UWA Kids Holiday Program, University of Western Australia
Monday 3rd - Friday 14th July. Weekdays 8am - 5pm
www.sport.uwa.edu.au

Send your kids to UWA these school holidays! An action-packed program that aims to encourage kids to have a go, get out there and get moving. With the focus on participation and having a good time, this program is excellent for introducing kids to new sports in a friendly, non-competitive environment, and for keeping them active and happy during the school holidays. Want to claim your Child Care Benefit? We have that covered too!
For ages 5 - 13 years




---






Scitech School Holiday Programs
Scitech, City West, Perth. For more information contact the bookings team on 9215 0740 or email [email protected]
www.scitech.org.au

Ocean Biodiversity. 1st July 10am -11.30am & 12.30pm - 2pm Cost $20 members and $23 non members
Discover the plants that grow on the plants and the tiny invertebrates that live therein. Angela Rossen, artist in residence from the Oceans Institute at UWA, will present this workshop about discovering and documenting nature.
Bring your smart phone or tablet (or you can use ours).
For ages 7 - 9 & 10 - 15 years

Archaeological Dig 3rd July 10.30am - 11.30am. Cost $28 members and $30 non members
Do you dig Archaeology? Join us and our guests from Archae Aus for a unique hands-on archaeological investigation that includes excavation, sieving, analysis and interpretation of artefacts from the past.
For ages 8 - 12 years

Build your own App with Code Camp 4th July 10am - 12pm & 1pm - 3pm. Cost $15 members and $18 non members
Code Camp are visiting Scitech to show you how to build your own app which will work across platforms including iPhones, iPads, Android devices and computers. Be creative with technology, create products, develop logical thinking, problem solving skills, and gain an understanding of computational thinking.
For ages 7 - 9 and 10 - 13 years

Volcanic Geology. 5th & 6th July 10am - 11.00am, 12pm - 1.00pm & 2pm - 3.00pm. Cost $12 members and $15 non members
Calling all junior volcanologists! In this workshop you will learn about the amazing rocks that are formed by volcanoes and then investigate their properties. You will also get to take home your very own volcanic rock.
For ages 4 - 8 years

Birds of Prey. 7th July 10am - 11.30am &12pm - 1.30pm. Cost $25 members and $28 non members
Back by popular demand! Get up close and personal to some amazing birds of prey. Learn all about what these birds eat by dissecting a pellet. Be sure to bring your camera for a unique photo opportunity.
For ages 6 - 16 years

Rocks Rock! 8th & 10th July 10am - 11am, 12pm - 1pm & 2pm - 3pm. Cost $15 members and $18 non members
From rocks that float to rocks that fluoresce, in this workshop you will investigate various rocks and minerals and their properties. You will also get to take a geode home with you to start your own rock collection.
For ages 9 - 11 years

impossible Illusions. 11th & 12th July 10am - 11.00am, 12pm - 1.00pm & 2pm - 3.00pm. Cost $12 members and $15 non members
Have you ever wanted to make an object hover in mid-air? How about a never ending block of chocolate? Come and experiment with a range of surprising and mind-bending perceptual, physical and mathematical illusions. Learn how to make your own crazy illusions to take home.
For ages 7 - 12 years

Out and About - Retro Computer Games at The Nostalgia Box 11th July. 6pm - 7.30pm Cost $12 member $13 non members
Come and play classic video games like Pong and Space Invaders at The Nostalgia Box (Australia's first interactive Video Game Console Museum). Go behind the scenes and uncover the making of present-day consoles as you read the stories of each console.
For ages 8+ years

Science of Toys 13th & 14th July 10am - 11.00am, 12pm - 1.00pm & 2pm - 3.00pm. Cost $12 members and $15 non members
Back by popular demand! Learn about the physics behind the functioning of kinetic toys and then build two toys of your own to take home.
For ages 4 - 8 years

Bioacoustic Researchers 15th July 10am - 11.00am, 11.30am - 12.30pm & 1.30pm - 2.30pm. Cost $12 members and $15 non members
Will you be the next Chris Watson, a sound recordist travelling the world and working for David Attenborough? In this workshop you will use a hydrophone (underwater microphone), field sound recorders and sound editing software. Dr Claire, our resident scientist and sound artist, will show you how to identify Cane Toads from field sound recordings, how to tell the temperature from crickets, and how researchers use hydrophones to study marine animals.
For ages 9 - 16 years




---

Whiteman Park School Holiday Activities
Bookings essential for all activities. Phone (08) 9209 6000 Mon- Fri 9am - 3pm to book.
www.whitemanpark.com.au

Snakes Alive. Tuesday 4th July. 12.30pm - 1.30pm. Cost $6 per child
Get up close and personal with Western Australia's fascinating lizards and snakes. You'll be able to impress your friends with your knowledge of these amazing creatures after this slithery encounter!

Earth Water Workshop. Wednesday 12th July 11.30am - 12.30pm. $10 per child.
The Earth is made up of so many amazing things! This fun and engaging hands on program involves making water coloured earth circles that you can take home. Presented by Einstein's Top Secret Science.

Trees and Other Hidden Treasures. Thursday 13th July 11.30am - 12.30am. Cost $6 per child.
Explore the natural hidden treasures of Whiteman Park during this interactive session. Learn about the wonderful natural environment that is within Whiteman Park.

---

Kids Sports Club, HBF Stadium
Mount Claremont
www.hbfstadium.com.au

Keep your kids active these school holidays with the Kids Sports Club, offering a range of action packed activities under the guidance of qualified, experienced and fun instructors! Your kids will receive guest coaching sessions, spend time on our giant pool inflatable and dive towers plus join team building activities among much more. Visit the website to view the complete schedule of activities and enrol now!
For ages 5 - 12 years

---

West Perth Football District AFL School Holiday Program
www.westperthfc.com.au

Get the kids kicking a footy these school holidays with our AFL school holiday clinics. Open to boys and girls aged Pre-Primary to Year 6. Register soon as places are limited.

Registrations are now open for our holiday clinics for Claremont, Subiaco and West Perth. We have 3 clinics available for the July school holidays.

Subiaco– Monday 3 July @ Kingsway Sporting Complex, 8:30am til 12:30pm - $75.00
Claremont – Monday 10 July @ Claremont Oval, 9:00am til 3:00pm - $100.00
West Perth– Wednesday 12 July @ HBF Arena Joondalup, 8:30am til 12:30pm - $75.00

Full Coaching and Instructions provided – all participants will receive a Junior Supporters Pack from the clinic they attend.

To register – please click the links above or contact Kathy Monck on 9300 3611.
For ages Pre-Primary to Year 6




---

City Summit Kids 3 Day Climbing Course
Malaga. 3rd - 5th or 10th - 12th July. Cost: $170 per student. Discounted family rate $120 per child.
www.citysummit.com.au

Book your child in for a climbing course these school holidays where they can build their confidence, learn about safety and make new friends. Our 3 day course only runs during the school holidays and will teach your child valuable skills in team work, how to navigate climbing routes, bouldering techniques and competency with belaying. The class runs from 11am to 3pm each day and concludes on the final day with a pizza party. Each child will be awarded a Certificate of Achievement at the conclusion of the course. Course cost is $150 and includes all day entry for the 3 days, gear hire and pizza on the final day.
For ages 6 +




---

Little Kickers School Holiday Program
4th, 6th 11th & 13th July Perth Modern School 8.30am - 12.30pm. Cost $50 one day, $90 2 days, $130 3 days and $160 for all 4 days. Hillcrest Primary School Bayswater. 3rd & 4th July. 9am - 1pm. 1 session $47, 2 sessions $90.
www.littlekickers.com.au

Come and join our awesome new holiday program! Heaps of games and activities. Meet new friends, learn soccer skills and have fun this school holidays with Little Kickers.

Little Kickers normal classes will be also running at their usual locations. See website for more details.
For ages 3.5 - 7 years




---

---

Kids Wonderland


Stirling. 5th - 9th July. 8am - 11am, 12pm - 3pm & 3.45pm - 6.45pm. Cost $25 kids, $12 adults. Children under 2 free


www.kidswonderland.com.au



GET UP CLOSE AND PERSONAL WITH A GIANT T-REX AT KIDS WONDERLAND™ 2017 - THE BEST VALUE DAY OUT FOR PERTH FAMILIES

Kids Wonderland is back in 2017 for its 4th year during the July school holidays right here in Perth! Experience the magic and wonder of unlimited show rides, interactive gaming, fabulous stage shows and educational exhibits under the one roof to create the ultimate Kids Wonderland!

Following on from previous sell out years we have expanded our horizons to bring you even more exciting acts to make our Wonderland bigger and better for kids of all ages. This will be an event to remember!

This year you can experience your very own walking with Giant Dinosaurs adventure! Dig for ancient fossils and come face to face with a 16 metre T-Rex. That's the size of two school buses!
For the thrill seekers out there we are introducing the Wave Swinger, the ultimate fun ride where the sky's the limit. Plus all of Perth's best carnival rides that you can ride again and again, parents included!

Don't worry though we are bringing back heaps of Kids Wonderland favourites such as the mix94.5 Kids Silent Disco, gaming galore for the tech savvy in the Gaming Zone and the Bricks 4 Kidz interactive LEGO Land where kids can build there own theme park.

Be marvelled by Pierre Ulric Mysteries Show, get lost in the wild with African Oz Drum 'n' Dance and run away with the circus at Mr Ricochets' high energy comedy show.

Become a famous pop star in our Kids Wonderland music videos as you dance your way into the spotlight with Famous Sharron and her groovy tunes.

We didn't forget about the superstar parents! Come down and relax in our City of Stirling Parents Oasis.
Kids Wonderland™ proudly supports our Official Charity Partner for 2017 Perth Children's Hospital Foundation.

Kids Wonderland™ is a specialty event designed for kids from 2 to 12 years old.



---

The Funarium


7th - 9th July Claremont Showgrounds. Cost $32.50 kids, $15 Adults. Family pass $85.


www.thefunarium.com.au




The Funarium at Claremont Showgrounds from 7-9 July is Perth's newest school holiday event! Ages 4-12 can have a blast with 7 hours of unlimited activities in 10 zones. Fly down the 80m zip line from the top of four sea containers; meet My Kitchen Rules teams in The Cookhouse, get up close to a snake, flying fox and even a real SHARK; jump in the RAC helicopter for the RAC Rescue Experience; take on a 350m obstacle course…there are over 40 activities to have a go at! Ditch the rides and show bags…The Funarium merges a ton of fun with opportunities for kids to use their imagination, creativity and thinking caps! Tickets are selling fast at www.thefunarium.com.au – don't miss out.




---

Lights by Dreamworks
23rd June - 23rd July. Crown Pyramid. Cost $35.64 Adults and $27.40 Children. $117.16 Family pass.
www.dreamworkslights.com.au

Shrek and Kung-Fu Panda will light up Crown Pyramid in June and July this year with some of DreamWorks Animation's best known characters in a large-scale lantern experience. Lights by DreamWorks is an interactive, walkthrough experience for all ages, who will marvel at more than 100 of DreamWorks' characters brought to life.

Modelled on the traditional Chinese Lantern Festival, Lights by DreamWorks features huge illuminated figures familiar to the fans of the Shrek, Kung Fu Panda, How to Train Your Dragon and Madagascar movies. Visitors to the exhibition will also meet the stars and be treated to a variety of scenographic pieces, LED furnishings, themed technology and learning zones, children's rides and an animatronic dragon.

Tickets available now via Ticketmaster




---

The Brickman -Wonders of the World
Perth Convention and Exhibition Centre. 22nd - 30th July. Tickets from $20.
www.ticketek.com.au

An interactive LEGO® Exhibition is coming to the Perth Convention and Exhibition Centre these school holidays.
With tickets starting from $20* you can visit the Empire State Building complete with King Kong, the Arc De Triomphe, the Great Wall of China and plenty of other world famous landmarks at the Brickman Wonders of the World Exhibition. Learn more about each attraction – real life and LEGO® life and put your own building skills to the test in the master builders zones and help with some of the model making.
Providing hours of fun for the whole family book now at Ticketek.
$20* tickets available on weekday afternoon sessions from 1:30pm. Service and Handling fees apply.




---

City of Perth Winter Arts Season
1 June to 31 August
www.visitperthcity.com

This year the City of Perth's Winter Arts Season will see a jam-packed July school holiday calendar filled with craft, colour and free immersive fun.

From 1 to 16 July,Bring the children along to enjoy the novelty of roller skating in the heart of the City at Winter Rollerland. Suitable for children aged 3 to 12, this is the perfect school holiday activity. Free tickets will be released on 26 June and 3 July. Get in quick as there are a limited number of family skate sessions available on Friday evenings, as well as some big kid sessions on the Thursday evenings. See https://www.visitperthcity.com/events/winter-rollerland for information on times.

In celebration of winter's colours and fond childhood memories, bring the kids down to see the Perth Pinwheels featured in the gardens outside of Council House on 7 July. You can also keep an eye out overhead for a canopy of colourful umbrellas to really open those little eyes wide.

As part of the Winter Arts Season Kids' Art Competition, view the work of Perth's own budding artists on the 15 and 16 July at the Northbridge Piazza from 10am to 2pm. Plus there's 60 winter wine and dine offers at more than 30 venues complementing the arts in every corner of the City. At Ivy and Jack, two kids eat free with every dining adult from 1 to 17 July (conditions apply).

For a full list of events and offers, see visitperthcity.com or follow @CityofPerth. Don't forget to use our official hashtags: #EmbracetheElements and #WinterArtsSeason.
---




---

Art Galley of WA
Perth Cultural Centre.
www.artgallerywa.gov.au

Visit AGWA in July school holidays and celebrate the SNEAKERHEADS season. Join the Education Team and put together your own custom decorated cardboard sneaker and add it to our display.
The SNEAKERHEADS season runs April - September with a look at WA's own sneakerheads. In the lead-up to the opening of the major international exhibition, The Rise of Sneaker Culture in May, we're bringing local collections out of the closet and into the public realm of the Gallery. On display are sneaker showcases that pay homage to the passion, knowledge and pride of West-side collectors.
Paper Sneaker Activity 11am - 4pm 3rd, 5th, 6th and 7th July. Gold coin donation. Suitable for ages 6 and over.

---

Mandurah Cruises
73 Mandurah Terrace, Mandurah.
www.mandurahcruises.com.au

These July school holidays, Kids Cruise FREE* (Monday to Thursday) on our 1 Hour Dolphin & Scenic Canal Cruises. Departing hourly 11am to 3pm, learn about Mandurah's playful dolphins and extraordinary wildlife. Cruise through luxurious canals framed by magnificent mansions, discover historic landmarks and pioneer sites and visit the expansion of internationally recognised RAMSAR listed wetlands. Plus, enjoy a delicious, fresh, fish & chips lunch option for just $12pp and FREE extra half hour of cruising on board the 12pm and 1pm cruises. We only operate on the calm, inland waterways and our vessels are fully enclosed so that rain, hail or shine, it is always perfect weather for cruising.* Conditions apply – For more information and to book now go to mandurahcruises.com.au/kids-cruise-free




---

Inflatable World - Joondalup
Bouncers Sports Centre - 4 Eclar Lane, Joondalup
www.inflatableworld.com.au

It's all about having fun, so bring the whole family and bounce on in to Inflatable World. It's not just for the kids - we encourage the parents to have fun with their children.
We cater for large groups, including Birthday Parties, School trips, School Holiday Programs, Corporate events, Christmas Parties, or just a group of friends.
Bounce on In!!




---

Trees Adventure
Dwellingup.
www.treesadventure.com.au

Perth's First Tree Ropes course is calling you! These school holidays get the kids out of the house and up into the pine trees of Lane Poole Reserve! Trees Adventure Lane Poole Park opened in Christmas 2015 in Dwellingup. With over 2 hours of fun in the trees, the courses range from easy courses to adventurous ones, offering a course for all ages from 4 years old and up. Bookings are essential. Please see website for pricing and supervision requirements.
For ages 4+ years




---

The Maze, Home of Outback Splash
Bullsbrook.
www.themaze.com.au

Reach speeds of over 10 metres per second and experience the thrill of The Plummet! Standing over 10 meters high with a 7 metre drop… The Maze, home out Outback Splash is ecstatic to announce that this school holidays we will be launching a brand new inflatable slide, The Plummet. You will be entertained for hours! Visit www.themaze.com.aufor current opening hours and ticket prices.




---

Scitech
Who dunnit, City West, Perth
www.scitech.org.au

The crime scene is a zoo, a security guard has been shot and a prized white rhino has been stolen. Can you help solve this crime?

Armed with a crime file, Whodunit? allows visitors to use forensic science such as finger-printing, chromatography, autopsies, footprints and DNA samples to gather evidence and solve this murder mystery.




---

AQWA
Hillarys Boat Harbour
www.aqwa.com.au

Visit AQWA in July for Shark Month and meet the next generation! AQWA has just welcomed 7 new juvenile sharks to their shark squad, including two species never before seen at the aquarium. Discover their quickly talents and unique features, like which shark is a nervous nelly around people and which can dive to over 400m! You can also take a bite out of some awesome free kids crafts, shark featurettes in the theatre and bonus guide talks every day. Plus on Shark Awareness Day July 14 kids can dig for shark teeth in AQWA's special SHARKaeologist activity. Whatever they unearth, they get to take home! For kids aged 7-12 seeking a true adventure, why not have a sleepover with the sharks? There's a special Shark Sleepover being held for Shark Awareness Day, on Friday July 14! For a full calendar of events at AQWA in July visit www.aqwa.com.au




---




Revolutions Transport Museum
Bricks on the Move 10am - 4pm Cost: $1 per child
www.whitemanpark.com.au

Get inventive at our LEGO® and DUPLO® creative stations and design a vehicle of the future. Go hunting for the hidden Mini figures around the Museum or try the "I Spy" challenge at the Perth Railway Station exhibit.




---

Aviation and Heritage Museum


Bullcreek




www.raafawa.org.au





The Aviation Heritage Museum provides a unique museum experience of civilian and military aviation through its extraordinary aviation displays, helpful guides and special tours. The Museum's talented volunteers have designed, donated and built a truly amazing array of aviation displays that include 30 aircraft and thousands of artefacts. From the helpful gift shop attendants to the meticulous restorers, the Museum's hundreds of volunteers have truly built one of the most unique museums in the Southern Hemisphere or even the World.




The Royal Australian Air Force Association along with community assistance from sponsors, visitors, and friends of the Museum makes the Museum one of the top self funded Museums in Australia.




---

Xtreme Ice Arena
Mirrabooka
www.xtremeice.com.au

This school holidays we are PACKED full of awesome fun for the whole family. We have free ice skating lessons included with the entry price Monday - Friday 10am - 12pm, followed by our extremely popular build a snowman sessions, Rugs on Ice and Bumper Cars on Ice. View our school holiday session times here.




---

BOUNCE inc
Cannington.
www.bounceinc.com.au


BOUNCE is a massive, air-conditioned indoor trampoline park, all about jumping high and landing soft & safe. BOUNCE takes the rush of getting airborne and adds a bunch of new dimensions, including:The Free Jump Arena
Over 50 interconnected trampolines incorporating a series of longer tumble tracks and angled banked walls, where you can work on your own routine or just jump around the oversized playground




---
---

Sorrento Quay Hillarys Harbour
www.winterworld.com.au/hillarys

It's time to put on your winter woollies, get out into the elements and experience the true magic of winter! Winterworld is this July holiday's most unique experience with its wide range of activities for the young and young at heart.

Winterworld's ice skating rink will sit over the water on the Sorrento Quay Boardwalk Amphitheatre – ocean views on one side and a cosy, covered family area on the other, with multiple delicious food and beverage options. Many local businesses are offering winter specials, so why not make a full day/night of it! The Amphitheatre protects you from the elements while skate until the stars and over the ocean – this is what dreams are made of!

Skating sessions kick off at 8:30am every day, with specially designed sessions to nurture the little skaters amongst us, custom made double bladed ice skates perfect for little feet and friendly penguin skating aids.

This year Winterworld Australia is partnering with Sorrento Quay Boardwalk to extend the winter fun throughout the centre. Activities will include custom designed winter inspired shop windows, a snow swing, winter fairies and loads more winter fun!

Winterworld Hillarys is proudly presented by Sorrento Quay Boardwalk.
More info and tickets available at http://bit.ly/WinterWorldHillarys




---

Cockburn Gateway
www.cockburngateway.com.au

Transform your School Holidays at Cockburn Gateway.
Monday 3rd July – Friday 14th July, 11am until 2pm daily

FREE entry into the Transformers Immersive Zone:
- Transformers Head to Head
- Movie Trailers and Games
- NERF Blaster Target Practice
- Mask Making
- Trace your own Transformer; and
- Photo opportunities

PLUS, sign up to be a Kid's Club Member during these July School Holidays to go in the draw to WIN the ultimate Transformers prize pack!

Visit cockburngateway.com.au for more information or contact the Information Desk on 9498 5574 for any enquiries.




---

IKEA
www.ikea.com.au

There's always plenty of free activities for the kids, including the Kids' Academy with fun activities from 9-11am every Mon-Fri these July school holidays. Be sure to check our website and Facebook page to see what's on.

Feeling hungry? Kids eat for only $1.50 from 5pm on weekdays at the IKEA Perth Restaurant. That's any kids hot meal, normally $2.95.

---





Livingston Market Place
www.livingstonmarketplace.com.au

Terrarium Making. 6th - 8th July.
We're celebrating Winter with warm and toasty activities in July. Make your own indoor garden and get some green into your life with our terrarium making workshops!
Join Renee from Leaf and Moss where she will be hosting a 45 minute workshop on how to build your own terrarium outside Wizard Pharmacy.
Plus every attendee will get their own to take away!
Bookings are essential. Kids only, adults are welcome to supervise and watch however. 15 spots available per session.

Marshmallow Making. 13th - 15th July
We're celebrating Winter with warm and toasty activities in July. What better way to keep warm than to make your own marshmallows for hot chocolate?
Join Shenay from Little Polkadot Pantry for a marshmallow making demonstration. She will be hosting a 30 minute marshmallow making demonstration in a kid friendly flavour outside Wizard Pharmacy.
Plus every attendee will get a sample to take away!
Bookings are essential. Kids only, adults are welcome to supervise and watch however. 20 spots available per session.

---

Maddington Central
www.maddingtoncentral.com.au

City of Gosnells Term Program Activities Showcase. 6th July
The City of Gosnells will be in centre on Thursday 6th to showcase their term program activities available to you!
For ages 4-12, they'll be running mini workshops of circus skills, mini golf, balloon tennis, badminton and more!
For ages 3-5 there will be 'explore and learn' activities.

Hip Hop Lessons 6th - 8th July
The Stage Key Company is holding some hip hop lessons free in centre! Book for your chance to learn some moves, free!




---

Warwick Grove
www.warwickgrove.com.au

Calling all superstar superheroes for Free Rock N Toddle Sessions through the July School Holidays

Monday 3rd – 7th July
10am – 2pm
Located in Centre Court




---

Floreat Forum
www.floreatforum.com.au

Come to Floreat Forum's Witchcraft & Wizardry School Holiday Activities
We're casting a spell on Floreat Forum these school holidays. For special witches and wizards we're running:

FREE Magical Workshops
When: Thursday 6 July – Saturday 8 July, 10am – 1pm daily
Where: Near Amcal Pharmacy
Cost: FREE

Invisible Marauder's Maps
When: Thursday 13 July – Saturday 15 July, 10am – 1pm daily
Where: Near Amcal Pharmacy
Cost: FREE

Kids Zone
Our pop up kids zone is open all winter long! Take a photo in the pop up Kids Zone during the July school holidays and tag us on Facebook or Instagram to go in the draw to win a magical kids pack!
When: 19 June – 31 August
Where: Opposite NAB
Cost: FREE

Plus take advantage of special offers during the school holidays click here




---

Westfield Whitford City
www.westfield.com.au/whitfordcity

Construction Kids Play Zone. 3rd - 16th July. 11am - 2pm
Strap on your construction hat because it's time for some hard-working fun! Join us from Monday 3 - Sunday 16 July at our Construction Kids Play Zone.
Week One (Monday 3 - Sunday 9 July): Personalise your very own hard hat!
Week Two (Monday 10 - Sunday 16 July): Personalise your very own toolbox and tools!
PLUS find out how you could WIN a Disney�Pixar "Cars 3" Prize Pack by playing the Construction Kids Traffic Cone Ring Toss! Click here to find out more.

Minion Mayhem. 3rd - 9th July 9am - 5.30pm
These School Holidays, five sneaky Minions from "Despicable Me 3" will be hiding throughout Westfield Whitford City. Find them all for your chance to WIN a despicable prize pack each day, including tickets to see the film!




---

Stockland Riverton
www.stockland.com.au/riverton

Sand Sculpture at Stockland Riverton
Stockland Riverton are proud to present Sandstorm these school holidays. Join us as we watch Peter Redmond from Sandstorm create a magnificent 10tonne sand sculpture in Centre right in front of your eyes!

This nine day event is not to be missed and will include two sessions a day to speak to the artist and learn about sand sculpting.
Installation: 3rd – 11th July 9am – 5pm daily
Meet the Artist: 3rd – 11th July 11am and 2pm daily
This is a free event and bookings are not required.

School Holidays- Sandsation
Enjoy our sand sculpture and create an artwork of your own with our Sandsation workshop for kids.
Monday 3rd – Friday 7th July
Monday 10th – Friday 14th July 10am – 3pm daily


This is a free activity. Places are limited and bookings can be made in person at the activity zone. Activity times are: 10am, 11am, 12pm and 2pm

Share and WIN- Share your photos with the sand sculpture on our Facebook page for your chance to WIN one of five $100 Stockland Gift Cards. Visit our Facebook page for more information. Competition open from 3rd – 21st July.




---




Stockland Bullcreek
www.stockland.com.au/bullcreek

Let the kids imagination run wild with our free NAIDOC themed craft activites. Children will have the opportunity to decorate and take home their own designed Boomerang or school book.
Time: 10am - 1pm
Day: 3rd - 7th July (Mon - Fri)
Bookings not required.

Join us for our FREE Gardening Workshop for the second week of the July School Holidays. Children will learn how to care for plants, design their own pot and plant their own seedling to watch grow at home.
Time: 10am - 1pm
Dates: 10th - 14th July (Mon - Fri)
Bookings not required. However, there is a limit of 100 children each day.




---

---

Spare Parts Puppet Theatre - The Arrival
Dolphin Theatre, UWA. 1st - 15th July
www.sppt.asn.au

Follow Aki as he starts life amidst the extraordinary inhabitants of this new land.
Will he find a place to live? Will he find a job and make friends? Most of all, will Aki ever see his family again?
The absence of words not only makes this story perfect for puppetry but emphasises the isolation experienced by many people arriving in a new place.
The Arrival is a fusion of Tan's beautiful and surreal illustrations with exquisite puppetry, haunting music and fine acting. This groundbreaking production blurs the boundaries of performance, digital animation and puppetry. This is an emotionally moving piece that will touch anyone who has bid farewell to a loved one.

---




---

Discovery Holiday Parks Bunbury Village

World-class wine, pristine beaches and magnificent forests in a single day? It's all possible when you stay with us at Discovery Parks – Bunbury Village, just over two hours from Perth and 30 minutes from Busselton. Whether you prefer a cabin, caravan or camping, our holiday park is right at the gateway to Australia's incredible South West.
Meet friendly bottlenose dolphins at Koombana Bay or the Dolphin Discovery Centre. Enjoy swimming, fishing, snorkelling, diving and crabbing. Wander through the ancient Leschenault Estuary or Beedelup National Park, or discover the delights of the Ferguson Valley for premium food and wine.

Park facilities
*Jumping Pillow *tennis/basketball court *mini golf *pedal karts *playground
*kids club (seasonal) *swimming pool *Games Room *water slide (seasonal)
*Pets welcome sites only




---

Discovery Holiday Parks Koombana Bay

Life by the water – there's nothing quite like it. Perched at the edge of Koombana Bay, where long white beaches and sandy bay inlets stretch into the distance, is Discovery Parks – Koombana Bay, the perfect holiday park for your south west coast adventures. It's just a five minute stroll from your cabin, caravan or camping site to the idyllic town centre. Tour and taste your way through the acclaimed Geographe wine region or enjoy the unspoilt beauty of Big Swamp Wildlife Park and Leschenault boardwalk and biking trails.

Park facilities
*Jumping Pillow *tennis court *swimming pool *walking/biking riding paths *pedal karts *Games room *2 minutes from the Dolphin Discovery Centre *Kids club (seasonal)




---

Discovery Holiday Parks Woodman Point

Just 13 minutes from the charm and bustle of Fremantle is one of our most popular holiday parks, Discovery Parks – Woodman Point. Choose to stay in one of our self-contained cabins or powered sites located within Woodman Point Nature Reserve.
Explore the endless delights of "Freo" including the Fremantle market, Maritime museum, Fremantle Prison or wonder the cappuccino strip at leisure.

Park facilities
*Jumping Pillow *Water slide (seasonal) *Swimming Pool *Pedal Karts *Electric Bikes *Playground *Kids Club (seasonal) *walking/bike riding paths *Games room




---
Buggybuddys Top 100 School Holiday Activities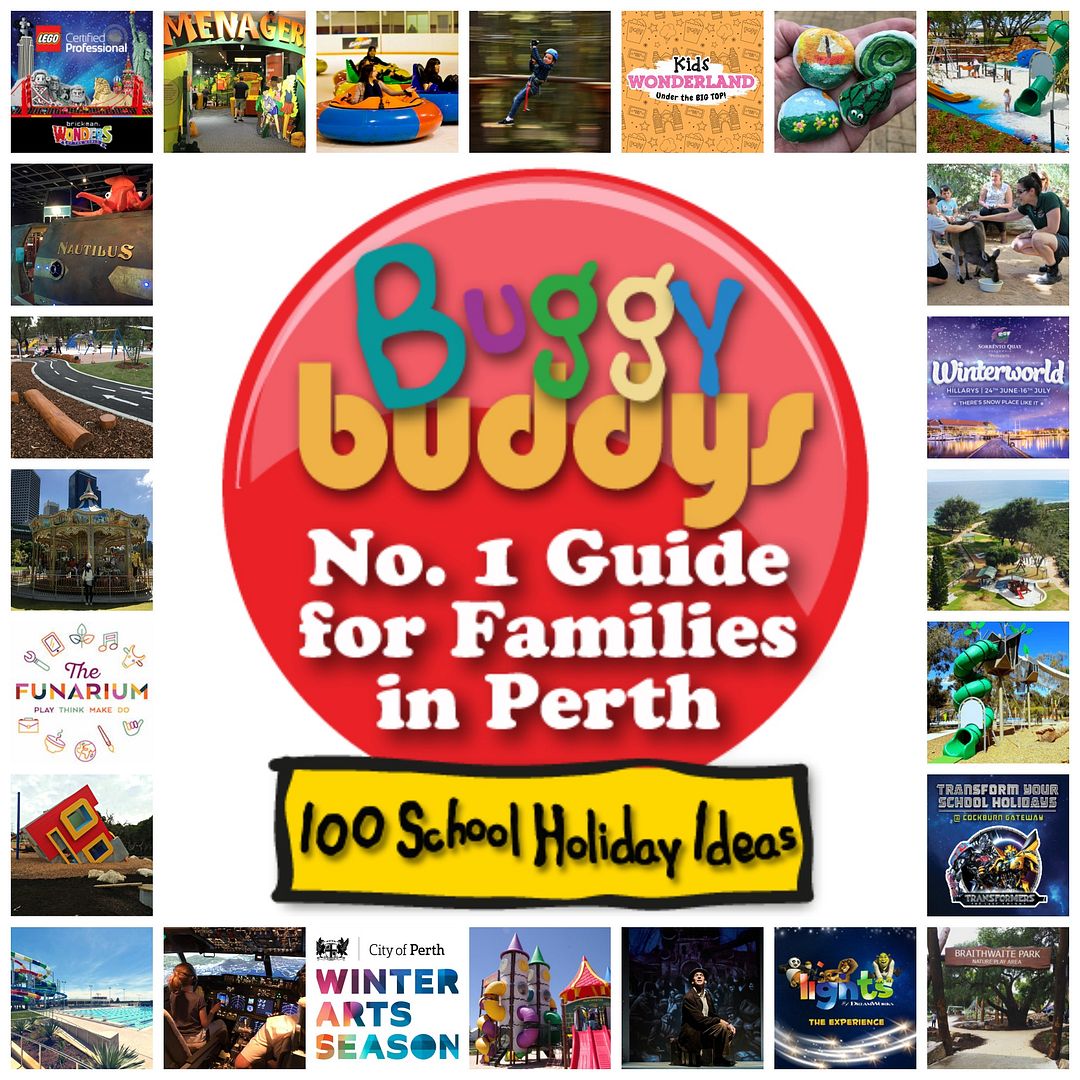 ---

1.

Get up close and personal with a giant T-Rex at Kids Wonderland 2017! The best value day out for Perth families!
Location: Stirling. Sutiable for: Ages 2 to 12 years old
Cost: $25 Children $12 Adults

---

2.
Get your skates on and head to the city for Winter Rollerland. Booking essential. Tickets released on 26th June and 3rd July.
Location: Forest Place, Perth. Suitable for: ages 3 to 12 years
Cost: FREE

---

3.
LEGO fans will not want to miss The Brickman - Wonders of the World with more than 50 awe-inspiring LEGO masterpieces on display.
Location: Perth Convention and Exhibition Centre
Cost: Tickets from $20.

---

4.
Book tickets for Lights by Dreamworks. Modelled on the traditional Chinese Lantern Festival, Lights by DreamWorks features huge illuminated figures familiar to the fans of the Shrek, Kung Fu Panda, How to Train Your Dragon and Madagascar movies.
Location: Crown Pyramid
Cost: Adults $35.64 Children $27.40

---

5.
Transform your school holidays with the Transformers Immersive Zone at Cockburn Gateway.
Location: Cockburn
Cost: FREE

---

6.

Check out Bibra Lake Regional Playground which is packed full of unique features designed to entertain children of all ages and abilities!
Location: Bibra Lake

---

7.
Check out The Funarium at Claremont Showgrounds from 7-9 July - Perth's newest school holiday even with 7 hours of unlimited activities in 10 zones.
Location: Claremont. Suitable for: Ages 4 - 12 years
Cost: $32.50 kids $15 adults

---

8.
Let your child take control of a Boeing 737 Flight Simulator at Flight Experience Perth. Solo and group sessions available throughout the school holiday.
Location: Northbridge. Suitable for Kindy to Year 9.

---

9.

Head to

Eagle Rock Spur or Eagle Falls Spur

kids eat free all day Monday - Friday during the school holidays! Plus the kids will have a great time in the indoor playroom.




Location: Currambine and Wanneroo

---

10.
Book tickets for Spare Parts Puppet Theatre's new play - The Arrival.
Location: Dolphin Theatre, UWA. Suitable for: Ages 6+
Cost: Tickets from $23

---

11.
It's time to put on your winter woollies, get out into the elements and experience the true magic of winter! Winterworld is this July holiday's most unique experience with its wide range of activities for the young and young at heart.

---

12.

Get creative and paint some pottery at Perth's newest Pottery Cafe Mug n Brush.
Location: Rockingham

---

13.
Get wet and wild at the brand new Cockburn ARC. Will you be brave enough to ride the slides?
Location: Cockburn

---

14.
Book in for a FREE Rock n Toddle session at Warwick Grove Shopping Centre
Location: Warwick

---

15.
Visit AQWA in July for Shark Month and meet the next generation! AQWA has just welcomed 7 new juvenile sharks to their shark squad, including two species never before seen at the aquarium.
Location: Hillarys Harbour

---

16.

Join in the Painted Rocks craze! Head to your favourite park to share and hunt down rock creations.

---

17.
Pack a picnic and head to Mills Park in Beckenham. It is a great pack suitable for kids of all ages. The new cafe Fika on Brix has just opened!
Location: Beckenham

---

18.
Swing throught the trees like Tarzon with Trees Adventure
Location: Dwellingup. Suitable for: Children aged 4+ years

---

19.
Check out the brand new nautical themed nature playground at Iluka Foreshore.
Location: Iluka

---

20.
Enjoy the free kids activities at IKEA's kids academy this school holidays. Plus kids can eat for only $1.50 from 5pm on weekdays at the IKEA Perth Restaurant.
Location: Innaloo

---

21.

Expand your child's learning by booking them into STEMmates school holiday workshops specialising in Science, Technology, Engineering and Mathematics.
Location: Karrinyup and Riverton.

---

22.
Have little ones and want to hang out away from the big kids? Then head to Little Sweet Play Centre which is dedicated to young children aged 0 - 5 years.
Location: Joondalup. Suitable for: Ages 0 - 5 years
Cost: $8.50 per child.

---

23.

Let the kids climb the walls at

City Summit Rock Climbing Centre

in Malaga. School holiday programs are also available.




Location: Malaga Suitable for: Children aged 5+




Cost: Adults $18, Children over 7 $10 plus $5 harness hire. Children under 7 $12 including harness hire.

---

24.
There is lots of fun to be had in Timezone - your one stop spot for total fun!


Location: Baldivis, Fremantle, Innaloo, Joondalup & Northbridge. Suitable for: All ages




Cost: $12 - $20

---

25.
Create your own Terrarium or make marshmallows at Livingston Marketplace. Booking required.
Location: Canning Vale

---

26.
Take a 'Voyage to the Deep' at the WA Maritime Museum. The exhibition brings to life the deep-sea adventures of Captain Nemo, his legendary submarine Nautilus and the world of wonders he lived in.
Location: Fremantle

---

27.
Go dolphin spotting along the Mandurah Canals with Mandurah Cruises.
Location: Mandurah

---

28.

Check out the brand new playground next to Cockburn Arc. Guaranteed to pack in lots of fun for kids of all ages!
Location: Cockburn

---

29.

Let the kids burn off heaps of energy at

Inflatable World

! Great fun for kids and adults of all ages!




Location: Joondalup, Shenton Park, Ballajura, Leeming. Suitable for: All ages




Cost: $16, 4 years and under $8.

---

30.

Grab the scooters and head to

Shepherds Bush Park Playground

. Kids will have the most fabulous fun racing their mates around the track.




Location: Kingsley.

---

31.

Enjoy a day of Minecraft fun and learning at Mind Buzz Camp. Play and connect with others on multiple servers, learning new skills, commands, tips and tricks all while making some great friends,


Location: Across Perth Suitable for: Children aged 6 - 12 years.

---

32.

Book into Whiteman Park's school holiday activities. You can get up close and personal with lizards and snakes, explore the hidden treasures of Whiteman Park and make water coloured earth circles with Einstein's Top Secret Science.
Location: Whiteman Park.
Cost: $6 - $10 per child.

---

33.
Ever ridden in a bumper car on ice before? Well you can at Xtreme Ice Arena this school holidays!
Location: Mirrabooka. Suitable for: all ages
Cost: $5 for 5 minutes.

---

34.
Pay a visit to Peel Zoo - a boutique zoo specialises in Australian native animals and some farm animals too.

---

35.
Grab your wheels and head to Heath Park in Eglington. With it's pirate ship and scooter track fun is guaranteed!
Location: Eglington

---

36.
Head to Elizabeth Quay and enjoy a ride on the Venetian Carousel
Location: Elizabeth Quay. Suitable for: All ages
Cost: $5 per ride

---

37.
Check out Slate Cafe in the Swan Valley with its dedicated kids area.
Location: Swan Valley

---

38.
Can you find out Who Dunnit? in Scitech's latest exhibition which shows how technology helps the police and scientists solve crimes.
Location: West Perth. Suitable for: Ages 8+

---

39.

Enjoy lunch at the historic

Parkerville Tavern.

You'll find a playground plus a huge amount of space in their beer garden for kids to run about on.




Location: Parkerville. Suitable for: All ages

---

40.
Check out Bullrush Adventure Playground which boasts an 8 metre rope climbing tower!
Location: Wellard. Suitable for: All ages.

---

41.
Keep your kids active and entertained with the Just 4 Kids program at Leisurelife Centre in East Victoria Park.
Location: East Victoria Park. Suitable for: 6 to 14 years
Cost: $67 per day. $325 per week.

---

42.
Head down to Floreat Forum where witches and wizards will be able to cast their spells!
Location: Floreat
Cost: Free

---

43.
Get the kids kicking a footy these school holidays with West Perth Football District's AFL school holiday clinics.
Location: Subiaco, Claremont and West Perth. Suitable for: boys and girls aged Pre-Primary to Year 6.
Cost: $75 - $100

---

44.

Spend the morning at

The

Pottery Playroom. Not only can you paint your own pottery but kids will have fun in the mini jungle gym. Don't forget your socks!
Location: Joondalup. Suitable for: All ages
Prices start from $10

---

45.

Have fun playing shop at

Wanneroo Regional Museum

. It's a great little museum which is free to enter and fun for kids of all ages.




Location: Wanneroo. Suitable for: All ages.




Cost: FREE

---

46.

Get back to nature at

Braithwaite Park Nature Play Area


Location: Mount Hawthorn Suitable for: All ages although designed with 10 - 14 year olds in mind.

---

47.

Take the ferry from Barrack Street to South Perth.




Location: Perth. Suitable for: All ages




Cost: $2.80 Adult $1.10 Child one way. Under 5's free. Available with Transperth FamilyRider.

---

48.
Burn off some energy at Atlantis Playcentre. Fabulous fun for kids of all ages!


Location: Clarkson Suitable for kids aged 0 - 12 years.




Cost: $3.50 - $11.95

---

49.
Enjoy lunch in the city at Jamie's Italian where kids can eat free this school holidays!
Location: Perth City

---

50.
Strap on your construction hat because it's time for some hard-working fun at Westfield Whitford City's Construction Kids Play Zone.

---

51.
Enjoy a delicious treat at The Bindoon Bakehaus. Kids will have so much fun creating their masterpieces out of fresh dough in the play kitchen, leaving you to relax with a coffee and cake in peace.


Location: Bindoon

---

52.
Get up close and personal with the residents of Perth Zoo by booking a Close Encounter.
Location: South Perth

---

53.

Visit

Yanchep National Park

for Koala and Kangaroo spotting. Enjoy lunch and indulge in some chocolate at The Chocolate Drops Tea Rooms.




Location: Yanchep Suitable for: All ages




Cost: $12 per car.

---

54.

Discover the FESA Education and Heritage Centre. A hands on museum where kids can learn about the progress of Fire Fighting through the years. Open Tuesday - Thursday.
Location: Perth City. Suitable for: Ages 3+ years.
Cost: FREE

---

55.
Take a day trip to Donnybrook Apple Fun Park– Australia's largest free

playground around a 2 hour drive south from Perth city.




Location: Donnybrook. Suitable for: All ages

---

56.
Enjoy a coffee and cake at The Sweet Remedy Cafe. Kids will have a ball playing in the cubby house and saying hello to the resident bunny rabbits.
Location: Leederville.

---

57.
Challenge your friends to a round of mini- golf at the stunning Wanneroo Botanic Gardens. Loser has to buy a round of ice-creams!
Location: Wanneroo. Suitable for: All ages
Cost: $18 adults, $13 children.

---

58.
Skate, ride, scoot or hang at the Esplanade Youth Plaza in Fremantle - a world class skate park catering for skaters of all abilities. They also run free school holiday activities.


Location: Fremantle.

---

59.
Have fun checking out over 30 planes at the Aviation Heritage Museum of WA. Kids will love getting behind the controls of a helicopter!


Location: Bull Creek Suitable for: all ages.




Cost: $10 Adults, $5 children 4 to 16. Family pass $25 (adults and 4 children)

---

60.
Buy yourself some peace and quiet and the kids a whole load of fun by booking them into Vacation Care at HBF Arena.


Location: Joondalup. Suitable for: Children aged 5 - 15 years.




Cost: Childcare rebate available - call and find out what discount applies

---

61.

Visit the

West Australian Reptile Park

in the Swan Valley. Kids will love getting hands on with snakes, Lizards and Dingos.




Location: Henley Brook. Suitable for: All ages




Cost: Adults $12 Children (aged 3 - 15) $7. Under 3's are free.

---

62.

Get ready for back to school with a haircut at Kidz Kutz - a salon just for kids!
Locations: Joondalup, Whitfords and Innaloo

---

63.
Head to the hills and visit Core Cider in Pickering Brook. Great food and fun playground to keep the kids amused.
Location: Pickering Brook

---

64.

Spend the morning at

Woodbridge Riverside Park

. Fabulous park for kids of all ages and abilities.




Location: Guildford Suitable for: All ages

---

65.

Get cuddly with a feathered or furry friend at

The Cuddly Animal Farm

in the Swan Valley.




Location: Henley Brook Suitable for: All ages.




Cost: $13. Children under 2 are free.

---

66.

Bounce off the walls at

BOUNCEinc

, Perth's largest trampoline park!




Location: Cannington. Suitable for: Children 3+




Cost: $19 Adults $13 Children (includes grip socks)

---

67.

Take a tour of

HMAS Submarine Ovens in Fremantle. Children need to be over 5 to partake in the tour.
Location: Fremantle. Suitable for: School aged children over 5
Cost: $15 Adults $7.50 Children

---

68.
Enjoy some fast paced fun by going Go Karting. Click here to find a list of Go Kart venues around Perth.

---

69.

Do your kids love dinosaurs? Then head to the

Museum of Natural History

where they will get to meet a few.




Location: Guildford. Suitable for: All ages




Cost: $5 Adults $2 Children.

---

70.
Check out Livvi's Place Playground.


Location: Whiteman Edge, Brabham Suitable for: All ages and abilities.

---

71.
Treat the kids to lunch at one of Perth's many restaurants with a playground. Find a full list here.

---

72.

Visit the residents of the Cohunu Koala Park. Pat a koala, ride the steam train, feed a kangaroo and pose for a picture with the huge dinosaur models.


Location: Byford. Suitable for: All ages




Cost: Adults $15 Children (aged 3 - 15) $7. Under 3's are free.

---

73.

Be a pirate for the day at

Heathcote Reserve

, the Pirate Park




Location: Applecross. Suitable for: All ages

---

74.

Take a CAT bus ride around Perth City.


Location: Perth. Suitable for: All ages
Cost: Free

---

75.

Pay a visit to

Landsdale Farm School, say hello to the farm animals, wander through the herb garden and play in the covered playground.
Location: Landsdale. Suitable for: All ages.
Cost: $7 per person. Children under 2 are free.

---

76.

Pack a picnic and take a day trip to

Lake Leschenaultia

.




Location: Chidlow. Suitable for: All ages

---

77.
Try your hand at Adventure Golf at Elizabeth Quay
Location: Perth. Suitable for: All ages
Cost: $15 adults, $12 children

---

78.
Head to Whistlers Chocolate Factory in the Swan Valley. Kids will have a ball playing in their huge sandpit while you sip a coffee in peace.


Location: Swan Valley. Suitable for: All ages

---

79.

Visit the huge dinosaurs at

Synergy Parklands

in Kings Park.




Location: Perth City. Suitable for: More suited for children aged 3+

---

80.

Pay a visit to

Revolutions Transport Museum

at Whiteman and take a ride on the

Bennett Brook Railway

afterwards.




Location: Whiteman Park Suitable for: All ages




Cost: Gold coin entry.

---

81.
Have super fun at the Newhaven Robot Park. Kids will love climbing the giant robot's head!


Location: Piaria Waters. Suitable for: All ages

---

82.

Enjoy lunch in the Swan Valley, a treasure hunt and a ride around the lake on a pedalo at the gorgeous

Oakover Grounds

.




Location: Swan Valley

---

83.

Spend the morning at

Faulkner Park. Kids will love the 'erupting' volcano!
Location: Belmont. Suitable for: All ages

---

84.
Head to Fremantle. So much to see and do from museums to markets, playgrounds to family friendly dining.
Location: Fremantle. Suitable for: All ages

---

85.

Pack a picnic and spend the morning plane and helicopter spotting at

Jandakot Airport




Location: Jandakot Suitable for: All ages

---

86.
Get back to nature at the Subiaco Theatre Gardens Playspace.


Location: Subiaco. Suitable for: All ages

---

87.

Spend the day in

Kings Park.

With a choice of 3 amazing playgrounds, a tree top walk and a tower to climb you can easily spend the whole day there!

---

88.
Head to the Swan Valley for lunch at one of the many family friendly wineries and cafes. Find our favourites here.

---

89.
Be a pirate for the day at the new nautical themed playground at Rockingham foreshore.


Location: Rockingham. Suitable for: All ages




---

90.
Have fun at Variety Place nature playground at Saw Avenue in Kings Park. Kids will have a great time balancing, swinging, climbing and running through the tunnels.


Location: Kings Park. Suitable for: All ages

---

91.

Head to

Pitstop Playground

in Banksia Grove. Don't forget to take along your scooter or bike so you can race around the tracks!




Location: Banksia Grove. Suitable for: Children aged 4+

---

92.
Check out Russell Brown Adventure Park with its huge focus on nature play.


Location: Mosman Park

---

93.

Take a train ride – kids love train journeys. Don't forget you can purchase a Familyrider which allows unlimited system-wide travel for a group of 2 adults and 5 children aged 5 and over after 9.00am during the school holidays. The ticket costs just $12.60




Location: Across Perth Suitable for: All ages

---

94.

Book the kids into the

Kids Sports Club

at HBF Stadium .

Days packed with sporting activities and guest coaching sessions from WA's leading sports groups.




Location: Mount Claremont. Suitable for: Children aged 5 - 12 years




Cost: $34.50 half day $56 full day.

---

95.
Head to the hills and enjoy lunch at HopsScotch Cafe. Not only does it have beautiful grounds but a great playground too.


Location: Karragullen

---

96.
Enjoy getting down and dirty with nature at John Forrest National Park. Kids will love wading in the brook and eating a picnic in one of the cute cubby picnic shelters.


Location: Hovea Suitable for: All ages




Cost: $12 per car.

---

97.

Go Wild at

Jungle Gym in Willetton. Play gym for kids 5 and under 9.30am – 11.00am. Special school holiday activities for older children in the afternoon.
Location: Willetton. Suitable for: Under 5's
Cost: $7.50 per session

---

98.

Spend the morning at

Ivey Watson Playground

in Kings Park and enjoy lunch at

Sticky Beaks Cafe

.




Location: Kings Park, Perth. Suitable for: Children up to the age of 6

---

99.

Head to the fabulous playground at

Yokine Reserve

. A great playground for kids of all ages and abilities. Don't forget a spare change of clothes as kids are not able to resist the water play area.




Location: Yokine. Suitable for: All ages.

---

100.

Book a last minute getaway to

Margaret River

. There are so many fun things to do for both parents and kids. Pay a visit to

Sunflowers Animal Farm

, enjoy a beer at

The Cheeky Monkey Brewery

, let the kids run wild at

Xscape at the Cape

, and indulge in ice-cream at

Simmo's Ice-Creamery

.

---