By
Buggybuddys
By Buggybuddys member Georgia
Eagle bay is one of those places I would definitely want to visit again when we visit the South.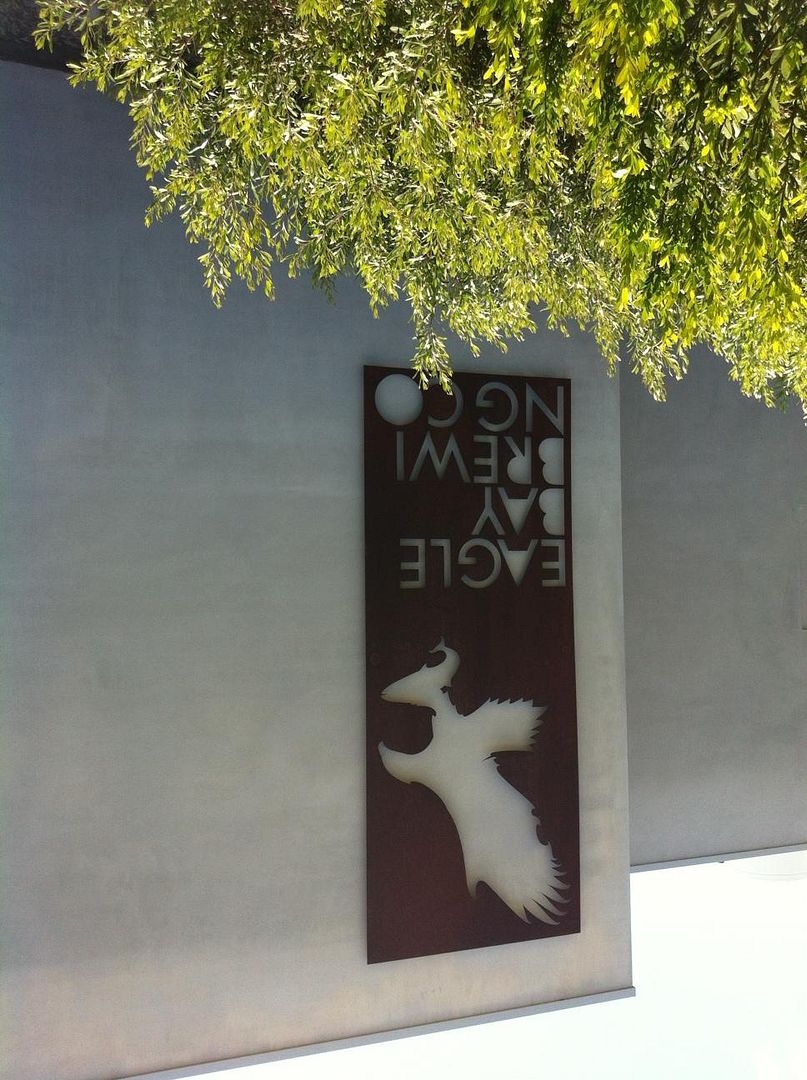 The Eagle Bay Brewery is open daily from 11am till 5pm for lunch only. It is highly recommended to book well in advance as they are very busy.
We were lucky as we dropped by with no reservation on a Sunday for lunch and we managed to find a free table but it was inside (the veranda, however was not far from our table).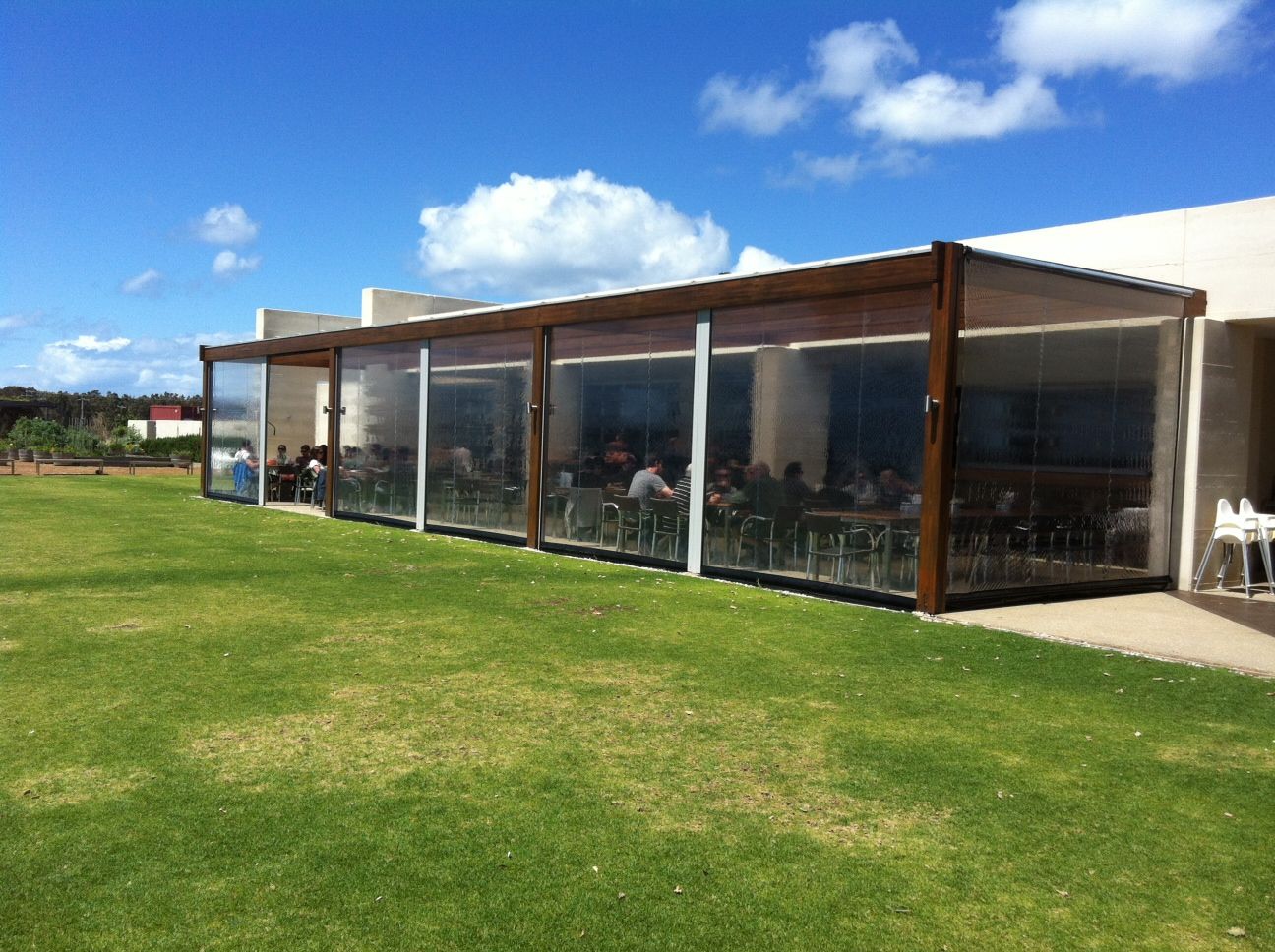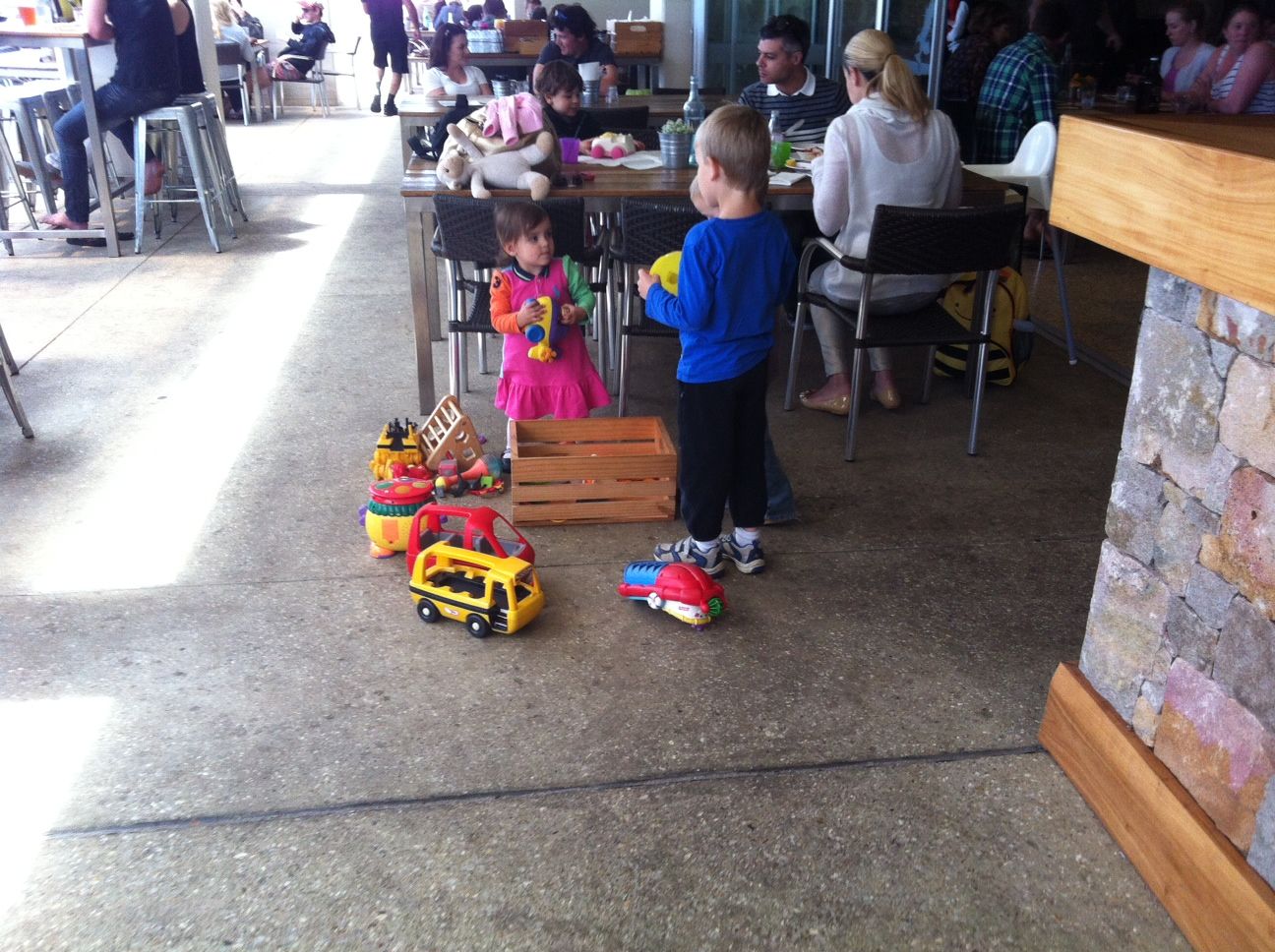 As we sat they brought us the kids menu which was a colouring page and some crayons. The kids menu ranges from $10 to $15 with a very good selection.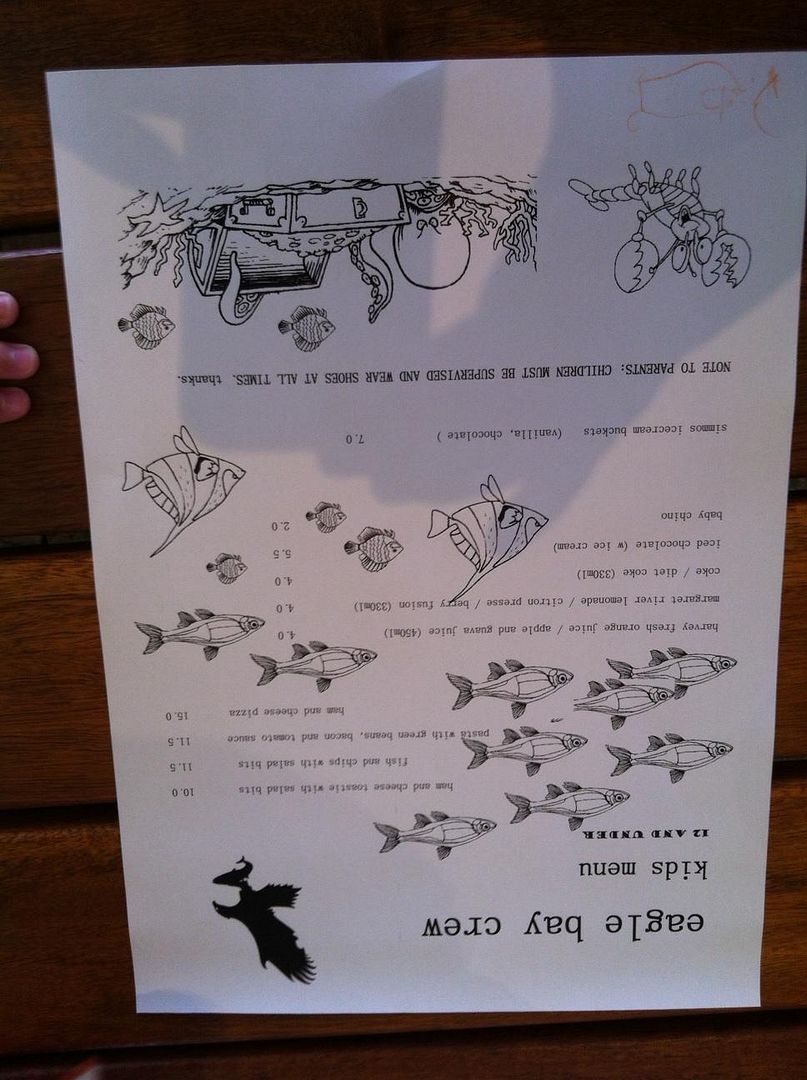 We ordered the pizza and fish and chips for our kids to share.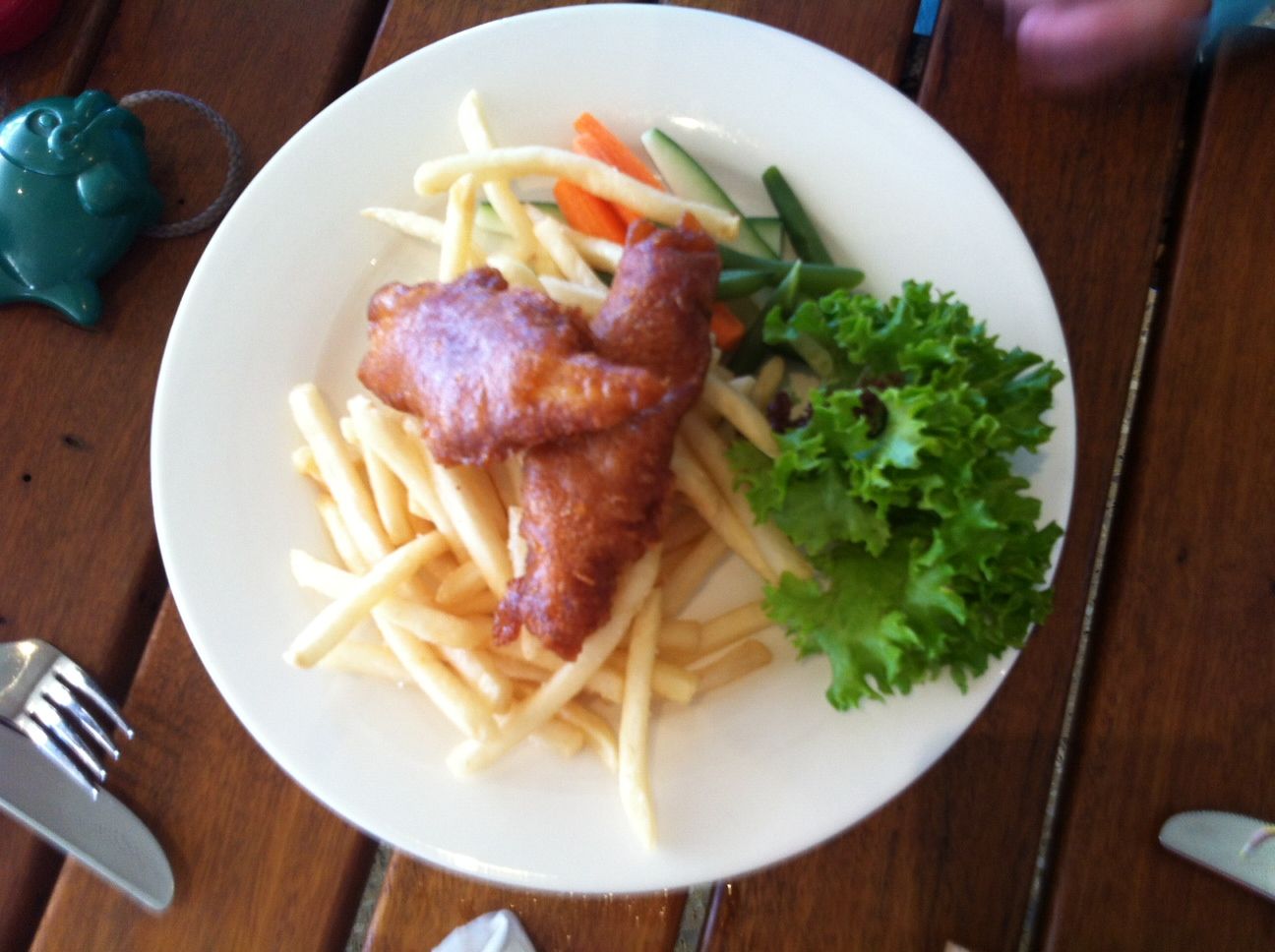 Eagle Bay is well known for their woodfire pizza but unfortunately they don't make gluten free options yet. However, if you call them well in advance to request a gluten free pizza they will be able to arrange it.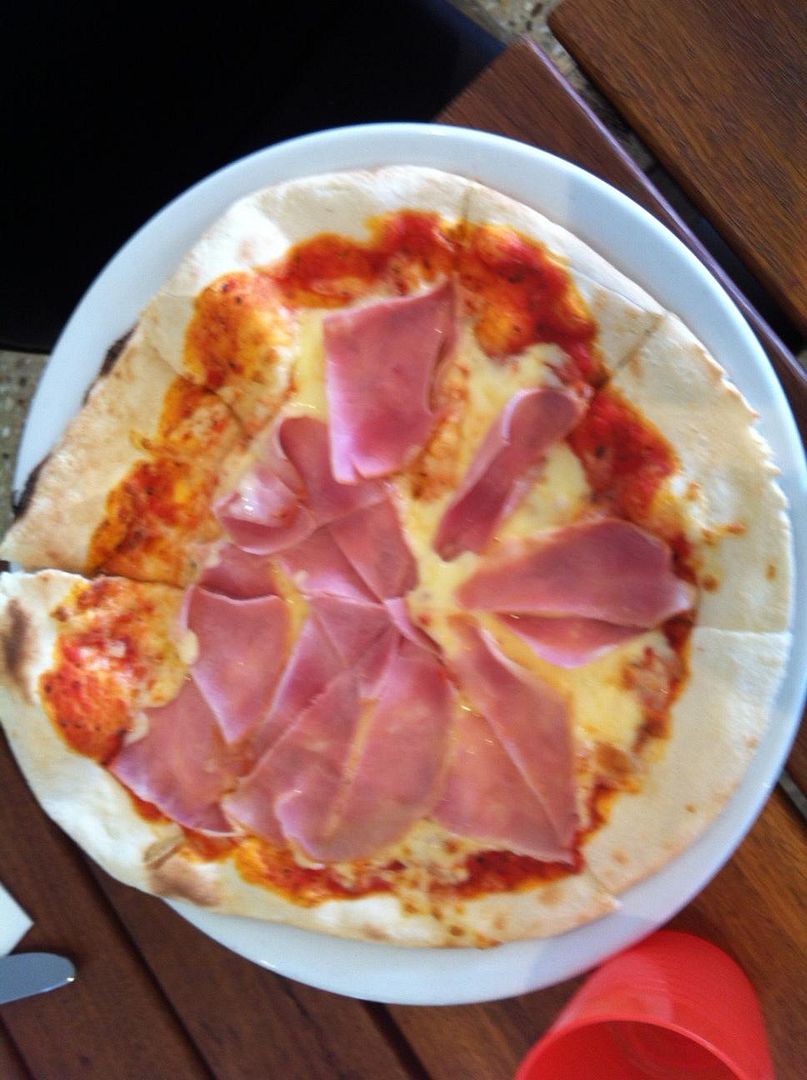 My husband and I ordered some octopus and olives as starters to share and with a selection of beers which are brewed on site.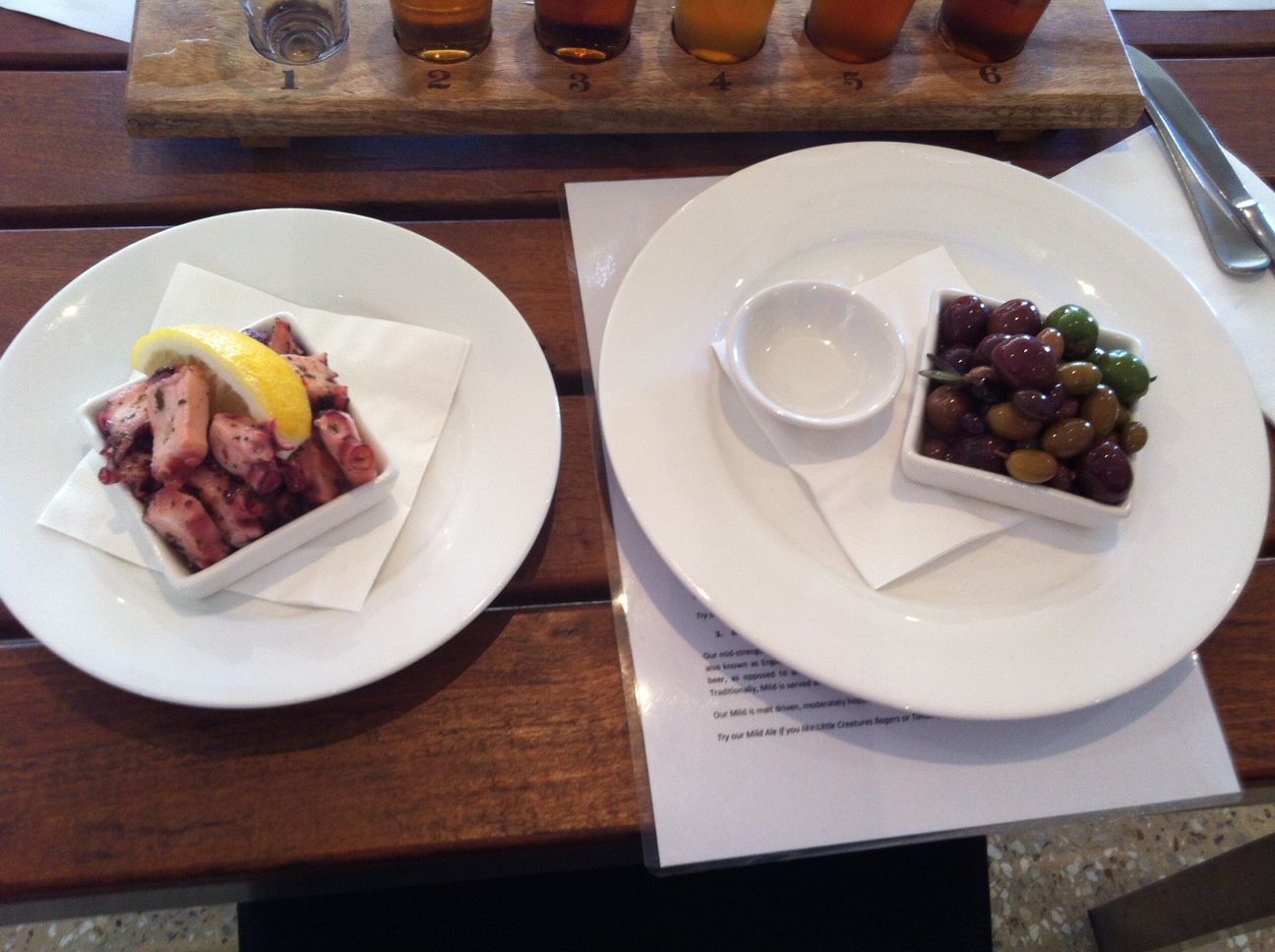 As a main I ordered fried sweet corn bread and my husband the beef burger.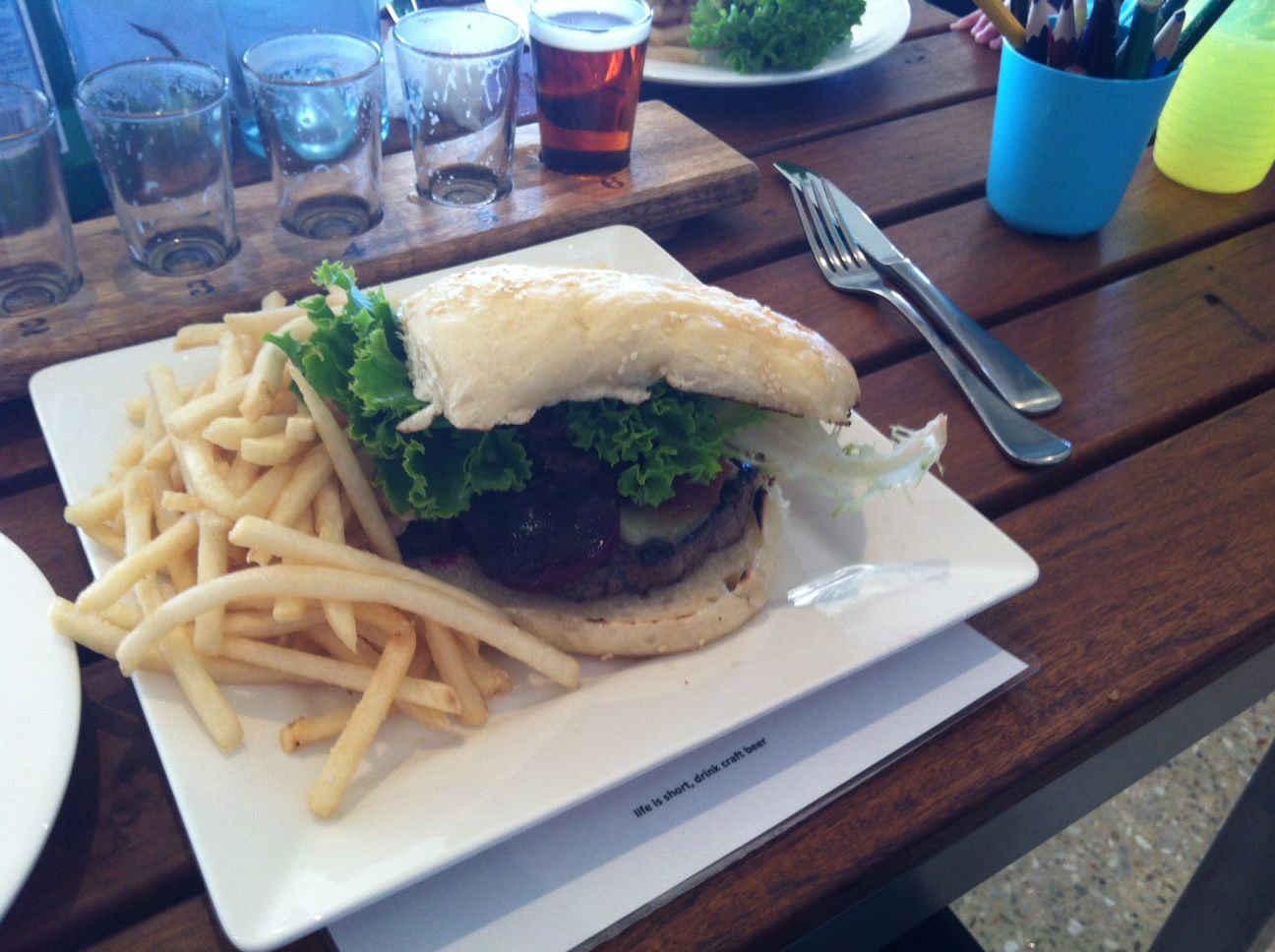 All dishes are garnished with fresh herbs from their own Veges/herb patch on site.
To satisfy my sweet tooth I ordered the white chocolate and passion fruit pot with almond biscuit… It was delicious!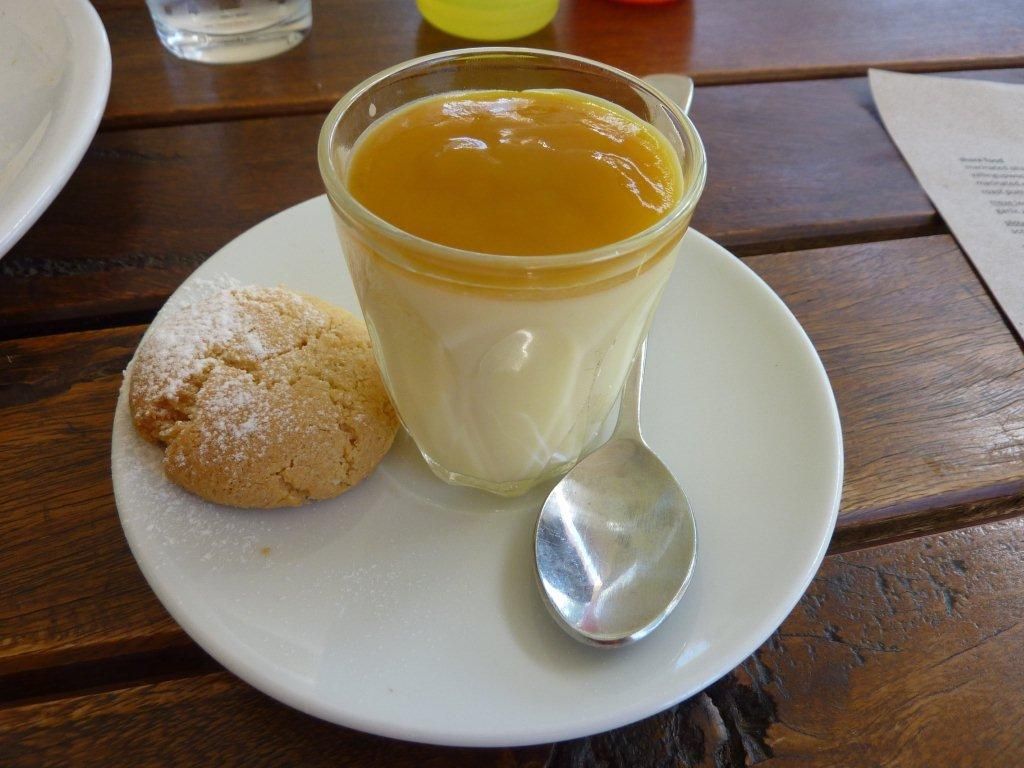 After lunch we just relaxed in the fully fenced outside area where there are benches and lounges and a jetty themed sand pit where our kids had so much fun. There is also a variety of toys and balls the kids can play with.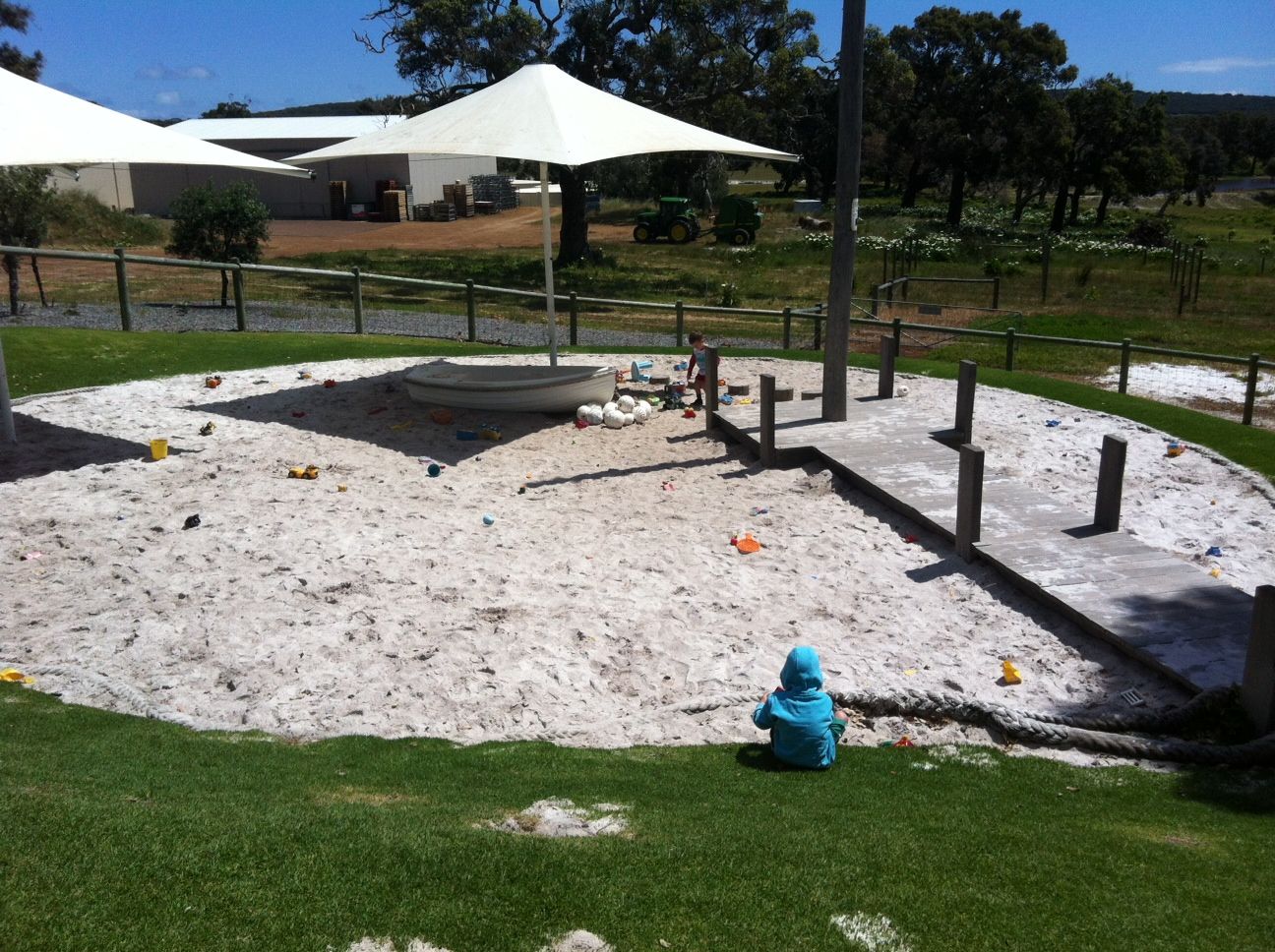 The Eagle Bay Brewery is definitely a fantastic spot for the whole family and a must if you are visiting Eagle Bay.. If you can't get a reservation I would suggest dropping by and just have a beer or two and enjoy the views and setting of the place… Stunning!!




Eagle Bay Brewing Co is open 7 days at week 11am - 5pm.
www.eaglebaybrewing.com.au




Find more family friendly restuarants

Find more places to visit with kids in the Margaret River Region
By
Buggybuddys
Buggybuddys member Georgia visited Countrylife Farm in Dunsborough. This is her review
Countrylife Farm and Indoor Play Centre is located in Dunsborough 1km towards Yallingup from the Dunsborough turn off.



The Farm is open 7 days a week 9.30am till 5pm all year round. Entry fees are: Adult $16, Kids $14, kids under 2 free.
All the rides and 1 bucket of freshly cut carrots (for feeding the animals) per child is included in the entry fee.
On entry at the Farm we were greeted by ponies, llamas, alpacas, sheep, goats, cows and donkeys and chickens.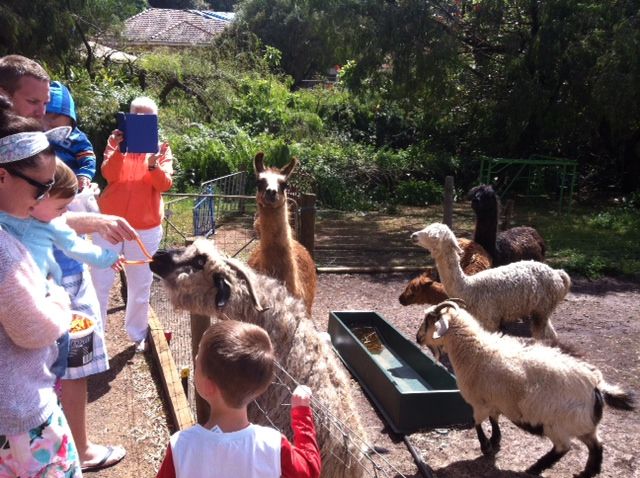 As you pass the animals you need to cross the bridge on a little lake where you can get on for a little boat ride. The kids must wear safety jackets; the person in charge is there to help you get in and out of the boat. Daddy really enjoyed taking us for a ride and it was inevitable for us all of to sing "row row your boat" :)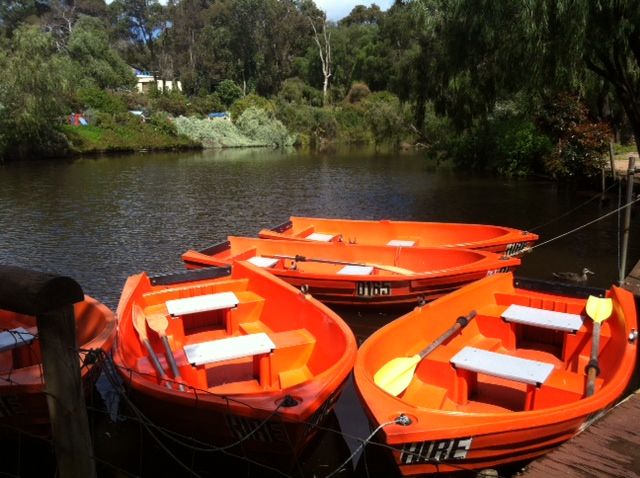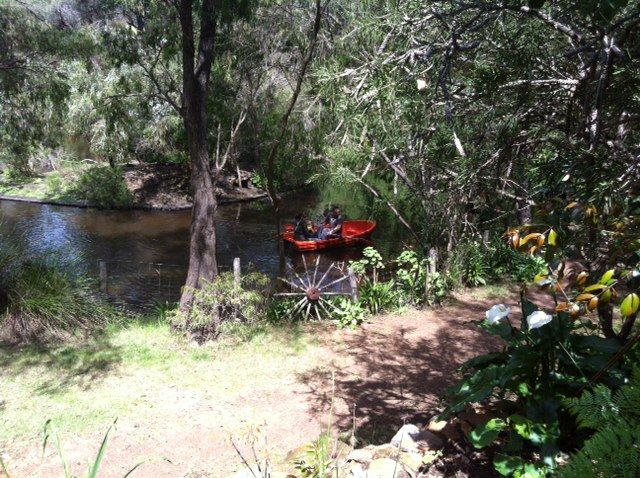 There is a cafe with self service free tea and coffee. On sale there are a variety of sweets, ice-cream, soft drinks, and crisps. In the café there are some tots tables and a ping pong table. There is also a section where they do kid's parties.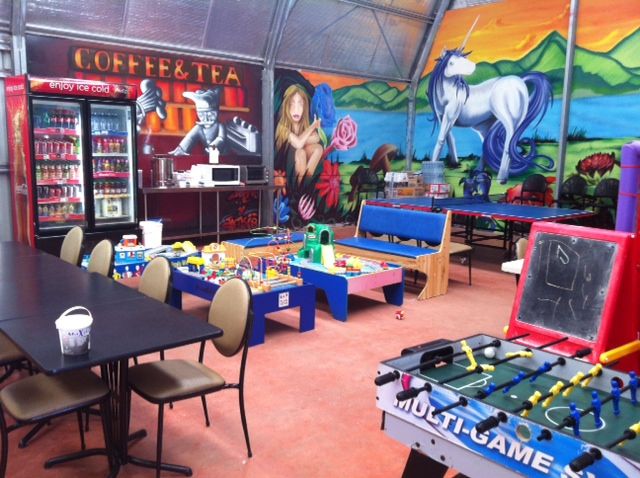 At the back of the café there is the entrance for the Dodgem cars (or Bumper cars as it was in my day!). Small kids must ride with their parents so I could not escape having to drive one to take my youngest. I must say it took me back in time to my young years.. it was a good fun!
In front of the café there is a Merry-Go-Round. The rides operate on the hour and last about 5 minutes.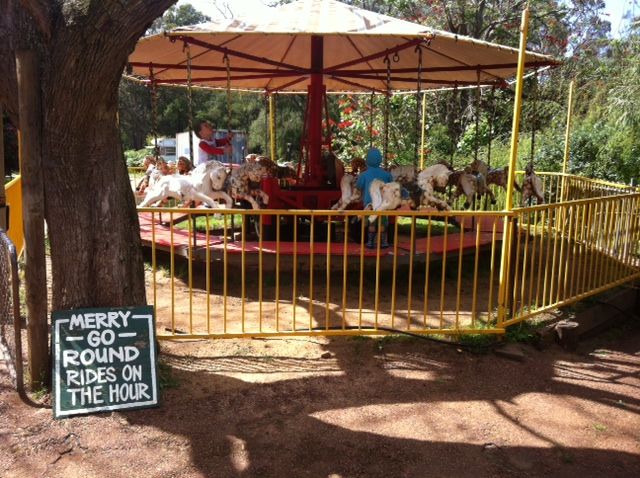 Outside the café on the decking facing the lake there is a BBQ available to the public.
All around the park there are loads of picnic spots with benches, tables and cubby houses. So make sure you pack a picnic or bring your sausages for a BBQ.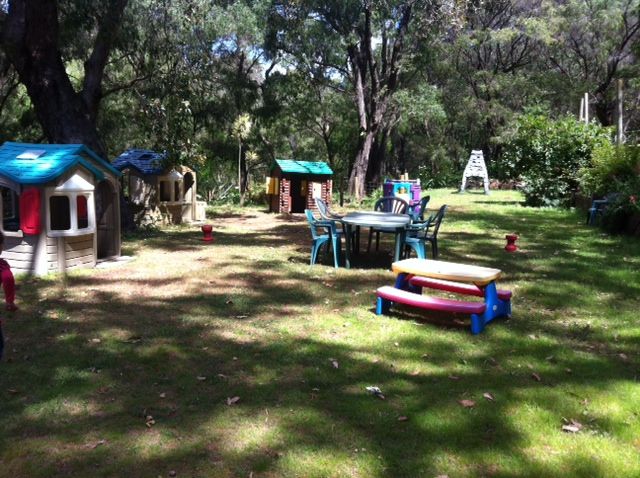 My boys decided to use their bucket of carrots to feed the guinea pigs and bunnies which are in an enclosed cage at the top of the farm. Kids must sit at all times on the bench to feed the animals. They had some new born bunnies that were extremely cute and my boys absolutely enjoyed cuddling and feeding them.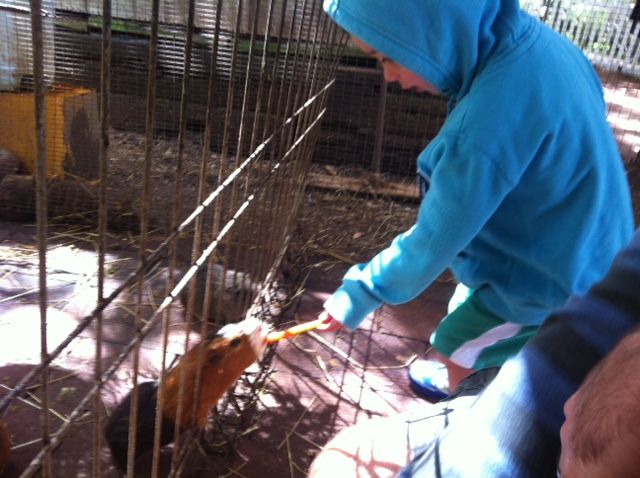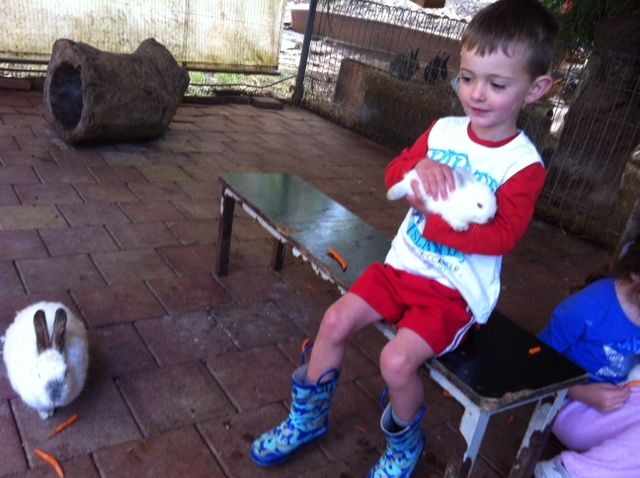 Just few metres from the bunnies and guinea pigs, there are two giant bouncy castles. In front of the bouncy castle there are few sheltered tables where parents can sit to watch the kids having fun.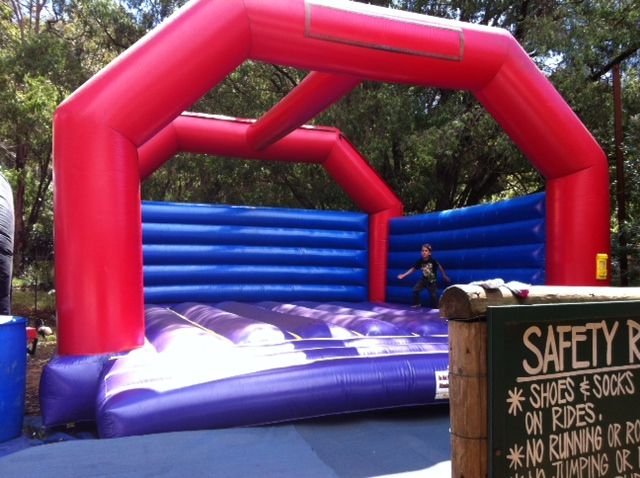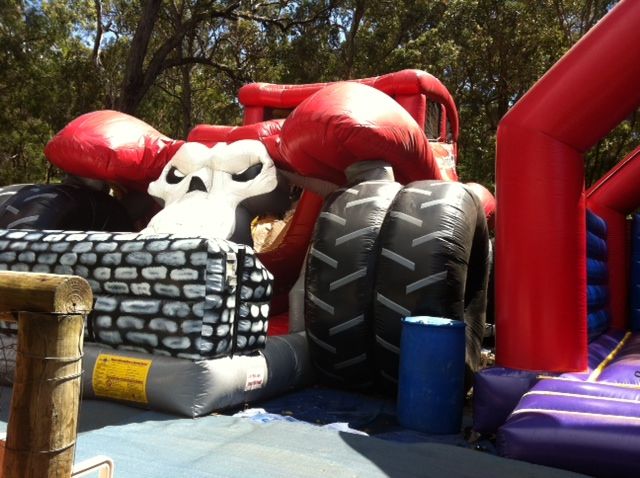 There is also a big indoor playground suited for all ages. There are loads of ride-ons for toddlers and soft play for babies. The structure and toys look really new and clean. There were also tables and a self service free coffee and tea section. The indoor playground is ideal for rainy and very hot days.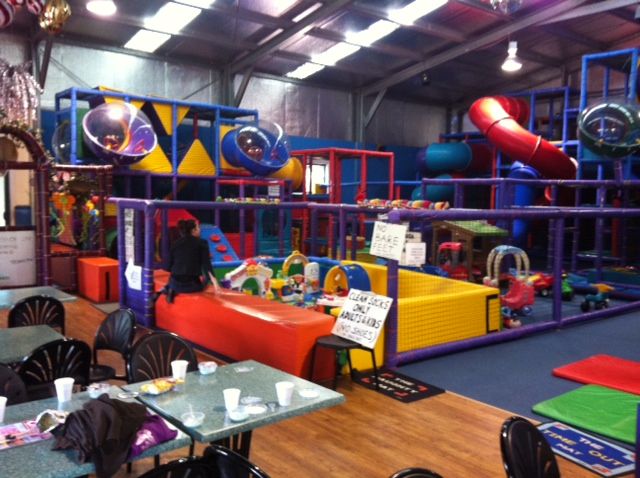 For more information see the Countrylife Farm website.
www.countrylifefarm.com.au

Find more things to do with kids in the Margaret River Region
By
Buggybuddys
Buggybuddys member Mumof4 visited Clancy's Fish Pub in Dunsborough with her family. This is her review.
I am sure many of you are familiar with Clancy's Fish Pub in Perth well there is one in Dunsborough. Set in the bush near Dunsborough offering food and drinks 7 days a week 11am until late. A recent addition to the offerings at Clancys in Dunsborough was advertised on the internet and the local paper

"Clancy's Fish Pub Dunsborough is pleased to announce the launch of the south west's premiere family friendly night affectionately known as 'Fish Pub Fridays'. With great value and entertainment the order of the day Fish Pub Fridays will be the perfect way to celebrate the start of the weekend in our beautiful region. Clancy's will be offering their famous fish and chips along with a middy of local beer or a glass of wine for the very reasonable price of $22. If Richie Benaud was here he would describe it as 'choo for chwenty choo'. For the kids our Red Room will be turned into a cinema featuring some great kids classics on the big screen from 5.30pm. A free ticket will be presented when a kids meal is purchased. Following the kid's flick live entertainment will follow from 7.30pm with a host of local talented musicians rostered through for your listening pleasure. Throw in a classic country "Fish Tray' raffle, some local produce and tasting stalls to Fish Pub Fridays will be the ideal way to get the weekend started."

So I decided it sounded like a fun family night out!
We arrived just after 5pm as it was the end of the first week of the school holidays and only the second week that Clancy's was holding the event. We arrived just at the right time! The car park was already half full of family SUV's when we arrived and there was a small line and half the inside tables were full! We managed to get a table for the 6 of us that was inside and that was in view of the kids area. By 530pm the line was out the door and there were no inside tables!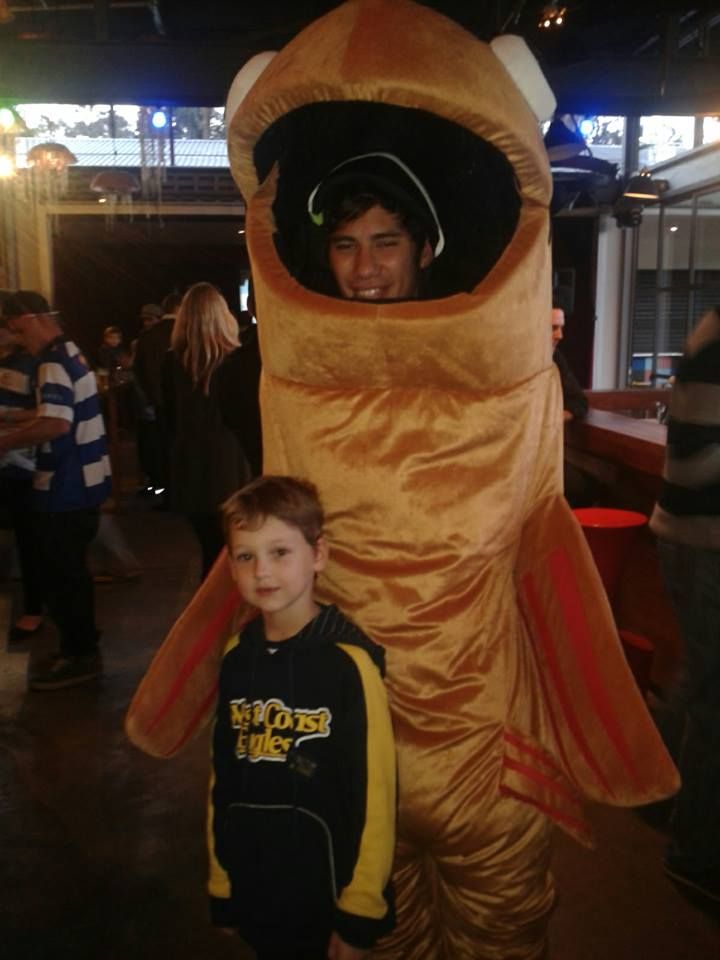 The kids were well catered for with the kids meals, they all chose fish and chips with the serve huge (we actually only ordered 3 to share between 4 and they didn't finish), each meal came with juice and icy pole.

The adult meals varied from fish and chips to other seafood to pasta to steak. I enjoyed beautiful paella that was very reasonably priced at only $26.
Drinks were also very reasonable with a lot of local wine, beer and cider to choose from.
The local rugby club were raffling an amazing seafood platter which unfortunately I didn't win! There were also trays of local beers and olives being handed around to sample.
The kids were able to sit with all the other kids in a room decked out with carpet, a few big lounges and a big screen and enjoy Ice Age 3 whilst we enjoyed what was almost a date night dinner and a few drinks in peace!

Well done to Clancy's

www.clancysfishpub.com.au




Find more places to visit with kids in Margaret River
Find more family friendly restaurants in Perth
By
Buggybuddys
Buggybuddys member Mumof4 visited the Goanna Gallery Cafe in Dunsborough and wrote us this review.
Goanna Gallery Café is always a favourite of ours when we are down south and we visit almost every time we are down south. It is located in the hills above Dunsborough, around a ten minute drive from town. It is in a bush setting. It has won numerous awards. It has fantastic food, is very reasonably priced and very kid friendly.

This visit we went for a warm winters breakfast. The fire was burning inside and they have also just enclosed their verandah also to increase the appeal in winter. I enjoyed a beautiful "Spanish" breakfast something a little different whilst the kids polished off some childrens pancakes. The children are given their own plastic plates, cutlery and cup so no need to worry about breakages.
In warmer weather there is a kids playground, kids colouring and kids toys to play with and for older children there are several bush tracks to explore.
If going for lunch they have the best value childrens lunches, "The Goanna Platter" I have ever discovered . For adults you can never go wrong I have never had a bad meal, you can BYO alcohol and it is very reasonably priced.
KIDDIES PLATES
Pasta with tomato sauce or butter & parmesan 12
Toastie – ham, cheese & tomato on toasted Turkish Bread 7.50 *GF
Goanna Platter – toasted cheese sandwich on wholemeal bread, juice box, sultanas & sweet treat 7
Bacon & Egg on toast 10
Pancake with two toppings (berries, banana, maple syrup, ice cream) 10

www.goannacafe.com.au




Find more places to visit with kids in Margaret River
Find more family friendly restaurants in Perth
By
Buggybuddys
Buggybuddys member Mumof4 visited Three Oceans Winery with her family and wrote us this review.
"Enjoy Trophy and Multi Award Winning Wines and delicious food in a contemporary, architecturally designed, family-friendly venue. We use fresh and seasonal local produce in all of our dishes and provide affordable and scrumptious family value....come in and try for yourself. With Play Stations for the kids, a Pool Table, Wine Tasting at Cellar Door for the grownups, bags, accessories, kitchen produce and gift wares to purchase; there is something for everyone"
The website and the brochure promised a family friendly venue for lunch, in fact the brochure stated they had been voted the "number three most family friendly winery" in a an international competition, a big claim I thought, so I had to check it out for myself! I had visited the winery on previous occasions when it had been known as Palandri Wines a few years back.
The venue certainly did not disappoint. It was a freezing day pouring with rain but there was plenty to keep the kids amused, all 4 of them were kept amused and they only sat down at the table to eat their lunch! The older children were kept busy playing on the PlayStation consoles, although my nearly 4 year old enjoyed playing a Finding Nemo game.


They also had fun attempting to play a game of Pool with each other. The younger 2 had a heap of fun colouring in, reading books and playing with toddler toys including Duplo and a farm set.


When the weather fined up a little we ventured outside and found a large grass area with soccer nets, soccer balls and footballs.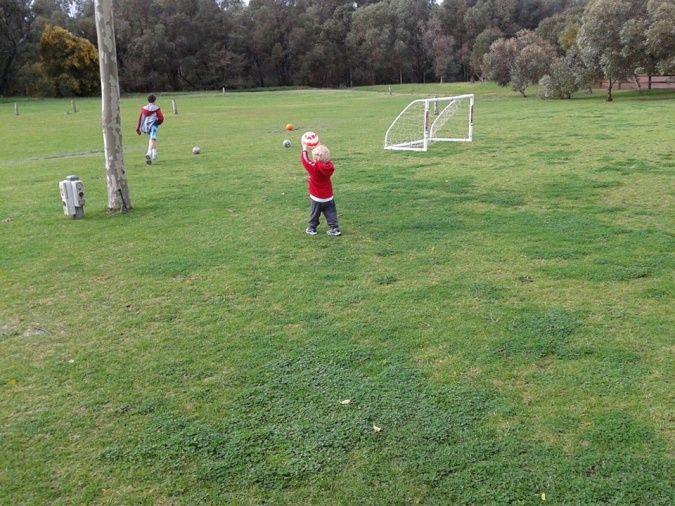 The venue has a parent room and baby change facilities.
As to the food the kids meals were great value at $12, fresh homemade and 5 choices and large serves. The adult food was fantastic and great value also; I enjoyed some seafood pasta whilst my husband enjoyed some local venison. The wine also went down well! All and all we had an enjoyable couple of hours and some great food.




Find more places to visit with kids in Margaret River
Find more family friendly restaurants in Perth
By
Buggybuddys
Buggybuddys member Mum0f4 went along to Amazen Margaret River and wrote us this review
www.amazenmargaretriver.com.au


Facilities include:
Sheltered/shaded gas barbeques
shaded picnic area and tables
playground
more mazes, ground puzzles and games – noughts and crosses, hopscotch, bocce, quoits outdoor table puzzles – snakes and ladders, chess, draughts and more…
landscaped gardens for relaxation (5ha of stunning gardens with proteas, camellias, hibiscus, natives – too many varieties to name, with something in flower all year round and birds and butterflies abundant). Fantastic Fun for all Ages
All Paths Wheelchair Accessible
BYO facility
HEATED/AIRCONDITIONED CAFE with light lunches
Devonshire tea
Homemade cakes
Great Coffee from 5 Senses
Simmos Icecream
Fantastic Family Fun for all ages
Loads of games - Bocce, quoits, hopscotch, noughts and crosses, draughts, chess, snakes and ladders and more
OPEN DAILY FROM 9AM-5PM
$18 adults (17 +)
$14 children (4+)
$14 card holding seniors/students
$58 small family group of 2A + 2C
$10 each extra child in group
No need to book self-guided tours available all day (allow approx. 1 - 1 1/2 hours)
On a clear but cool winters day in the school holidays we decided to pack a family picnic and head just south of Margaret River to Amazen. The main attraction of Amazen is a Giant hedge Maze which the website states "Giant Hedge Maze was planted in 1994. That's 19 years… The main maze hedged with 2,000 Leighton's Green plants has 1.5 km of pathways".
The first time we visited the maze over two years ago I am not ashamed to say it took my mum myself and my husband with then two young kids and a baby in tow over an hour and half to find our way out of the maze! The hedges are massive and it is very hard and confusing in the maze, indeed people were using GPS on their phone to try and find their way out!
This time I thought I would treat myself to a nice coffee and take a seat on one of the comfy lounges in the warm café whilst my husband and kids tried to find their way through the maze. Unfortunately for me they took less than 20 minutes this time!!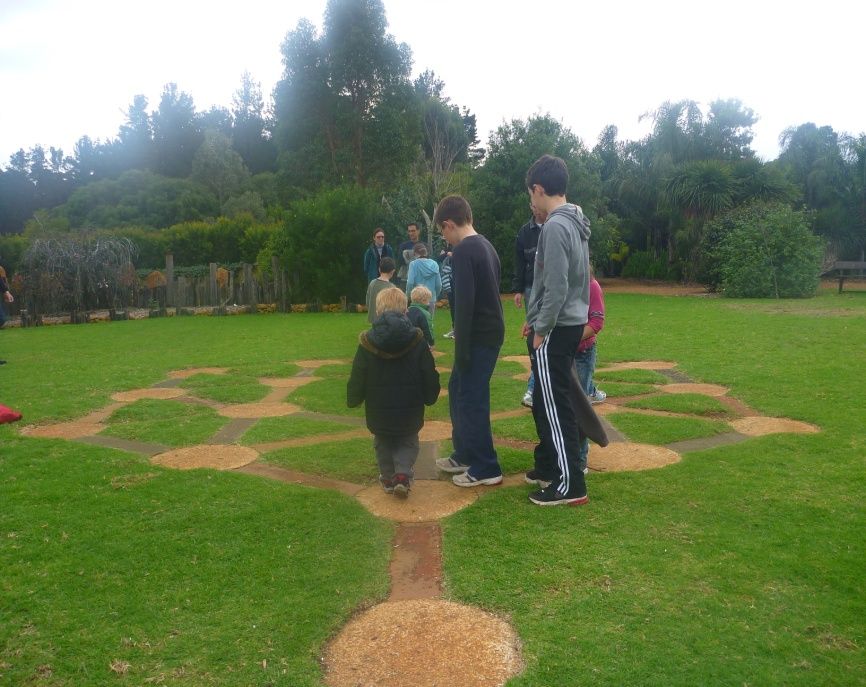 It was not to matter as they went in the maze several times and there was plenty more to keep them amused and we ended up spending several hours at Amazen. We enjoyed a picnic in the grounds. The kids enjoyed the other mazes which included a left hand turn only maze, a colour stepping stone maze and a rose maze. In the grounds they had bocce area, hopscotch, coits, giant noughts and crosses, lots of grass to run around and a childrens playground. In addition they are currently building a mini golf course.
The café serves coffee and light meals as well as cakes and ice-creams. There are inside tables and lounges. Inside there are also puzzles and board games as well as a rug with toddler toys. There is a deck with tables to dine outside when warmer. There are also picnic tables and barbeques to use in the grass area. The toilets are clean and there are parent room and change facilities.


The only negative I would say is that if you are not intending on completing the maze and only want to use the grounds to eat your picnic with your family you still unfortunately have to pay the full admission price. Apart from that a great family day out and my kids did not want to leave.


View Larger Map



Find more places to visit with kids in Margaret River
By
Buggybuddys
Buggybuddys member Mumof4 visited Yallingup Shearing Shed with her family and wrote us this review.
We have visited the Yallingup Shearing Shed a few times over the years, it is well worth a visit to show young city children the workings of an Australian Sheep farm.
Yallingup Shearing Shed is an actual working sheep farm in Yallingup and has 4000 sheep. The farmer has successfully developed a tourist side to his farm as well that enables families to see the workings of a sheep farm.

The farmer runs a show at 11am daily which run for around 90 minutes or so and is very educational and very well priced. The gentleman himself is great with the children, very knowledgeable and also has great sense of humour and this makes for a great informative fun show.
The show begins by the farmer getting a couple of young lads from the audience helping him bring some sheep in and he gets them to hold them in position for him. He talks a little about the history of sheep in Australia and the history and process of shearing. He then proceeds to shear a sheep for the audience. He then involves more of the audience in sweeping sorting grading and packing the wool.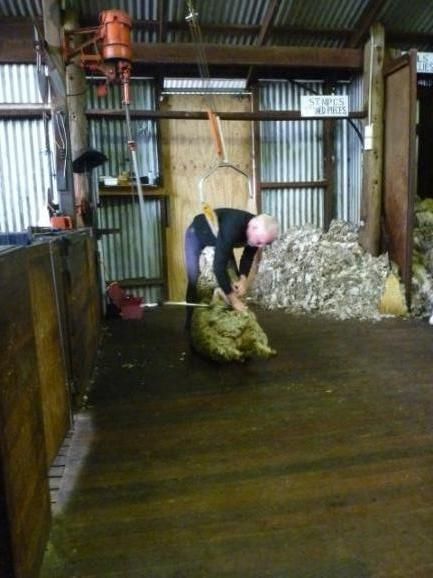 He then sends everybody outside and demonstrates his two sheepdogs to the audience his Bored Collie who rounds up the sheep and "Bruce" the Red Kelpie who musters them. He also talks about the tags on their ears and a few other things.

He then takes the older children 9 and above aside and gets everybody else to go back inside. He brings the older children inside and jokes with them he is going to get buckets for them to collect manure as they sell that also, nothing goes to waste on the farm, as the children squirm he brings in the lambs and milk bottles and the children are given the opportunity to bottle feed the lambs.
Afterwards all of the children are given opportunities to cuddle, pat or hold lambs.

At the end of the show all children are given a piece of wool to take home as a souvenir.
There are pellets of food for sale for $1 if children wish to hand feed older sheep.
There are numerous handmade wool products for sale in the store on the farm.
A great informative show for families well worth a visit.
There are LIVE shows displaying first hand, the amazing experience of shearing, educational activities for the whole family and the famous sheepdogs in action mustering and working the sheep. Bottle feeding the baby lambs is one of the highlights in the show.... $10 for adults and $5 for children (age 2-16) SHOW TIMES are at 11am. 5 DAYS A WEEK.
NO LIVE SHOWS on Thursdays or Fridays (all year round). During the whole month of AUGUST there will be NO Shearing Demonstrations

Yallingup Shearing Shed

Find more places to visit with kids in Margaret River


View Larger Map


By
Buggybuddys Blogger - 3mountainzmommy
I love the way the Margaret River appeals to all members of my family. We try to mix the wine tastings and breweries with equal amounts of fun activities for the kids. This time the kids "hit the jackpot" when we visited Xscape at the Cape Fun Park in Dunsborough.
The Mine Shaft Maze, Wacky Putt, and Jump 'N' Tramp Trampolines were allowed with both combo packs, so the kids enjoyed those activities together.
There was even a small fenced in area for the really little ones to enjoy.
The kids were each given a wristband that gained them entry into each activity.
The size of the Fun Park was perfect. There was plenty to keep the kids busy for a few hours, but the park was small enough to feel at ease with three kids running in separate directions.
The grounds were lovely with plenty of shade trees and places for parents to sit while the kids burned off steam.
The buildings and surrounds made me feel as if I stepped onto a farm or small plantation. Even the toilets were charming.
The kids did not stop from playing long enough to enjoy anything from the cafe, even though I offered several times. I did however glance at the menu and was delighted to see a nice selection of "homemade" food with very reasonable prices.
Xscape at the Cape serves local Yahava coffee and straight from the cow ice cream from Millers Ice Creamery. YUM!
The kids raced against the clock and each other through the maze.
The kids loved the "vortex" entrance to the maze.
The train leaves the station every half hour:
These super bouncy trampolines had the kids flying through the air!
By
Buggybuddys Jennie
Cheeky Monkey Brewery and Cidery is located at 4259 Caves Road Margaret River.
It is a great place to stop off for lunch with the kids as it has a fabulous fully enclosed, shaded playground which keeps the kids entertained for hours! The playground is sand-based and well equipped catering for children of all ages.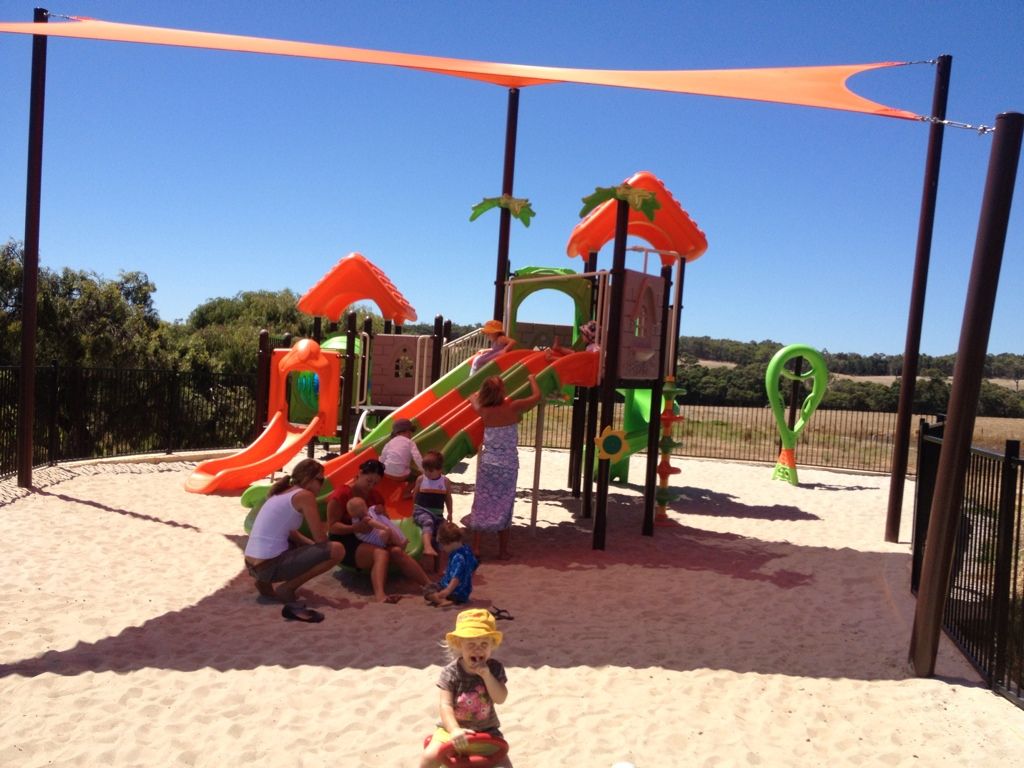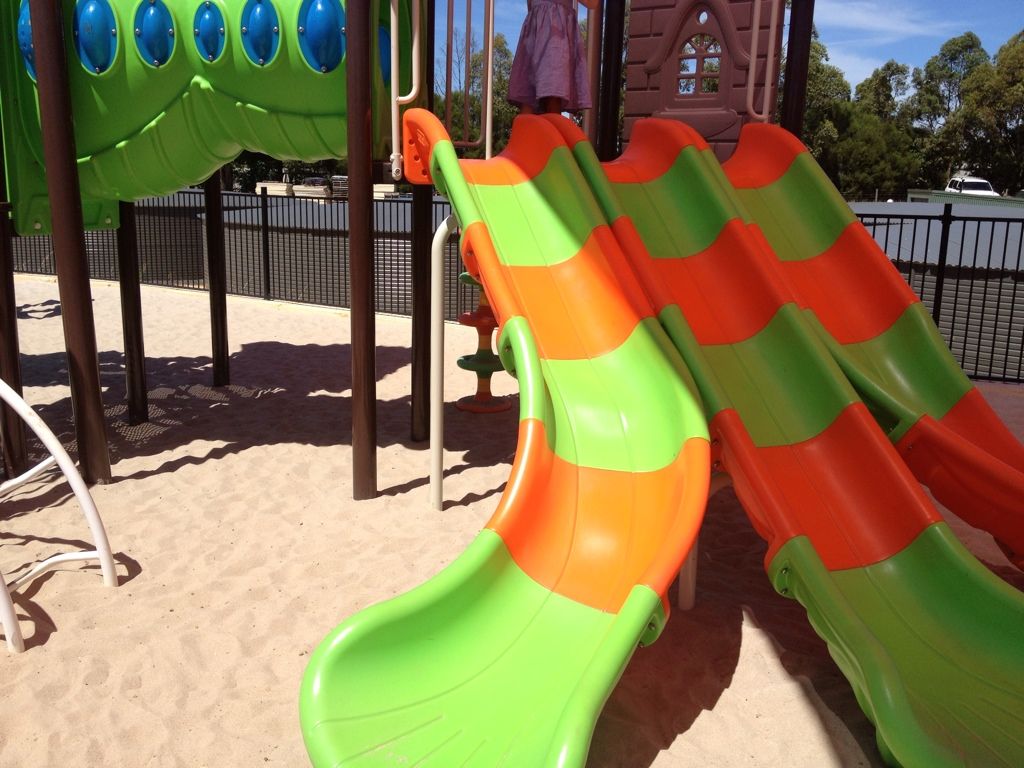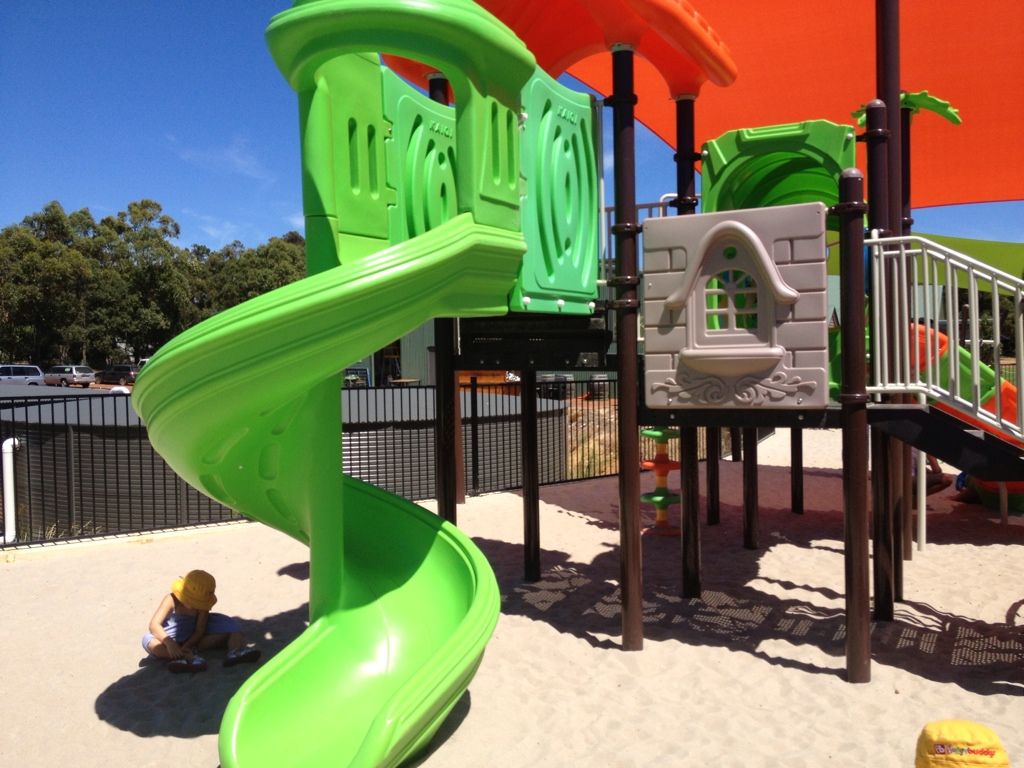 If you are indulging in a spot of lunch you'll find a wide range of seating options - Cheeky Monkey is huge!


Enjoy lunch in the alfresco area overlooking the lake or on a winters day pick a cosy spot by the open fire. If you fancy a drink Cheeky Monkey serves 5 beers and 2 ciders on tap.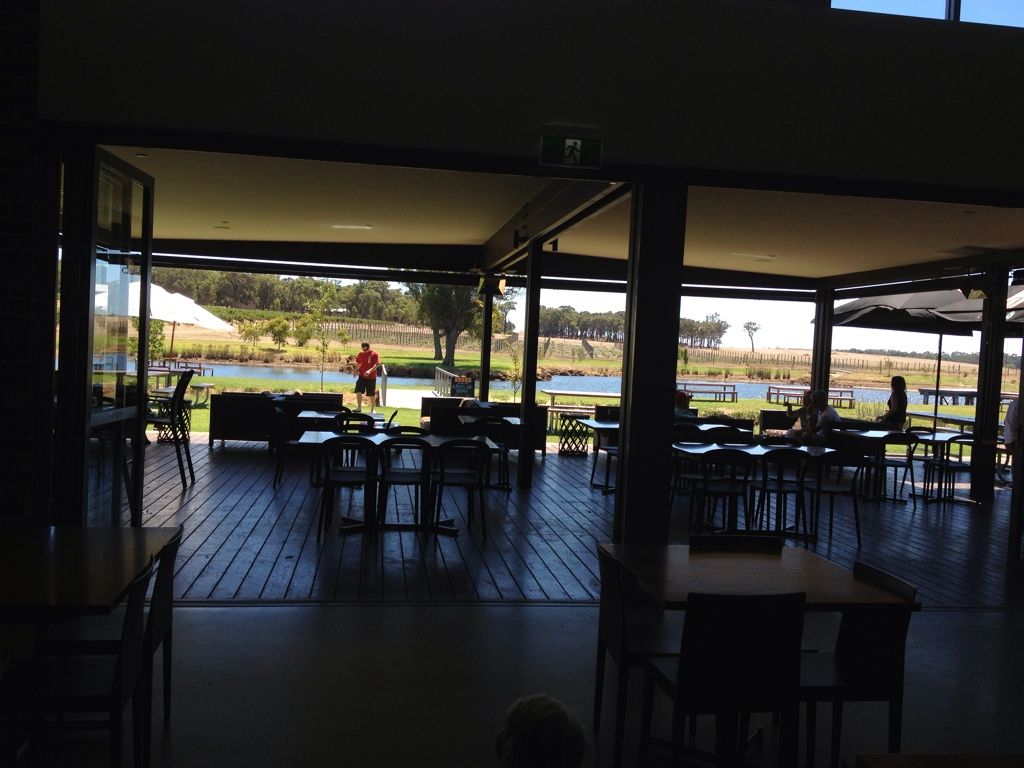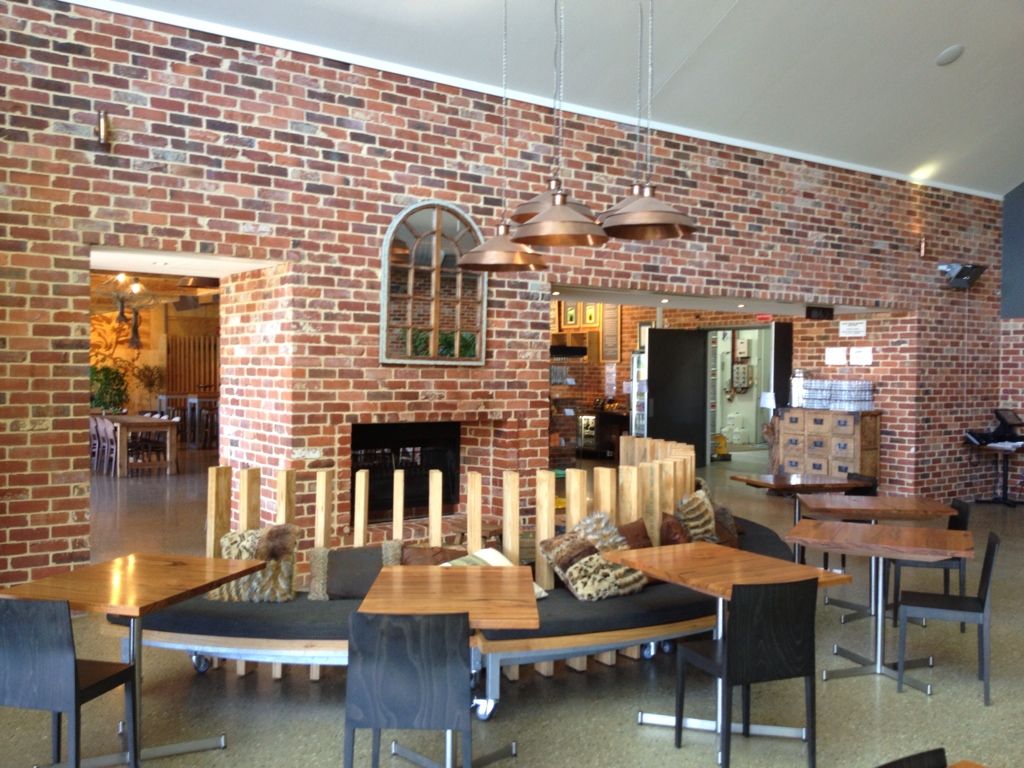 If you choose to eat indoors you'll also find a small colouring station area and some toys to keep younger children amused whilst you are eating.
We didn't partake in lunch on our visit to Cheeky Monkey but their menu consists of a range a tapas ($11 - $16) Burgers ($19 - $25), pizzas ($18 - $25) and a selection of more traditional main courses. Many of the pizza's include a gluten free option. You'll also find cakes and ice-cream on offer too.
Cheeky Monkey has a small kids menu which includes fish & chips or burger & chips served with juice at $10, Ham & Pineapple Pizza with juice at $14 or the Kids Cheeky plate which is a vegemite sandwich, yoghurt, apple slices, sultanas and a juice at $12.
Opened in May 2012 I think
Cheeky Monkey
will become a firm favourite destination for families when visiting Margaret River.
Cheeky Monkey is open daily from 10am - 6pm.
www.cheekymonkeybrewery.com.au

View Larger Map
Find more places to visit in Margaret River with Kids
By
Buggybuddys Jennie
If you are visiting the Margaret River Region with kids I strongly recommend a visit to Simmo's Ice Creamery on the outskirts of Dunsborough.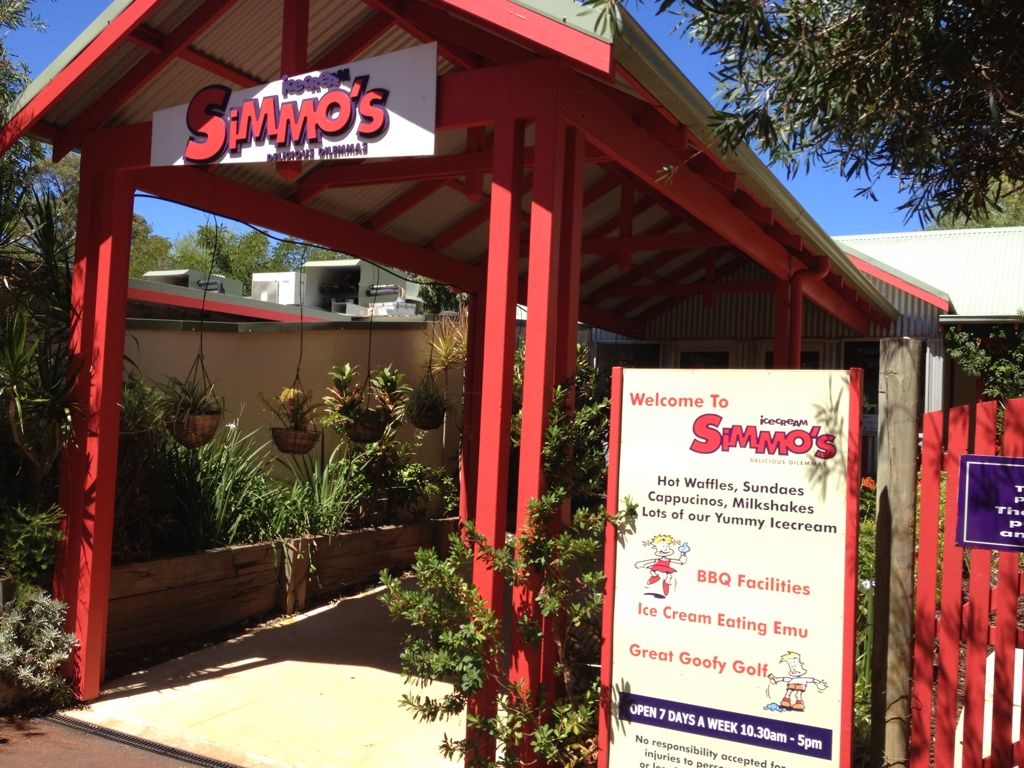 Apparently when Simmo's Ice Creamery opened in 1993 the locals thought owners Garth and his father Gordon Simpson mad to set up an ice-cream shop in the middle of the bush but now it is one of Margaret River's must see places to visit.

Since its opening Simmo's has won more than 62 Silver and 9 Gold Medals including the Grand Champion at the Perth Royal Show. They produce over 100 different flavours of ice cream with 60 on display each day at the cafe.
Let me tell you - you will have a hard time making your selection.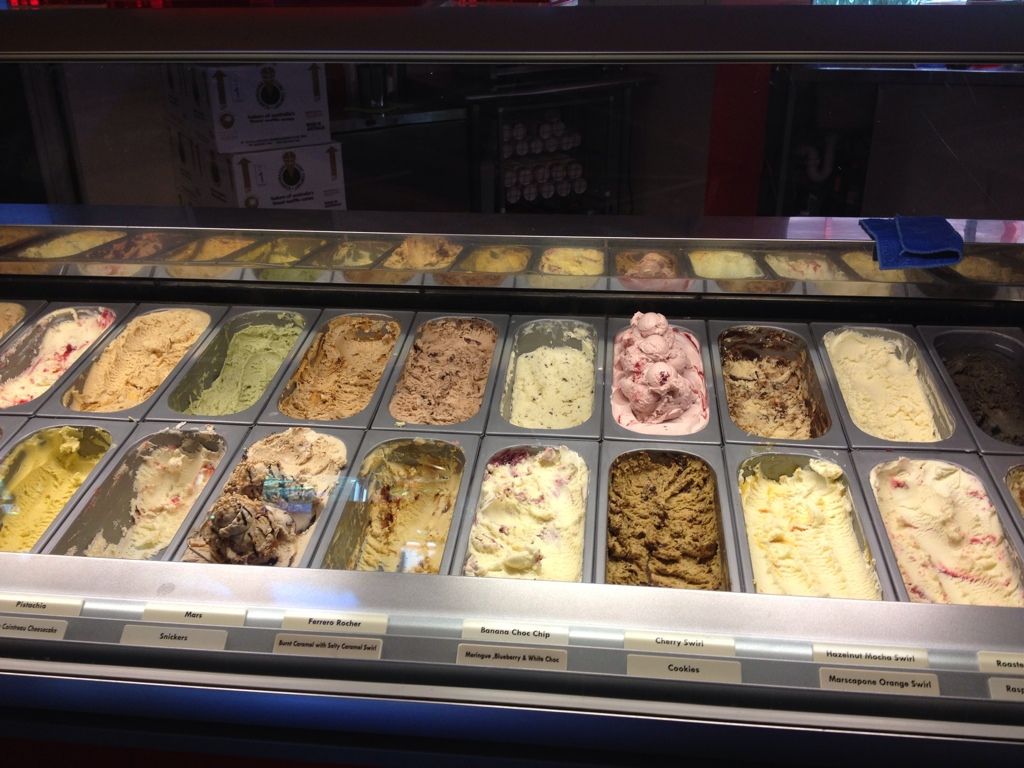 For Miss 4 it was easy, she went her favourite flavour Strawberry. Miss 2 is not the biggest ice cream fan, she normally takes a few licks and then hands it over to Mummy - a habit that I am not discouraging! So on her behalf I made the selection of Meringue, White Chocolate and Blueberry which was divine!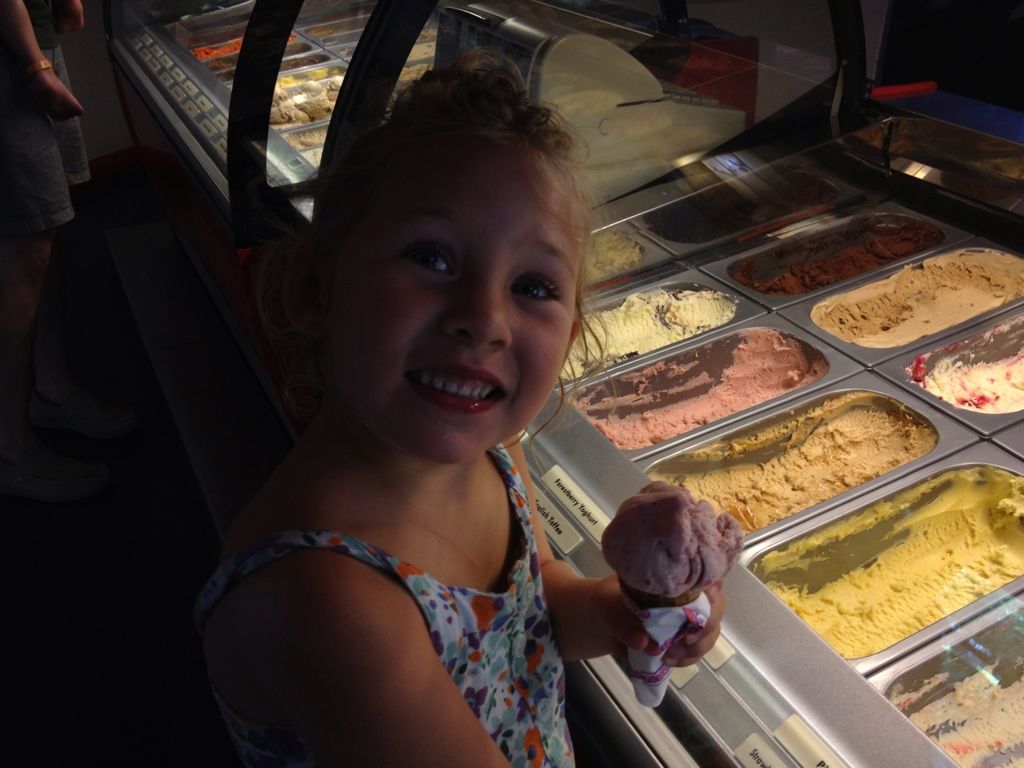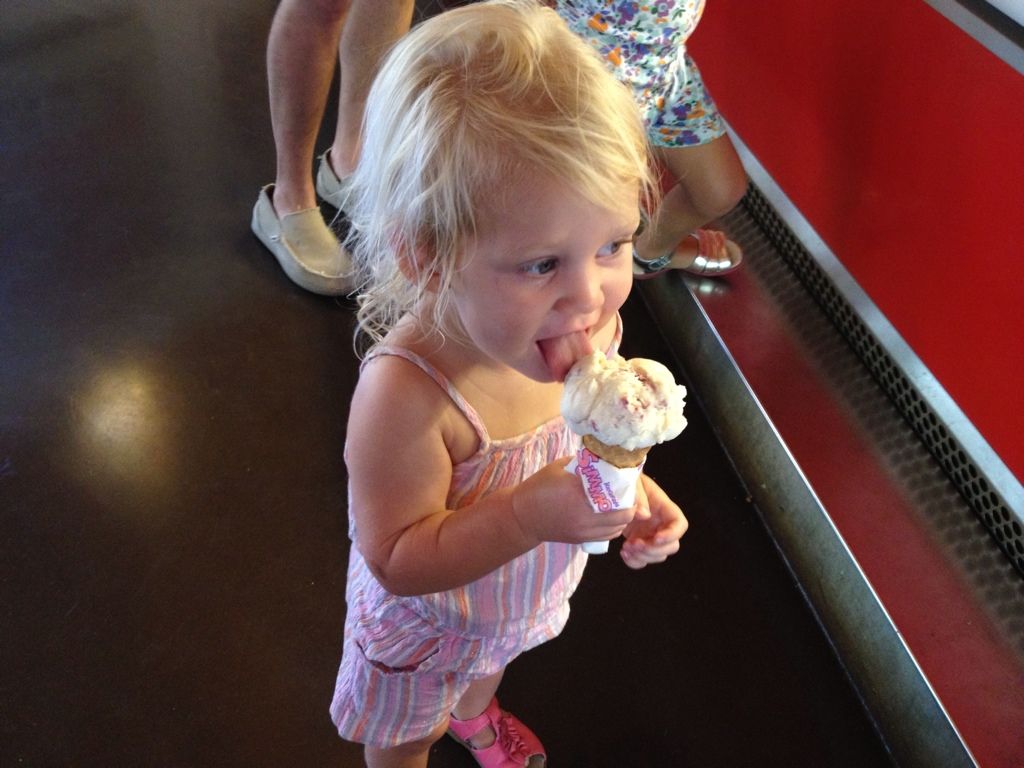 Other flavours which caught my eye were 'Burnt Caramel with Salty Caramel Twirl', 'Mascarpone and Orange' 'Strawberry Cointreau Cheesecake' and 'White Chocolate Malteaser'. I could go on but with over 100 flavours the list is endless. You can check out some of the other flavours on their website.

If you have an allery Simmo's produce a huge array of ice creams and soberts that are either Gluten Free, Dairy Free or Egg Free. You can view the list here.


Prices started from $3.50 for a kids cone which had quite a generous helping. They don't allow tastings which is a shame as I would have loved to experience more of the different flavours. As we visited around lunchtime we also opted for a light snack. They serve an array of paninis priced at $9.90 and cheese and ham toasties at $4.50.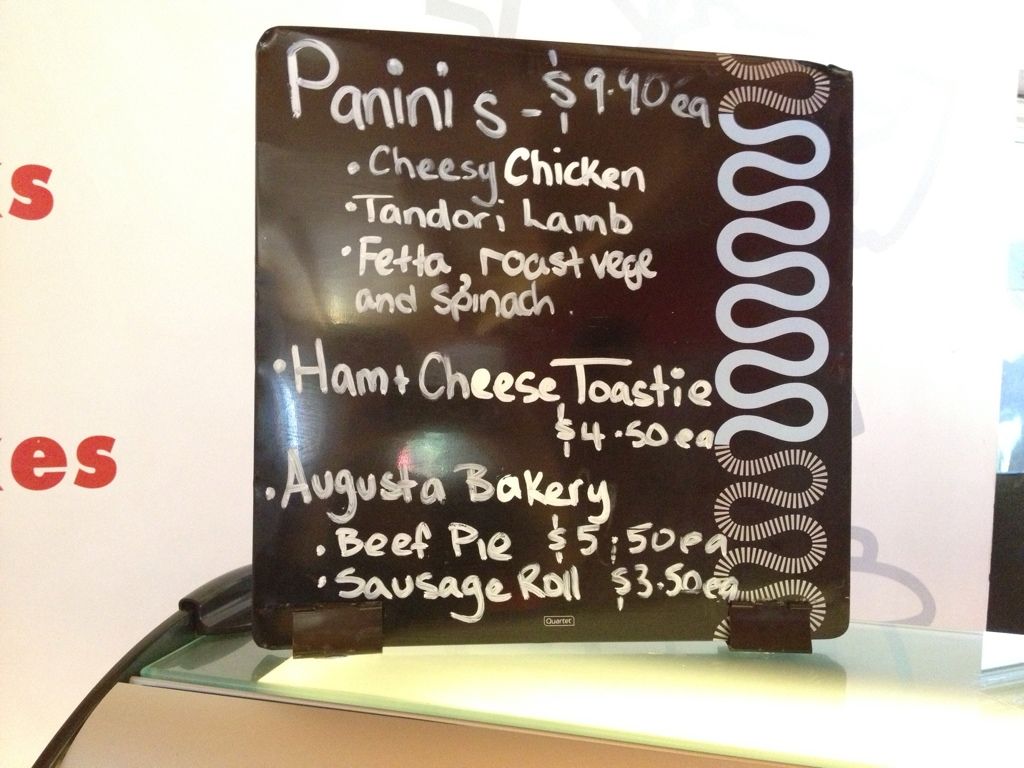 We went with the toasties. If you have more of a sweet tooth you can also indulge in Hot Waffles served with your favourite ice cream and complete with chocolate sauce.


Simmo's Ice-Creamery has a fabulous adventure playground for the kids to burn off their sugar rush! It is sand based with wooden structures that include a boat, an aeroplane and many obstacle course features.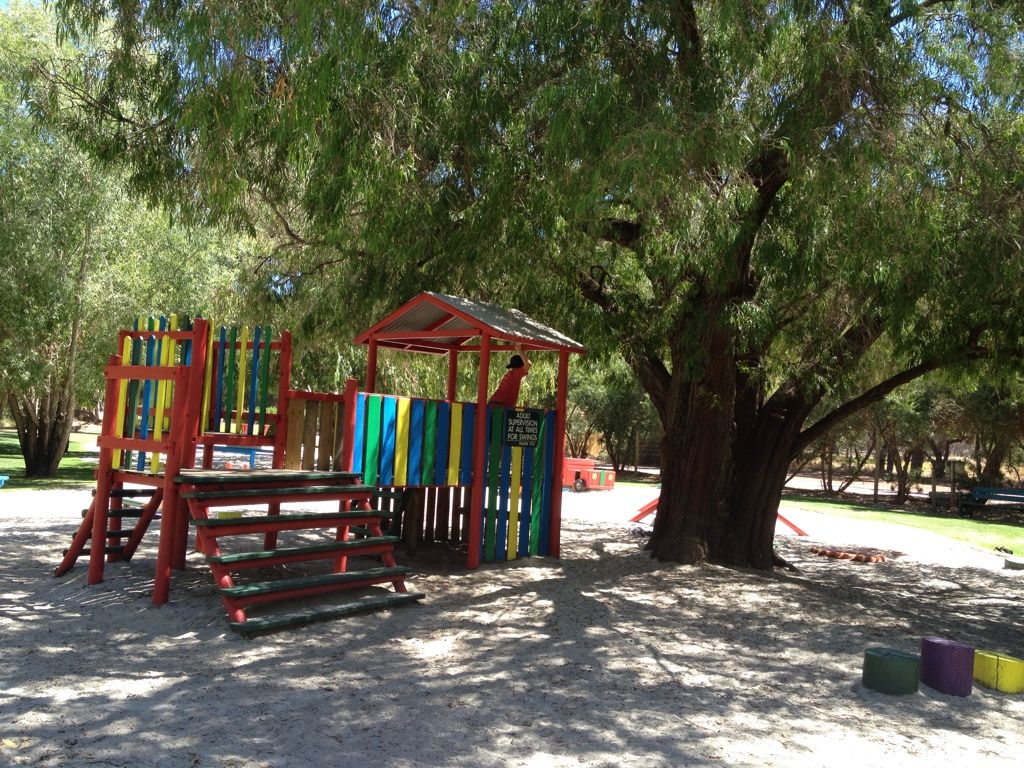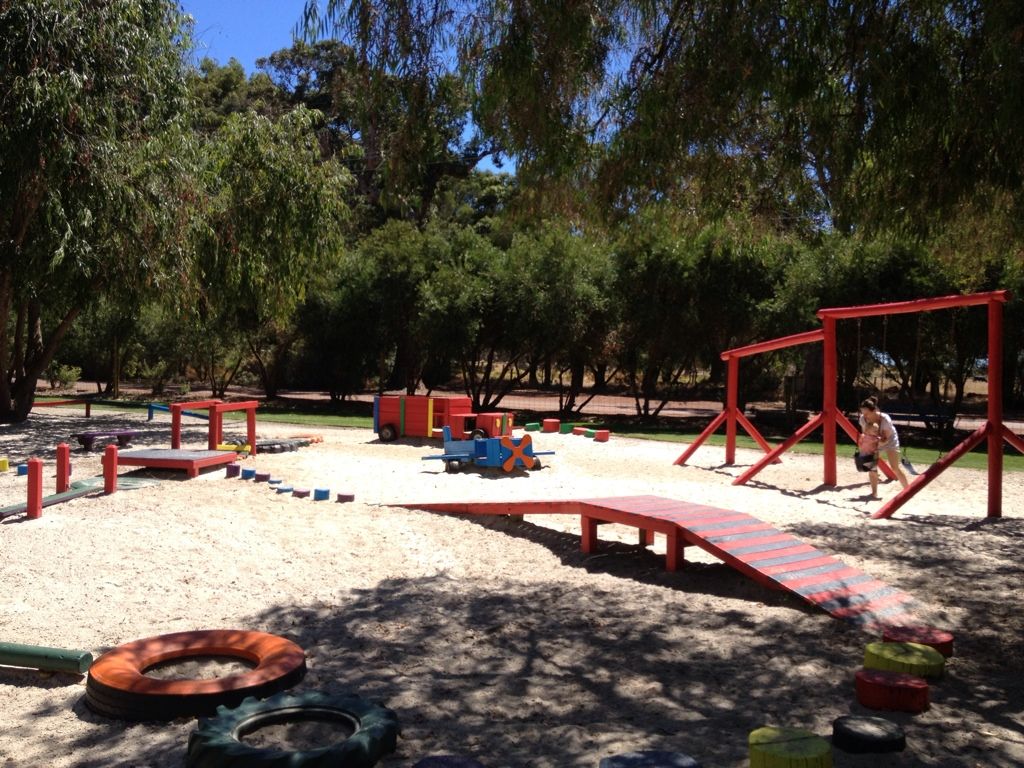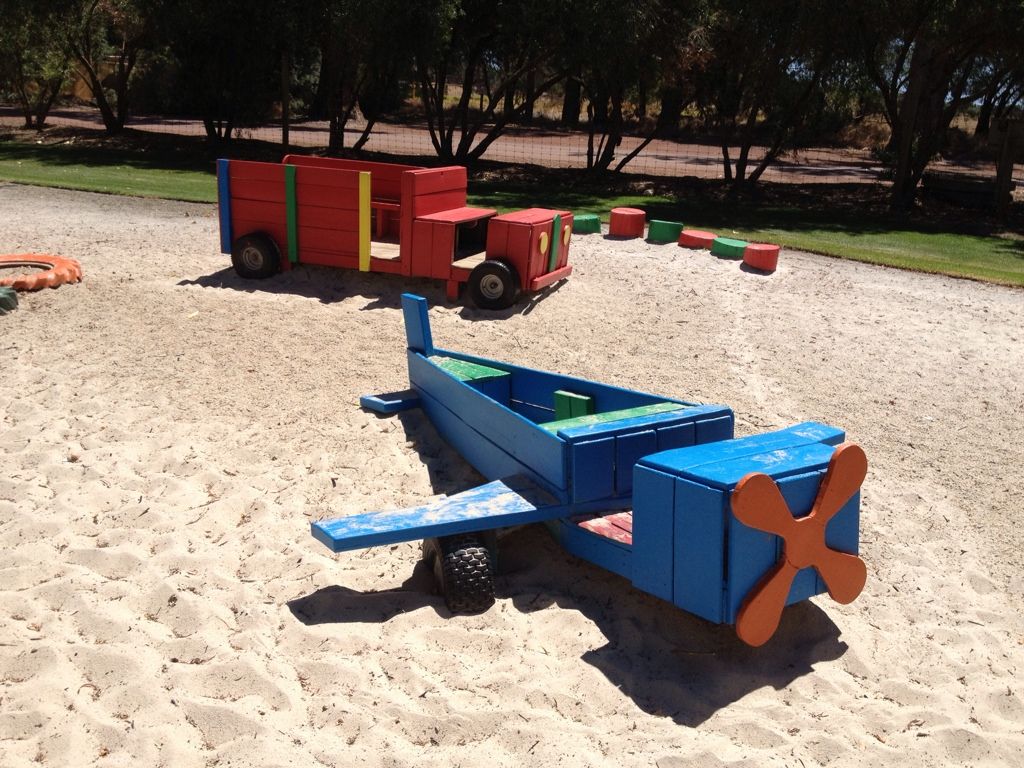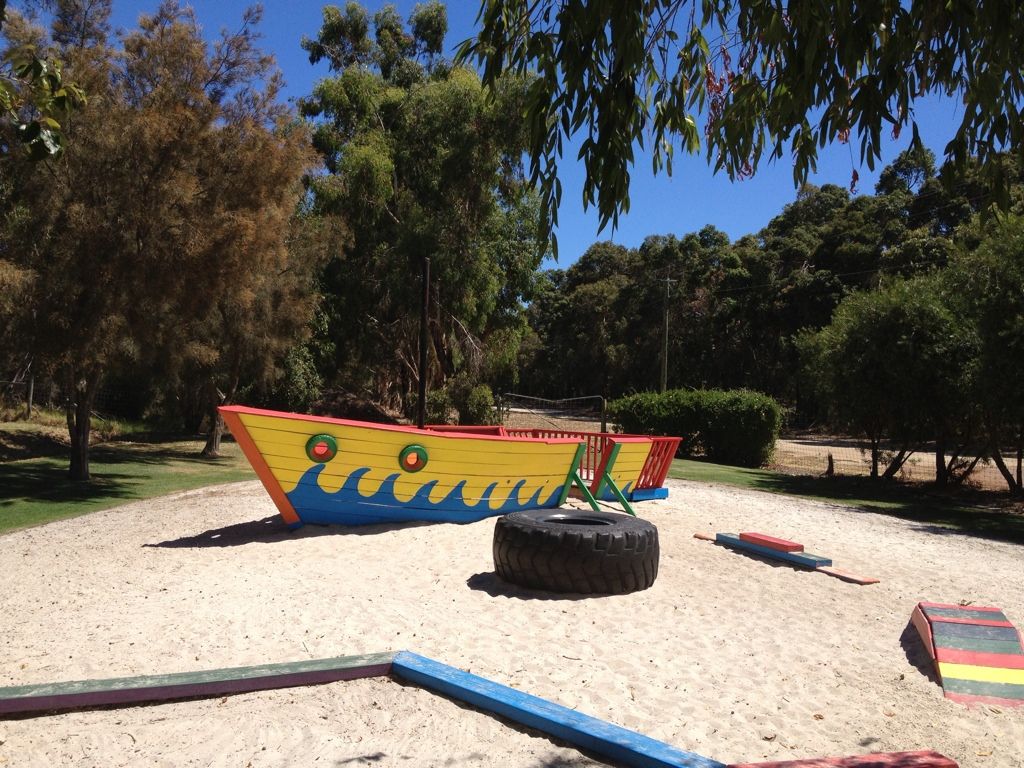 There is also an undercover area with coin-operated merry-go-rounds and cars. The girls loved playing in the ice-cream truck!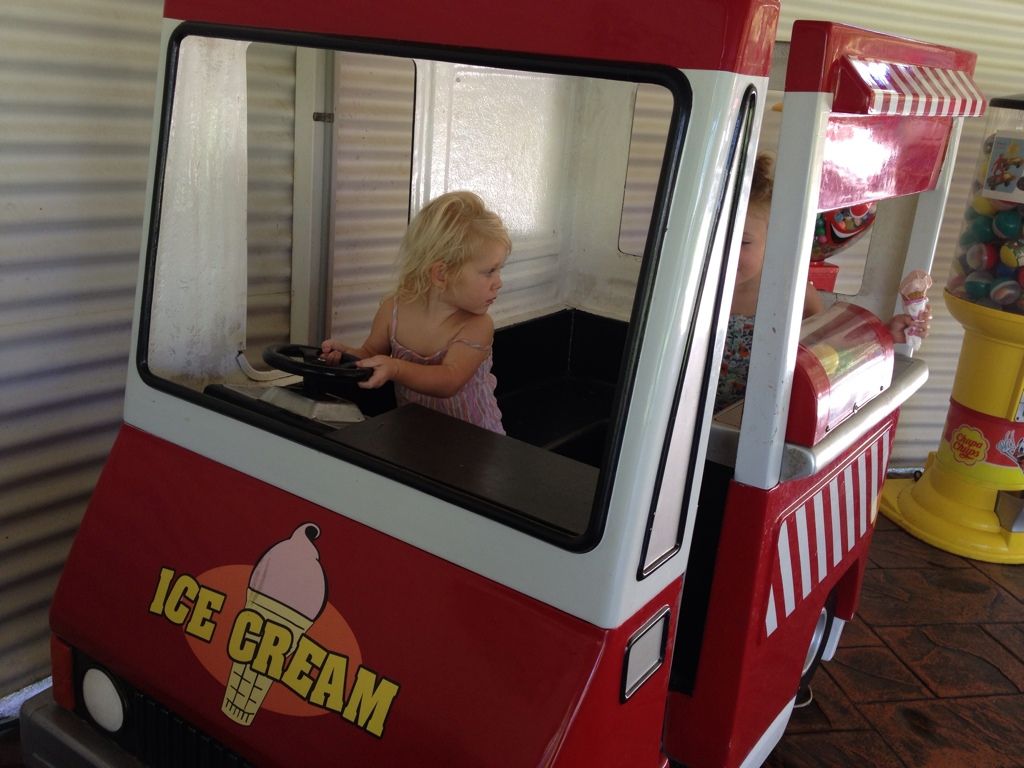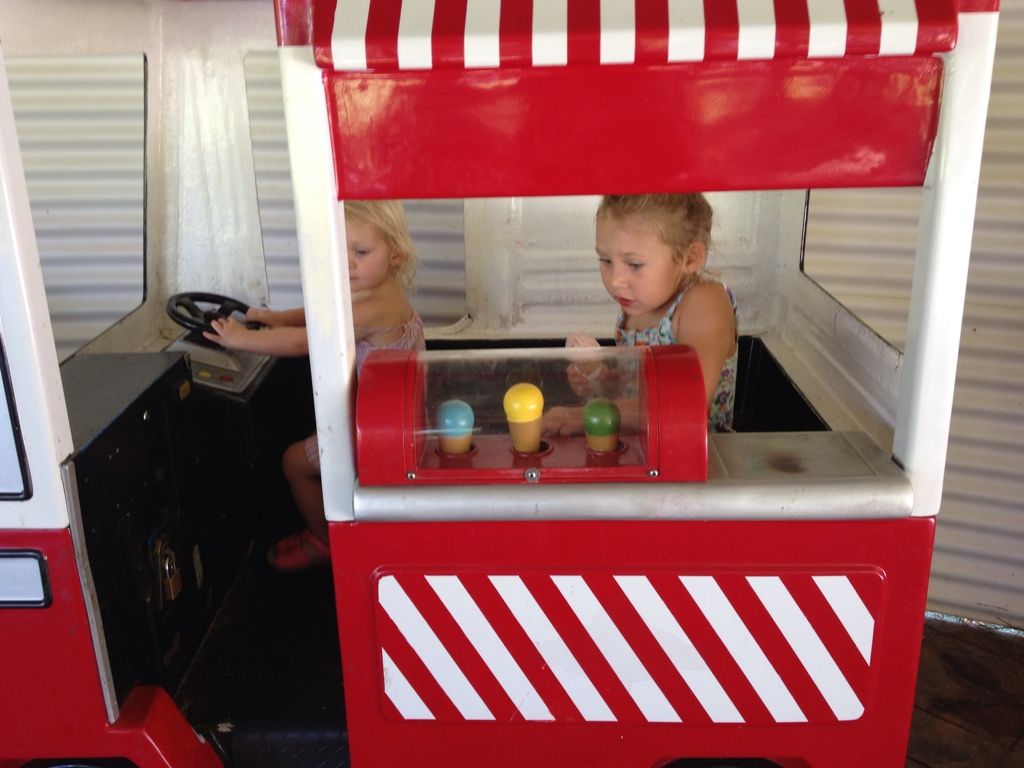 Over the school holiday periods they also lay on extra entertainment within the grounds such as Bumper Balls, Zorbs, a trapeze and even a tight rope!

Simmo's Icecreamery also has lovely landscaped gardens complete with several picnic tables shaded by the large trees and free BBQ's. They also have a resident Emu named Edward who I am told loves eating ice-cream!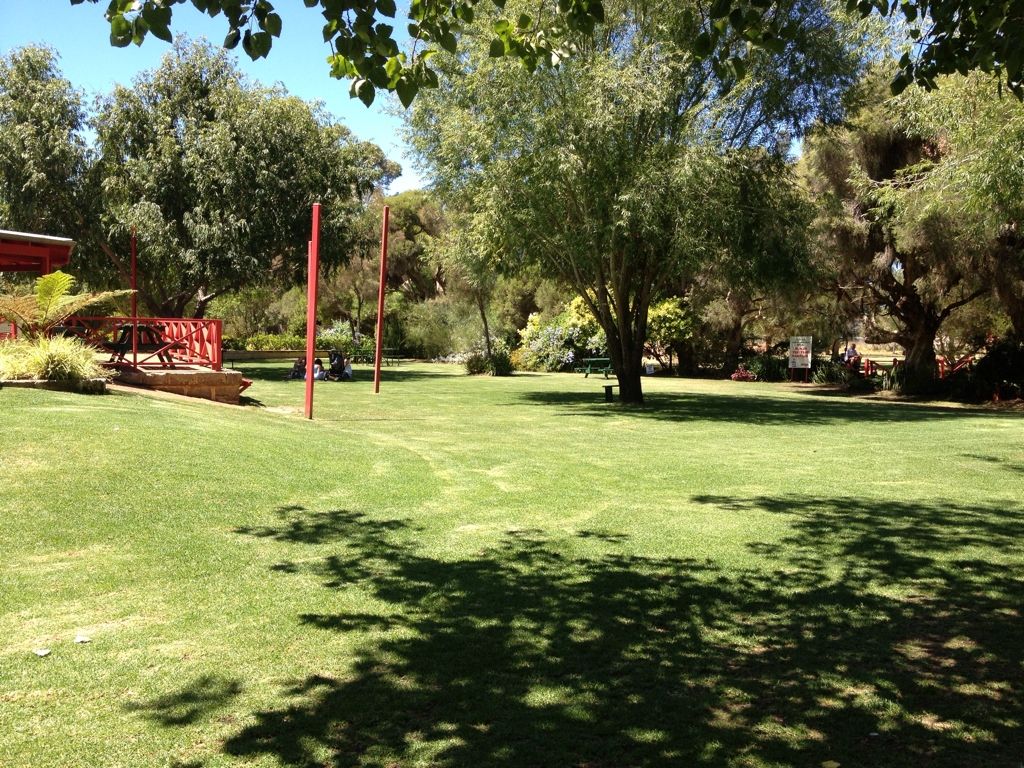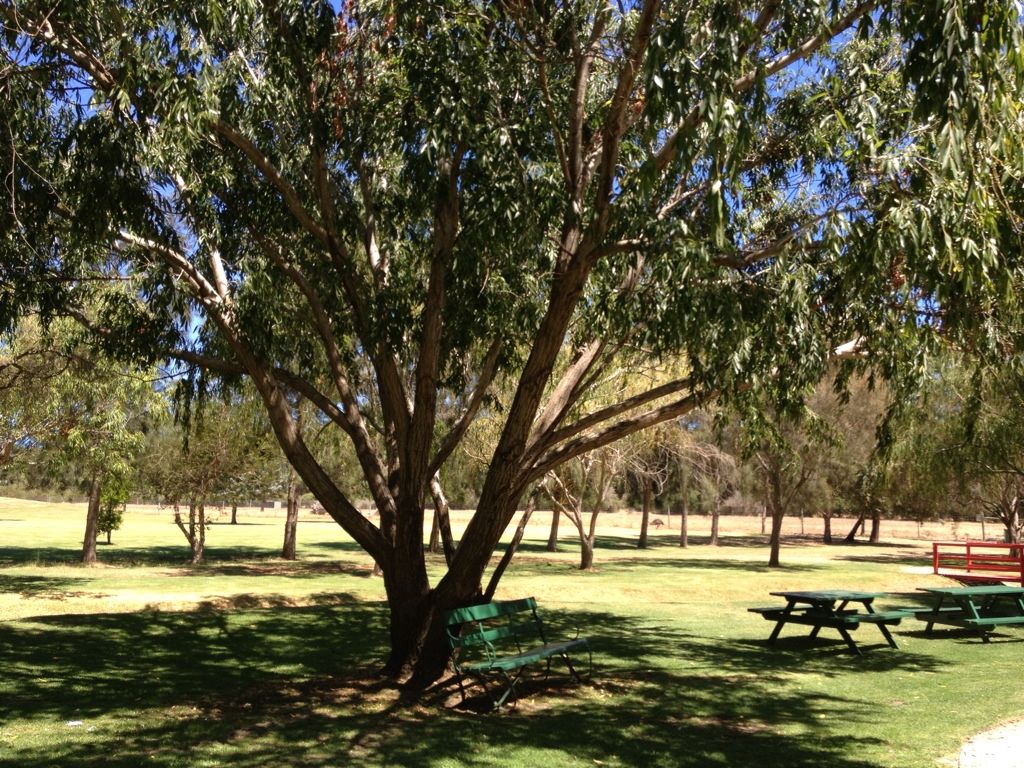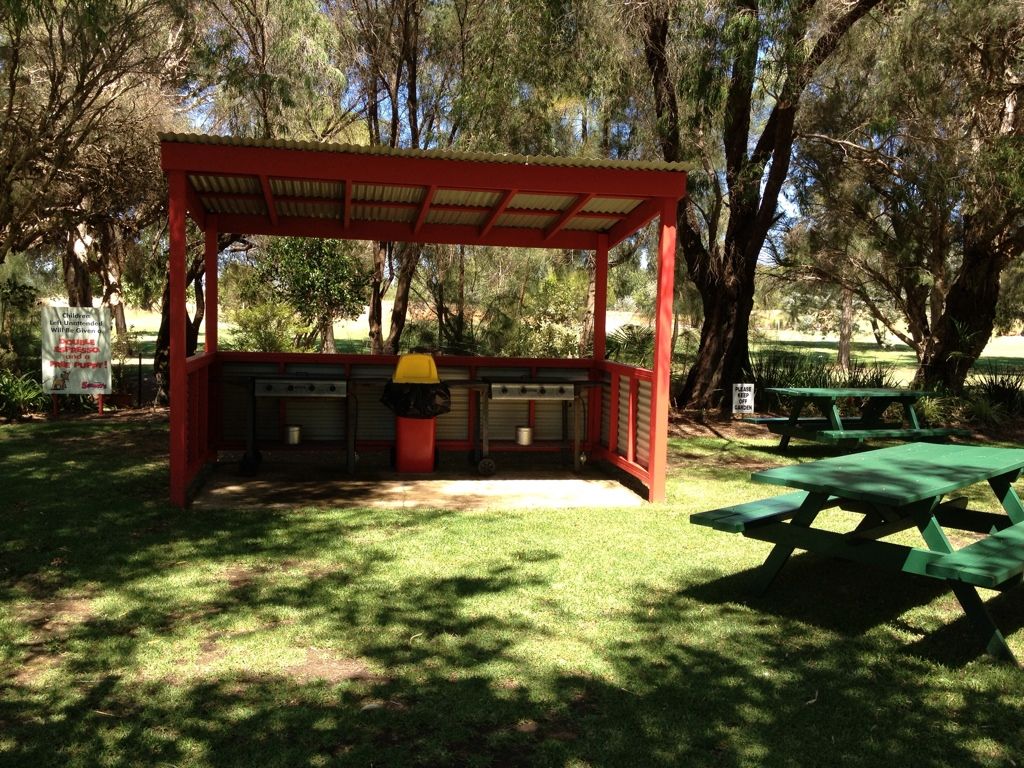 Within the grounds is a mini Goofy Golf course. To enjoy a round will cost you $10.50 per adult and $8.50 for children over the age of 3. Family prices are available.


We really enjoyed our visit to Simmo's Ice Creamery and will definitely be returning on future visits to Margaret River.

Simmo's Ice Creamery is located at 161 Commonage Road, Dunsborough and is open every day excluding Christmas Day 10.30am - 5pm.

View Larger Map
Find more places to visit with kids in Margaret River