Bennett Brook Railway
Bennett Brook Railway is situated in Whiteman Park and is staffed solely by volunteer members of the Western Australia Light Railway Preservation Association. It was formed in 1976 and makes a great day out for the whole family. Hop on board the steam or diesel train and be taken for a journey through Whiteman Park's Banksia woodlands.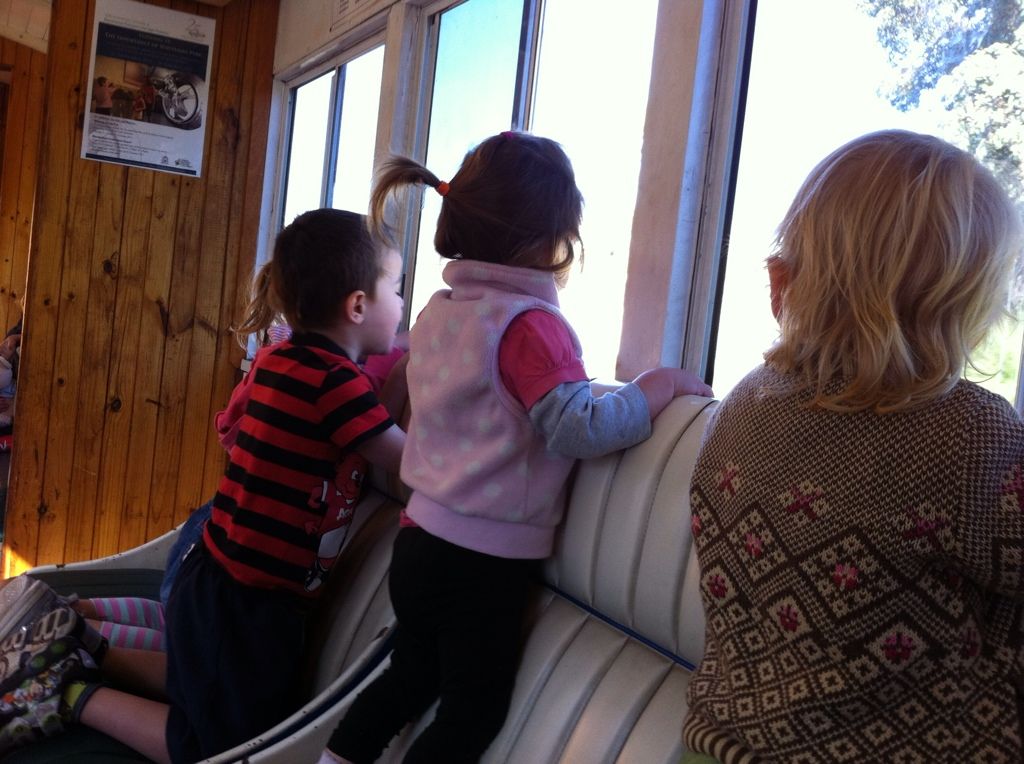 Enjoying a train ride through the bush

Bennett Brook railway operates the following schedule:
Weekends and public holidays 11.00am – 4.00pm,
School Holidays daily 11.00am – 3.00pm
Wednesdays and Thursdays at 11.00am, 12.00pm and 1.00pm.
During the week you can enjoy a scenic trip around the bushland loop departing from the Village Station. On weekends and public holidays services operate half hourly from the Village Junction Station on hourly from Mussel pool.
All day tickets are $8.00 for adults, $7.00 for Seniors, $4.00 for children aged 6-16yrs and $2.00 for children under 6.
If you are on the hunt for a unique party location then the party coach at Bennett Brook Railway may just be the place that you are looking for. The party coach and the accompanying fenced in Subiaco Train Station can be hired for $200. This comes with use of the facilities of the Subiaco room which includes a microwave, pie warmer, fridge, kettle and a 6 burner BBQ. The hire cost also includes a free train ride for up to 24 kids and 10 adults.
The Bennett Brook Railway run the very popular Friends of Ashley Day at Whiteman Park which is a fantastic day out for train enthusiasts and fans of a certain blue television character named Thomas.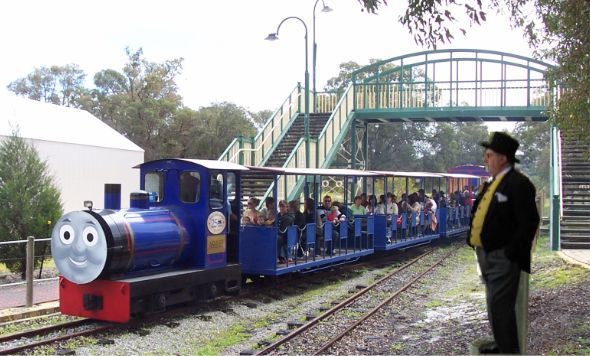 Buggybuddys suggested itinerary for visiting Bennett Brook Railway:
10am – pay a visit to Revolutions Transport Museum. It's only a small museum showcasing the transport choices of Western Australia throughout the years. Kids can get hands on with trains, trams, buses and cars. Best place to park it Car park 1.


Driving a bus at Revolutions Transport Museum

11am – catch the Bennett Brook Railway train from the village station situated right next to the museum. If you have babies/toddlers you might struggle to get your stroller into the train carriage as the doors are only narrow. Enjoy a scenic tour around Whiteman Parks woodlands. The journey takes about 30 minutes.
11.30am – head for lunch. The Village Café is 5 minute stroll away from the station and offers a broad range of catering options. You can even purchase an Aussie BBQ pack that you can cook yourself on one of the many BBQ's doted around Whiteman Park.



Enjoying a post lunch ice cream
12.30pm – after enjoying a leisurely lunch let the kids run off steam with a visit to the playground. Whiteman Park has a number of playgrounds, the main one being in the Village which is fully fenced and shaded and offers challenging fun for children of all ages. There is also a water playground situated opposite the Village Café which is a huge hit with the kids. It is a 30cm deep paddling pool complete with water spouts. The pool is open every day 10am – 5pm from the October school holidays through to the end of the April school holidays.

Find more places to go with kids in Perth