Review of Clancy's Café, City Beach – Kate Vallance, August 2014
195 Challenger Parade, City Beach - Phone (08) 9385 7555 - E-mail [email protected]
http://clancysfishpub.com.au/city-beach.html
Clancy's Café is next door to Clancy's Fish Bar in City Beach. They are part of the same building and have the same owners but are separate places to eat. The café is open from 6 or 7am every day (depending on the time of year) for breakfast and lunch and is also open for tea and coffee until late afternoon.
Inside the café there is a water machine so you can help yourself to chilled or room temperature water and grab a copy of the days paper. In addition to the menu there are a couple of cabinets with a range of muffins, rocky road, gluten free and other cakes. There is another counter housing a variety of savoury food.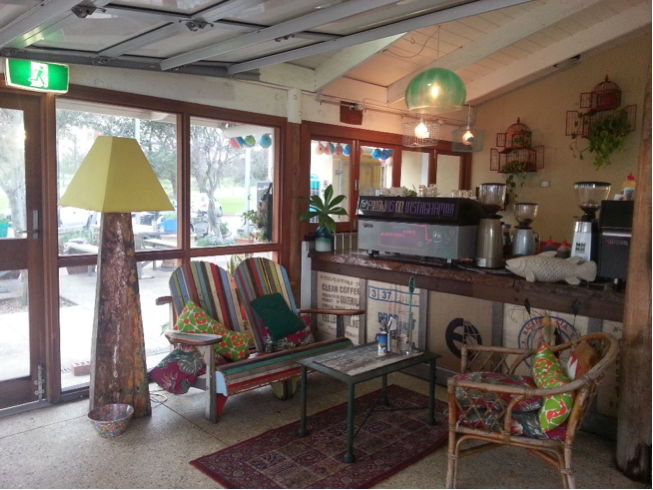 The seating for Clancy's café is mostly outside and has a selection of bench tables, normal tables and bar stools. High chairs are available. They also provide water bowls for dogs so some people bring their dogs with them to their table or tie them up under the nearby trees. You can also get take away coffees, babychinos, juices, muffins, etc if you do not want to eat in.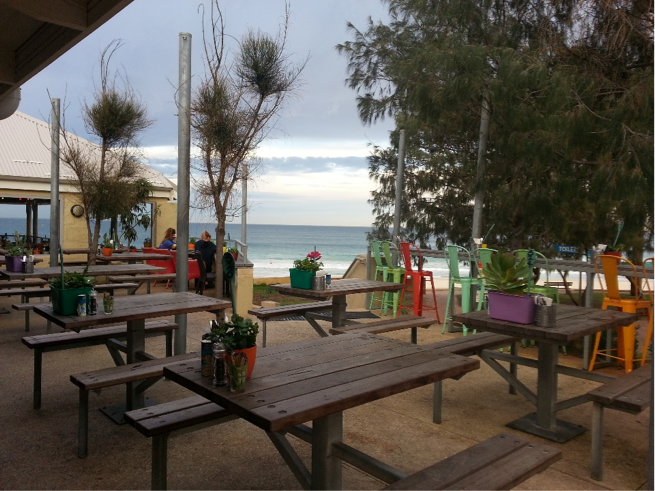 The café is right next door to a playground so you can watch your children play from your table. It is great if your children are beyond the toddler stage as you can sit and relax in the café while they can run around. However, it can be harder if you have a toddler who likes to run off as there are some stone steps leading down to the beach in one corner of the café and the car park is next to the playground which is not fenced. Unlike the restaurant, the café does not seem to have pencils and colouring in sheets for children.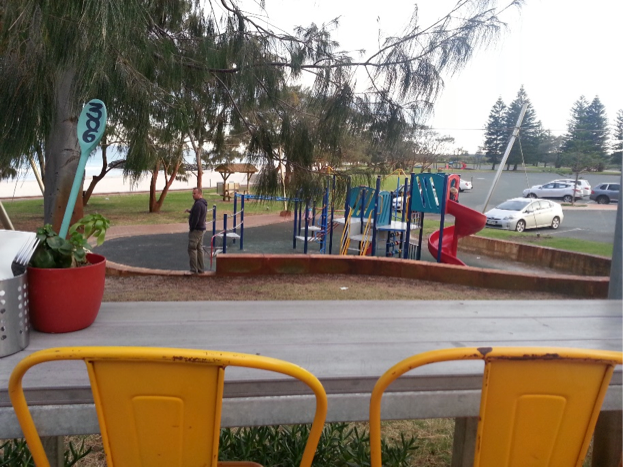 Menus are up on the chalk boards inside or you can pick one up from the counter and take it to your table. To order you need to pick a table, take a number and pay at the counter. There is a children's menu at breakfast (including boiled egg with toast soldiers which I thought was pretty cool) and lunch. These are listed on the chalk board only.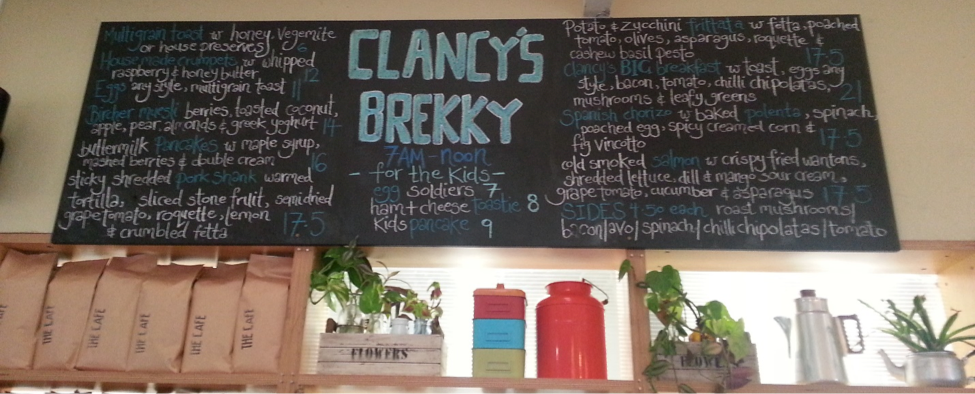 We have had breakfast at Clancy's on many occasions as we live quite close by. Like the restaurant, it does not take bookings so in summer it can get quite busy. We have eaten a few different things over our visits and all are very nice. On this occasion the kiddies had a baby cino ($1.50 each) and a children's portion of buttermilk pancakes each ($9 each). The pancakes are lovely and come with stewed fruit and whipped cream. My son was not keen on the stewed fruit so you might want to ask for it on the side if you are not sure if your child will like it.
My husband and I had a big breakfast each ($21 each), a coffee ($4), fresh juice ($6.50) and a pot of tea for one ($3.50). The total bill came to $77 but you could eat there for a lot less if you get smaller meals (the breakfast is pretty big!) and if your children are not big eaters they could probably share a meal. As there is free self-service water on tap you not need to order a drink unless you want one.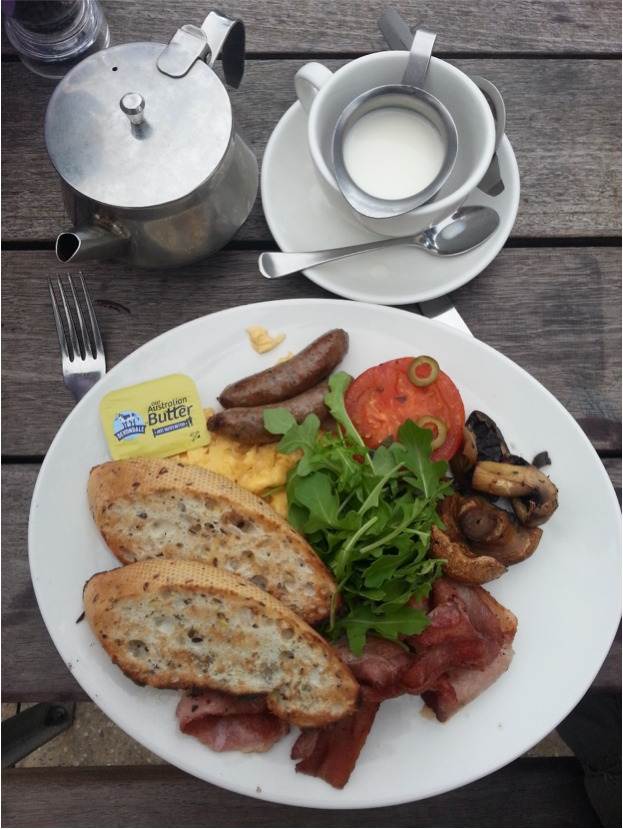 On Saturdays and Sundays the breakfast is also available in the restaurant. This was not always the case though so you might want to call to check first if you want to sit inside.
A busy times the café also often uses the main restaurant's deck area to serve breakfast. We usually prefer the deck but it was not open during this visit as it was winter. The staff said it would open from 9am when the restaurant opened.
We love the café and come for breakfast every now and then. It is a lovely place to watch the ocean and the children love the playground and playing on the sand dunes or in the ocean before/after breakfast. If you come early it is good on days like Mothers Day or Fathers Day as you cannot book so if you have not been organised it is very handy! If you come later it can get busy. It is another favourite place for us to take interstate and overseas visitors too.
Note: Clancy's cafe is not in the Entertainment Book.




Find more family friendly restaurants and cafes in Perth