Go Bananas
8 Eclar Lane, Joondalup 6027



Go Bananas is an indoor play centre situated in central Joondalup. The centre provides 'themed children's parties, extensive café facilities and the largest climbing frame in Perth'. There is a car park out the front but it isn't large enough to accomodate the large number of people visiting the centre. Additional parking can be found road side.
Go Bananas has to be one of my favourite playcentres to take my 2 daughters to as it caters well to both their age groups – 4 and nearly 2. The play centre is large and feels especially spacious with it's high ceilings and well planned layout. All the play equipment appears clean and well maintained and there are plenty of chairs and tables arranged through out the centre.
Go Bananas has 3 separate play areas catering for the different age groups. For the under 2's there is a large fenced in and gated area which contains a multitude of play equipment and educational toys catering for crawlers and walkers. There are walkers, ride ons, cubby houses, small slides and play kitchens. All great fun!


What is nice about the area its that there are chairs on tables on the other side of the fence so if you have an independent child who is happy to potter about by themselves you can escape and enjoy a coffee whilst keeping a watchful eye on your child at the same time.
Next to the under 2's area there is another large separate fenced in area designed for children aged under 5.


Here you'll find an abundance of Tiggy Tikes cars, trikes and other toys plus a bouncy castle and a jungle gym catering for that age group. Again it is fenced and gated with tables and chairs on the other side of the fence.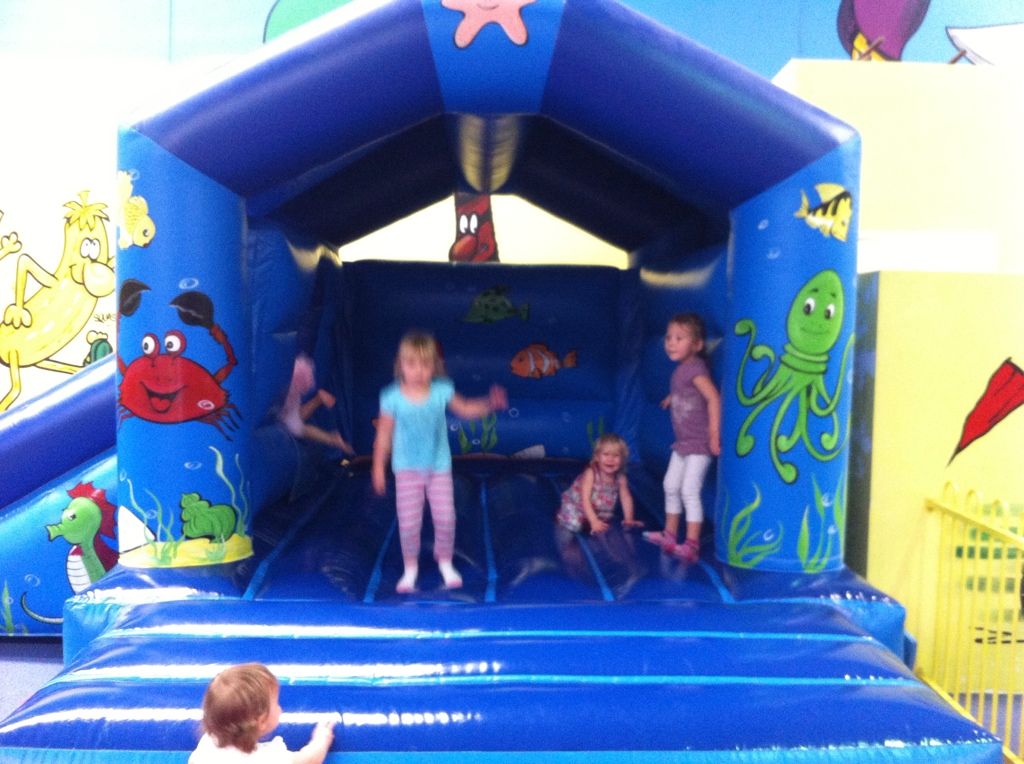 For the 5 – 12 year olds there is a huge 3 storery play frame equipt with slides, climbing nets, stairs, a flying fox and all other nooks and crankies.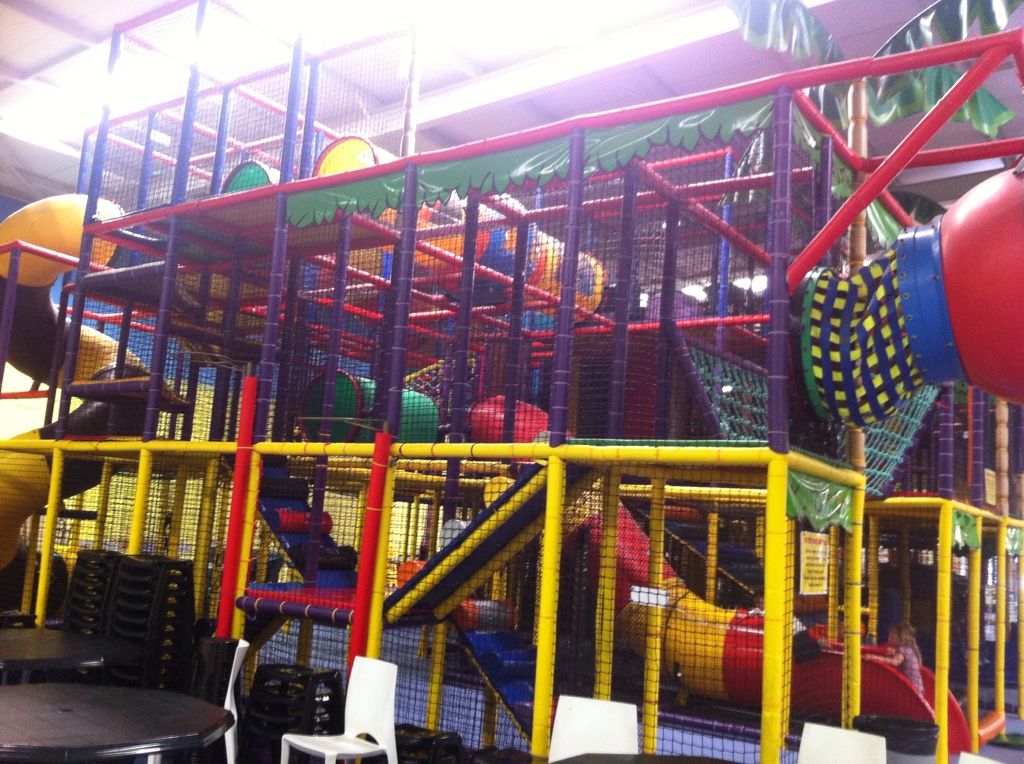 Younger children are welcome to use the play frame under adult supervision. My eldest daughter loves it! At the age of four she now is completely comfortable with her ability to maneuver her way around it. At an earlier age she used to find the scale of it quite disorientating and I would have to get in there myself and rescue her.
There are also 2 bouncy castles one situated at the front of the centre and one at the rear near the toilets which can be easily missed.
Go Bananas has a café which I find has quite a good menu. It sells a range of hot and cold fruit plus drinks and ice-creams. I can always be tempted with a flat white and a scone with cream and jam for $6.50. Order before 11am and you can treat yourself to a full fry up complete with bacon, eggs, sausage, mushrooms, tomatoes, toast and your choice of tea or coffee. Yum! Yum!


Children's meals are priced $7.50 and are the usual fare of kids sandwiches, chicken nuggets or fish tempura served with chips and a pop-top. The quality was fine but the quantity was not the largest I have seen for the price.
I was disappointed with their kids fruit platter. I found $6.50 to be expensive for a cut up apple, pear and orange. I would have liked to have seen more tropical fruits included.
If you are looking for a place to hold your child's next birthday party Go Bananas offer a variety of party themes including Fairies, Ringmasters & Clowns, mermaids and pirates. There is a large separate fenced in area set up to cater for party bookings.
Go Bananas also offers before and after school care plus vacation care for pre-primary to Year 7 aged children.






Find more play centres in Perth