I love Italian food, I also love Jamie Oliver. So when I read that Jamie had chosen Perth for his next Australian Jamie's Italian restaurant I was very excited!
I was following the media with anticipation and read online on Wednesday that the liquor license had finally been approved and they'd be open for business the next day. Being the Easter long weekend we had a bit more free time than usual so we decided to make an effort to get into the city at some point to check it out.
It's predominantly a 'walk-in' restaurant so I thought lunch would be a safer option than dinner, dining with a one year old and having to wait in a queue. Driving along William St around midday we saw the queue (sweating it out in the sun) and it was not pretty. My husband was starving and ready to give up before we even joined the queue but I insisted.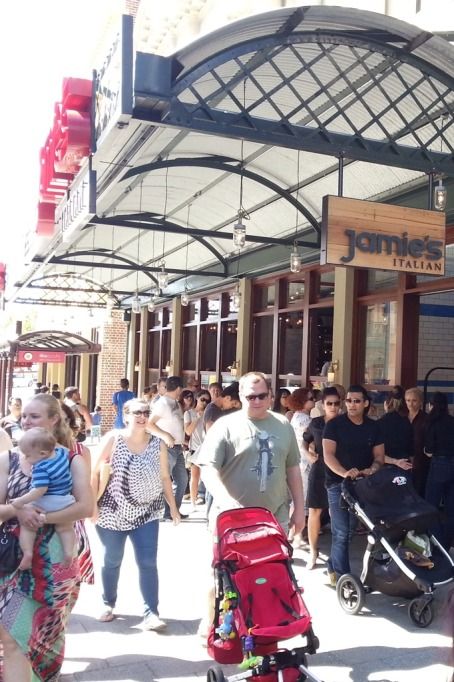 And when he realised the options were waiting in line or shopping I think he was quite keen to stand in the sun and queue!
Apparently Jamie's only takes bookings for between 6 - 12 people. I've heard that they're already booked up for the next few weeks, even though as of Wednesday the website was still saying they weren't taking bookings yet!
At 1.30pm (after chatting to the friendly girl at the front of the restaurant) we decided to join the queue. Just to clarify - the queue was to get inside and put your name on a waiting list to be seated. They were saying it was around half an hour to get inside and then another half an hour to get a table. I remember waiting at one of the Jamie's Italian restaurants in London out in the snow so the wait didn't phase me at all! Once inside you had the option of leaving your mobile number and they would call you when your table was ready which I thought was pretty good. But after getting our pram up the steps (we later found a wheelchair entrance around the side, but not sure if you can use that when you're in the queue) we decided to wait at the bar. I think we were lucky that it was just the three of us as we waited 20 minutes in the queue outside and then 40 minutes inside at the bar for our table. They do get around with antipasti for you to munch on while you wait but all we managed to get was a tiny square of rosemary bread and an olive, it's a nice idea though.
While we were waiting I had a 'non-boozy' option called a 'Refresher', lemon juice, elderflower cordial and cranberry juice over lots and lots of crushed ice and topped with lemonade – it was certainly refreshing, even if it was a bit tart! Mike had a homemade lemon, lime and bitters (which we actually saw being made) before getting stuck into the Italian beer.
When we got to our table there was a (clean) high chair waiting at a large table so there was plenty of room to park our pram. Then one of the waitresses dropped off some colouring paper, crayons and stickers for Isabella!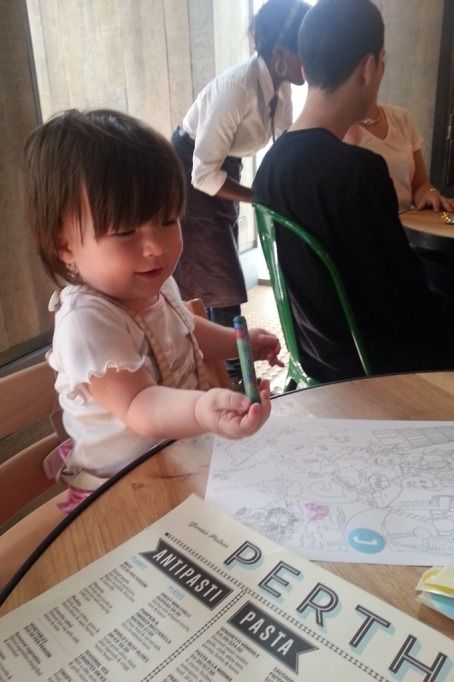 I especially loved the kids menu which was on one of those retro plastic viewfinders! Not that she would have a look (I did), but I imagine it would be great for those toddlers that can't read a menu but know exactly what they want to eat! More like a game, rather than a menu, clicking through looking at all the photographs of food. I'm not quite at the stage of ordering food for her in restaurants – but the options sounded really appealing – mini sliders (burgers), cauliflower mac 'n cheese (macaroni) and chicken lollipops (skewers) to name a few! Inside the tin of crayons was a badge for her to wear which said 'I ate all my greens from Jamie's Italian'! So even though I bought homemade food with me for Isabella to eat, she still wore the badge home.
So what did we order….
Risotto is one of my all-time faves but whenever I eat it I can only go the one course as it's just too filling! I decided to skip the risotto this time so I could taste a few more things on the menu (given the wait, it might be a while before we go again!) but compromised by having the stuffed risotto balls to start – crispy balls of goodness filled with smoked mozzarella and porcini – yum.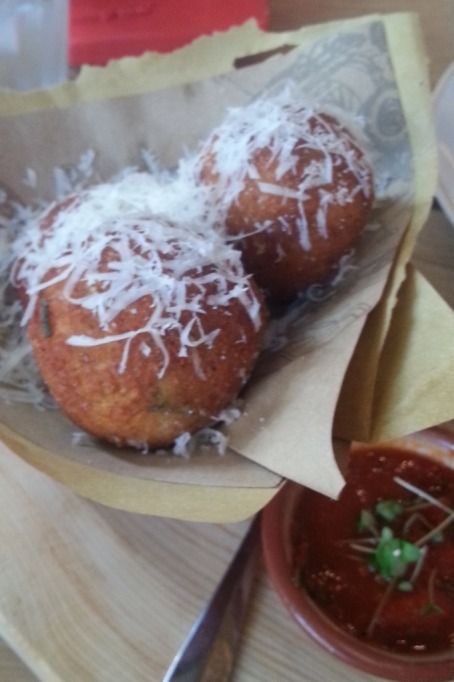 The first time we ate at a Jamie's Italian in the UK Mike had the spag bol and claimed it to be THE BEST spag bol he had ever tasted – better than mine and better than his Mums, so needless to say he ordered it again. It's actually the tagliatelle bolognese and it's a mixture of beef and pork mince, topped with crunchy herby breadcrumbs. It didn't disappoint.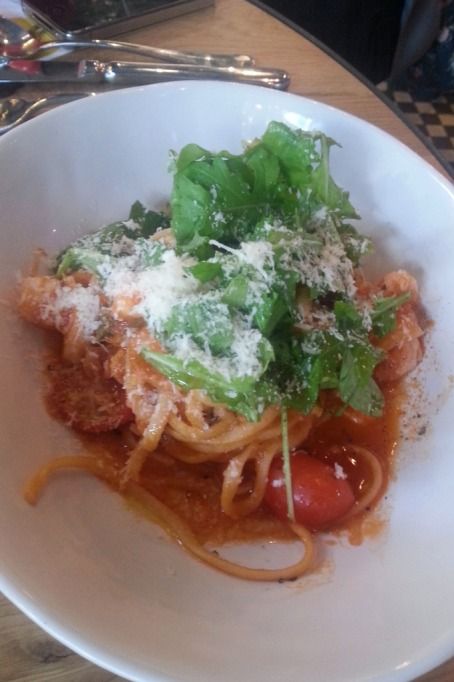 I went for an entrée sized prawn linguine, let's just say I wish I went for the main size portion as it was delicious and surprisingly there were loads of prawns in my dish.
By this stage, it had probably been two hours since we joined the queue. Isabella had almost reached her limit (and we were out of food for her) so I know she was more than ready to get out of that chair, run around and make some noise. The good thing about the atmosphere was that the tables weren't too close (not where we were seated anyway) and the music was quite loud so no one could hear our girls cries for Mamamama or Dadadada!
So I quickly ordered a dessert knowing that we would have to leave at any minute. I am a chocolate girl and there were a couple of good looking options but I went for a classic – a warm chocolate brownie served with vanilla ice cream, it was a gorgeous dessert, exactly as described and you could really taste the raspberry in the brownie and it was sprinkled with a crushed amaretto biscuit. Mike had an affogato, a lovely strong coffee to pour over his ice cream. What a treat!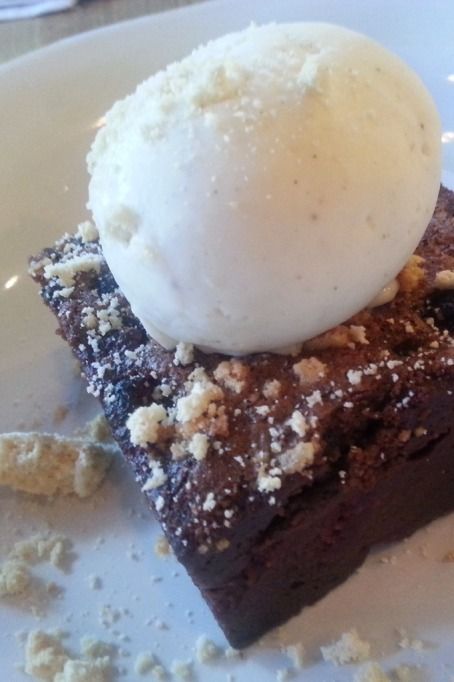 So dinner's off in our house tonight, seeing as we only left Jamie's after 4.00pm.
All in all a great arvo and I can highly recommend it if you've got a few hours to spare. Buon appetito!!

Jamie's Italian is open
11am-10:
30pm everyday.

140 William St Perth WA 6000
(08) 9363 8600
www.
jamieoliver
.com/
italian
/australia/
perth
Find more Family Friendly Restaurants in Perth