Mundaring Weir
Mundaring Weir is one of my favourite places to visit with my family on a weekend day trip.


Located 39 Kilometres east of Perth CBD Mundaring Weir is the name of the dam built in 1898 that crosses the Helena River. From 1903 Mudaring Weir has supplied water to Coolgardie and Kalgoorlie via a 557km steel pipeline. The pipeline is cleary visable as you drive along Mundaring Weir Road.



Our first port of call was a visit to the Dam itself. You'll reach the dam by heading along Mundaring Weir Road. Once the Dam comes into vision you'll see the lower car park, this is where the toilets are situated if you need a pit stop. If you wish to walk along the dam wall then carry on a little further along the road and you'll come to the higher car park where you will find the resident ice-cream van in situ.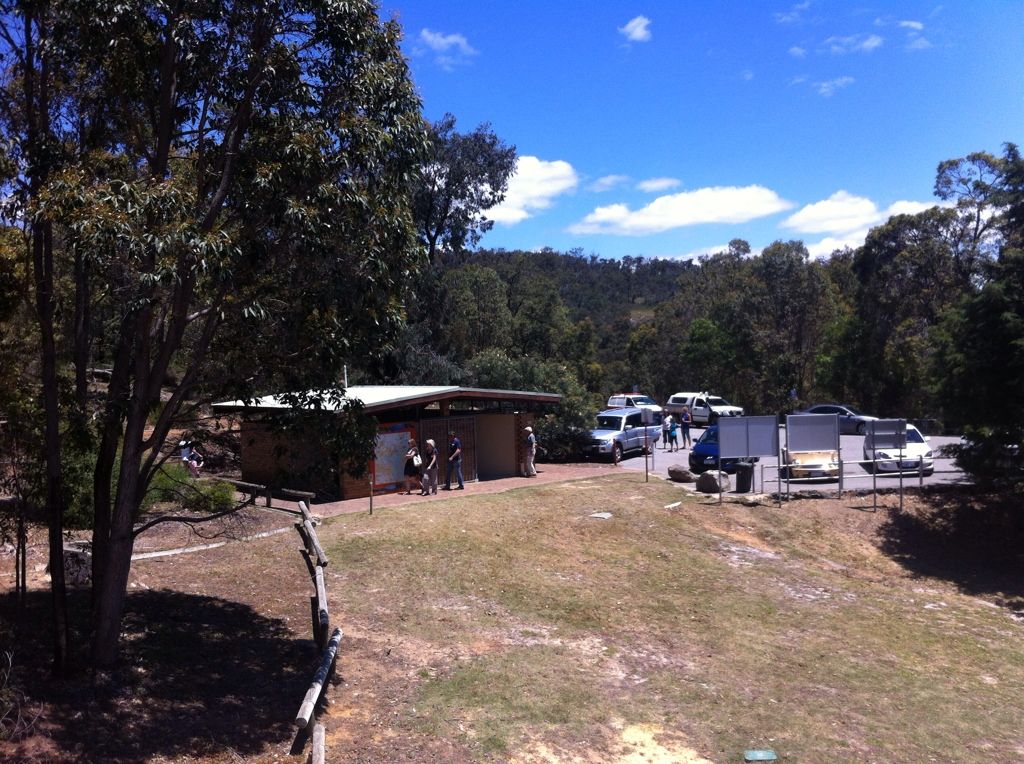 The walk along the dam wall is great fun and perfectly safe for little people. Miss 4 and Miss Almost 2 loved it. Just hold on to your hat as a big gust of wind can easily blow it off and over the dam wall.
In the middle of the Dam is a service area which has a lovely little building on it that is great for fueling the kids imagination to who resides there. Miss 4 decided that the 'house' belonged to Rapunzel – she is going through a 'Tangled' obsession at the moment!
After our dam walk we resisted the temptation of ice-cream and got back in the car and headed a little further up Mundaring Weir Road to the South Ledge Look out point which gives you a great view of the Weir and it's surroundings. The journey to the look out is via an unmade road which is perfectly accessible for all cars. You'll reach a little car park where you'll find toilets, wood fired BBQ's and picnic benches.

The Golden View Look out is a 400 metre walk from the car park. The walk is manageable for little legs. Miss Almost 2 was carried to the look out but demanded that she walk herself on the journey back and she managed it with a little strong hand holding now and again. The walk is not suitable for prams as there are 27 steps (we counted) along the way so if you have an infant I'd bring along your baby carrier. There is a stone bench half way along the walk if you need to take a rest.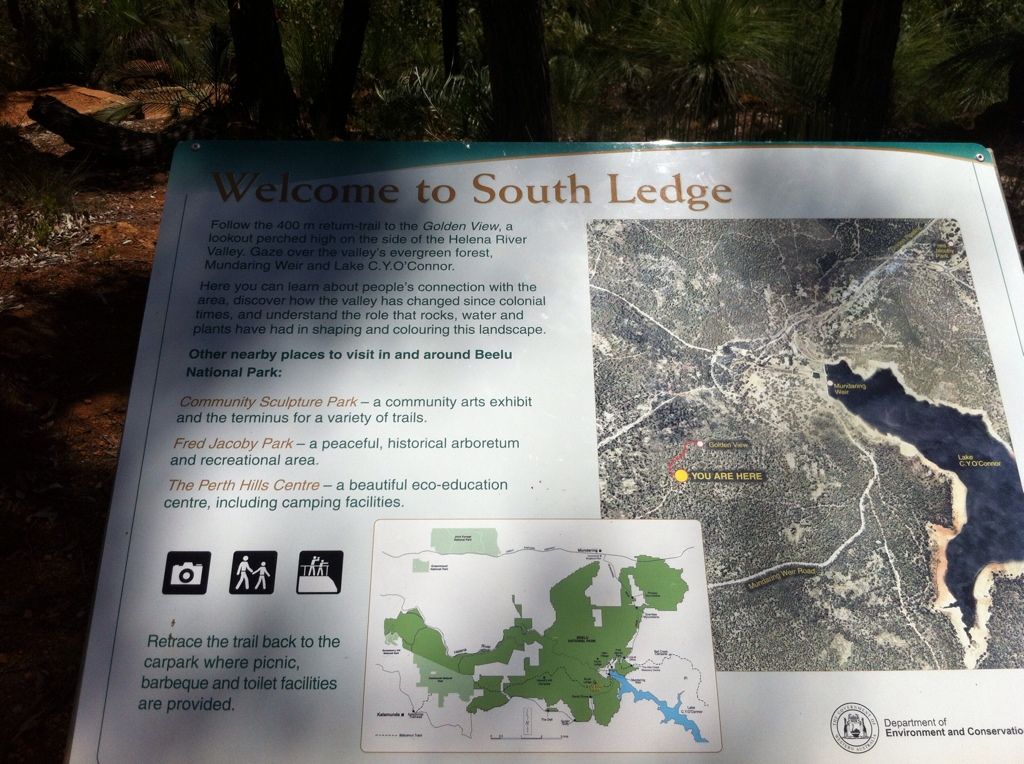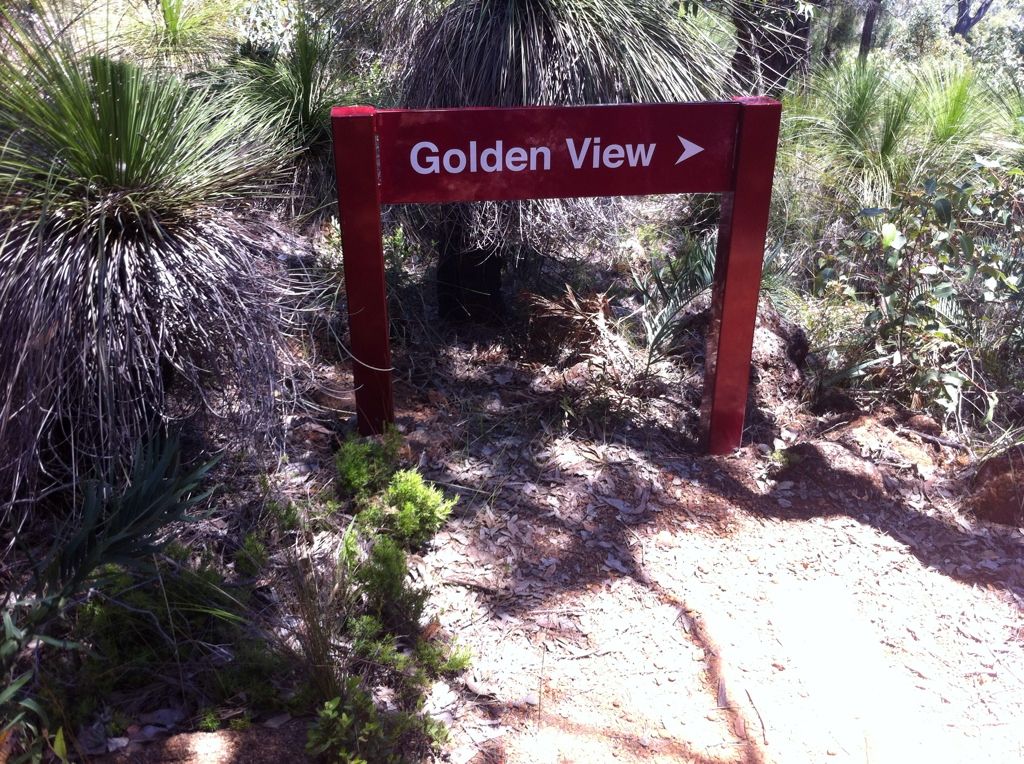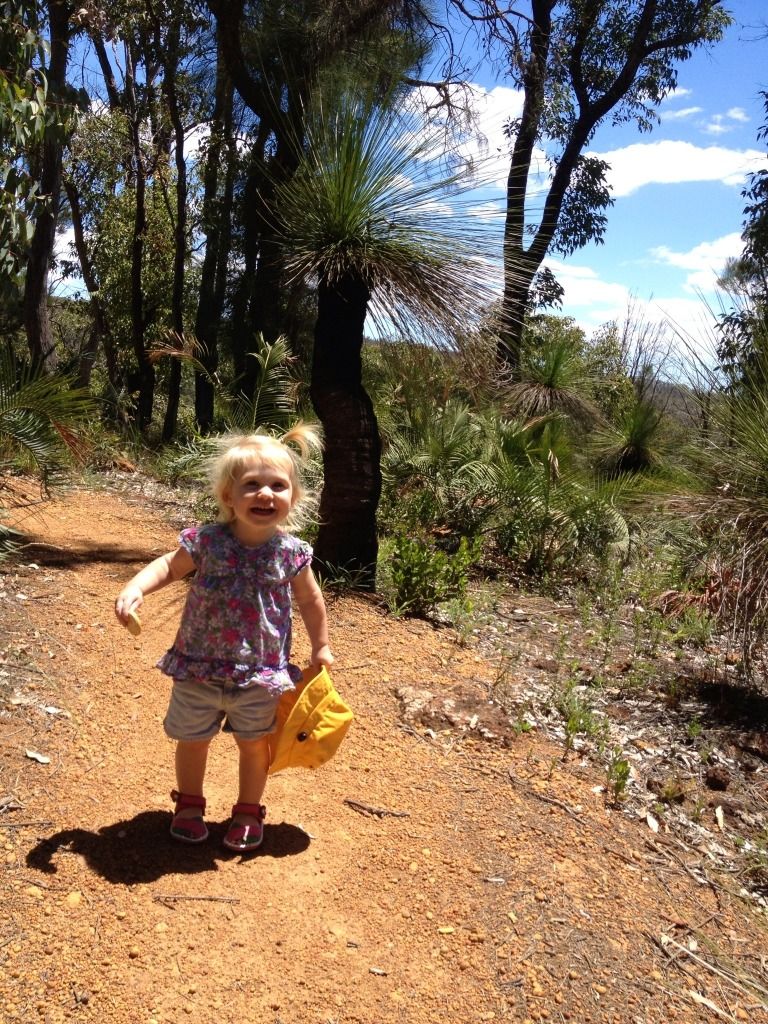 The Golden View Look out is a wooden platform area that is fully fenced and juts out of the hillside to provide a fabulous view of the Weir. Here you'll find some information stands to the history of the land and the Weir. It's so peaceful and quiet there and Miss 4 loved shouting into the hills so that she could hear her echo.


All this adventuring is very thirsty work so we decided to head to the nearby Mundaring Weir Hotel for a much needed cooling drink.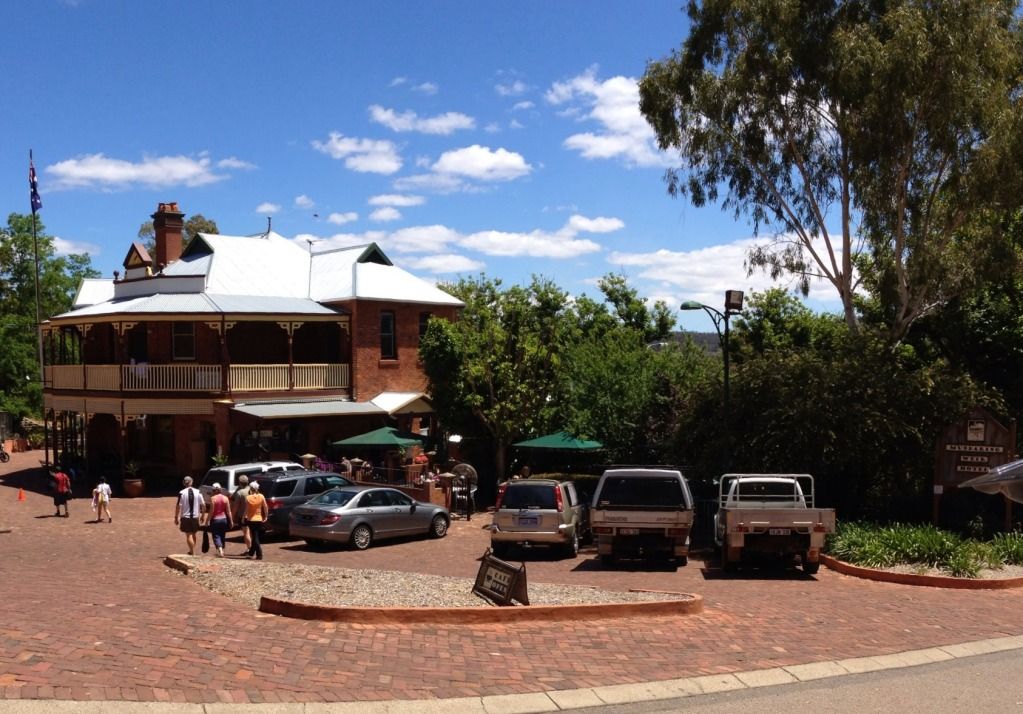 The hotel has extensive gardens and an Amphitheatre setting where they stage regular music concerts.



The Mundaring Weir hotel is a great place to visit with kids of all ages. They have a dedicated childrens playground which is sandbased and shaded by trees.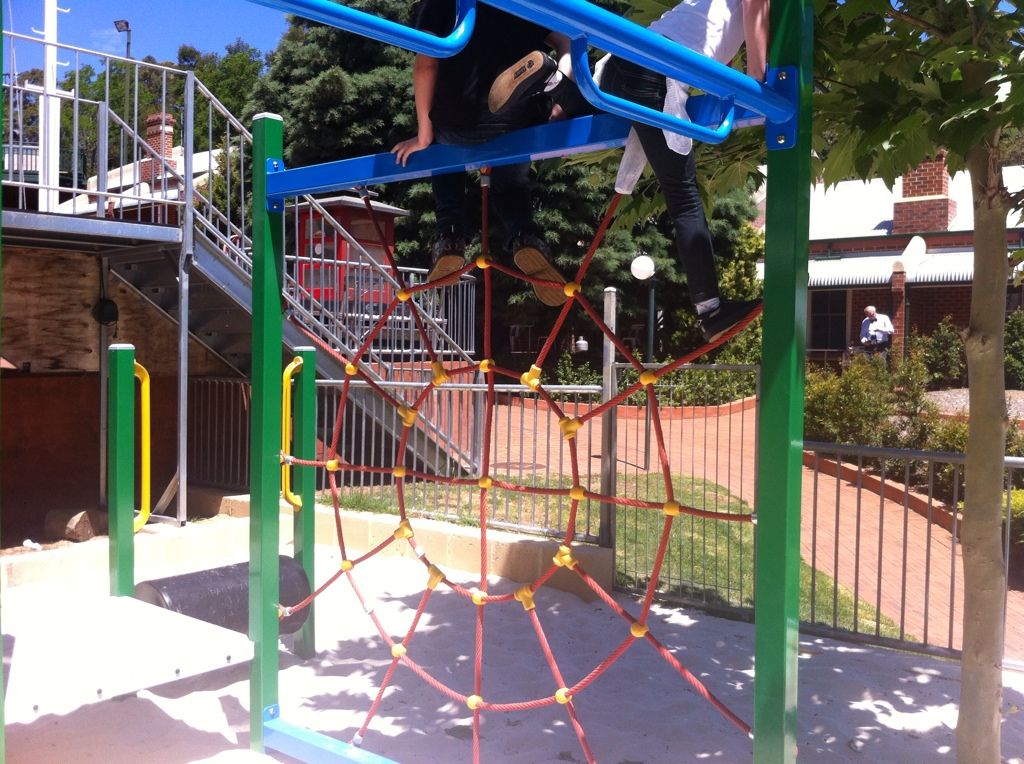 There are a few tables next to the playground so you can enjoy a drink and a bit to eat whilst keeping a watch on the kids. If you have older children the amphitheatre doubles up as a basket ball court. The Mundaring Weir Hotel is known for its Sunday sessions where you'll find live music and a traditional spit roast from 3pm. Yum yum! The hotel is a great place to meet up with a group of friends as there are large tables dotted all around the grounds. When we visited on a Sunday there was a face painter who was charging between $3 - $5 per creation.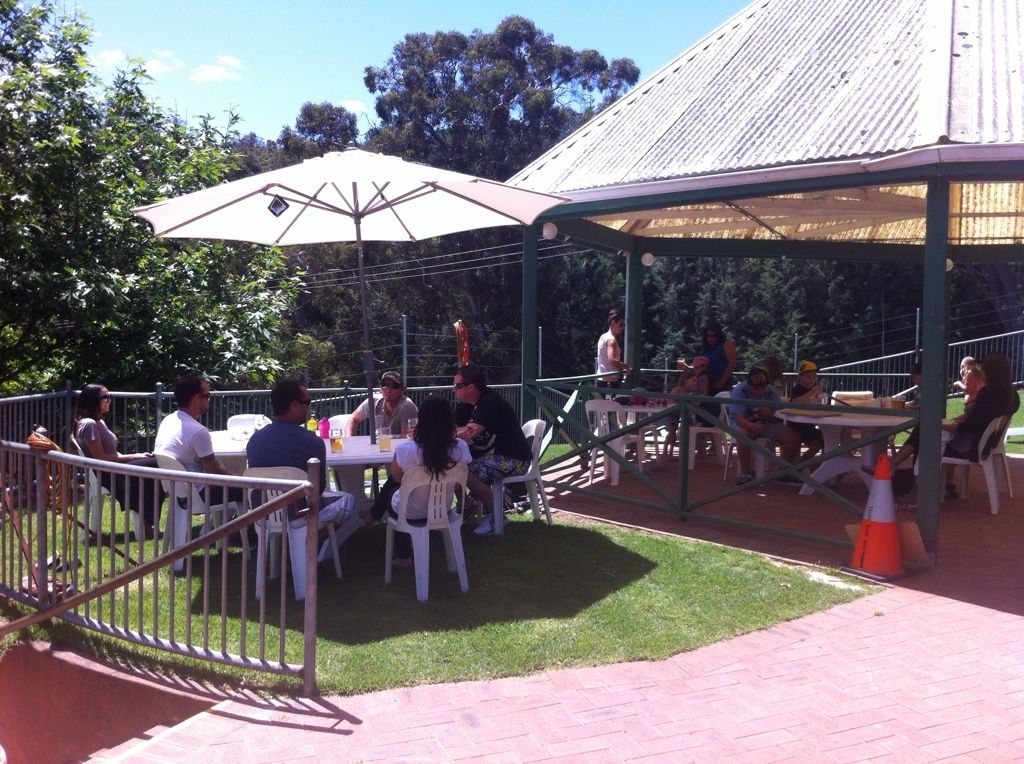 Whilst we only spent a few hours on a Sunday afternoon at Mundaring Weir there is plenty more to do and see.
No. 1 Pump Station
Visit No.1 Pump Station to learn more about the incredible engineering feat of pumping water from Mundaring Weir to the goldfields.
Formerly known as the CY O´Connor Museum, No.1 is the first in a series of eight steam pump stations built in 1902 to deliver water from Perth's hills nearly 600 km east. It still houses its original boilers and one of its original steam engines.
Visitors to No. 1 can enjoy self-guided walk trails, and a drive trail that follows the water to its destination in Kalgoorlie also starts here.
For more information and for group and school bookings please call 9321 6088.
Opening Hours
Saturday and Sunday: 12:00 - 16:00
Visitor Information
** Open Public Holidays (except Christmas Day, Good Friday): 12:00 - 16:00
** Admission: Adult - $5/person, Child/Concession - $3, Group Booking - $3/+10 persons, Family - $12/ 2 adults, 2 children, Members - FREE.
Calamunnda Camels
361 Paulls Valley Road
PAULLS VALLEY WA 6076
Tel: +61 (8) 9293 1156
Email: [email protected]
Web: www.camelfarm.com
Located on the Bibbulmun Track near Kalamunda National Park and Mundaring Weir. Offering camel rides and treks, light refreshments, BBQs, landscaped gardens, native and farm animals.
Free entry to farm. Parking available by arrangement for walkers and cyclists.
Open 7 days a week (except Good Friday and Christmas Day) 9.00am – 3.00pm.
Mundaring Sunday Markets
Nichol Street
MUNDARING WA 6073
Enjoy a day at the Mundaring Sunday Markets and combine your visit with a tour of the Perth Hills many and varied attractions both natural and historical.
Indoor and outdoor venues feature a great variety of stalls featuring hand-crafted goods and quality creative art products, locally grown fresh produce and plants, home made food stuffs and many other delights that will take your fancy.Markets are open 9.00am – 3.00pm second Sunday of every month.
Mundaring Arts Centre
7190 Great Eastern Highway
MUNDARING WA 6073
Tel: +61 (8) 9295 3991
Email: [email protected]
Web: www.mundaringartscentre.com
Located in the heart of the Mundaring, the Mundaring Arts Centre (MAC) is a not for profit community based organisation. Since 1997, MAC has been helping the local broader community to participate in, and enjoy arts projects and activities.
Gallery hours are weekdays 10am - 5pm, weekends 11am - 3pm. Closed Public Holidays
Mundaring Heritage Tours
Mobile: 0407 429 904
Email: [email protected]
Web: www.mundaringtours.com.au
The Mundaring Heritage Tour Company proudly showcases the unique and diverse lifestyle and heritage of the Mundaring Hills and surrounding areas.
Mundaring & Hills District Museum
The Old School
7225 Great Eastern Highway
MUNDARING WA 6063
Tel: +61 (8) 9298 8944
Email: [email protected]
Web: www.mhhs.org.au
Mundaring Weir Gallery
Hall Road (opposite Mundaring Weir Hotel)
Mundaring Weir Village
MUNDARING WA 6073
Tel: +61 (8) 9295 0200 during opening hours
Email: [email protected]
Web: www.mundaringweirgallery.com
Nearer to Nature
Allen Rd (Off Mundaring Weir Rd)
Mundaring WA 6073
Tel: +61 (8) 9295 2244
Email: [email protected]
Web: www.dec.wa.gov.au
Perth Hills Discovery Centre
380 Allen Rd (Off Mundaring Weir Rd)
MUNDARING WA 6073
Tel: +61 (8) 9295 2244
Email: [email protected]
Web: www.naturebase.net/phnpc

Related blogs
Lake Leschenaultia

Find other things to do with kids in Perth.
Have you downloaded the new Buggybuddys App? Available for both iPhone and Android, this FREE, interactive App puts Perth's kid-friendly attractions at your fingertips.