Best Playgrounds and Parks in Perth
Faulkner Park
Giant volcano at Faulkner Park
There aren't many playgrounds that can boast of an erupting volcano in the centre of all the action, but at Faulkner Park this is exactly what you'll find. This park is literally jam packed full of attractions for all ages of kids, making it a perfect spot for a family play date or a meet up with mixed age range kids. The park is well maintained, with beautiful picnic areas and bbq's so clean that I'd eat my dinner off them! Located down in Belmont, south of Perth, this park features all you'll need to keep your little guys entertained for hours at a time. Highlights include a well equipped shaded toddler area, numerous climbing frames, sandpits, swings, slides, diggers, a flying fox, water play areas in addition to the fun filled volcano that erupts with steam every hour and has a couple of colourful slides as exit routes from the mayhem.
A space for kids of all ages
Kings Park
Perhaps the most famous of all the parks in Perth and large enough to create a place space for all your family's needs. The park is a multi faceted one, with many diverse areas for great play dates and picnics. Of notable mention is the toddler friendly Lotterywest Family Area adjacent to the yummy Stickybeaks Cafe. This particular play space is well shaded, has some great picnic areas and has great playground apparatus particularly suited to the under 5 age range. Synergy Parkland is also a great play area within the vast Kings Park suited for older kids particularly, but also delightful for toddlers with their parents nearby (there is a water feature that you might want to keep your eye on). This park area is beautifully landscape around a two tier island fort in addition to the scattering of replica dinosaurs that your little one will love clamouring over. Synergy Parkland includes 10 free electric barbeques and a great smattering of benches and tables. Overlooked by the delicious Zamia Cafe where you'll find some great breakfast and lunch treats.
Spot the Dinosaur at Synergy Parkland
Mueller Park
This park, located just off Abernathy Park in Subiaco, is perfect for toddlers. With a musical theme going through all the designs of the play ground, you'll find a fully interactive play space for your little guys to amuse themselves in. Unlike some of the other playgrounds of mixed age ranges, this playground might leave the older kids a little bored, and I would certainly say it is suited most particularly to the 0-5 age range. Slides, climbing areas and musical activity stations are all at a great height for the little people with no dangerous gaps for them to fall out of. The park features a beautiful tree walk (all fully enclosed) where little people can walk around the tree walk way to the finale of two perfectly sized slides. Throughout the park the musical theme is in evidence through the giant upright xylophone, the speaker pipes that project your child's voice and some great jungle drums. There's a great sandpit area in addition to some well placed picnic benches and a couple of bbq's. There is no public toilet in the enclosure, but there is one just within Kitchener Park that this playground lives within.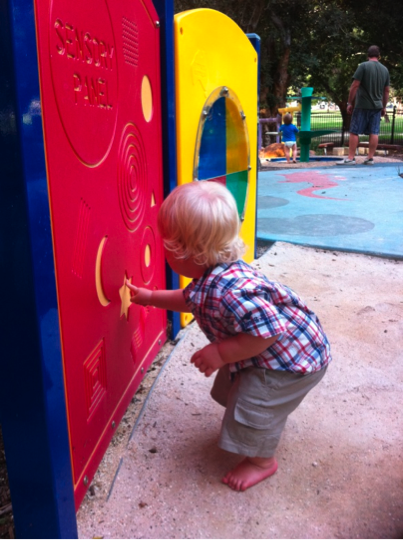 Lots to interact with in this playground
Perfect slide for tiny tots
Look out for our next playground review featuring Neal Hawkins Park, Keanes Point Reserve and Rotary Park.

Check out our full listing of Perth Parks and Playgrounds including reviews from families in Perth.