I love a good feast – don't we all. I think it's the element of surprise, will we be greeted with an old favorite or will our taste buds be tantalized by something new. Last weekend to satisfy my feast craving my family and some friends headed to our local Sizzler in Beldon to check out the delights that they had on offer in their Salad Bar.
I'd never been along to a Sizzler before so had no idea on what to expect.
On entering the restaurant you are given a menu, you place your order, make your payment and then choose your table. Too easy! You don't have to book to reserve a table at Sizzler. They can accommodate big groups as easily as they can accommodate couples and plenty of high chairs are available for little people.
On offer is a range of grill meals, ranging in price from $14.00 to $22.00 for lunch. Most meals come with a choice of chips, mash or a jacket potato. The kids are well catered for with the usual fair of Chicken Nuggets, Cheese burger, Rump Steak or fish. Kids meals are priced $6.95 - $7.95 during lunch time. Then there is the Salad bar which is great value. If you opt for a Grill Meal at lunchtime you can add on the salad bar for an additional $7.50 for adults and $3.95 for children aged 4 – 12yrs. The beauty is you don't have to order a grill meal to have access to the Salad Bar. To dine at the salad bar alone will cost you $17.00 for adults, and kids under 4 EAT FREE! The price for kids aged 4- 12 years ranges from $5.50 - $9.50 dependent on age.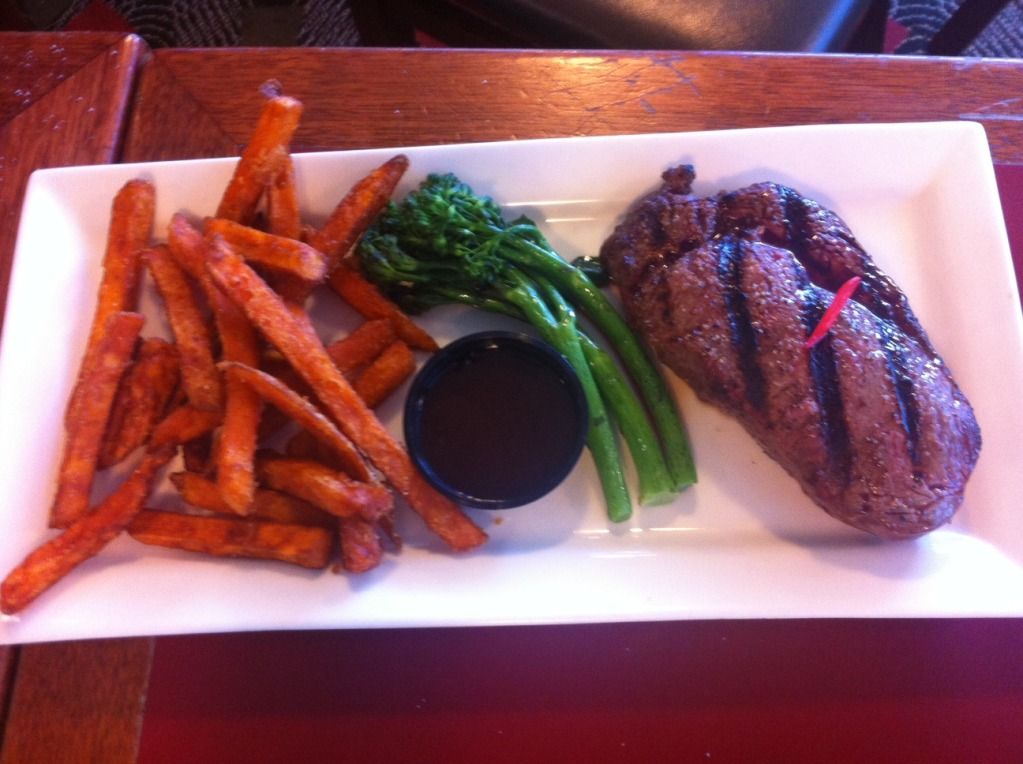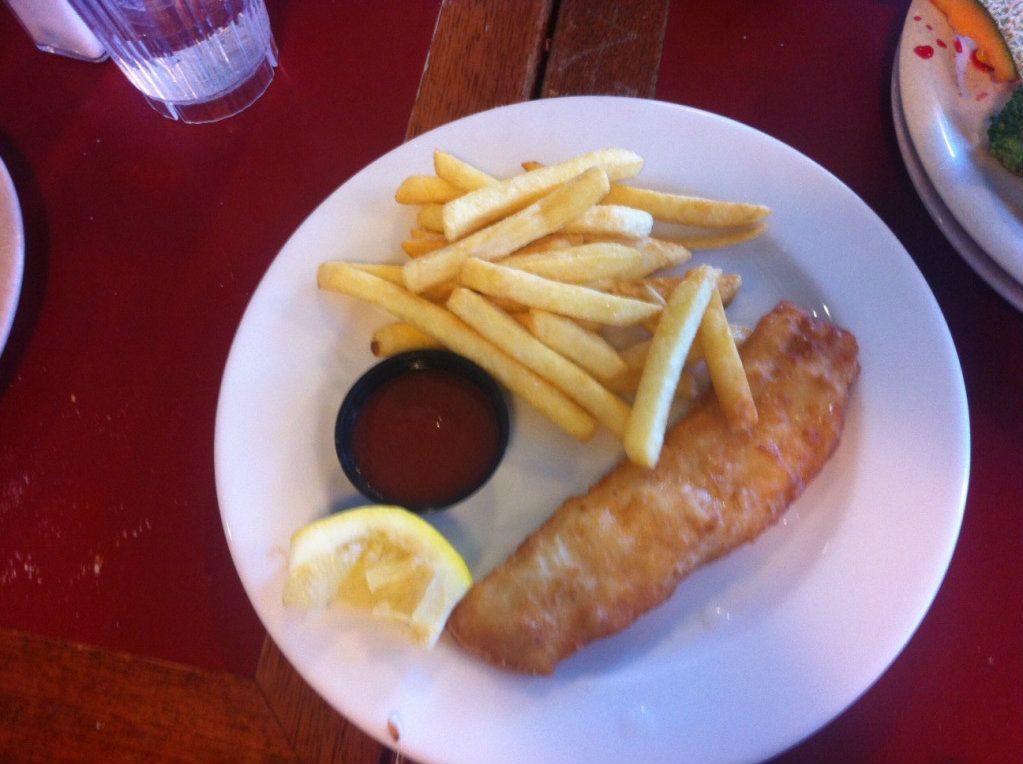 Once seated at your table the waitress will bring you a complimentary plate of the legendary cheese toast which is thick white bread spread with a mix of parmesan cheese and margarine and then toasted until golden brown on one side. This was a big hit with everyone on our table and we can't be wrong as it even has a facebook fan page dedicated to it. I was too slow with the camera to manage to get picture of a full plate. It was gobbled down too quickly!
The salad bar is fantastic for kids. Miss 4 is a very, very fussy eater. When we eat out I usually resort to ordering her chicken nuggets and chips which pains me but at least I know that she will eat some of it. Here she was able to take her own plate and make her way around the salad bar choosing whatever took her fancy which turned out to be grated carrot, pineapple, broccoli, pasta salad, a bread roll, a few pickled onions and a bowl of orange (pumpkin) soup. I did also manage to get her to try some of the salads that I had selected for myself.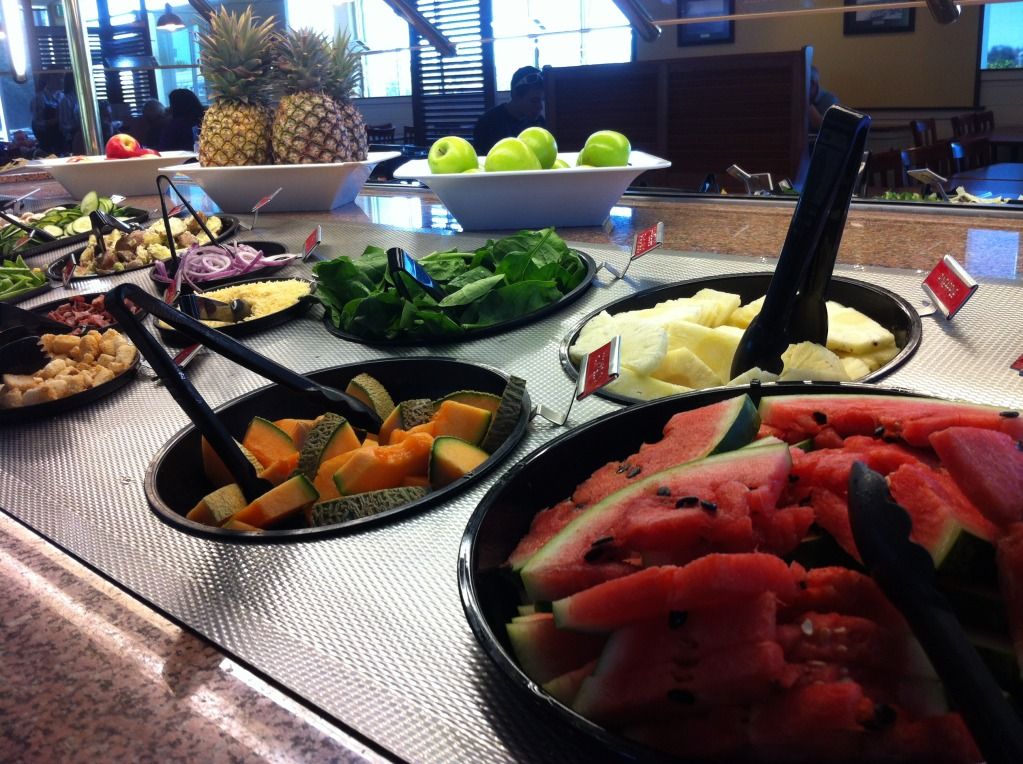 We filled Miss Almost Two's plate with a multitude of dishes for her to try although we kept returning to the salad bar for more rock melon. I think she must have eaten her weight in it at that sitting!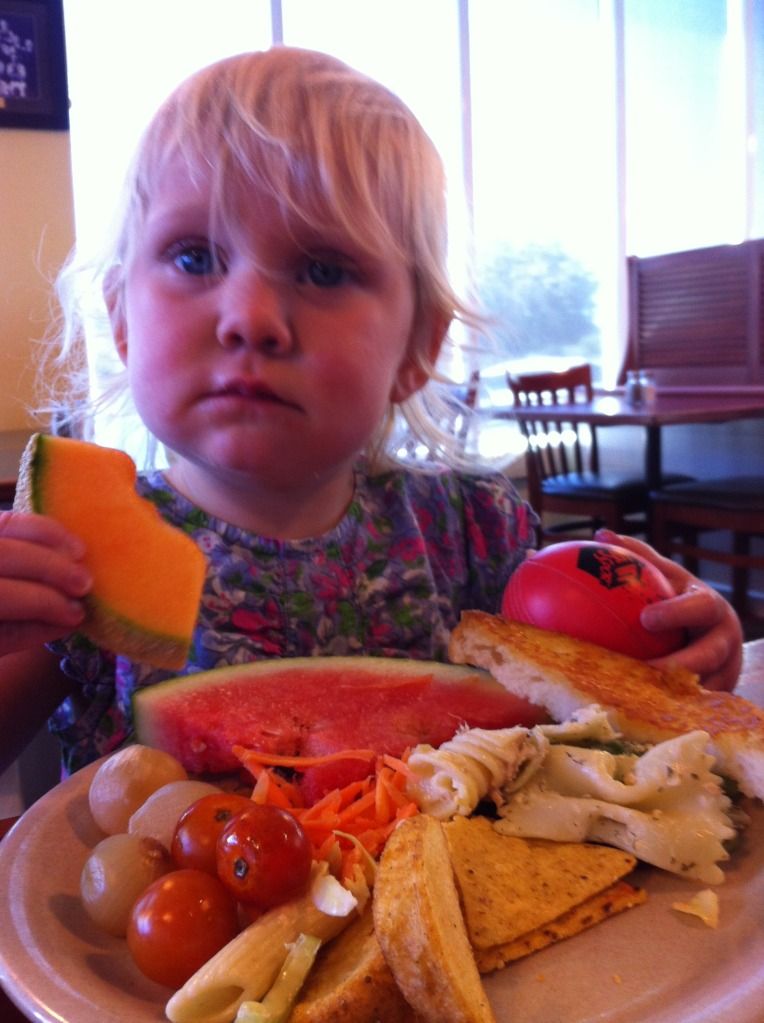 I particularly enjoyed all the different salads and went back for second helpings of the Seafood Salad, Indonesian Rice Salad and the Beetroot and Walnut Salad. Yum! Yum! Everything tasted fresh and nothing too greasy. I never saw any empty or nearly empty bowls. There is a dedicated floorwalker keeping an eye on the salad bar and as soon as a dish starts running low the kitchen is informed and it is replaced in a blink of an eye.
I thought that the wait staff were very attentive. They were constantly making their way around the restaurant clearing unwanted plates speedily.
Don't forget to leave some room for dessert. The kids loved being able to make their own real dairy ice-cream sundaes. First fill your bowl with real dairy ice-cream –there are two choices available, chocolate and vanilla; then select your sauce and cover it with a multitude of toppings from chocolate chips, sprinkles, smarties, jelly babies and I'm sure there was more! Also available was Butterscotch Apple Crumble Cake, Banana Caramel Pie and Pavalova. Adults and kids both had 2nd and 3rd helpings!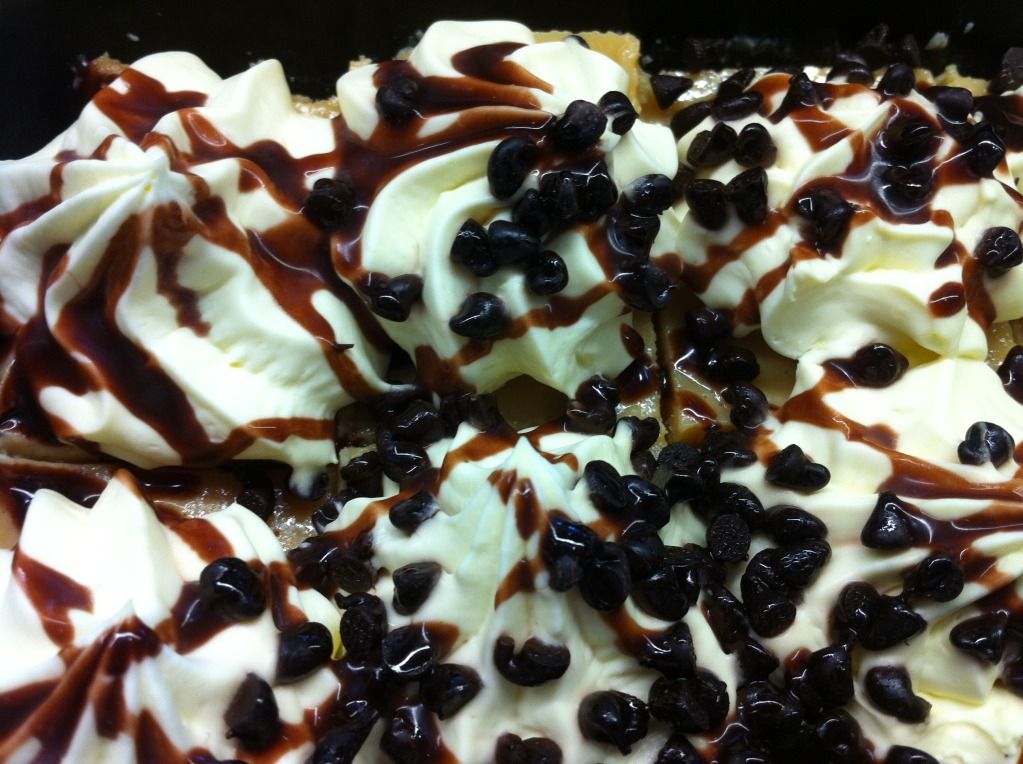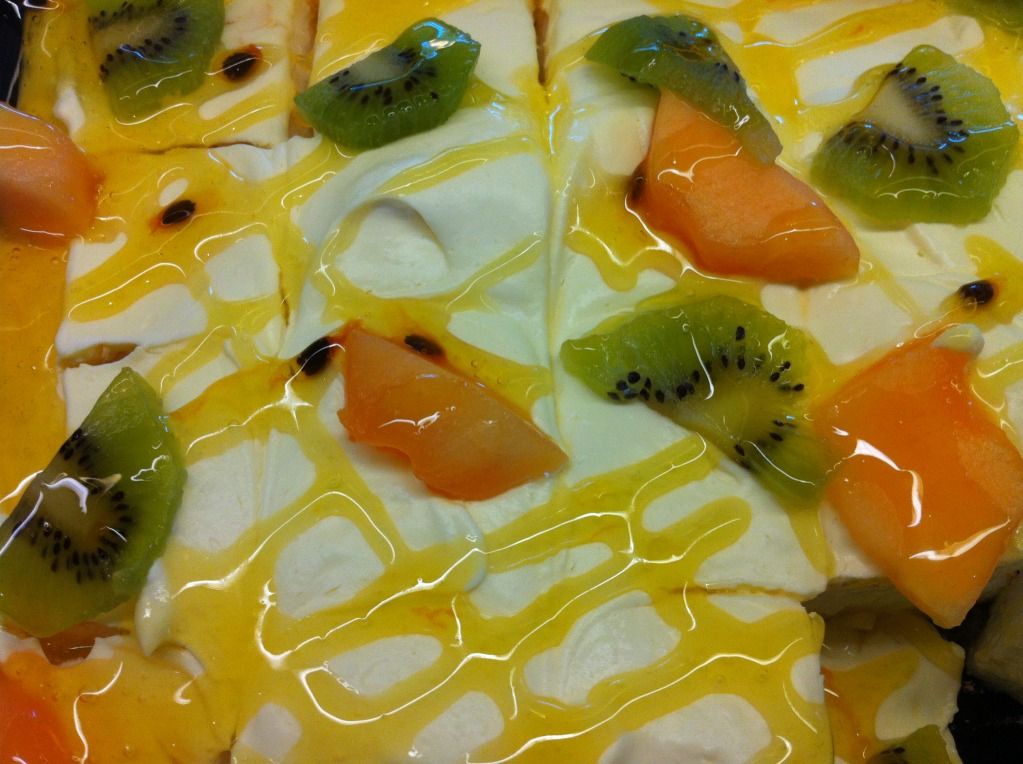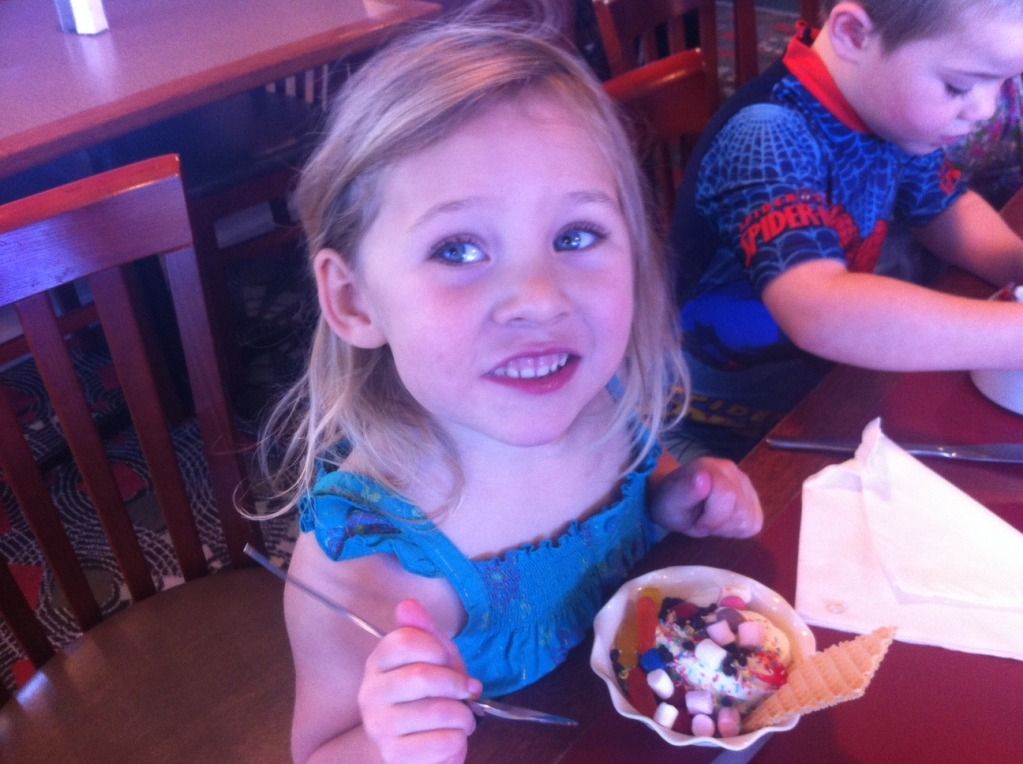 Lucky for us there was plenty of room for the kids to play around our table and run off their sugar rush.
What I enjoyed about my first visit to Sizzler
The value – kids under 4 eat free at the salad bar.
The choice of food on offer – kids can try out something new and it's great for the fussy eater.
The speed – order, pay, start eating. You can't get quicker than that. How many times have you taken younger kids to a restaurant and the food takes ages to come and you are constantly watching the clock waiting for toddler melt down to happen!
Next time I'll be returning for the breakfast banquet which takes place every Sunday 7.30am – 10am.
Sizzler is open 7 days a week for lunch and dinner from 11am – 9pm. The lunch menu is available 11am – 4pm Monday to Saturday. The dinner menu runs 4pm – 9pm Monday to Saturday, and all day Sunday and public holidays.
Sizzler has restaurants in the following WA locations:
Beldon
Innaloo
Morley
Kelmscott
Riverton

www.sizzler.com.au



Find more family friendly restaurants in Perth.