Review of The Naked Fig, Swanbourne - August 2014 Kate Vallance
278 Marine Parade, Swanbourne WA 6010 - Phone: 9384 1222 – Email: [email protected]
http://www.thefig.com.au/Find/naked
Note, the email is for feedback and enquiries. If you want to book you can call or do so online.
The Naked Fig is in a fantastic position in Swanbourne overlooking the ocean. It is a large café/restaurant with a fantastic deck area. It has sister restaurants at Scarborough and Fremantle. As well as being great for kids, it is a fantastic place to take overseas and interstate visitors. We have eaten there heaps of times and is one of our favourites.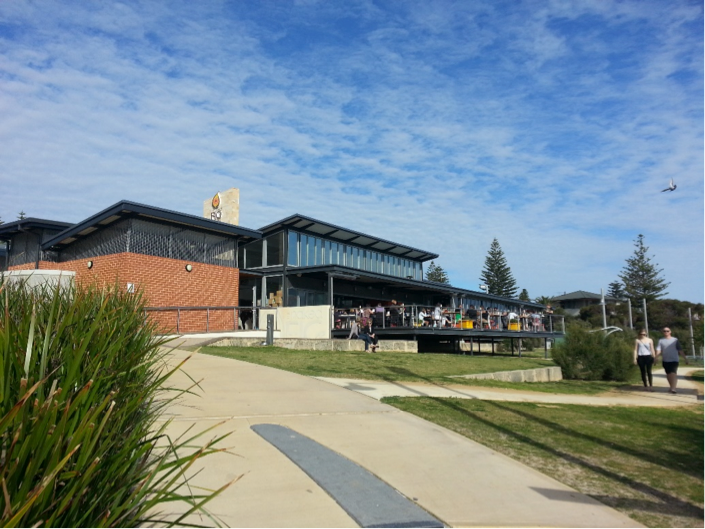 From the website: "we are a buzzing team, who love it when you come to enjoy the beach so we can serve you healthy and tasty food to your table accompanied by an ambience infused with local art and laid back live music. we are about producing genuinely fresh, tasty and healthy food rather than trendy avant garde or the latest trends from media hyped chef competitions."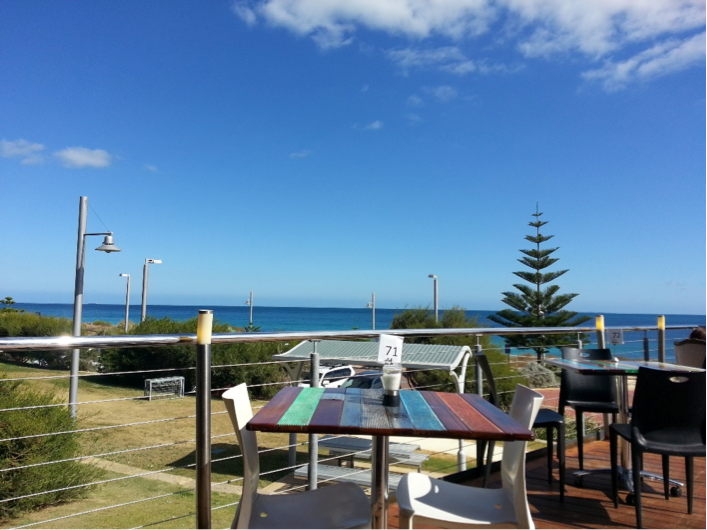 The Fig is great for kids for many reasons: there is lots of space inside the restaurant, it has a kids menu, a kids area inside the restaurant with toys, colouring pencils for your table and a big grass and paved area on the doorstep which is great for kicking a ball around or scootering and even a fully fenced playground (which has shade sails in summer)!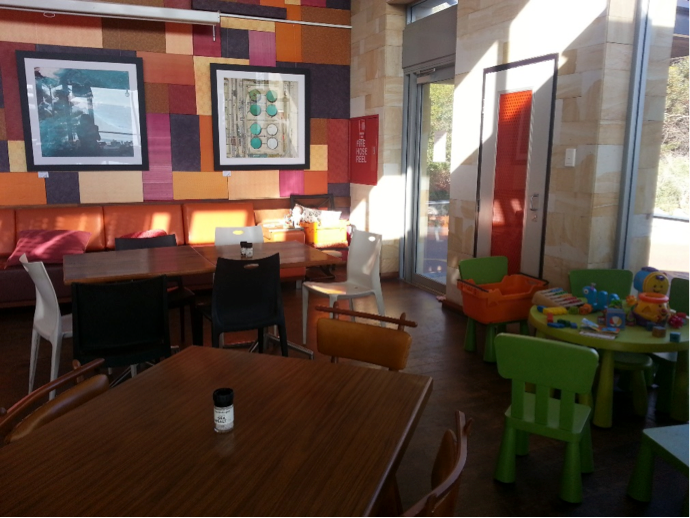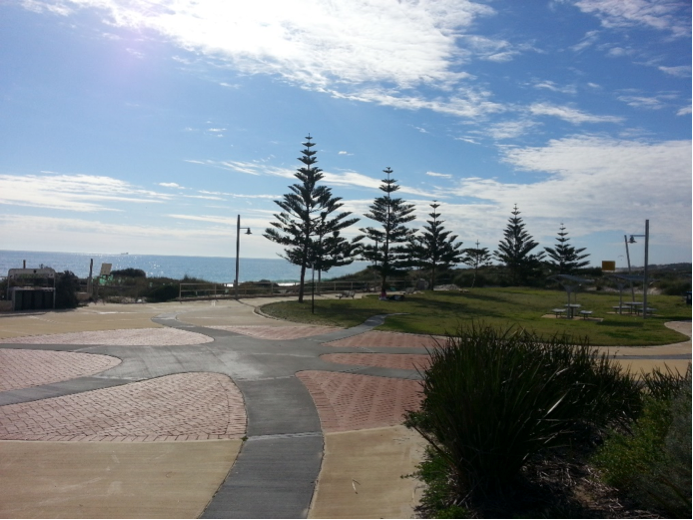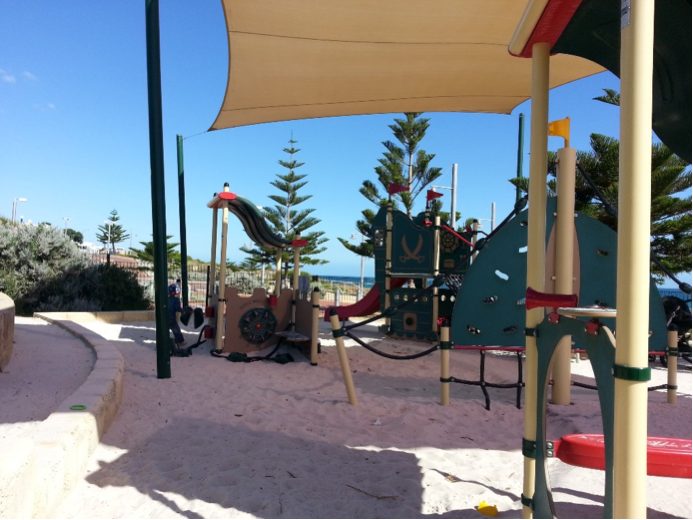 We have eaten at The Fig many times and really like it. It can get very busy during summer so sometimes you do have to wait a while for a table and the service can sometimes suffer. They do take away coffees and fresh juices also and again, at busy times in summer you can wait 20 minutes+ for a coffee. This isn't too bad though as long as you are expecting it and the kiddies have plenty to entertain them while you wait. Most of the time you don't have to wait that long at all.


We have had a range of food at The Fig over various visits and they cater for people with special dietary requirements and have a range of gluten free cakes too. The menu also lists which dishes are gluten free, vego, etc. They do freshly squeezed juices and lots of healthy salads as well as fish/seafood, steak, etc. The children's menu is also pretty good. They do not have fish and chips as such but as our kiddies almost always want fish and chips when we are out, we order the childrens' fish with salad and a side of sweet potato wedges which they love.


On this occasion we went to The Fig for high tea. This must be booked in advance and a $20 deposit paid per person at the time of booking. They don't have a children's version of the high tea so you can either share yours with your children or order something for them from the children's menu. We went as a special treat and our children have big appetites so we ordered them a full adult high tea each.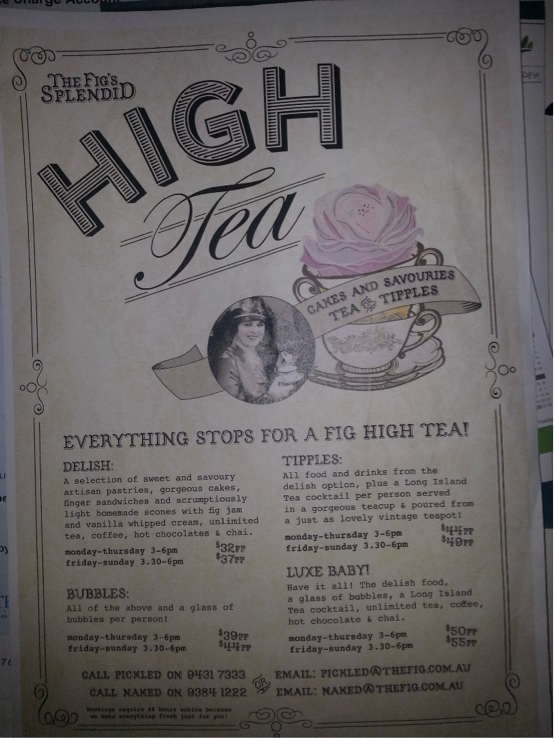 Our chidren are 4 ½ and nearly 6 and they really loved the High Tea and our nearly 6 year old was particularly excited. It would be a nice thing to do for a kiddy's family birthday or a girls afternoon tea on a special occasion. It is served on cool vintage style china and is a selction of savoury mini pastries, sandwiches (you can request white bread but the brown bread we had was lovely), scones with cream and jam and a range of little desserts. There is also unlimited tea, coffee, hot chocolate and chai and you can upgrade with bubbles or a Long Island Ice Tea.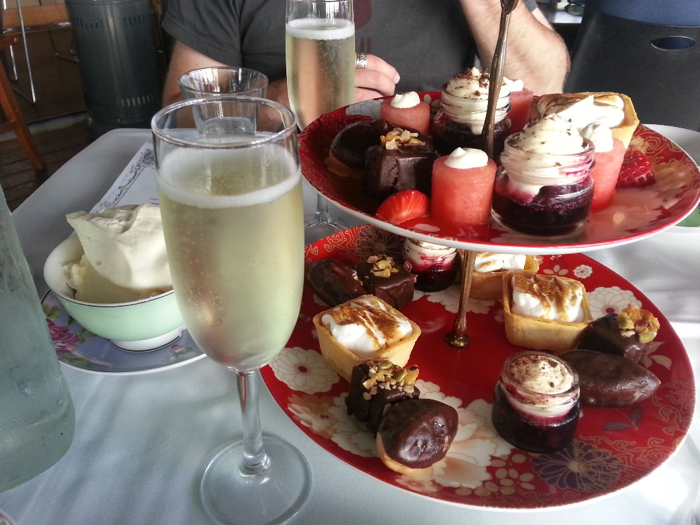 My husband and I went for the extra glass of bubbles and also took advantage of the unlimited tea and coffee. As hot chocolate is also included we ordered that for the kiddies.
We had made sure we didn't eat too much in the morning and at lunch so by 3:30pm when tea was served we were all really hungry and actually managed to eat almost all the food! There were a few things left over but the kind staff gave us a take away box to take the last bits home when we asked so none of it went to waste J
Overall, The Fig is a great place to eat, especially if you have kids and although we have had the odd occasion when the service has been a bit slow, we would certainly keep returning as it is a great, easy going place and the view is amazing. The food is nice and healthy and they also do vego Tuesdays when they serve a bigger range of vego dishes. There is a bit of meat on the menu for those who are accompanying a vego though.
The art exhibited on the walls is for sale so you can buy some if you like it.
Entertainment Book: All 3 Fig cafes are in The Entertainment Book under section B where you can get a voucher for a complimentary main course when another main course is purchased (up to $40 value). I don't know if it can be used for afternoon tea though.
Functions: The Fig also does functions and for this they section off part of the restaurant for your party. They do not charge a venue fee either which is pretty cool seeing as the venue is amazing. You are not completely separate from the rest of the restaurant though unless you have a small party in the board room.
Tip: if you go on the Fig mailing list and give them your birthday and anniversary dates, they send you a card to get a free meal when another is purchased. There are restrictions as to when it can be used but it is great if you can make the times available. You can also get a Fig Fav card which gives you points that convert to free meals.
http://www.thefig.com.au/Find/naked