Waldecks Garden Centre Kingsley – Lakeview Café and Playground
Waldecks Garden Centre in Kingsley doesn't only sell plants and pots – it also has a lovely café and outdoor playground, which is a little known gem.


Lakeview café has views of the pretty plants, but none of a lake unfortunately – but who cares when your kids are occupied! It's the perfect place to have a catch up coffee with a friend, while your kids play.

Waldecks is on the corner or Hepburn and Wanneroo Road. A large shaded parking area in the front means that parking is never a problem. You have to walk through the Garden Shop which is full of interesting gardening accessories, and you will find the café entrance towards the back. There are a few tables inside with more tables under a covered patio area that leads out onto the nursery grounds.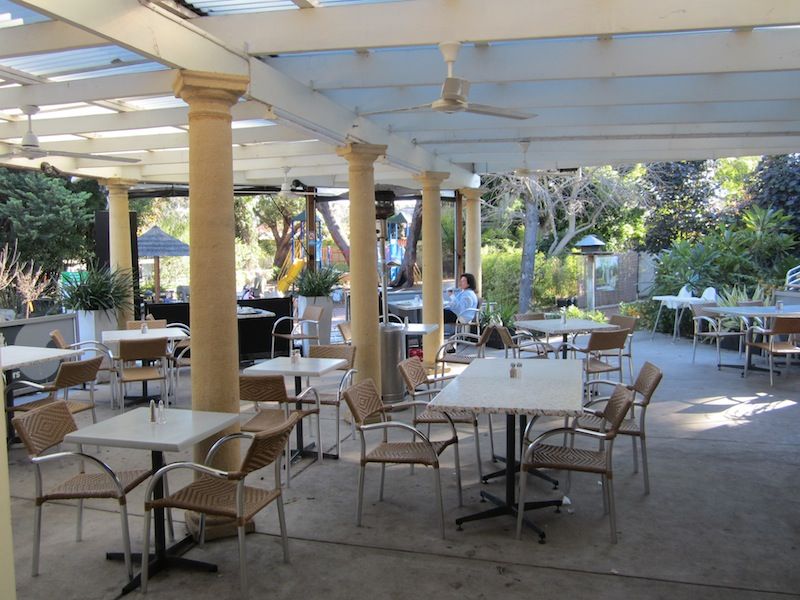 The play area is under the trees with a scattering of tables next to it, allowing parents to sit close to the action. Kids must be supervised.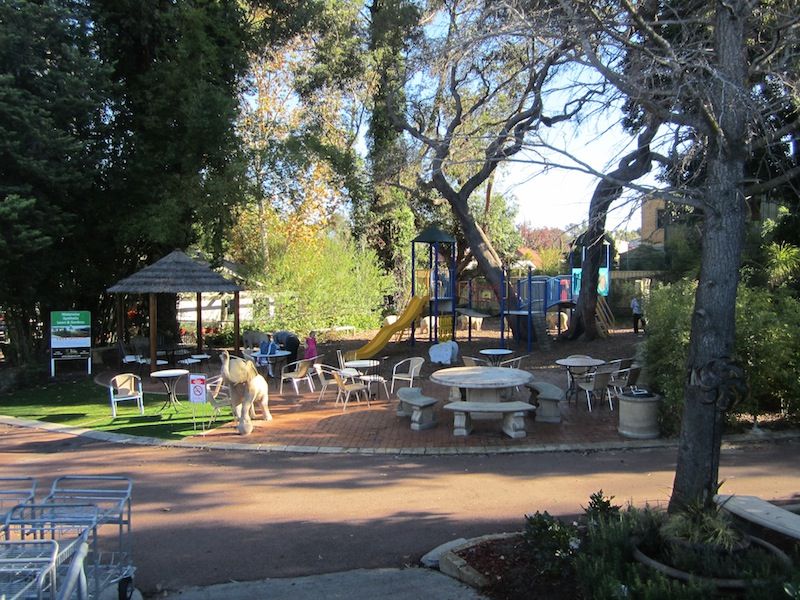 The playground structure has a long slide, a fireman pole, bridge and various ladders. Small kids will need help and attention when climbing up as it is fairly high. Instead of sand there is brown mulch on the ground so it's advisable to keep your shoes on! The play area is partly shaded by some large trees.


A different touch is the stone elephants scattered around that the kids are allowed to climb and sit on – these made a strong impression on my 5yr old. Our kids enjoyed collecting sticks too.

The café serves food from 9am–3pm when the kitchen closes, but remains open until 4pm serving coffee and readymade cakes and biscuits, of which there is a tantalising selection. Devonshire Teas are popular, served with yummy fresh scones. I ordered a delicious Vanilla Chai Latte and a Raspberry Muffin that hit the spot.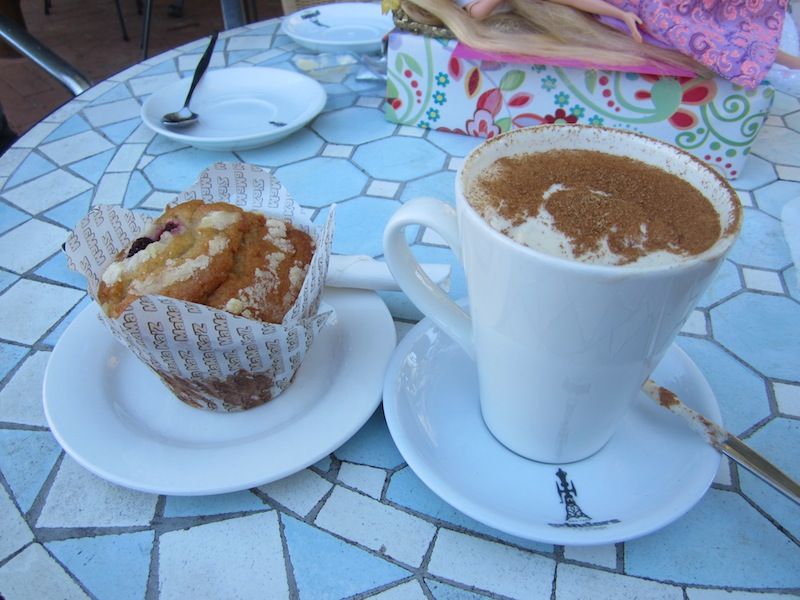 Our two girls shared a Strawberry Milkshake which was served in the shaker it was made in, with two kid size glasses – good value at $4.80. There is a range of coffee and tea options, and soy milk is also available.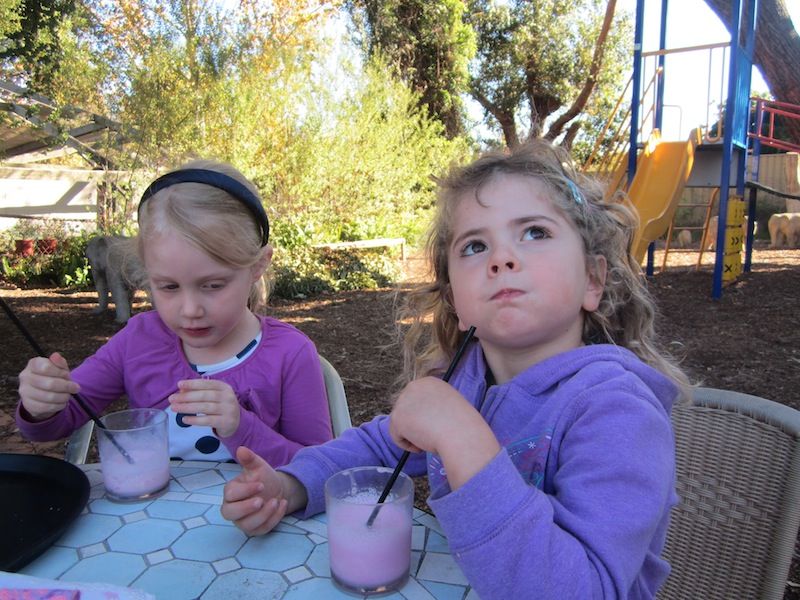 You need to order and pay at the counter, then wait for your drinks which you take to the table yourself. Food from the kitchen will be brought to your table when it is ready. The breakfast menu can be ordered until 11am and includes items such as the Big Breakfast ($17.50), Vegetarian Breakfast ($16.50) and Kids Breakfast ($8.50), or the Breakfast Sandwich ($11) or Pancakes ($14).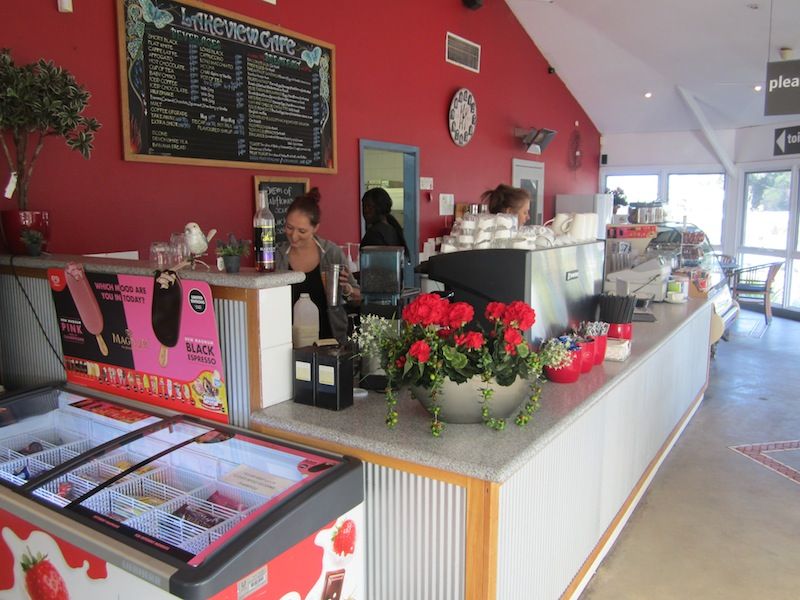 The Lunch Menu has delicious salad and sandwich options, burgers and fish, as well as daily specials such as Quiche with Salad. Most items are under $20. The Kids lunch menu includes Fish&Chips, Chicken Nuggets, Cheese Burgers or Sandwiches which cost in the region of $10.
Highchairs are available and there is a fold down change table in the disabled toilet. In the café the tables are well spaced, so I had no problem getting my large pram around them.
The staff are friendly and didn't rush us. We spent two very pleasant hours chatting, while the kids played in the autumn sun and fresh air. Baby even crawled around the chairs and elephants practicing her standing skills, and investigating the autumn leaves and sticks.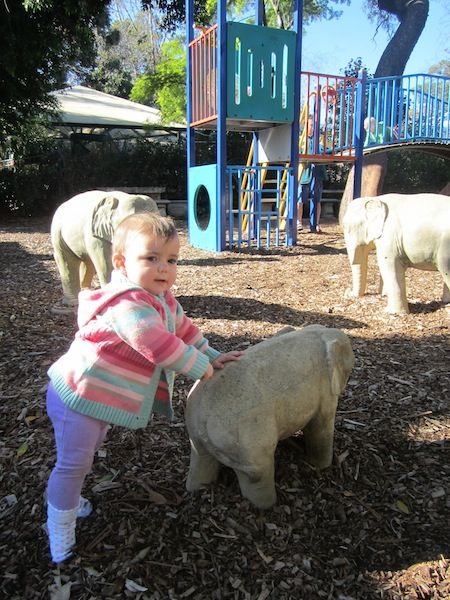 If you have time it is also nice to take a stroll amongst the plants for sale, as well as look at the extensive range of outdoor pots. Of course there is no obligation to buy anything if you only want to come to the café, but be careful as you make your way back through the lovely shop as it is filled with great gift ideas and pretty garden décor!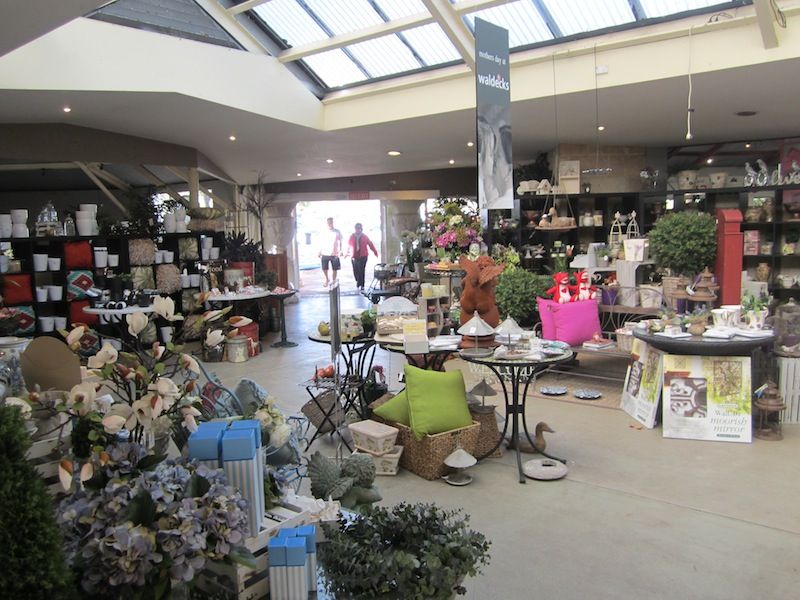 A little bird has told me that Waldecks now has a branch in Stirling that also boasts a café with kids playground. I may just have to organise another coffee date soon to check it out.
www.waldecks.com.au

View Larger Map




Find more family friendly restaurants and cafes in Perth