---





Channel 9 Falcons Football Skills Clinic
Arena Joondalup. Tuesday 8th July (Years 3-7's) Wednesday 9th July (PP-Year 2's) 8.30am - 12.30pm. Cost $65
www.falconsdistrict.com.au

Specialist coaching clinics from Falcons staff and players. For boys and girls. Quality facilities at Arena Joondalup. Morning tea and drinks provided. Meet your footy heroes! Includes Channel 9 giveaways and Falcons giveaways!
For ages Pre-Primary to Year 7

---

The Fairies Joondalup - School Holiday Programme Joondalup store Monday 7th, Wednesday 9th, Friday 11th, Tuesday 15th - Friday 18th July 9am - 12pm & 1pm - 4pm on 16th July. Cost $40.
www.fairiesperth.com.au

3 hours of Fairy Fun every school holidays! A time for fairy fans to sing and dance to The Fairies songs, listen to stories, make fairy craft, eat fairy snacks ...what more could a fairy fan want! Book early so you don't miss out.
For ages 2 - 6

---

The Fairies Rockingham - School Holiday Programme
Rockingham store Tuesday 8th - Friday 11th & Tuesday 15th - Friday 18th July 9.30am - 12.30pm. Cost $40 per session.
www.fairiesperth.com.au

3 hours of Fairy Fun every school holidays! A time for fairy fans to sing and dance to The Fairies songs, listen to stories, make fairy craft, eat fairy snacks ...what more could a fairy fan want! Book early so you don't miss out. Children must be toilet trained to attend.
For ages 2 - 6

---

The Fairies Rockingham - Dance Workshops
Rockingham Store Tuesday 8th - Thursday 10th & Wednesday 16th July. Cost $25 per session. Discounts apply for multiple session booking.
www.fairiesperth.com.au

For older girls and boys aged 5+ we offer our special Ballet, singing and modelling workshops. 2 hours to focus on developing your skills and learning a new routine to perform at the end for parents and guests for the last 10 minutes.
For ages 5 - 10

---

What's 2 Eat? - Kids Cooking Classes
Wanneroo Monday 7th - Friday 18th July. 90 minute sessions at 10am and 1pm. Cost $19.50
www.whats2eat.com.au

This is an ideal opportunity for children to learn heaps while having fun at our Wanneroo kitchen. Our recipes develop a range of cooking skills for making yummy healthy snacks. Parents of children aged 3 - 5 years will be asked to stay and help. An apron will be supplied and all classes are nut free.
For ages 3-16

---

Decadance
Joondalup. Sessions Tuesday - Friday throughout the School Holidays. Cost $10.
www.decadance.net.au

Keep your cool these Summer holidays indoors with Decadance. Our 2 hour sessions are only $10 per child. Includes DJ, party, and heaps of games and prizes
For ages 5 - 13

---

City Summit Rock Climbing Centre
Malaga. Monday 7th to Wednesday 9th and Monday 14th - Wednesday 16th July. Cost $120 for 3 days.
www.citysummit.com.au

City Summit's 3 day kids climbing course runs midweek during the school holidays. Our 3 day course teaches your child valuable skils in team work, navigating graded climbs, belaying competency and bouldering techniques. Graduation concludes on the final day with a pizza party and students awarded a Certificate of Achievement. Cost is $120 and includes the pizza party plus all day entry and gear hire for the duration of the course.
For ages 7+

---

Pottery Classes at Whiteman Park
The Pottery Centre, Whiteman Park. Tues 8th, Weds 9th,Tues 15th & Weds 16th July 10.30am, 12.30pm & 2.00pm. Cost 6 years and under $8 for 1 hour, 7 years and up $10 for one hour, $13 for 1.5 hours.
www.whitemanpark.com.au

It's time to get creative as you explore the world of clay. Children have the opportunity to create clay masterpieces using their best tools -their hands and imaginations! Bookings are recommended as classes fill quickly. Parent supervision required. Call 9249 4380 for bookings.
For ages 4+

---

The Swim School
Merriwa and Ocean Reef. School Holiday lessons. Monday 7th - Friday 11th & Monday 14th - Friday 18th July. Cost: $14 per lesson. 5 Days $70. 10 Days $140
Contact (08) 9305 2000

The Swim Schools at Ocean Reef and Merriwa are running a block of 5 lessons throughout the school holidays. Morning and afternoon slots available. Small 30 min classes allow for better interaction and learning. We cater for children as young as 4 months old right up to school age children. Our pool is privately owned, a warm 32 degrees all year round and is purpose built meaning our patrons are swimming lesson clientele only. Change rooms with change tables, toilets and showers are also located onsite. For ages 4+




---

Vacation Care, Arena Joondalup
Arena Joondalup Mon 7th - Friday 18th July (excludes Weekends and public holidays). Cost $65 per day
www.arenajoondalup.venueswest.wa.gov.au

Every school holidays Joondalup's favourite Vacation Care programme returns! Government funded and with age split groupings, 5-8 years and 9-15 years, the programme is packed with age appropriate excursions, fun and educational activities and access to Arena Joondalup's aquatic centre featuring a whirlpool, splash pool and 42m fully enclosed water slide!
Visit the website to view the complete schedule of activities and enrol now!
For ages 5-8 years & 9-15 years

---

Tiny Tots Tennis
Joondalup, Innaloo, Hillarys, Bayswater, Ellenbrook and Canning Vale.
www.tinytotstenniswa.com.au

Keep the kids busy this school holidays with daily one hour tennis lessons with Tiny Tots Tennis. Available for children aged 4 to 12 years of age and all skill levels. Tiny Tots Tennis is a specially developed program of tennis related activities and ball skills specifically tailored for children under 12 years. The purpose of the Tiny Tots Tennis program is to enhance the children's co-ordination, awareness, confidence and gross motor skills.
For ages 4 - 12

---

Monkey Sanctuary at Monkey Bars Early Learning Centre
Canning Vale. Cost $25 per session members $30 per session non members.
www.monkeybars.com.au

Do you have things to do and places to be? Then our sanctuary is the perfect place for your little monkey. Simply drop them off and we'll take care of the rest. Call 6254 2555 to book.
For ages 3+

---

Fun with Friends at Monkey Bars Early Learning Centre
Canning Vale. Cost $18 per session members $22 per session non members.
www.monkeybars.com.au

Why not get a group of friends and their kids together for a fun filled day at Monkey Bars? A safe clean and fun environment for all little monkeys! Sit back and relax in our cafe while the kids enjoy a range of fun stimulating activities and play on our purpose built play equipment.

---

Zoo Crew - Perth Zoo
Perth Zoo. Mon 7th - Wednesday 9th and Monday 14th - Wednesday 16th July. Cost $86per day.
www.perthzoo.wa.gov.au

Zoo Crew is a new Perth educational adventure day for kids aged 8 - 13. Drop your kids off at the Zoo and they will get up close and personal with Zoo animals, make special animal treats and go into restricted areas of Perth Zoo. Your little monkeys can hang with us at the zoo while you get a day off.
For ages 8-13

---

Learn to Swim Programme. Arena Joondalup
Arena Joondalup.
www.arenajoondalup.venueswest.wa.gov.au

Our Swim School provides a fun, safe and positive environment to develop your child's skills. Programmes available for preschoolers this holidays. For further information and to enrol please contact our Swim School Team Arena Joondalup phone 93007118 or online
For ages 3 to 5 years.

---

Holiday Swim School, Challenge Stadium
Mount Claremont.
www.challengestadium.venueswest.wa.gov.au

Our Holiday programme offers an intensive learn to swim opportunity with classes held daily during the school holidays. Small class sizes ensure great improvements will be made in your child's swimming. Friendly qualified instructors make learning to swim a fun and educational experience. Available for all levels from preschoolers to advanced swimmers.
For ages 2 - 17 years.

---

Kids Sports Club, Challenge Stadium
Mount Claremont
www.challengestadium.venueswest.wa.gov.au

For 5 – 12 year olds Kids Sports Club offers days full of cool sporting and recreational activities under the guidance of qualified, experienced and fun instructors. Visit the website to view the complete schedule of activities and enrol now!
For ages 5 - 12 years

---

Kids Gym, Challenge Stadium
Mount Claremont
www.challengestadium.venueswest.wa.gov.au

Holiday Kids Gym classes help children develop their confidence, independence, balance, coordination, and motor skills.
With Toddler Gym, Kindy Gym, Advanced Kindy Gym, Junior Gym, Primary Gym and Advanced Primary Gym classes for kids aged 18 months to 10 years, you're sure to find a Kids Gym class to add some zing to your child's day. Visit the website for more information and to enrol now!
For ages 1.5 - 10 years

---

Break Point Tennis School Holiday Clinics
South Perth Tennis Club & Applecross Tennis Club, Mon 14th - Thurs 17th July 9am - 12pm. Cost: April $160.
www.breakpoint.net.au

Our School Holiday Clinics are designed for enjoyment as we acknowledge the children who attend are on holidays and hence are keen to have some FUN! All children 5 and over can attend the 4 x 3 hour sessions spread over a week. Each morning is made up of tennis basics, tennis specific games, delicious morning teas and other sporting activities like ... bike rides, modified soccer, cricket and indoor games.
For ages 5+




---

Teen Trek - Bibbulmun Track Foundation
Teen Trek. Murdoch Park'n'Ride. Wednesday 16th July 9am - Friday 18th July 3pm. Cost: $180 (3 Days)
www.bibbulmuntrack.org.au

Nature Deficit Disorder (NDD) describes our lack of a relationship with the environment. Whilst not a medical condition, it affects our children and our environment. Luckily, the cure starts in our own backyard!
This is a three day expedition for teenagers, camping out and experiencing the fun and camaraderie of being in and connecting with the bush and with others their age. Along the way, guides will present them with some mental and physical challenges.
Stimulate their minds and bodies, get them away from the X-Box and Playstation and tackle NDD!
Participants have the opportunity to qualify for the bronze or silver Duke of Edinburgh Award program as part of this event. Visit The Duke of Edinburgh Award program for general information about the program.
Includes return transport ex Murdoch Park'n'Ride, Track map, comprehensive planning night, trip preparation manual, equipment hire, experienced guides and heaps of fun. BYO food (advice given). For teenagers 13+.
For ages 13+




---

Herdsman Wildlife Centre Swamp Safari Holiday Adventures
Herdsman Lake Wildlife Centre, Wembley. Monday - Friday 10am - 12pm. Cost: $15 per person.
www.wagouldleague.com.au

Join in a range of exciting hands on learning adventures including our most popular learning experience: MudnMinibeasts (invertebrate sampling with scoop-nets) and Swamp Safari (guided bushwalk). Booking essential.
For ages 5+




---

---






Kids Wonderland
Hertha Road Reserve, 21 Cedric Street, Stirling. Saturday 12th and Sunday 13th July 8.30am - 12.30pm and 1.30pm - 4.30pm. Cost: Children 2 - 13 $25, Adults $8.
www.kidswonderland.com.au

An entertainment extravaganza! For a one time entry fee, all rides and activities inside the Big Top are free! Go for a ride on the Taxi Jets or for the more daring, the Runaway Train. Spoil the kids to a free fairy floss and popcorn. Create Arty Brellas - a fun umbrella painting project for kids or touch real snow in the Buggybuddys Snow Dome.
Each child ticket recieves:
-Unlimited rides for 4 hours
-Live show by The Lulus
-Suitcase painting, Laser Tag, Snowdome
-Scitech Touch & Discover Space
-Roving performers
-Scitech Live Experiments Show
-1 x free games on the Laughing Clowns
-1 x Fairy Floss and Popcorn each

For the Parents
We all know the stresses of being a Mum, so now it's your turn to sit back and relax. We have set up the 'Parents Relaxation Area' where you can unwind with a Nespresso coffee, enjoy a complimentary 3 minute massage and taste some delicious high-tea treats. Ticket also includes:
-Unlimited rides to ride alongside the kids
-Entry to the Parents Relaxation Lounge
-Complimentary 3 minute massages
-Organic Lunchbox workshops
-Access to Nespresso coffee bar.




---




Winterland
Perth Cultural Centre Friday 4th - Sunday 20th July 9am - 10pm. Cost: Presale Under 15's $14, 15+ $24, Family (2 +2) $66. Box Office sales Under 15 $18 15+ $28 Family (2+2) $82.
www.winterland.com.au

The upcoming July school holidays is literally the time to get your skates on in the Perth Cultural Centre. Winterland is Perth's first inner city outdoor ice skating rink and will transform the urban surrounds into a magical winter wonderland.
Catering for kids, parents, grandparents and everyone in between, Winterland offers a truly unique experience in the heart of the city.
The James Street Amphitheatre between the State Library and PICA will be converted into a 250sqm outdoor ice skating rink, with a winter themed bar and café and delicious food stall offerings.
There will be a range of family friendly sessions and activities on a daily basis. The 9AM session will be just for the little ones, with aided skating tools for 3 - 5 year olds. From 10AM onwards, the sessions are all ages. After the sun goes down, it's time for big kids at heart to come out play, with themed nights, DJs and more from 7PM – late. When not executing the perfect double lutz, patrons can pull up a beanbag and watch some appropriately programmed winter-themed films on the big screen.And to satisfy those appetites, Winterland is bringing a touch of the traditional Northern Hemisphere winter markets to the city. Food stalls will offer tasty treats such as hot pretzels, bratwurst and ginger cookies. Patrons and the general public can observe all the skating action from The Lodge at Winterland, the bespoke café and bar. The Lodge will be serving a huge range of winter warmers, including mulled wine, warm winter cider, hot chocolate and free babyccinos for skaters under 12.
For ages 3+

---

The Art Gallery of WA
Perth. Saturday 5th and Sunday 6th July 11am - 3pm. Hourly sessions. Booking essential. Cost: Free
www.artgallery.wa.gov.au

Join AGWA for a workshop activity with REmida: The Creative Reuse Centre. Inspired by Ricky Swallow's work, families will help sculpt a life-size family of chimpanzees from reused materials. The Community creation will be on display during the School holidays.

Animal Ark Activity Space
Enjoy the brand new family activity space that is certain to capture the imagination of your young ones. Inspired by artists' interpretations of nature's creatures, budding artists can draw, read or write about their favourite animal. This interactive space will guide your family through some of the themes from the Animal Ark exhibition and include mythology, symbolism and the representations of animals through art works.

Family Friendly Tours
Time: 11am
every day during the school holidays (closed Tuesdays)

Family Exhibition Sheets
Pick up an exhibition sheet and make your way through Animal Ark exploring the works and learning a little more about the artists' intentions. Answer the questions posed by our education team or quiz your family members!




---

NAIDOC Week Celebration
Wanneroo Library and Cultural Centre, Wednesday 9th July 10am - 12pm. Cost Free
www.wanneroo.wa.gov.au

Come and celebrate the City of Wanneroo's rich Aboriginal culture at our free NAIDOC celebration at the Wanneroo Library and Cultural Centre on the 9th July.
Come and see traditional Aboriginal dancing, bush tucker tasting, kids activities and more and this great annual event.

Welcome to Country

Loom band making

Face painting

Bush tucker tasting

Aboriginal music & dance

Dreamtime stories

Traditional dancing kids workshop

Treasure hunt

For all ages




---

Whiteman Park
Escape the rainy day boredom and entertain the kids this winter with some fantastic July school holiday activities at Whiteman Park. Bookings can be made on 9209 6000
www.whitemanpark.com.au

Marsupial Wonders. Tuesday 8th & Wednesday 9th July 10.30am, 11.30am & 12.30pm. Cost $5
Come and meet Whiteman Park's Fury friends. We will introduce you to some of the Marsupial here at the Park and then get creative and decorate a flower pot and we will even give you seeds to take home and plant.

Cold Blooded Wonders. Tuesday 15th & Wednesday 16th July 10.30am, 11.30am & 12.30pm. Cost $5
Whiteman Park's cold blooded friends would love to meet you! Learn about some of the reptile and amphibian animals, then we will be making frogs – paper ones of course! Amaze your friends with your new-found origami skills.

---

Scitech School Holiday Programs
Scitech, City West, Perth
www.scitech.org.au

Experiment with physics at UWA Friday 18th July 10am - 11.30am. cost $17 members $20 non members. Location: School of Physics at the UWA
Meet Joe Coletti & Jeremy Bourhill of UWA's School of Physics and gain exclusive insight into experiemental physics. Conduct experiements with electricity, magnet levitation and liquid nitrogen. Then check out the rooftop telecscopes for a spectacular view of UWA and its surrounds.
For ages 10 - 14 years

Noisy Science. Monday 7th July 9.30am - 10.15am Cost $10 members $12 non-members
Turn up the volume and feel the vibrations as you explore the science of sound. Experiment with shifting pitch and amplification as you make your own buzzing balloons and a hooting bassoon to take home.
For ages 4 - 6 years

Outer Space Explorers Tuesday 8th July 12.30pm - 1.45pm & 2.30pm - 3.45pm. Cost $15 members $18 non-members
Discover the challenges and possibilities of space travel. Experiment with atmospheric pressure, test out rocket fuel and make your own moon rocks. Then blast off into the universe to explore our solar system and distant galaxies using the Space Engine universe simulator.
For ages 7 - 9 & 10 - 14 years

Submarine Engineers. Thursday 10th July 10am - 11.30am & 12pm - 1.30pm. Cost $15 members $18 non-members
Take on the role of naval engineer as you design and build your own submarine. Master the forces of buoyancy and use magetism to recover lost materials from the depths.
For ages 7 - 9 & 10 - 14 years

Robot Rally Friday 11th July 10am - 11.30am & 12.00pm - 1.30pm. Cost $15 members $18 non-members
It's time to start your engines and prepare for maximum speed. Create a program to race your NXT Mindstorm robot around the track in the fastest time and avoid any obstacles in your path.
For ages 8 - 10 & 11-14 years

Colourful Chemistry Tuesday 15th July 9.30am - 10.30am & 12.30pm - 1.30pm Cost $15 members $18 non-members
Come and see what happens when you mix art and science. Conduct surprising and colourful reactions and learn how to make your own colour-changing paper. Plus receive your own chemistry kit so you can experiment at home in style.
For ages 4 - 6 & 7 - 9 years

Create with MaKey MaKey Wednesday 16th July 11.30am - 1pm. Cost $20 members $22 non-members
Ever wanted to turn fruit into keyboard, create music from pencil drawings or make a video game controller out of dough? The MaKey MaKey can turn these wacky ideas and more into a reality. Come and get an exclusive chance to play with this amazing technology.
For ages 8 - 10 & 11- 14 years

Mircoscopic World. Thursday 17th July 9.30am - 10.15am & 12pm - 12.45pm. Cost $12 members $15 non-members
Calling all budding entomologists! Observe insects and plants up close using our amazing digital mircoscopes. Make your own bug catcher and receive a magnifying glass to study the creepy crawlies in your backyard.
For ages 4 - 6 & 7 - 9 years

---

The Fairies Disco, Joondalup
Joondalup store Thursday 10th July 2pm - 3.30pm & 4pm - 5.30pm. Cost $10
www.fairiesperth.com.au

Dancing, games, face painting and much more for just $10. 2pm - 3.30pm for 2 - 3 years. 4pm - 5.30pm for 4 years and above
For ages 2 +

---

The Fairies Disco, Rockingham
Rockingham store Friday 11th July 3.30pm - 5.00pm. Cost $15
www.fairiesperth.com.au

Tickets are $15 (includes entry, popcorn and a drink) Children must be toilet trained. Parents please note doors are locked at exactly 3.40pm and latecomers will not be permitted entry. Parents are not allowed to stay for the disco. Doors will be re-opened at 4.50pm for children to be collected.
For ages 2 +

---

Perth City Snowland
Forrest Place, City of Perth. Monday 7th - Saturday 19th July 10.30am - 3.30pm. Cost free.
www.visitperthcity.com

Delight in the charm of real snow as Frosty the Snowman and the Snow Fairy lead you on a journey through an enchanted forest under falling snow to a wonderland full of snowy experiences. Upon reaching the Snow Plaza, you'll be able to build a snowman, throw a snowball and enjoy a thrill-seeking ride down the 40 foot snow slide. Journeys take place in 30 minute sessions. Session tickets are available free from the City Playground Pass marquee in Murray Street Mall.

---

---

Revolutions Transport Museum
Ride the Roo. Saturday 5th - Sunday 20th July. 10am - 4pm. Cost: Entry by donation.
www.whitemanpark.com.au

It's just a hop, skip and jump to Revolutions for some captivating school holiday fun.
Choose your colour and follow the Roo Route to find bus stops in the most unusual places. Enter the competition for your chance to win a cool prize.

---





Dinosaur Discovery at the WA Museum
WA Museum, Perth. 9.30am - 5pm daily until 3rd August. Cost: $12.50 Children 3 -12, $20 Adults, $15 Concession.
www.museumwa.gov.au

Lost Creatures of the Cretaceous – Prepare for a close encounter with some of the most extraordinary creatures to ever walk the earth. Featuring more than 20 moving, life-size dinosaur models, this is a dino-exhibition like none you've seen before! Kids can enjoy a range of informative, hands-on activities in the Play-laeontology Zone in the museum grounds.

Interesting Insects and Cretaceous Creatures
Saturday 5th - Sunday 20th July. Time 9.30am - 5pm. Cost: Free - $2.50.
Join us in the Discovery Centre this July to explore interesting insects and Cretaceous creatures. Make a Cretaceous Creature finger puppet, explore the Insect Activity Zone, design your own insect and make your own spectacular butterfly or spider mask to take home!
For ages 4+




---

Scitech - Carnival of Science
Scitech, City West, Perth
www.scitech.org.au

Ever wondered what the trick is to winning the giant teddy at your favourite sideshow alley game? It might surprise you, but the answer lies in science.
Carnival of Science goes behind the scenes to explore the physics, biology and psychology of the sideshow – without losing the magic of the carnival! Try your luck navigating the maze of mirrors or try the strength tester. Like a human cannonball, launch yourself head first into the weird and often wacky world of thecarnival!




---

Perth Mint
Perth. Open 9am - 5pm. Cost: Adults $25, Children aged 4 - 15 $8, Concession $20, Children under 4 are free.
www.perthmint.com.au

Bring the family along to discover The Perth Mint's exciting new Gold Exhibition, which brings the history of Western Australian gold, and the Mint, to life.
Offering a unique combination of exhibits, the Gold Exhibition offers visitors the rare opportunity to experience the magic, allure and wonder of gold. Amid a stunning multimedia display is the largest coin ever made, weighing one tonne of pure gold valued at more than $50 million. View Australia's most dazzling display of natural gold nuggets, including the 25.5kg Newmont Normandy Nugget; watch molten gold being poured to form a gleaming solid gold bar; handle more than $500,000 worth of gold bullion and much more!

---





Maritime Museum, Fremantle
Super Sharks and Spice Ships.
www.museum.wa.gov.au

Explore the super-diversity of living and fossil sharks at the Maritime Museum, with Shark Show and Tell presentations by Museum curators, and a range of shark crafts. Step back in time at the Shipwreck Galleries, to an era of traders, treasures and triumphant discoveries when merchant sailors and stately spice trade ships ruled the Indian Ocean.

Super Sharks
Monday 7th - Friday 11th July & Monday 14th July & Friday 18th July 10am - 2pm. Cost $2 each or $5 for all activities. Museum entry fee applies.
Try your hand at paper tole with the Super-Dimensional Shark activity, enjoy foam Shark Craft sculpture or create your own Megalodon Mobile!
For ages 4+

Shark Show and Tell sessions
Tuesday 8th, Thursday 10th, Tuesday 15th and Thursday 17th July. Time 11am. Free with Museum entry.
Join WA Museum curators to explore the super-diversity of living and fossil sharks and rays with Shark Show and Tell, and discover what is so important about these supreme marine predators.
For ages 7+

Whale Wonders
Saturday 5th - Sunday 20th July 9.30am - 5.00pm. Free with Museum entry.
Explore the Whale Wonders play zone for fun facts, games and many things to discover about our favourite gentle giants of the sea.
For ages 3+

---

Shipwreck Galleries, Fremantle
Trade Winds and Spice Bottles, Museum entry fee: Free
www.museum. wa.gov.au

Trade Winds
Monday 7th - Friday 11th & Monday 14th - Friday 18th July. Times: 10am - 2pm. Cost $2.
Step back in time to an era of traders, treasures and triumphant discoveries when merchant sailors and stately spice trade ships ruled the Indian Ocean. Become a legendary spice captain working for the Dutch VOC Shipping Company as you collect your Trade Winds clue sheet and set sail across the oceans to collect exotic and valuable spices.
For ages 4+

Spice Bottles
Monday 7th - Friday 11th & Monday 14th - Friday 18th July. Times: 10am - 2pm. Cost $2.
Decorate a special spice bottle with beautiful colours to take home and use to store your valuable treasures.
For ages 4+

---




The Art Gallery of WA
Perth
www.artgallery.wa.gov.au

Animals are making themselves at home on the walls of AGWA! From paws and claws to wings and things, Animal Ark features works from the State Art Collection that highlight the many ways in which the animal motif has been used by generations of artists.
A family activity space and art trails will make it a great adventure for the young ones, and the underlying exploration of mythology, symbolism and representation of animals through paintings, sculpture, decorative art and works on paper, will appeal to adults as well.
The exhibition considers issues raised by depictions of animals, such as the interface between animal and human identity, the use of animals as 'machines' and companions, as decorative embellishments of human activity, and as subjects in scenes of daily life, portraits and nature studies.

Animal Ark Activity Space
Enjoy the brand new family activity space that is certain to capture the imagination of your young ones. Inspired by artists' interpretations of nature's creatures, budding artists can draw, read or write about their favourite animal. This interactive space will guide your family through some of the themes from the Animal Ark exhibition and include mythology, symbolism and the representations of animals through art works.

Family Friendly Tours
Time: 11am
every day during the school holidays (closed Tuesdays)

Family Exhibition Sheets
Pick up an exhibition sheet and make your way through Animal Ark exploring the works and learning a little more about the artists' intentions. Answer the questions posed by our education team or quiz your family members!

---
Find more attractions in Perth

---
The Little Prince
Saturday 5th - Saturday 19th July. Spare Parts Puppet Theatre, Fremantle
Tickets available from The Spare Parts Puppet Theatre

Adapted from the book by Antoine de Saint-Exupery
*If you can imagine it – it must be true!*
With its timeless message about the importance of forming friendships, The Little Prince is an adventure story that celebrates the strength of a child's imagination.
The Little Prince leaves his tiny home planet, with its three volcanoes and single glorious flower, and journeys across the universe to Earth. He meets a pilot crash-landed in the desert, a cunning snake, a wild fox and an oddball cast of grown ups with some very silly ideas about the things that really matter.

---

Hi-5 House Hits
Sunday 6th July Perth Concert Hall
Tickets available from Ticketek

Live Nation Australasia is proud to announce the return to Australia of Hi-5 in the upcoming July school holidays.
The Australian tour follows sold out shows throughout Asia including Singapore, Hong Kong, Malaysia, Phillippines and Indonesia.
Hi-5 House Hits will feature all of Hi-5's favourite, best loved songs for you to sing and dance to. These songs have been chosen by some very special people...the Hi-5 audience of course!
We asked the fans what their favourite Hi-5 Hits were and then put them all together to create a sing-a-long, dance-a-long concert that the whole family can join in with.
You will learn how to do the coolest Hi-5 dance moves and every song has special interactive elements which make the audience the stars of the show!
From big classic hits like L.O.V.E and Making Musicwith the whole Hi-5 gang to sweet solos, duets and trios from Mary, Stevie, Dayan, Ainsley and Lauren.
Of course Chats and Jup Jup will be joining in on the fun and plenty of other surprises!
See you at Hi-5 House Hits a show where you will become the star!

---

Alice in Wonderland
Tuesday 8th - Thursday 10th July, Leederville Town Hall
Tickets available from Ticketmaster

---

The Sound of Music
Thursday 10th - Saturday 19th July, The Regal Theatre, Subiaco
Tickets available from Ticketek

A new ICW Production of this Rodgers and Hammerstein classic, inspired by the WA visit of Julie Andrews, promises new delights in your favourite musical of all time.
Not to be missed with its classic songs, The Hills are Alive, Climb Every Mountain, Doh a Deer and the unforgettable Edelweiss.

---

Kids' Cushion Concerts
Saturday 12 July 2014, 9.45am & 11.15am Fremantle Town Hall

WASO's Education Chamber Orchestra (EChO) offers a 50-minute musical extravaganza for children aged 0 – 6 years. The 15-piece ensemble features one of each instrument of the orchestra performing favourite songs and well-known tunes. These programs are designed for having fun and our lively presenter will encourage foot-tapping, hand-clapping, hip-swinging and singing. Meet the WASO musicians after the performance and have-a-go on our child-sized instruments.
Concert duration: 50 minutes
Suitable for 0 – 6 year olds.
More info & bookings: http://tickets.waso.com.au/single/psDetail.aspx?psn=8465
Phone: WASO Box Office (08) 9326 0000
Facebook: https://www.facebook.com/WestAustralianSymphonyOrchestra

---

The 13-Storey Treehouse
Tuesday 15th - Sunday 20th July, The State Theatre of WA.
Tickets available from Ticketek

Would you please welcome to the stage... Andy and Terry!
Yes that's right. Andy Griffiths' and Terry Denton's best-selling book, the one and only, super-famous, ultra-brilliant The 13-Storey Treehouse has been turned into an equally brilliant show for the theatre. AND YOU'RE INVITED!
Curtain up! Today's the day. There's just one problem. They forgot to write it! And where will they find flying cats, a mermaid, a sea monster, an invasion of monkeys, and a giant gorilla? Luckily the theatre has an extensive prop and costume collection and some very impressive stage technology.
Direct from its sell-out premiere season at the Sydney Opera House and adapted by Richard Tulloch (The Book of Everything, Bananas in Pyjamas), The 13-Storey Treehouse is brought to life by a seriously funny cast and magical moments of theatrical wizardry.
Just remember to "USE YOUR IMAGINATION!"
---

Karrinyup Shopping Centre
Dora's Dance Party. Monday 14th - Sunday 20th July. Show times Mon to Sat 9.30am & 11.30am. Sunday 11.30am & 1.30pm. Meet & Greet Mon to Sat 10.30am and 12.30pm. Sun 12.30pm & 2.30pm
www.karrinyupcentre.com.au

Put your dancing shoes on for Dora's Dance Party because Dora needs you to spin, shake, wiggle, jump and clap your hands with her. This is a dance filled adventure as we march past ants, wiggle around spiders, slither through snakes, dance like a fish, move like you have ants in your pants and do our favourite pirate dance.

Baby Bungy's
Monday 7th July - Sunday 13th July. Centre Court. Cost $10 for 4 minutes.
Are you board with the passive participation that other fun park rides offer? Look no further. Imagine jumping up to 7 metres into the air off a trampoline, looking down on the crowd from over 2 storeys up. Using multiple bungy cords the traditional trampoline is super boosted to give a gravity defying ride, providing all the adrenaline of bungy jumping but none of the risks.
Jumpers are able to reach heights that would be impossible using a trampoline alone, secured and safe in their adjustable purpose built harness they are free to experiment with acrobatic movements or to simply jump as high as they can. The rapid rate at which confidence sky rockets after your first double somersaults creates a contagious buzz between both participants and spectators. Using the Bungy Dome gives you an empowering and euphoric feeling of defying gravity and at the same time trains and tunes bodily coordination.

---

The Mezz Shopping Centre
Free Dinosaur Rides. Saturday 12th July 10am - 4pm. Monday 14th July 10am to 1pm
www.themezz.com.au

---

The Park Centre
Free Puppet Making Workshops with the Spare Parts Puppet Theatre. Thursday 10th July 10am - 11.30am. No booking required.
www.theparkcentre.com.au

---

Noranda Shopping Village
Free Puppet Making Workshops with the Spare Parts Puppet Theatre. Friday 11th July 10am - 11.30am. No booking required.
www.norandashoppingvillage.com.au

---

Bassendean Shopping Village


Free Puppet Making Workshops with the Spare Parts Puppet Theatre. Wednesday 9th July 10am - 11.30am. No booking required.




www.bassendeanshoppingvilliage.com.au




---

Rockingham Shopping Centre
www.rockinghamshopping.com.au

Handball Competition vs Eagles and Dockers
Wednesday 9th July 3.30pm - 4.30pm. Location: Fresh Food Mall
Come down, meet two AFL starts, one from the West Coast Eagles and the other from the Fremantle Dockers and have a go at our handball competition.

Get Natural. Get Crafty. Naragebup Environment Centre are back!
The lovely volunteers from Naragebup Environment Centre are dropping in again this school holidays with the following activities/dates:
Tuesday 8th - Meet our reptile friends
Friday 11th - Recycled Arts and Craft Fun
Saturday 12th - Sustainability and recycling activities
Monday 14th - Recycled Arts and Craft Fun
Friday 18th - Sustainability and recycling activities

Name your favourite part of our famous Ball Machine
Can you think of a cool name for one of our famous ball machine parts? If so, you could win fame and a $50 centre gift card!You can enter your awesome name by simply taking a photo of the ball machine part and then liking Rockingham Shopping Centre's Facebook page or post it Facebook, Twitter or Instagram with the handle #rockyballmachine and your name suggestion. Most votes wins so don't forget to share!




---

Yanchep Shopping Centre


Peppa Pig Live Stage Show. Saturday 19th July. 11.30am & 2.30pm.




www.yanchepcentral.com.au




---

Wanneroo Central
Loom Band Workshops and Magic Shows
www.wanneroocentral.com.au

Loom Band Workshops
Monday 7th - Friday 11th July 11am - 2pm. Location: Near Gloria Jeans
Create your own beautiful jewellery and learn more about the latest creative craze!
*Limited spaces available, only 10 children at any one time. Parents must accompany children at all times. No bookings required. Not suitable for children 3 years and under.

Magic Shows
Monday 14th - Friday 18th July 11am and 1pm. Location: Near Gloria Jeans
Be amazed! Be surprised! You won't believe your eyes at our fabulous magic shows!

---

Fd

Buggybuddys Top 100 School Holiday Activities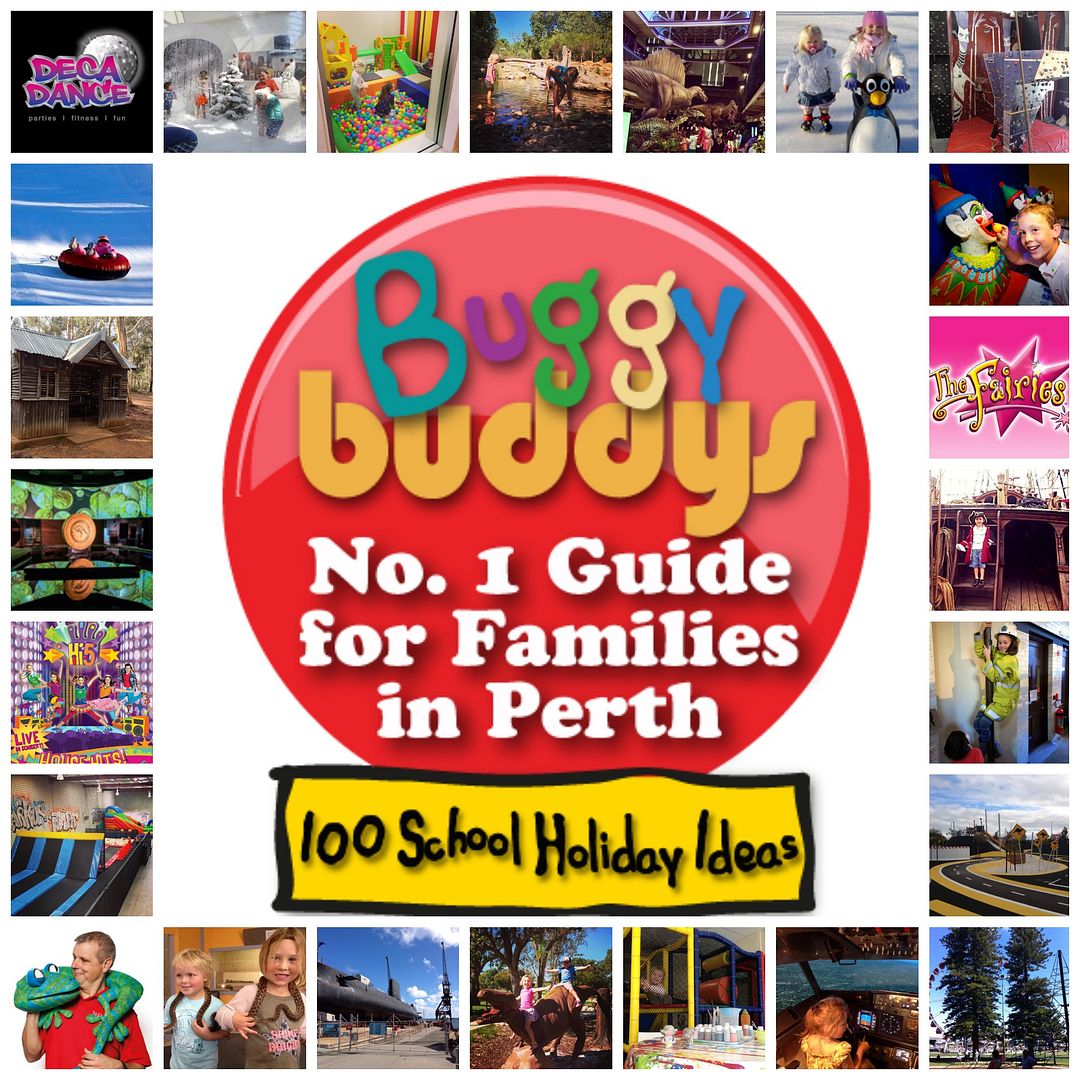 ---

1.
Book tickets for Dinosaur Discovery at the WA Museum. Opening on 11th April this exhibition features over 20 moving, life-size dinosaurs including a T-Rex and a 16 metre Brachiosaurus.


Location: Perth. Suitable for: All ages.




Cost: $20 Adults, $12.50 kids (aged 3 - 15 years) Children under 3 are free.

---

2.
Enjoy the greatest kids rides, the best children's live show, unique and creative youth activities and your favourite roving performers for 2 days in Perth this school holidays with Kids Wonderland.


Location: Perth. Suitable for: All ages




Cost: $8 Adults, $25 kids (aged 2 - 14 years) Children under 2 are free.

---

3.
Enjoy all the fun of the fair with Scitech's Carnival of Science. Try your luck navigating the maze of mirrors or try the strength tester. Like a human cannonball, launch yourself head first into the weird and often wacky world of the Carnival!
Location: Scitech, West Perth
Cost $17 Adults $11 Children. Children under 4 are free.

---

4.

Enjoy a visit to

Rio Tinto Naturescape

at Kings Park and have some old-fashioned dirty fun wading through creeks and building dams and cubby houses.




Location: Kings Park. Suitable for: All ages

---

5.
Get your skates on - your ice skates that is - for Perth's Winterland! Winterland is Perth's first inner city outdoor ice skating rink and will transform Perth Cultural Cenre into a magical winter wonderland!


Location: Perth Cultural Centre, Perth




Cost $28 Adults $18 Children.

---

6.
Get your dance shoes on as Hi-5 is coming to town this school holiday with their Hi-5 House Hits, featuring all the best loved songs for you to sing and dance to.


Location: Perth Concert Hall




Cost: $32.50 - $55

---

7.
Book in for kids cooking lessons at What's 2 Eat?, a cooking school specialising in healthy eating.
Location: Wanneroo : Suitable for: Children aged 3+. Drop and leave available for school aged children.
Cost: $19.50 per 90 minute session.

---

8.

Take a tour of

HMAS Submarine Ovens in Fremantle. Children need to be over 5 to partake in the tour.
Location: Fremantle. Suitable for: School aged children over 5
Cost: $10 Adults $3 Children

---

9.
Do you wanna build a snowman? Well this school holidays you can do just that with the Perth City Snowland. Session tickets are available free from the City Playground Pass marquee in Murray Street Mall.
Location: Perth City. Suitable for: All ages.

---

10.
Bounce off the walls at BOUNCEinc, Perth's largest trampoline park!
Location: Cannington. Suitable for: Children 3+
Cost: $19 Adults $13 Children (includes grip socks)

---

11.
Book a school holiday activity at Whiteman Park. This school holidays you can meet Whiteman Park's fury and cold bloodied friends with Marsupial and Cold Bloodies Wonders sessions.


Location: Whiteman Park. Suitable for: Children 3+




Cost: $5 per child per session.

---

12.
Meet your football heros at Falcons Footbal Skills Clinic and receive specialist coaching from falcons staff and players. Running Tuesday 8th and Wednesday 9th July.


Location: Arena Joondalup. Suitable for: Pre-Primary to Year 7




Cost: $65 per child.

---

13.
Get your dance shoes on for Dora's Dance Party at Karrinyup Shopping Centre. Dora will be dancing twice a day from Mon 14th to Sun 20th July.
Location: Centre Court, Karrinyup. Suitable for: All ages

---

14.

Pay a visit to

Landsdale Farm School, say hello to the farm animals, wander through the herb garden and play in the covered playground.
Location: Landsdale. Suitable for: All ages.
Cost: $6 per person. Children under 2 are free.

---

15.

Spend the morning at

The Pottery Playroom. Not only can you paint your own pottery but kids will love having fun in the mini jungle gym. Don't forget your socks!
Location: Joondalup. Suitable for: All ages
Prices start from $10

---

16.

Pack a picnic and spend the morning plane and helicopter spotting at Jandakot Airport
Location: Jandakot Suitable for: All ages

---

17.

Book in for the 3 hour

Fairies School holiday Workshop

at the

Joondalup

or

Rockingham

stores.


Location: Joondalup & Rockingham. Suitable for: Children aged 2 - 6 (Must be toilet trained)
Cost: $40

---

18.
Take your Fireman Sam fan to the FESA Education and Heritage Centre. The museum offers a whole floor of interactive safety exhibits with hands on demonstrations. You can even dress up as a fire fighter!
Location: Perth City Suitable for: All ages
Cost: FREE

---

19.
Be a pirate for the day and take a Tour of the Duyfken, a replica of the first European Ship to reach Australia.
Location: Fremantle Harbour. Suitable for: All ages
Cost: Adults $10 Children $5 (ages 5 - 15 years) Family pass $25

---

20.
Get up close and personal with nature at the Herdsman Lake Wildlife Centre. Check out their low cost school holiday activities


Location: Herdsman Lake, Wembley. Suitable for: All ages




---

21.
Get your tickets to WASO's Kids Cushion Concerts where the 15 piece orchestra will perform well known tunes and children will get to have a go on child sized instruments after the show.
Location: Perth Concert Hall. Suitable for: 0 - 6 year olds.
Cost: $15 per ticket. Children under 1 are free.

---

22.
If your child is an animal lover then why not book them into one of the RSPCA's school holiday activities. They can have lots of fun learning about the resident dogs, cats and farm animals.


Location: Malaga. Suitable for: 4 - 15 year olds




Cost: $15 - $60 per session.

---

23.

Let the kids climb the walls at

City Summit Rock Climbing Centre

in Malaga. School holiday programs are also available.




Location: Malaga Suitable for: Children aged 5+




Cost: Adults $18, Children over 7 $15 plus $10 harness hire. Children under 7 $10 including harness hire.

---

24.
Treat yourself to a relaxing coffee break by heading to Feast Cafe in Wembley. Little kids will have great fun in their sound proof playroom.


Location: Cambridge Street, Wembley

---

25.
Get creative with The Art Gallery of WA free REmida workshop activity. Kids are invited help scuplt a life-size family of chimpanzees from reused materials.


Location: Perth Suitable for: Children aged 4+

---

26.
Visit the Buggybuddys Award Winning Ivey Watson Playground in Kings Park and enjoy lunch at Sticky Beaks Cafe.
Location: Kings Park, Perth. Suitable for: Children up to the age of 6

---

27.
Play Mini-golf! Great fun for the whole family. Check out Buggybuddys Top 10 places across Perth to play.


Location: Across, Perth. Suitable for: Children over the age of 2.

---

28.

Take the kids along to the school holiday sessions at

Decdance

in Joondalup. 2 hour disco sessions are $10 per child and include DJ, party games and prizes.


Location: Joondalup. Suitable for: Children aged 5 - 13.
Cost: $10 per child per 2 hour session.

---

29.

Climb the

DNA tower

in Kings Park and get a birds eye view of Perth and the Swan River.




Location: Kings Park, Perth. Suitable for: All ages.

---

30.
Ride a Dinosaur at The Mezz Shopping Centre
Location: Mount Hawthorn. Suitable for: All ages.
Cost: Free

---

31.

Head to the cinema. Family friendly movies showing this school holidays are: Rio 2, How to Train a Dragon 2, Transformers and TinkerBell: The Pirate Fairy

---

32.
Check out WA's newest playcentre, Chipmunks Playland and Cafe in Mandurah.
Location: Mandurah.
Cost: 1 - 2 years $9.90, 3 - 11 years $12.90

---

33.

Book a 5 day swimming course at

The Swim School

in Merriwa and Ocean Reef.


Location: Merriwa and Ocean Reef. Suitable for: Children aged 3+
Cost: $70 for 5 days.

---

34.

Visit the

West Australian Reptile Park

in the Swan Valley. Kids will love getting hands on with snakes, Lizards and Dingos.




Location: Henley Brook. Suitable for: All ages




Cost: Adults $12 Children (aged 3 - 15) $7. Under 3's are free.

---

35.

Visit

Pitstop Playground

in Banksia Grove. Don't forget to take along your scooter or bike so you can race around the tracks!




Location: Banksia Grove. Suitable for: Children aged 4+

---

36.
Spend the morning at IKEA and make use of the free one hour creche facilities for children aged 3 - 8 while you relax with a $3.50 coffee and cake.


Location: Osborne Park. Suitable for: Children aged 3 - 8

---

37.
Take control of a Boeing 737 at the Flight Experience Centre. Kids will not only get the chance to fly the flight simulator but will also learn about the history of flight in these special school holiday session.


Location: Northbridge Suitable for: Children aged 5+




Cost: $20 per child

---

38.
Climb and dinosaur and discover dinosaur bones at Kingsway Regional Playground.


Location: Kingsway Suitable for: All ages.

---

39.
Go along to the Perth Mint this school holidays and let your kids feast their eyes on the world's biggest gold coin and every child admitted to the Gold Exhibition will receive a free chocolate gold coin.
Location: Perth Suitable for: All ages.
Cost: Adults $25 Children $8 Under 4's: Free

---

40.
Enjoy getting down and dirty with nature at John Forrest National Park. Kids will love wading in the brook and eating a picnic in one of the cute cubby picnic shelters.


Location: Hovea Suitable for: All ages




Cost: $12 per car.

---

41.

Spend the day visiting the residents of Buggybuddys award winning

Perth Zoo. Don't forget to check out the brand new Orangutan Boardwalk.


Location: South Perth Suitable for: All ages




Cost: Adult $24.50 Children $12.30. Children under 4 free.

---

42.
Check out one of Perth's newest playspaces, Escarpment Park in Alkimos.


Location: Alkimos Suitable for: All ages




---

43.

Spend the day at

Whiteman Park

. There is so much to see and do from museums to steam trains, water playgrounds to bush trails!




Location: Whiteman Park Suitable for: All ages

---

44.
Take up Tennis with the Break Point Tennis School Holiday Clinics.


Location: Applecross & South Perth. Suitable for: children aged 5+




Cost: $160 (4 days)

---

45.

Check out you

local library

for free or low cost school holiday activities.

---

46.
Enjoy some nature within the city at Point Fraser Foreshore River Reserve.


Location: East Perth Suitable for: All ages

---

47.

Take the ferry from Barrack Street to South Perth.




Location: Perth. Suitable for: All ages




Cost: $2.80 Adult $1.10 Child one way. Under 5's free. Available with Transperth FamilyRider.

---

48.

Book a table at

Fired! Ceramic Café

and enjoy painting your own pottery.




Location: Joondalup. Suitable for: All ages




Cost: Prices start from $10

---

49.

Visit the

Shipwreck Galleries

in Fremantle where you can decorate a Spice Bottle.




Location: Fremantle. Suitable for: Children aged 4+




Cost: $2

---

50.
Enjoy lunch at Sushi Wawa which has the biggest Sushi Train in the Southern Hemisphere! It also has a play area for kids.


Location: Inaloo.

---

51.

Head to the fully fenced

Deep Water Point Playground

and treat yourself to lunch or coffee and cake at the

Deep Water Point Cafe

.




Location: Mount Pleasant Suitable for: All ages

---

52.

Book a 'Play With Clay' pottery class at the

Pottery Centre in Whiteman Park

.




Location: Whiteman Park Suitable for: Children aged 3+




Cost: $8 - $13.

---

53.

Visit

Yanchep National Park

for Koala and Kangaroo spotting. Enjoy lunch and indulge in some chocolate at The Chocolate Drops Tea Rooms.




Location: Yanchep Suitable for: All ages




Cost: $12 per car.

---

54.
Escape the rain by heading to Kidz Paradise in Carlisle for some indoor fun.


Location: Carlisle Suitable for: All ages




Cost: $9 children aged 1 - 4 $12 children aged 5 - 14.

---

55.
Take a day trip to Donnybrook Apple Fun Park– Australia's largest free

playground around a 2 hour drive south from Perth city.




Location: Donnybrook. Suitable for: All ages

---

56.

Celebrate the City of Wanneroo's rich Aboriginal culture at their free NAIDOC celebration. You'll find loom band making, face painting, bush tucker tasting, traditional dancing kids workshop and more!




Location: Wanneroo Library and Cultural Centre. Suitable for: All ages. Cost: FREE

---

57.

Visit the

WA Maritime Museum

in Fremantle where there will be shark show and tell sessions, whale games and you can create your own foam shark!




Location: Fremantle. Suitable for: Children aged 3+




Cost: $10 Adults $3 Children. Activities range from free to $2.

---

58.

Pay a visit to

Mundaring Weir

– walk the dam, visit the look out and then head to the Mundaring Weir Hotel afterwards for lunch. They have a playground for the kids and serve up a Lamb Spit at 3pm every Sunday.




Location: Mundaring. Suitable for: All ages

---

59.

Take some time out to get your kids teeth checked at

Cherrygum Dental

. The most family friendly dentist around! The waiting room is a mecca for kids with free arcade machines and a play area. You can choose to have a check up Batman, Spiderman or the Tooth Fairy!




Location: Applecross. Suitable for: All ages

---

60.
Buy yourself some peace and quiet and the kids a whole load of fun by booking them into VenuesWest Vacation Care at Arena Joondalup.


Location: Joondalup. Suitable for: Children aged 5 - 15 years.




Cost: $65 per day (CCR and CCB available)

---

61.
Take part in a free puppet making workshop run by the Spare Parts Puppet Theatre at The Park Centre, Norranda Shopping Village or Bassendean Shopping Village.

---

62.

Visit the

Castledare Miniature Railway

and enjoy lunch afterwards at the nearby

Canning River Cafe

.




Location: Wilson Suitable for: All ages




Cost: Adult $6 Children $3. Children under 2 free.

---

63.
Enjoy a pirate themed play and a bite to eat at The Surfing Lizard Cafe.


Location: Coogee Suitable for: All ages

---

64.

Head to

Woodbridge Riverside Park

. Great park for kids of all ages and abilities.




Location: Guildford Suitable for: All ages

---

65.

Get cuddly with a feathered or furry friend at

The Cuddly Animal Farm

in the Swan Valley.




Location: Henley Brook Suitable for: All ages.




Cost: $13. Children under 2 are free.

---

66.

Get tickets to Andy Griffiths and Terry Denton's much loved book 'The 13 Storey Treehouse' when it comes to the stage this school holidays.




Location: State Theatre of WA, Perth




Cost: $29

---

67.

Take a day trip to

Toodyay

. Take a tour of the old mill or jail, ride the miniature railway and have lunch at the Coca-Cola Café.

---

68.
Spend some time at Chipmunks Playland and Cafe in Whitfords, winner of the Buggybuddys Award for 'Best Playcentre in WA'. Will your kids be brave enough to try the big red slide!
Location: Whitfords. Suitable for: All ages
Cost: Children aged 1 - 3 $9.90 Children aged 3 - 11 $12.90

---

69.

Do your kids love dinosaurs? Then head to the

Museum of Natural History

where they will get to meet a few.




Location: Guildford. Suitable for: All ages




Cost: $5 Adults $2 Children.

---

70.

Take a

Captain Cook Cruise

from Barrack Street Jetty to Fremantle. Join the

kids club

to get a whole host of free goodies.


Location: Perth. Suitable for: All ages
Cost: $38 Adults $21 Children.

---

71.
Enjoy lunch at the historic Parkerville Tavern. There is a playground plus a huge amount of space in their beer garden for kids to run about on. Plus kids will love the resident emus and chickens.
Location: Parkerville. Suitable for: All ages

---

72.

Head to the award winning

Little Creatures Brewery

in Fremantle and let the kids play in the sandpit. If you visit on a Sunday kids will love being entertained by the fabulous

Balloon Artistry by Aaron Smyth

between 10am - 2pm.




Location: Fremantle. Suitable for: All ages

---

73.

Head to

Heathcote Reserve

, the Pirate Park




Location: Applecross. Suitable for: All ages

---

74.

Take a CAT bus ride around Perth City.




Location: Perth. Suitable for: All ages

---

75.
Don't let the kids climb the walls, let them jump off them instead at Just Jump!
Location: Wanneroo Suitable for: children aged 3+
Cost: $15 for the first hour, $10 for the second. $2 for socks.

---

76.

Pack a picnic and take a day trip to

Lake Leschenaultia

.




Location: Chidlow. Suitable for: All ages

---

77.

Visit

Lollipop's Playland

in Jandakot. Even the parents get to play on all the equipment!


Location: Jandakot. Suitable for: All ages
Cost: Adult $3.50 Child 1-3 years $10.90 Child 4 and over $12.90

---

78.
Head to Whistlers Chocolate Factory in the Swan Valley. Kids will have a ball playing in their huge sandpit while you sip a coffee in peace.


Location: Swan Valley. Suitable for: All ages

---

79.

Pack a picnic and head to

Synergy Parklands

in Kings Park and have fun climbing the dinosaurs.




Location: Perth City. Suitable for: More suited for children aged 3+

---

80.

Pay a visit to

Revolutions Transport Museum

at Whiteman Park where kids can 'Ride the Roo'. Take a ride on the

Bennett Brook Railway

afterwards.




Location: Whiteman Park Suitable for: All ages




Cost: Gold coin entry.

---

81.

Enjoy a picnic at

Bells Rapids

in Brigadoon. Kids will love discovering the tree swings over the other side of the bridge!




Location: Brigadoon Suitable for: All ages

---

82.

Have little people and don't want to join the 'big kid' crowd at the Play Centres? Then head to

Little Champs Playland,

a dedicated playcentre for under 5's.




Location: Bibra Lake Suitable for: Children under 5.




Cost: $7.50 entry per child.

---

83.

Spend the morning at

Faulkner Park. Kids will love the 'erupting' volcano!
Location: Belmont. Suitable for: All ages

---

84.
Head to Fremantle. So much to see and do from museums to markets, playgrounds to family friendly dining.
Location: Fremantle. Suitable for: All ages

---

85.
Enjoy a bite to eat at the Sorrento Beach Shack, Runner-up in the Buggybuddys Awards for Best Family Friendly restaurant. Has a great fenced play area for kids.


Location: Hillarys Harbour. Suitable for: All ages

---

86.

Have fun on the big green 50 metre slide at Cannington Leisureplex.


Location: Cannington. Suitable for: All ages
Cost: $5.40 Adults $3.90 Children aged 3 to 15 years. Under 3's free.

---

87.

Spend the day in

Kings Park,

runner-up in the Buggybuddys Awards for Best Family Day Out

. With a choice of 3 amazing playgrounds, a tree top walk and a tower to climb you can easily spend the whole day there!

---

88.
Get your tickets to WASO's family concert, Beethoven Lives Upstairs. Beethoven's masterpieces are magically woven into theatrical drama.
Location: Perth Concert Hall. Suitable for: 5 - 12 year olds
Cost: $25 per ticket.

---

90.

Enjoy a morning at

Kadidjiny Park

, also known as the Dr Seuss Playground.




Location: Melville. Suitable for: All ages

---

91.

Head to Rockingham Shopping Centre on 9th July and you will be able to meet two AFL stars from West Coast Eagles and Fremantle Dockers and have a go in their handball competition.




Location: Rockingham.

---

92.

Enjoy a bite to eat at The Mezz by visiting family friendly restaurants

The Peasant's Table,

where Kids get FREE babychinos and an activity pack or Missy Moo's Burger Bar with it's very own kids play area. Have some fun on the

playground

next to the restaurants after lunch.




Location: Mount Hawthorn Suitable for: All ages

---

93.

Take a train ride – kids love train journeys. Don't forget you can purchase a Familyrider which allows unlimited system-wide travel for a group of 2 adults and 5 children aged 5 and over after 9.00am during the school holidays. The ticket costs just $11.60




Location: Across Perth Suitable for: All ages

---

94.

Book the kids into the

Kids Sports Club

at Challenge Stadium. Kids will enjoy a day packed full of fun sporting activities.




Location: Mount Claremont. Suitable for: Children aged 5 - 12 years




Cost: $32 half day $52 full day.

---

95.

Pack a picnic and head to the

Meadow Springs Quarry Adventure Park

.




Location: Mandurah. Suitable for: All ages

---

96.
Don't let the kids climb the walls! Let them jump off them instead by taking them to Flip Out Trampoline Arena. If they can walk then they are old enough to jump.


Location: Malaga Suitable for: Children aged 18+




Cost: $14 per hour session.

---

97.

Go Wild at

Jungle Gym in Willetton. Play gym for kids 5 and under 9.30am – 11.00am. Special school holiday activities for older children in the afternoon.
Location: Willetton. Suitable for: Under 5's
Cost: $6.50 per session

---

98.
Ride a Sting Ray at Balga Leisure Centre


Location: Balga. Suitable for: All ages




---

99.

Head to the fabulous playground at

Yokine Reserve

. A great playground for kids of all ages and abilities. Don't forget a spare change of clothes as kids are not able to resist the water play area.




Location: Yokine. Suitable for: All ages.

---

100.

Book a last minute getaway to

Margaret River

. There are so many fun things to do for both parents and kids. Pay a visit to

Sunflowers Animal Farm

, enjoy a beer at

The Cheeky Monkey Brewery

, let the kids run wild at

Xscape at the Cape

, and indulge in ice-cream at

Simmo's Ice-Creamery

.

---