---

---
Big Wave Surfing School
Secret Harbour. 2 Day Workshops for ages 8 to 18+ Cost: Kids $89 Adults $99. Vegemite Surf Groms 4 day workshop 28th Sept - 1st Oct, 5th - 8th October for ages 5 to 12 years. Cost: $189. October 6 week course (weekends) kids age 8 to adults. Starts 17th or 18th October. Cost: $199
www.surfingschool.com.au

The Big Wave Surfing School specialises in teaching families to surf, creating awesome memories and making you feel energized and pumped on all that ocean air and fun! Surfing is a terrific physical outlet for children and it's a chance to take a 'Facebook' break and delve a world of natural wonders. The Moran family have been teaching surfing at Secret Harbour for over 15 years, they are WA's only family owned and operated surf school and are experts on teaching families to surf! 2 Big Wave Surfing School will be running their 2 day 'Learn to Surf' courses throughout the school holidays for only $89. They offer courses suitable for kids age 5yrs to adults all equipment included. Check out their timetable on www.surfingschool.com.au or call on 9758 8315.




---

KIN Village
Swan River Foreshore, Crawley. 4 -7 year olds. 30th September & 7th October 9am - 12pm. Cost: $28 1st child per session & $23 sibilings. 7 - 14 year olds. 1st, 2nd, 8th October & 9th October. 9am - 4pm (Drop and Leave). Cost $80 per session. Lunch included.
www.educatedbynature.com

KIN Village is a school holiday and weekend program that helps children spend some time off screens and outside of the house! Lead by two Nature Educators, these sessions are an opportunity to build stick huts and cubbies, use bush tools, invent bush toys, play music and sing songs, prepare and cook food on a self built fire, go on adventures and enjoy all of the hidden wonders that nature has to offer.
Visit www.educatedbynature.com and book your child's place today!

Educated by Nature is a social enterprise with a mission to connect families and schools with nature in order to build individual, community and environmental resilience. We run programs such as nature playgroups, children's activities and school incursions linked with teacher workshops. Book a series of our nature sessions for your family: it's like a mini, fun camping trip right here in the city.
For ages 4 -7 & 7 -14 years




---

Fremantle Arts Centre Kids Holiday Courses
Fremantle Arts Centre. 29th September - 9th October. Cost: $32 - $102
www.fac.org.au

Book the kids in for something creative this school holidays with Fremantle Arts Centre's huge range of Kids' Holiday Courses. With classes in animation, mosaics, papier mache, creative clay, batik painting, loom weaving and more, there's something for everyone. Spread over two weeks with short courses running each weekday, kids are able learn in small groups under the guidance of professional artists and tutors.
Courses are divided up into younger kids (5-8yrs), older kids (9-12yrs) and teens (13-18yrs). All FAC tutors are qualified to work with children and are professional artists and tutors with loads of experience. The Kids' Holiday Program runs from Monday 29 September – Friday 9 October with a select range of courses available during term time. For more information and full program details visit www.fac.org.au/courses
For ages 5 -18 years




---

All Girls Can
Kingsley Park, Kingsley. Saturday 10th October. 9am - 12pm. Cost: FREE
www.waca.com.au/allgirlscan

ALL GIRLS CAN
Cricket is inspiring and empowering young girls to be active & celebrate being girls!
'All Girls Can' is a 3 hour workshop for girls aged 6-12 years and is designed to improve confidence, be active with friends through cricket, learn age appropriate self-defence and above all have loads of fun and try something different.

The program involves:
- MILO T20 Blast Cricket with music!
- Team Building
- Meet inspiring female athletes
- Learn basic self-defence ran by professional female experts

Spaces limited, register online at www.waca.com.au/allgirlscan
For more information contact Zoe Hughes zoe.hughes@cricket.com.au or 0426 227 494
For Girls aged 6 - 12 years




---

Heathridge Park Milo T20 Blast Holiday Clinic
Heathridge Park, Heathridge. 30th September 9am - 12pm. Cost: FREE
www.waca.com.au

Come & join our FREE MILO T20 Blast school holiday clinic ran by the WACA-
- Great fun with mates
- Be Active & Learn Skills
- Meet a special guest
- Photo with BBL Trophy

Spaces limited, register online at www.waca.com.au
For more information contact Zoe Hughes zoe.hughes@cricket.com.au or 0426 227 494
For 6 - 12 years

---

What's 2 Eat? - Kids Cooking Classes
Wanneroo Monday 29th September - Friday 9th October. 90 minute sessions at 10am and 1pm. Cost $22 per session
www.whats2eat.com.au

This is an ideal opportunity for children to learn heaps while having fun at our Wanneroo kitchen. Our recipes develop a range of cooking skills for making yummy healthy snacks. Parents of children aged 3 - 5 years will be asked to stay and help. An apron will be supplied and all classes are nut free.
For ages 3-16

---

Decadance
Joondalup. Sessions Tuesday - Friday throughout the School Holidays. Cost $10.
www.decadance.net.au

Keep your cool these Summer holidays indoors with Decadance. Our 2 hour sessions are only $10 per child. Includes DJ, party, and heaps of games and prizes
For ages 5 - 13




---




Scitech School Holiday Programs
Scitech, City West, Perth. For more information contact the bookings team on 9215 0740 or email bookings@scitech.org.au
www.scitech.org.au

Chameleon Chemistry. Monday 29th September 9.30am-10.30am/11.30am-12.30pm. Cost $12 members and $15 non members
With inspiration from a reading of Eric Carle's The Mixed-Up Chameleon, experiment with indicators and use some clever chemistry to make your own colour changing chameleon.
For ages 4 - 6 & 6 - 8 years

Terrarium Ecosystems Friday 2nd October 10am - 11.30am/12.30pm - 2pm. Cost: $20 members $22 non members
Be an ecologist and create your own terrarium: a beautiful miniature living ecosystem. Investigate a variety of plants and soil types to learn how to make your ecosystem thrive.
For ages 8 - 11 & 11 - 14 years

Noisy Science Tuesday 6th October. 9.30am-10.30am/11.30am-12.30pm. Cost $12 members and $15 non members
Turn up the volume and feel the vibrations as you explore the science of sound. Use some wacky instruments to experiment with sound, then make your own hooting balloon bassoon to take home.
For ages 4 - 6 & 6 - 8 years

Young Engineers LEGO Challenge Wednesday 7th October. 9.30am - 11am & 11.30am - 1pm. Cost $20 members and $22 non members
Become an engineer with LEGO. By using the unique LEGO kits specially designed by E2 Young Engineers, you will create a moving mechanical prototype of a vehicle. To find out more about E2 Young Engineers visit: http://www.perth-south.young-engineers.com.au/our-programs/
>9.30-11.00am Sand buggy: Master the differential and the cone gear as you build a motorised sand buggy.
>11.30-1.00pm Rescue helicopter: Use LEGO to construct a helicopter and discover the physics of flight.
You may book into more than one session but this will require a separate booking for each session.
For ages 7 - 10 years

---





Camp Cooking for Kids
Kalamunda. Tuesday 29th September 9.30am - 12.30pm/ 12.30pm - 3.30pm. Cost: $35 Kids $5 Adults
www.bibbulmuntrack.org.au

School holiday fun! A return 4km walk to a typical Bibbulmun Track campsite where kids learn to make things like damper and pizza and get to eat their creations.
Kids will love the hands-on camp cooking experience.
Max two kids per adult. Max 2 adults per child. 1hr from Perth.
Choose from two sessions.
Includes ingredients for cooking and experienced guides. Just bring refreshments, snacks for kids and lunch for adults.
For ages 6 - 12 years

---

Kids Sports Club, HBF Stadium
Mount Claremont
www.hbfstadium.com.au

For 5 – 12 year olds Kids Sports Club offers days full of cool sporting and recreational activities under the guidance of qualified, experienced and fun instructors. Visit the website to view the complete schedule of activities and enrol now!
For ages 5 - 12 years

---

Kids Gym, HBF Stadium
Mount Claremont
www.hbfstadium.com.au

Holiday Kids Gym classes help children develop their confidence, independence, balance, coordination, and motor skills.
With Toddler Gym, Kindy Gym, Advanced Kindy Gym, Junior Gym, Primary Gym and Advanced Primary Gym classes for kids aged 18 months to 10 years, you're sure to find a Kids Gym class to add some zing to your child's day. Visit the website for more information and to enrol now!
For ages 1.5 to 10

---

Little Kickers
Across Perth. Programme runs throughout the school holidays.
www.littlekickers.com.au

Play not Push' is our motto! Little Kickers is a positive, fun-filled pre-school program executed in a friendly, pressure free environment that encourages children to "Learn through Play". We recognise that every child is an individual and feel that children develop their skills best when they are playing with other kids of a similar age and ability. We focus on the physical well-being of the child and also promote the development of social skills such as turn taking, following instructions and sharing. These skills are put into practise at a key stage of your child's growth. Simple problem-solving activities provide the perfect informal framework for encouraging our fledgling Socceroos to advance their basic attention building and listening skills. By playing fun games that include specific actions and movements children gain greater body control, whilst working on balance, co-ordination and gross motor skills. Our program also helps children to transition from parent-supported participation, to active, independent interaction through building skills and confidence.
Find a location near you:
LK Perth - Leederville | Mount Hawthorn | Bibra Lake | Hamersley | Swanbourne | North Perth | Peppermint Grove | Wembley. Contact 0466 606890
LK Perth North - Joondalup | Ocean Reef | Padbury. Contact 0409 888503
LK Perth East - Aveley | Beechboro | Ellenbrook | Midvale | Morley. Contact 0481 115147
LK Rockingham - Jandakot | Kwinana | Rockingham. Contact 0423 623633
LK Perth South East Metro - South Perth | Como | Canning Vale | Shelley | Rossmoyne | Southern River. Contact 0451 226891
For ages 2 - 7 years.




---

Kidz 'n Sport
Across Perth
www.kidznsport.com.au

Bring your kids to Kidz 'n Sport these Holidays for a range of fun and engaging activities.
Each day we coach different aspects of Cricket, Soccer, AFL, Tee ball, Basketball, Netball, Minkey (Mini Hockey), Catching, Throwing, Movement and Agility. Our Positive method of coaching helps children to prosper and develop.
Some key aspects of the holiday programme are:

Children are grouped according to age

3 - 5 year olds attend for 1.5 hours

5 - 9 year olds can attend for 3

Small group to coach ratio

Classes are extreme fun and skills are age appropriateYou choose the number of days you want to attend

Coaches are fully trained, experienced and accredited

We use specific holiday programme manuals so each day the kids do different activities.

We use indoor and outdoor facilities

We are a mobile Franchise with custom made and branded equipment. We coach over 2500 children a week!
Our programmes run during Term Time, School Holidays and we also do fun and exciting Birthday Parties!
Bookings can be made via our website www.kidznsport.com.au
You can enrol any time during a term but remember to be quick as classes fill quickly!




---

Toot Toot Train Craft
Revolutions Transport Museum, Whiteman Park. 30th September 10.30am. 11am & 12.30pm. Cost $10
www.whitemanpark.com.au

Keep the kids on the right track these school holidays! This is a fun activity where kids can build a wooden model train. If time permits you can decorate the train or take a whistle-stop tour of Revolutions Transport Museum and view the train car in the exhibition.
For ages 5+




---

Pyjama Drama School Holiday Program
Banksia Grove. 2nd & 6th October.
www.pyjamdrama.com

Pyjama drama school holiday programme Spring 2015
Friday 2nd October at Banksia Grove Community Centre
Pirate Booty-Workshop for 5-7 year olds 9:30-12:30pm

Tuesday 6th October at the Project dance studio, Edgewater
Up Up and Away-Workshop for 5-7 year olds 9:30am-12:30pm

Tuesday 6th October at the Project dance studio, Edgewater for 2-5 year olds. Miss Polly learns to drive 1:30pm-2:15pm and Teddy bears picnic 2:30pm-3:15pm

Booking is essential as spaces are limited! Email amanda@pyjamadrama.com.au or call 94048379
For ages 2 - 7 years.




---

City Summit Kids 3 Day Climbing Course
Malaga. 29th September - 1st October and 5th - 7th October. 11am - 3pm. Cost: $150
www.citysummit.com.au

Book your child in for a climbing course these school holidays where they can build their confidence, learn about safety and make new friends. Our 3 day course only runs during the school holidays and will teach your child valuable skills in team work, how to navigate climbing routes, bouldering techniques and competency with belaying. The class runs from 11am to 3pm each day and concludes on the final day with a pizza party. Each child will be awarded a Certificate of Achievement at the conclusion of the course. Course cost is $150 and includes all day entry for the 3 days, gear hire and pizza on the final day.
For ages 6 +




---

Young Engineers LEGO Challenge - Sand Buggy & Rescue Helicopter
Canning River Eco Centre, Wilson. 5th October 9.30am - 12.30pm & 1pm - 4pm.
www.perth-south.young-enginners.com.au

Did you miss out on the Young Engineers workshops at Scitech for the October school holidays? It's not too late.
Two more Young Engineers Lego Challenge workshops have just been created. These will be at the Canning River Eco Education Centre (Queens Park Rd, Wilson WA).
We've combined two 90 min mini-workshops into one 3-hr workshop. We will explore how a differential and a cone gear work as you build a motorised Lego sand buggy then we discover the physics of flight as you build a Lego helicopter. Send SMS to 0423 267 517 with your email address, parent's name & child's name to check vacancy.
For ages 7 -10 years




---

The Brick House
Willetton. Tuesday 29th September - Friday 9th October. 9am - 12pm or 1pm - 4pm. Cost: $30 per child per camp.
www.thebrickhouse.com.au

Our School Holiday Camps are filling up fast but we still have some spaces available. Running from 9am to 12pm and from 1pm to 4pm from Tuesday 29th September to Friday 9th October (excluding the weekend).
Suitable for children in full time school aged from 5 to 11+. Please note children must be age 5 or over.
As well as participating in Junior Engineering Workshops (under 7s) and Engineering or Robotics Workshops (7+) we will also have our LEGO® MINECRAFT® zone. Plus LEGO® games, speed build competitions, earthquake tables and racing ramps.
Engineering and Robotics Workshops are on offer every day with a new theme each day. Please note this is not a 3 hour Robotics Workshop. It is a mix of Robotics, Engineering, Free Play and Games.
$30 per child per camp.
Half Day Camps - Children need to bring a nut free snack and a water bottle with them. Book online at www.thebrickhouse.com.au/worshops/ or https://v1.bookwhen.com/thebrickhousewa
Full day camps are available $70 - please contact us on 9354 8515 if you wish to book the full day camp.




---




---




AWESOME Arts Festival 2015
Perth Cultural Centre. 3rd - 16th October.
www.awesomearts.com

Perth's premiere family arts event, The AWESOME International Arts Festival for Bright Young Things, takes over the Perth Cultural Centre in the October School Holidays. The 2015 program offers an assortment of theatre, dance, music, visual arts, and free interactive arts activities through which Bright Young Things and their grown ups can indulge their imaginations.
Open to the general public from 3 - 12 October, and offering tailored school tours from 13 - 16 October, the 2015 AWESOME Festival has something to please everyone! Jam packed with new and exciting acts, as well as a few old favourites that sold out in previous years, the Perth Cultural Centre will become a hive of creative activity.
Pop by one of our many tents in the Perth Cultural Centre for giggles galore. The Channel 7 Circus Tent will be serving up the rib-tickling circus act Gentlemen of the Road, or join the groovy Guru Dudu on his Silent Disco Walking Tour of the city.
The AWESOME Festival's Early Childhood Program will once again take over the Urban Orchard, with Better Beginnings Books-To-Go, Playground WA and the Imagination Playground serving as free, hands-on activities for the Under 5's.
Meanwhile, over at the State Theatre Centre of Western Australia, two fantastic shows bring the Heath Ledger Theatre to life and provide laughs galore for kids and their grown ups. LaLaLuna, by Wolfe Bowart, will take you on a whimsical journey as the moon loses it's light, and it's up to the caretaker to fix the problem. Carnival of the Animals, performed by the Circa Ensemble, will whisk you away on a thrilling escapade where zebras juggle and flip, kangaroos skip and somersault and dinosaur bones shake, clatter and roll.
No matter your taste or budget, there's something for everyone at the 2015 AWESOME Festival.
For ages 6 - 12 years




---

Little Big Shots
Fremantle Arts Centre. Tues 6th - Thurs 8th October. Sessions 9am, 10am, 11am, 12pm. Cost: $12.50 per session.
www.fac.org.au

After a sell-out season last year, Australia's premier film festival for kids returns to Fremantle Arts Centre in the October school holidays!
Little Big Shots features a hand-picked selection of the best international and Australian short films for kids including animations, live action films and an inspiring array of films made by kids, for kids.
Screened outdoors in FAC's idyllic Inner Courtyard this colourful, fun-filled festival is the perfect school holiday event.
Each session runs for under an hour and is tailored to a particular age range from 2-15years.
https://www.facebook.com/events/957808010929848/
For ages 2 - 15 years




---

Bricktober
Cannington Exhibition Centre and Showgrounds. 10th & 11th October 9am - 5.30pm. Cost: $8 each. Family ticket (admit 4) $25 Children under 2 free.
www.bricktober.com.au

Do you love playing with LEGO®?
If you do, then this October we have an exciting event for you.
Come along and play in the Bricktober "Brickpit" of Lego, over 22,000 bricks

Activities at Bricktober include:
- A hall full of LEGO® models built by fans of LEGO® in Perth.
- A "Brickpit" of 22,000 LEGO® bricks that you can play with
- Animated LEGO® films on the big screen.
- Competitions on the day of BUILD IN A BAG, SPEED BUILD and RAPID MOC BUILD (please note numbers are limited - sign up on the day)
- Plus you can drive a LEGO® Train or Drive a Technic model with a remote.
- Buy a raffle ticket to win cool LEGO® sets.
- Take a guess at the number of pieces in a jar of LEGO® and win the Jar of LEGO®.
- Appearances by Lifesize Legoman, have your photo taken with this amazing full size Legoman!
- Star Wars characters from the 501st Legion Desert Scorpion Squad WA including Darth Vader! (on Sunday only)

We will have timed entry slots this year every 50 minutes to ease the long queues.
Once you are inside, you can STAY.PLAY AND LOOK for as long as you like.
Please note - No door sales
Pre purchased timed entry slots only

Bricktober is a project of the The Rotary Club of Ascot (Inc) - Funds raised on the day go towards support for programs for young children and other, Rotary and community projects.
For all ages




---

IGA Perth Royal Show 2015
Claremont Showgrounds. 26th September - 3rd October. Cost: Adults $29, Kids $15. Children aged 4 and under are FREE.
www.perthroyalshow.com.au

The IGA Perth Royal Show is the highlight of the spring school holidays kicking off on Saturday September 26 and concluding on Saturday 3 October 2015.
All entertainment and key attractions are free
There is almost $1 million of free Show entertainment including the highly anticipated IGA Fireworks Spectacular every night at 8pm.
With free attractions filled with animals, food and agricultural experiences, the Show is an entertaining and fun family day out.




---




Scitech Science Night
Scitech, City West, Perth. Monday 5th October. 5.30pm - 8.30pm. Cost: $25 Members Non-members $28
www.scitech.org.au

What happens at Scitech once the sun goes down? Science nights are back with an exclusive after-hours event just for kids. Discover amazing innovations in transport in Scitech's feature exhibit Going Places, be amazed by the new Extreme Weather show in the Lotterywest Science Theatre, experiment with aerodynamics in the CSIRO Lab, and complete the science scavenger hunt to win a prize. Pizza and drinks will be provided for booked attendees.
For ages 6 - 12 years




---

Kids Woylie Walks at Whiteman Park
Whiteman Park. 30th September & 7th October 6pm - 8pm. Cost: $10 Adults, $12 Kids, $40 Family (2A & 2C)
www.whitemanpark.com.au

Kids – have you ever wanted to see Whiteman Park at night, when all the animals come out?
If the answer is yes, then join us for a special 'edition' of the Nocturnal Woylie Walk these school holidays!
This is a fantastic experience where you can watch woylies and quenda feed thanks to our special night lighting and marvel in this night-time experience!
DISCOVER Woodland Reserve, Whiteman Park's premier conservation facility that offers protected habitat for rare and endangered WA animals.
MEET our education animals, including some cool reptiles, a playful possum (if she is behaving!) and a tawny frogmouth.
ENJOY a specially-designed, shorter tour of Woodland Reserve, visiting the wetland and spending lots of time in the soft-release enclosure where you can…
SEE the critically endangered woylie, as well as the Tasmanian native sugar gliders and the quendas in the Reserve.
And best of all, take home a special memento of your tour!
Bookings are essential on 9209 6000 (press '2'). Participants should have a moderate level of fitness to enjoy these tours.




---

Community Safety Month
Karrinyup Shopping Centre Food Court. Saturday 17th October. 9am - 2pm. Cost FREE
www.stirling.wa.gov.au/csm

To mark Community Safety Month 2015, the City's Community Safety team will host an event at Karrinyup Shopping Centre forecourt (outside the Karrinyup Library) on Saturday 17 October from 9.00am to 2.00pm. Residents can share their thoughts on community safety during the event and pick up some handy information from a range of agencies including RAC, Royal Life Saving and St John Ambulance and many more.
Children can enjoy face painting, an animal petting farm and craft activities with a focus on safety. There will also be plenty of photo opportunities for the kids, with appearances by several mascots and an amazing cast of super heroes. Constable Care will present a live show in the Karrinyup Shopping Centre Court at 11.00am.

---

Find more events

---

---
Kidz Kutz WA
Westfield Whitford City, Westfield Innaloo & Lakeside Joondalup
www.kidzkutzwa.com

Kidz Kutz WA is a dedicated children's hair salon located across 3 shopping centres: Westfield Whitford City (9402 8502), Westfield Innaloo (9445 7481), and Lakeside Joondalup (9301 0456).
Catering from newborns to teens, we have specialty chairs and age-appropriate TV shows to provide an entertaining hair-cut experience. For a 'Happy Kidz, Big Hugz' experience, come on down for a cut and/or style with our qualified team of hairdressers.
For this school holiday, have an enjoyable ride at Kidz Kutz with FREE balloon and hairclip OR lollipop giveaway per child cut.
Kidz Kutz offers an array of services besides hair-cutting, such as styling (braids/plaits/hair-up) and also hosts 'KIDZ GLITZ' parties for birthdays or other special occasions at our Joondalup salon. No appointments are necessary for cuts, but please call to make an appointment for styling.
Visit www.kidzkutzwa.com for more information on our services, opening hours and contact information.
SCHOOL HOLIDAY SPECIAL - every weekend during the school holidays Kidz Kutz will be offering 'funky' hairdos AFTER a CUT per child – kids can choose to have different colour hair, glittered hair, spiked hair etc.
---

---

Perth Zoo
South Perth. Adults $29, Children $14, Concessions $22
www.perthzoo.wa.gov.au

Spring has brought the pitter patter of tiny joey paws and has brought us some special new residents.
Emmee the Emperor Tamarin and Huli the tree kangaroo have been settling into Perth Zoo life and our keepers are hoping there will be some love connections before too long
If you want to learn more about our new and old residents, attend our free daily keeper talks or get up close with our eye to eye experiences.
Or simply bring a picnic and enjoy the magic of Perth Zoo at spring.
Avoid the queues and buy entry tickets now.




---







School Holidays at the WA Museum
We are planning an AWESOME October these school holidays, and we want you to tell the world what you love about your Museum! The WA Museum – Perth will be hosting a number of exciting events as part of the 2015 AWESOME International Arts Festival for Bright Young Things. There will be exciting shows and wonderful stories featuring the extraordinary lives of caterpillars, a secret suitcase mission, a cloud expert's special dream, and Jay's Jungle star Jay Laga'aia!
www.museumwa.gov.au

I Love My Museum. 28th September - 9th October. 10am - 3pm. Cost: Free
Presented by Awesome Arts in association with the WA Museum as part of the 2015 AWESOME Festival
We all have our favourite object at the Western Australian Museum. But have you ever taken the time to tell the object (or the world) how you feel about it? Sometimes it is important to find a way of sharing what you love!
The WA Museum is getting ready for the New Museum, which will open in 2020. Now is the time to tell us about your favourite object and what you love about it! Why do you love it? What makes it special to you so that you want to come and see it over and over again?
Come to the WA Museum – Perth and design your own poster, or write a story about your favourite object.
Tell the world what you love about your Museum!
For all ages

Dino Dig. 1st - 3rd October. 9.15am - 12.30pm. Cost: $55 for 1 adult and 1 child. Additional adult/child $38 Booking essential 1300 134 081.
This is your chance to explore the Museum in ways that most people never do and have heaps of fun! Get up close to special Museum objects, discover our galleries with our team and take on our skill-testing, brain-twisting Time Trekker challenges.
Join your junior explorers, future palaeontologists and amateur archaeologists at the WA Museum – Perth for a shared family friendly experience, and rediscover for yourself what makes the Museum a marvellous place to learn about our amazing world. A half-day of fun for everyone!
For ages 6 - 12 years.




---






Maritime Museum, Fremantle
Join us as we explore the world of divers who search under the sea looking for adventure and fortune. What might you find there?
Discover the beauty of pearls and the challenges faced by divers at the Lustre: Pearling & Australia exhibition. Standard Museum entry fee applies.
www.museum.wa.gov.au

Rescue! 29th September - 2nd October. 10.30am - 1.30pm. Cost: Free to $3.
Survivors ahoy! Construct and decorate your own junk craft rescue boat out of interesting and recycled materials for your next maritime mission. Challenge yourself with the Rescue Mission game to help all survivors to safety. $3 for Junk Boat Activitiy.
For ages 4+

Superstitions and Sea Monsters. Daily from 26th September - 11th October. 9.30am - 5.00pm. . Cost: free
Join us in the Discovery Zone dedicated to Superstitions and Sea Monsters. Enjoy our entertaining activities from creating your own mythological creature to playing monster detectives.
For all ages

Time Trekker: Who Sunk My Battleship? 8th - 10th October 9.15am - 12.30pm. Cost: $55 1 adult and 1 child. $38 additional adult and child tickets. Booking essential 1300 134 081.
Venture into the secret world of submarine warfare as you go on a tour of HMAS Ovens. Find out what is needed to keep war-time vessels afloat, then design, build and test your own balloon powered battleship.
Join your junior explorers, future subsea engineers and amateur maritime archaeologists at the WA Maritime Museum for a shared family friendly experience, and rediscover for yourself what makes the Museum a marvellous place to learn about the amazing world under the sea. A half day of fun for everyone!
For ages 6 - 12 years




---

Shipwreck Galleries, Fremantle
www.museum.wa.gov.au

Riddled with Rats. 26th September - 11th October. 9.30am - 5pm. Cost: $2
Track down these pesky and adventurous sailors in the Riddled with Rats trail before they nibble all of our ship's biscuits! With the sharp eyes of a Rat Detective, you'll have to search high and low to find these experts at hide-and-seek.
For ages 4 +




---

AQWA
Hillarys Boat Harbour.
www.aqwa.com.au

These school holidays come and trick or treat with the kooky creatures of AQWA's DANGERzone! Do they use their powers to trick their predators, or treat themselves to a tasty meal? Discover more about their amazing abilities from September 26-October 31 at AQWA! Plus AQWA Collector Cards are back, featuring a Halloween inspired line-up of creatures from the DANGERzone! Receive a free collector card with each child's entry to AQWA (while stocks last).
Are you ready for an adventure these school holidays? AQWA Adventures is back for a new season of Ocean Safari and Reefwalker! From September you can join our search for humpback whales as we journey along Perth's 'humpback highway' on a 3-4 hour Ocean Safari. Then complete your adventure with a FREE visit to AQWA! From October you can get on the fish side of AQWA's Coral Reef with Reefwalker. Discover diving and walk underwater among colourful corals and fish. Call us on (08) 9447 7500 for more information on these amazing adventures.




---

Scitech
Going Places. Scitech, City West, Perth
www.scitech.org.au

Going Places explores the technology we have developed to transport ourselves and goods around the world. If you have ever wanted to pilot an airship, ride on a hovercraft, or control traffic in a city, now is your big chance!
As well as exploring the technology that gets us around everyday, visitors can discover how travel has shaped the social fabric of our time. With exhibits detailing incredible inventions that make the farthest reaches of our planet accessible, visitors can also predict where the future of travel might be heading.




---




Revolutions Transport Museum
TBA. 10am - 4pm. Cost: Gold coin donation.
www.whitemanpark.com.au

Pop on your walking shoes and head on down to Revolutions for some school holiday fun. Take a stroll into the wonderful world of walking. Wander around and get curious about the sizes and shapes of feet and shoes that are often quite unlike our own.




---

Kids Paradise
www.kidsparadise.com.au

Fun and Games every day 10.30am to 2.30pm during the school holidays.
KIDZ PARADISE, super Sept and Oct party special.
$15 p/c for our Deluxe package !
$20 p/c for our Ultimate hosted package !
(mention special when booking)
Yes we have Frozen, Adventure time, Princesses and Superheroes.
Book now for some of the most fun parties in Perth.




---

Xtreme Ice Arena
Mirrabooka
www.xtremeice.com.au

Our school holiday program is starting on the 28th September, and these school holidays we are PACKED full of awesome fun for the whole family. We have the Australian national ice hockey championships followed by our extremely popular build a snowman sessions, Rugs on Ice and Bumper Cars on Ice. View our school holiday session times here.




---

BOUNCE inc
Cannington.
www.bounceinc.com.au

JOIN THE FREE-JUMPING REVOLUTION
Fly through the air and bounce off the walls. BOUNCEinc is a massive indoor trampoline universe which is all about jumping high and landing soft & safe. Imagine over 100 interconnected trampolines, over 500 square metres of big air bags and padding to land on. Perfect for kids parties, Bounce is a fun way to celebrate a birthday or special occasion.




---

Lazer Blaze
Malaga & Willetton
www.lazerblaze.com.au

Lazer Blaze has two huge indoor Laser Tag Facilities in Malaga & Willetton. Offering a special event Kids Day on specific Thursdays of the School Holidays from 9am 'til 1pm for ages 7 to 14. (Check dates on our website: http://lazerblaze.com.au/kids-day)
Daily specials are also on offer during the holidays so check out our Facebook Page for what specials are available during the School Holidays.
Played in a darkened multi-level arena it's full of fun, excitement and mystery as you traverse the maze to find the opposing teams' base targets and opposing teams' players. The equipment works on IR (just like your DVD remote) so there are no projectiles.
Lazer Blaze is a fun, physical activity that can be enjoyed by the whole family, we always suggest making a booking by calling our stores directly. Check out our website for more information and photos.




---

Fired! Ceramic Cafe
29 Winton Road, Joondalup
www.firedcafe.com.au

Fired! Ceramic Cafe is the perfect place to meet with family and friends and relax and have fun while you paint your own pottery. With a large selection of pieces, an extensive cafe menu and a secure play area, you can capture your little ones prints on a piece for gifts or bring your older children along to create their own artwork. Once you are finished you leave your items with us to glaze and fire and then come back and collect a functional piece that can be used everyday. We are open Tuesday - Saturday from 10am - 5pm and Sundays for group reservations and parties.




---




The Pottery Playroom
Unit 4/19 Mercer Lane, Joondalup
www.potteryplayroom.com

The Pottery Playroom is Perth's only ceramic painting studio and cafe with a FREE soft play area (don't forget your socks)! An ideal venue for children's birthday parties with painting instruction by a dedicated host. Our NO STUDIO FEE policy ensures fun for everyone!

SCHOOL HOLIDAYS OFFER
Enjoy a FREE coffee during your visit!! PLUS get a FREE mug to paint when you spend $40+ on pottery.
Booking essential during the holidays - call 9301 2080 and reserve your places. HOLIDAY OPENING HOURS : 10-5 Monday-Saturday and 11-4 Sunday.




---
---




Karrinyup Shopping Centre
Come into the night garden this October School Holidays and join Igglepiggle and Upsy Daisy on an imaginative journey whilst providing some valuable developmental benefits.
www.karrinyupcentre.com.au

WEEK 1 - CRAFT
Monday 28th Sept - Saturday 3rd October.
Children of all ages will enjoy the experience of designing and decorating their own sock puppet. All of the materials are provided for this fantastic and creative hands on experience that will let children take home their creations!

WEEK 2 - CRAFT
Sunday 4th - Friday 9th October
Imagination and creativity will soar as kids of all ages will get to design and decorate their very own bird houses that they get to take home!

WEEK 2 - LIVE SHOW AND MEET & GREETS
Monday 5th - Friday 9th October. Show 1 9.30am. Show 2 11.30am.
Meet & Greet 10.30am
In the Night Garden Live is a spectacular family-friendly stage show based on the hit show.




---

Ocean Keys Shopping Centre
Winter Wonderland 29th September - 10th October 11am - 1.30pm. Cost: FREE
www.oceankeys.net.au

Join in the free Winter Wonderland fun at Ocean Keys these school holidays!
Kids 5 – 12 years can skate on the synthetic ice rink Skating Zone located outside Coles, while the whole family can join in the Snowman Hunt. Plus, see the winter animal displays around the centre and have your photo taken with a furry penguin. Visit www.oceankeys.net.au for more information. Don't forget your socks!
For ages 5+




---

Wanneroo Central Shopping Centre
Storytelling with Josephine. 5th - 7th October 11am and 1pm.
www.wanneroocentral.com.au

Enjoy singing, storytelling and balloon twisting with Josephine from 10am to 2pm, with storytelling sessions taking place at 11am and 1pm each day!




---

Stockland Bull Creek
www.stockland.com.au

Critters Up Close. Monday 28th &Tuesday 29th September, Thursday 1st - Saturday 3rd October. 11am - 2pm
Get up close and personal with all sorts of different critters at Stockland Bull Creek! There will be a touch pool with aquatic ocean inverts such as sea stars, urchins and crabs plus a fresh water eco system consisting of frogs, turtle and marron. There will even be a range of native Australian birds, mammals inverts and reptiles! Each day will consist of an exciting and educational presentation followed by time for petting the animals and getting photos with them.

Minions Craft Workshop. Monday 5th - Thursday 8th October 11am - 2pm.
Make a different Minion craft every day! There will be Minion magnets, Minion mosaics, Minion puppets and Minion air dry clay moulding. So much fun!

Meet and Greet a Minion! Friday 9th October 11am, 1pm & 2pm
Have you always wanted to meet a Minion in person? Well here's your chance!




---

Alexander Heights Shopping Centre, Lakes Shopping Centre, Springs Shopping Centre & Parks Shopping Centre
Free October School Holiday Activities. 29th September - 9th October. 10am - 1pm
www.alexheights.com.au www.lakescentre.com.au www.springscentre.com.au
www.parkscentre.com.au

Kids bored at home? Tired of losing to your 4 year old at Wii Bowling? Well come on down to your favourite Neighbourhood shopping centres for FREE school holiday activities this October each weekday from 10am - 1pm with a different activity every day! Guaranteed FUN for these school holidays!




---

Carramar Shopping Village
Cnr Joondalup Drive & Cheriton Drive, Carramar
www.carramarvillage.com.au

Spring School Holiday Fun at Carramar Village:
Herb Workshop
Entertain the kids these holidays with our Herb Planting Workshop at Carramar Village.
When: Thursday 1st and Friday 2nd October, 11am – 2pm daily
Cost: FREE

Spring Lantern Workshop
Kids can have fun decorating a lantern to take home!
When: Thursday 8th and Friday 9th October, 11am – 2pm daily
Cost: FREE




---

Livingston Marketplace
Cnr Ranford Road and Nicholson Road, Canning Vale
www.livingstonmarketplace.com.au

School Holiday Fun at Livingston Marketplace:
Spring Craft Wall
Kids can enjoy making a variety of Spring themed craft items including pin wheels, lead light butterflies, loom bands, bird houses and more!
When: Thursday 1st, Friday 2nd, Thursday 8th and Friday 9th October, 11am – 2pm daily
Cost: FREE




---

---

THE BLACK SWAN THEATRE COMPANY PRESENT THE RED BALLOON
1st - 17th October. Studio Underground, State Theatre Centre of WA.
Tickets available from Ticketmaster

A TALE OF MAGIC AND FRIENDSHIP FOUND IN THE MOST UNLIKELY OF PLACES.
A first in family programming for Black Swan and a much anticipated school holiday and family special – one for all to enjoy.
On his way to school, a young boy finds a red balloon tangled around a lamp post. Soon after rescuing it, the boy discovers the balloon has a mind of its own! Together, the boy and his balloon wander the streets, exploring the neighbourhood and searching for adventure.
Based on the Academy Award-winning short film of the same name, The Red Balloon is the world premiere of the stage adaptation by Hilary Bell as conceived by emerging artist India Mehta.
Presented by Black Swan State Theatre Company at the Studio Underground, State Theatre Centre of WA from 1-17 October 2015. Tickets on sale now through Ticketek.




---

PETER AND THE WOLF WITH THE WA YOUTH ORCHESTRA
3rd October All Saints' College, Bullcreek. 4th October Perth College, Mount Lawley
Tickets available from WAYO

Returning by popular demand in the school holidays, WAYO brings Prokofiev's timeless classic to life - a tale which entertains and provides a fascinating introduction to music and the instruments of the orchestra.
Families will be spellbound by the story of a young boy's adventures with his grandfather, a sly cat, a silly duck and of course - a wolf!
proudly presented by St John of God Health Care
Buggybuddys Top 100 School Holiday Activities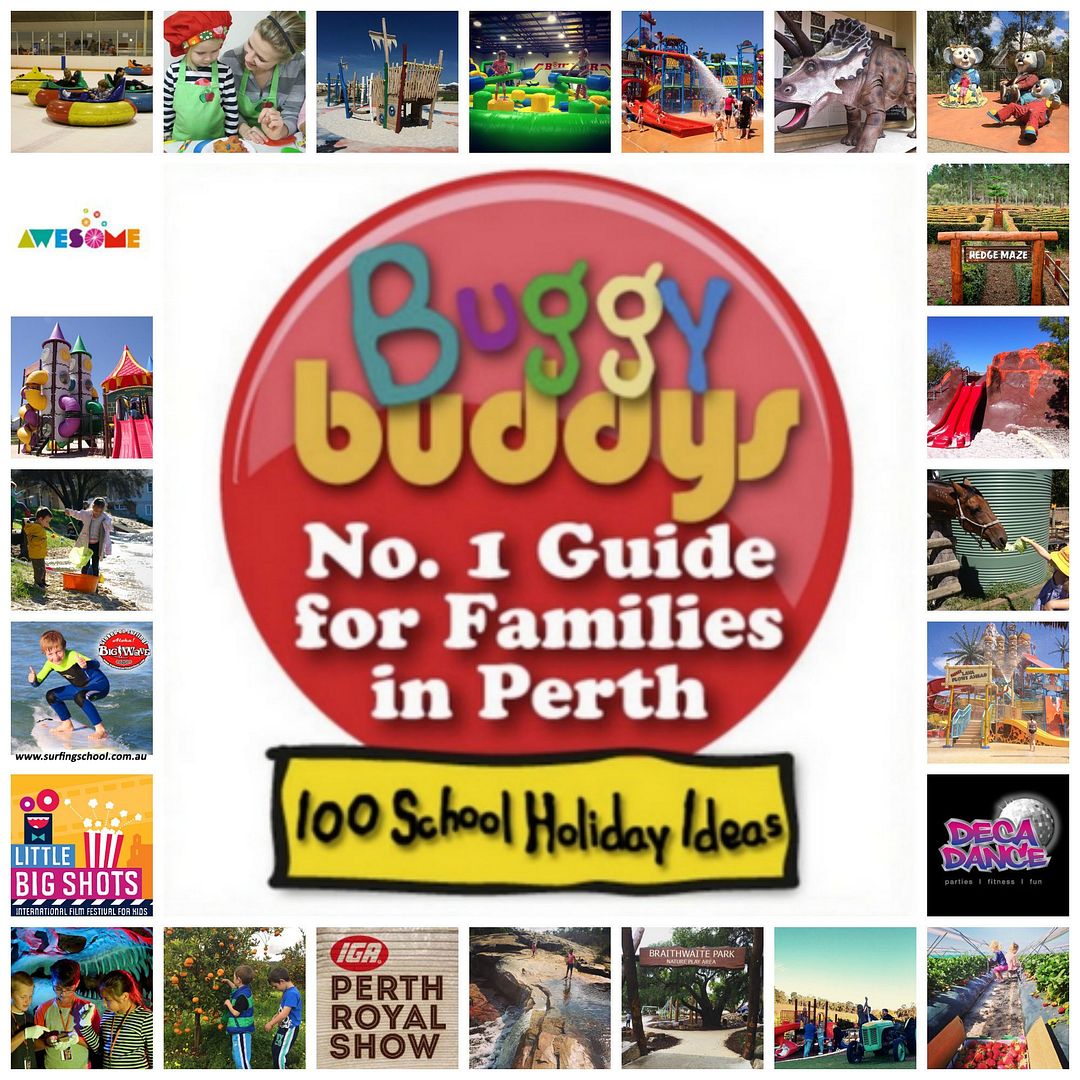 ---

1.
It's the Spring school holidays which means it's Showtime! The IGA Perth Royal Show is the highlight of the spring school holidays kicking off on Saturday September 26 and concluding on Saturday 3 October 2015. There is almost $1 million of free Show entertainment including the highly anticipated IGA Fireworks Spectacular every night at 8pm.
Location: Claremont Showgrounds
Cost: $29 Adults, $15 Kids. Children 4 and under are FREE.

---

2.
Pick your own strawberries at Ti Strawberry Farm in Bullsbrook. Open 9am - 4.30pm throughout the school holidays.
Location: Bullsbrook
Cost: $10 entry and tray. $2 cover charge each additional adult and child

---

3.
Check out Perth's premiere family arts events, the AWESOME International Arts Festival for Bright Young Things.
Location: Perth Cultural Centre Suitable for: All ages
Cost: FREE - $$

---

4.
Get ready for summer by enroling in surfing lessons with the Big Wave Surf School.
Location: Success Suitable for: 5 years to adults.
Cost: $89 - $189

---

5.
Have fun at the brand new Braithwaite Park Nature Play Area
Location: Mount Hawthorn Suitable for: All ages although designed with 10 - 14 year olds in mind.

---

6.
Explore the technology we have developed to transport ourselves around the world wtih Scitech's latest exhibition, Going Places.
Location: Perth. Suitable for: All ages
Cost: Adult $17, Children aged 4+ $11, Under 4's free.

---

7.
Introduce the kids to cricket with WACA's FREE workshops 'All Girls Can' and 'Milo T20 Blast Holiday Clinic'
Location: Kingsley and Heathridge. Suitable for: 6 - 12 years.
Cost: FREE - 3 hour workshop

---

8.
Go on a Dino Dig at the WA Museum.


Location: WA Museum, Perth. Suitable for: 6 to 12 years.




Cost: $38 - $55

---

9.
Let the kids burn off heaps of energy at Inflatable World! Great fun for kids and adults of all ages!
Location: Joondalup, Shenton Park, Ballajura, Leeming. Suitable for: All ages
Cost: $16, 4 years and under $8.

---

10.
Enjoy lunch in the Swan Valley, a treasure hunt and a ride around the lake on a pedalo at the gorgeous Oakover Grounds.
Location: Swan Valley

---

11.
Pack a picnic and head to Noble Falls. Kids will have fabulous fun padding in the falls and discovering the secret tree swing!
Location: Gidgegannup.

---

12.
Get back to nature by enroling kids in Educated by Nature's KIN Village, providing an opportunity to build stick huts and cubbies, use bush tools, invent bush toys, play music and sing songs, prepare and cook food on a self built fire, go on adventures and enjoy all of the hidden wonders that nature has to offer.
Location: Crawley. Suitable for: 4 - 14 year olds.
Cost: $28 - $80

---

13.
Grab a ticket for Australia's premier film festival just for kids, Little Big Shots.
Location: Fremantle Arts Centre. Suitable for: Ages 2 - 15 years.
Cost: $12.50 per session.

---

14.
Have heaps of fun on the flying fox at the new playground at Barden Park. Feeling peckish? - grab a pizza from the resident wood fired pizza van in the car park.


Location: Maylands.

---

15.

Spend the morning at

The Pottery Playroom. Not only can you paint your own pottery but kids will have fun in the mini jungle gym. Don't forget your socks!
Location: Joondalup. Suitable for: All ages
Prices start from $10

---

16.

Book tickets for WAYO's Peter and the Wolf with performances at Bullcreek and Mount Lawley on 3rd and 4th October
Location: Bull Creek & Mount Lawley. Suitable for: All ages.
Cost: $13 per ticket

---

17.
LEGO Fan? Then you are not going to want to miss Bricktober! Come along and play in the Bricktober "Brickpit" of Lego, over 22,000 bricks.
Location: Cannington Exhibition Centre. Suitable for: All ages.
Cost: $8 or family ticket $25 (admit 4). Tickets must be purchased in advance.

---

18.
Take your Fireman Sam fan to the FESA Education and Heritage Centre. The museum offers a whole floor of interactive safety exhibits with hands on demonstrations. You can even dress up as a fire fighter!
Location: Perth City Suitable for: All ages
Cost: FREE

---

19.
Head to the hills and enjoy lunch at HopsScotch Cafe. Not only does it have beautiful grounds but a great playground too.


Location: Karragullen

---

20.
Check out the brand new Russell Brown Adventure Park with it's huge focus on nature play.


Location: Mosman Park

---

21.
If your child is a LEGO fan then make sure you check out the school holiday workshops at The Brick House. They'll enjoy Engineering and Robotics Workshops plus LEGO Minecraft, LEGO Friends or LEGO City Zone.
Location: Willetton Suitable for: Ages 5 - 11
Cost: $30 per child per camp

---

22.
Pick your own oranges at Golden Grove Citrus Orchard in Chittering.
Location: Chittering
Cost: $4 per kg. Minimum of 5kg per family.

---

23.

Let the kids climb the walls at

City Summit Rock Climbing Centre

in Malaga. School holiday programs are also available.




Location: Malaga Suitable for: Children aged 5+




Cost: Adults $18, Children over 7 $10 plus $5 harness hire. Children under 7 $12 including harness hire.

---

24.
Come into the night garden this October School Holidays at Karrinyup Shopping Centre and join Igglepiggle and Upsy Daisy on an imaginative journey whilst providing some valuable developmental benefits.

---

25.
Check out the recently opened Atlantis Playcentre. Fabulous fun for kids of all ages!


Location: Clarkson Suitable for kids aged 0 - 12 years.




Cost: $3.50 - $11.95

---

26.

Book in for kids cooking lessons at

What's 2 Eat?

, a cooking school specialising in healthy eating.




Location: Wanneroo Suitable for: Children aged 3+. Drop and leave available for school aged children.




Cost: $22 per 90 minute session.

---

27.
Treat the kids to lunch at one of Perth's many restaurants with a playground. Find a full list here.

---

28.

Take the kids along to the school holiday sessions at

Decdance

in Joondalup. 2 hour disco sessions are $10 per child and include DJ, party games and prizes.


Location: Joondalup. Suitable for: Children aged 5 - 13.
Cost: $10 per child per 2 hour session.

---

29.
Join in the free Winter Wonderland fun at Ocean Keys Shopping Centre these school holidays! Kids can skate on the synthetic ice rink Skating Zone located outside Coles, while the whole family can join in the Snowman Hunt.
Location: Clarkson Suitable for: Ages 5 - 12 years.
Cost: FREE

---

30.
Check out the new nautical themed Stage Teal Park in Burns Beach.


Location: Burns Beach. Suitable for: All ages

---

31.
Let the kids get creative with the Fremantle Arts Centre's school holiday workshops. With classes in animation, mosaics, papier mache, creative clay, batik painting, loom weaving and more, there's something for everyone.
Location: Fremantle Suitable for 5 - 18 years.
Cost: $32 - $102

---

32.
Visit some of the world's most deadly sea creatures at AQWA.
Location: Hillarys. Suitable for: All ages
Cost: $29 Adults, $17 Children 4 - 15 years, Children under 4 are free.

---

33.
Ever ridden in a bumper car on ice before? Well you can at Xtreme Ice Arena this school holidays!
Location: Mirrabooka. Suitable for: all ages
Cost: $5 for 5 minutes.

---

34.
Visit the residents of the Cohunu Koala Park. Pat a koala, ride the steam train, feed a kangaroo and pose for a picture with the huge dinosaur models.


Location: Henley Brook. Suitable for: All ages




Cost: Adults $15 Children (aged 3 - 15) $7. Under 3's are free.

---

35.

Visit

Pitstop Playground

in Banksia Grove. Don't forget to take along your scooter or bike so you can race around the tracks!




Location: Banksia Grove. Suitable for: Children aged 4+

---

36.
Book in for Bibbulmun Track Foundation's Camp Cooking for Kids where kids learn to make things like damper and pizza and get to eat their creations.

---

37.
Get the kids back to nature by visiting one of Perth's many Nature Playspaces. View our Top 10 favourites here.

---

38.
Meet and Greet a Minion at Stockland Bullcreek. Plus make a different Minion craft every day! There will be Minion magnets, Minion mosaics, Minion puppets and Minion air dry clay moulding. So much fun!

---

39.

Enjoy lunch at the historic

Parkerville Tavern and get a free ice cream with every kids meal ordered during the school holidays

. There is a playground plus a huge amount of space in their beer garden for kids to run about on.




Location: Parkerville. Suitable for: All ages

---

40.
Enjoy getting down and dirty with nature at John Forrest National Park. Kids will love wading in the brook and eating a picnic in one of the cute cubby picnic shelters.


Location: Hovea Suitable for: All ages




Cost: $12 per car.

---

41.

Visit the residents of Buggybuddys award winning

Perth Zoo.

If you want to learn more about our new and old residents, attend their

free daily keeper talks or get up close with their eye to eye experiences.


Location: South Perth Suitable for: All ages




Cost: Adults $29 Children $14 Children under 4 free.

---

42.
Have fun on the big green slide at Cannington Leisureplex and cool off in the outdoor splash pad.


Location: Cannington. Suitable for: All ages




Cost: Adult $5.70. Children $4.20. Under 3's are free. Additional charge for the water slide.




---

43.
Head to Carramar Shopping Village where you can take part in a Herb Workshop (1st & 2nd Oct) or Spring Lantern Workshop (8th & 9th Oct).


---

44.
Take the kids for a trim at Kidz Kutz WA, a dedicated hair salon for kids! Every weekend during the school holidays Kidz Kutz will be offering 'funky' hairdos AFTER a CUT per child – kids can choose to have different colour hair, glittered hair, spiked hair etc.
Location: Innaloo, Whitfords and Joondalup

---

45.

Check out you

local library

for free or low cost school holiday activities.

---

46.
Have heaps of fun at Adventure World which opens up for the season just in time for the school holidays.
Location: Bibra Lake. Suitable for: All Ages
Cost: Adult $57, Child $47. Kids under 4 are free.

---

47.

Take the ferry from Barrack Street to South Perth.




Location: Perth. Suitable for: All ages




Cost: $2.80 Adult $1.10 Child one way. Under 5's free. Available with Transperth FamilyRider.

---

48.

Book a table at

Fired! Ceramic Café

and enjoy painting your own pottery.




Location: Joondalup. Suitable for: All ages




Cost: Prices start from $10

---

49.
Check out Annie's Landing District Playspace in Ellenbrook. There's something for both big and little kids.


Location: Ellenbrook. Suitable for: All ages

---

50.
Enjoy a Friday night at Gloucester Park Race course. Great family friendly atmosphere.


Location: East Perth Suitable for: all ages.




Cost: $12 Adults, Children: Free

---

51.
Enjoy a delicious treat at The Bindoon Bakehaus. Kids will have so much fun creating their masterpieces out of fresh dough in the play kitchen, leaving you to relax with a coffee and cake in peace.


Location: Bindoon

---

52.
Get competitive at Laser Blaze! On Thursday's during the school holidays it's kids day. Played in a darkened multi-level arena it's full of fun, excitement and mystery as you traverse the maze to find the opposing teams' base targets and opposing teams' players.
Location: Malaga and Willetton. Suitable for: 7 to 14 years.

---

53.

Visit

Yanchep National Park

for Koala and Kangaroo spotting. Enjoy lunch and indulge in some chocolate at The Chocolate Drops Tea Rooms.




Location: Yanchep Suitable for: All ages




Cost: $12 per car.

---

54.
Cool off at the Port Cogee Marina Splash Pad.
Location: Port Coogee

---

55.
Take a day trip to Donnybrook Apple Fun Park– Australia's largest free

playground around a 2 hour drive south from Perth city.




Location: Donnybrook. Suitable for: All ages

---

56.
Enjoy a coffee and cake at The Sweet Remedy Cafe. Kids will have a ball playing in the cubby house and saying hello to the resident bunny rabbits.
Location: Leederville.

---

57.
Treat the kids to the theatre by booking tickets to The Red Balloon - a tale of magic and friendship found in the most unlikely of places.


Location: State Theatre of WA, Perth. Suitable for: Children aged 6+

---

58.
Skate, ride, scoot or hang at the Esplanade Youth Plaza in Fremantle - a world class skate park catering for skaters of all abilities. They also run free school holiday activities.


Location: Fremantle.

---

59.
Have fun checking out over 30 planes at the Aviation Heritage Museum of WA. Kids will love getting behind the controls of a helicopter!


Location: Bull Creek Suitable for: all ages.




Cost: $10 Adults, $5 children 4 to 16. Family pass $25 (adults and 4 children)

---

60.

Buy yourself some peace and quiet and the kids a whole load of fun by booking them into Vaction Care at HBF Arena.




Location: Joondalup. Suitable for: Children aged 5 - 15 years.




Cost: $65 per day (CCR and CCB available)

---

61.

Visit the

West Australian Reptile Park

in the Swan Valley. Kids will love getting hands on with snakes, Lizards and Dingos.




Location: Henley Brook. Suitable for: All ages




Cost: Adults $12 Children (aged 3 - 15) $7. Under 3's are free.

---

62.
Get a birds eye view of Fremantle by taking a trip on the tourist wheel.
Location: Fremantle. Suitable for: All ages
Cost: Adult $12, Children up to 12 year $10

---

63.
Head to the hills and visit Core Cider in Pickering Brook. Great food and fun playground to keep the kids amused.
Location: Pickering Brook

---

64.

Head to

Woodbridge Riverside Park

. Great park for kids of all ages and abilities.




Location: Guildford Suitable for: All ages

---

65.

Get cuddly with a feathered or furry friend at

The Cuddly Animal Farm

in the Swan Valley.




Location: Henley Brook Suitable for: All ages.




Cost: $13. Children under 2 are free.

---

66.

Bounce off the walls at

BOUNCEinc

, Perth's largest trampoline park!




Location: Cannington. Suitable for: Children 3+




Cost: $19 Adults $13 Children (includes grip socks)

---

67.

Take a tour of

HMAS Submarine Ovens in Fremantle. Children need to be over 5 to partake in the tour.
Location: Fremantle. Suitable for: School aged children over 5
Cost: $10 Adults $3 Children

---

68.

Enjoy a visit to

Rio Tinto Naturescape

at Kings Park and have some old-fashioned dirty fun wading through creeks and building dams and cubby houses.




Location: Kings Park. Suitable for: All ages

---

69.

Do your kids love dinosaurs? Then head to the

Museum of Natural History

where they will get to meet a few.




Location: Guildford. Suitable for: All ages




Cost: $5 Adults $2 Children.

---

70.
Play Mini-golf! Great fun for the whole family. Check out Buggybuddys Top 10 places across Perth to play.


Location: Across, Perth. Suitable for: Children over the age of 2.

---

71.
Spend some time at the Shipwreck Galleries.

Track down pesky and adventurous sailors in the Riddled with Rats trail before they nibble all of our ship's biscuits!


Location: Fremantle. Suitable for: Children aged 4+
Cost: $2

---

72.

Head to the award winning

Little Creatures Brewery

in Fremantle and let the kids play in the sandpit. If you visit on a Sunday kids will love being entertained by the fabulous

Balloon Artistry by Aaron Smyth

between 10am - 2pm.




Location: Fremantle. Suitable for: All ages

---

73.

Head to

Heathcote Reserve

, the Pirate Park




Location: Applecross. Suitable for: All ages

---

74.

Take a CAT bus ride around Perth City.




Location: Perth. Suitable for: All ages

---

75.

Pay a visit to

Landsdale Farm School, say hello to the farm animals, wander through the herb garden and play in the covered playground.
Location: Landsdale. Suitable for: All ages.
Cost: $6 per person. Children under 2 are free.

---

76.

Pack a picnic and take a day trip to

Lake Leschenaultia

.




Location: Chidlow. Suitable for: All ages

---

77.

Visit

Lollipop's Playland

in Jandakot. Even the parents get to play on all the equipment!


Location: Jandakot. Suitable for: All ages
Cost: Adult $3.50 Child 1-3 years $10.90 Child 4 and over $12.90

---

78.
Head to Whistlers Chocolate Factory in the Swan Valley. Kids will have a ball playing in their huge sandpit while you sip a coffee in peace.


Location: Swan Valley. Suitable for: All ages

---

79.

Visit the huge dinosaurs at

Synergy Parklands

in Kings Park.




Location: Perth City. Suitable for: More suited for children aged 3+

---

80.

Pay a visit to

Revolutions Transport Museum

at Whiteman and take a ride on the

Bennett Brook Railway

afterwards.




Location: Whiteman Park Suitable for: All ages




Cost: Gold coin entry.

---

81.

Enjoy a picnic at

Bells Rapids

in Brigadoon. Kids will love discovering the tree swings over the other side of the bridge!




Location: Brigadoon Suitable for: All ages

---

82.
Head to Outback Splash where you can enjoy all the fun of the water park plus get lost in the new Hedge Maze.
Location: Bullsbrook.
Cost: Adult $29.50, Child $24 Kids under 4 free.

---

83.

Spend the morning at

Faulkner Park. Kids will love the 'erupting' volcano!
Location: Belmont. Suitable for: All ages

---

84.
Head to Fremantle. So much to see and do from museums to markets, playgrounds to family friendly dining.
Location: Fremantle. Suitable for: All ages

---

85.

Pack a picnic and spend the morning plane and helicopter spotting at

Jandakot Airport




Location: Jandakot Suitable for: All ages

---

86.
Get back to nature at the Subiaco Theatre Gardens Playspace.


Location: Subiaco. Suitable for: All ages

---

87.

Spend the day in

Kings Park.

With a choice of 3 amazing playgrounds, a tree top walk and a tower to climb you can easily spend the whole day there!

---

88.
Head to the Swan Valley for lunch at one of the many family friendly wineries and cafes. Find our favourites here.

---

90.
Have fun at Variety Place nature playground at Saw Avenue in Kings Park. Kids will have a great time balancing, swinging, climbing and running through the tunnels.


Location: Kings Park. Suitable for: All ages

---

91.
Get your skates on and head to Rollerzone!
Location: Malaga
Cost: $10 per session plus $2 skate rental.

---

92.
Kids can enjoy making a variety of Spring themed craft items at Livingston Marketplace including pin wheels, lead light butterflies, loom bands, bird houses and more!

---

93.

Take a train ride – kids love train journeys. Don't forget you can purchase a Familyrider which allows unlimited system-wide travel for a group of 2 adults and 5 children aged 5 and over after 9.00am during the school holidays. The ticket costs just $11.60




Location: Across Perth Suitable for: All ages

---

94.

Book the kids into the

Kids Sports Club

at Challenge Stadium. Kids will enjoy a day packed full of fun sporting activities.




Location: Mount Claremont. Suitable for: Children aged 5 - 12 years




Cost: $32 half day $52 full day.

---

95.

Pack a picnic and head to the

Meadow Springs Quarry Adventure Park

.




Location: Mandurah. Suitable for: All ages

---

96.
Check out the new playground at Korella Park in Mullaoo.

---

97.

Go Wild at

Jungle Gym in Willetton. Play gym for kids 5 and under 9.30am – 11.00am. Special school holiday activities for older children in the afternoon.
Location: Willetton. Suitable for: Under 5's
Cost: $6.50 per session

---

98.

Spend the morning at

Ivey Watson Playground

in Kings Park and enjoy lunch at

Sticky Beaks Cafe

.




Location: Kings Park, Perth. Suitable for: Children up to the age of 6

---

99.

Head to the fabulous playground at

Yokine Reserve

. A great playground for kids of all ages and abilities. Don't forget a spare change of clothes as kids are not able to resist the water play area.




Location: Yokine. Suitable for: All ages.

---

100.

Book a last minute getaway to

Margaret River

. There are so many fun things to do for both parents and kids. Pay a visit to

Sunflowers Animal Farm

, enjoy a beer at

The Cheeky Monkey Brewery

, let the kids run wild at

Xscape at the Cape

, and indulge in ice-cream at

Simmo's Ice-Creamery

.

---