---

---

Big Wave Surf School
Secret Harbour Beach. April School Holidays. 2 Day Course $89 - $99. 4 Day Course $189
www.surfingschool.com.au

April School Holidays 2 day workshops– Surfing with your kids isn't just a good way to get your heart pumping and burn calories. It's also a great way to build family bonds. When you are exercising together you are creating memories your child will treasure someday, all equipment provided. kids age 8 years to Adults. Dates = 6th & 7th , 8th & 9th , 11th & 12th , 13th & 14th , 15th & 16th APRIL Bookings www.surfingschool.com.au For ages 8 to 18+
4 Day Vegemite Surf Groms programs – 4 day course, Free Quicksilver pack worth over $200 inc rash vest, backpack, tshirt & hat. Dates = 6th, 7th, 8th, 9th April or the 13th, 14th,15th, 16th April ONLY $189pp inc full length wetsuit &surfboard hire http://www.surfingschool.com.au/vegemite-surf-groms-2/ For ages 5 to 12yrs

---

Arty April
Think outside the box as the Town of Claremont and Claremont Now brings you Arty April!
www.claremont.wa.gov.au

Screen Printing
9th April. 11am to 3pm. Station Masters House, 39 Gugeri Street, Claremont. Cost $15
For the teens. Print like a pro and take home your own calico tote bag. Choose from a range of funky stencil designs!
For ages 12 - 16

Arty Aztec Umbrellas
7th April. 9.30am - 11.30am (5-8 years) 12pm - 2pm (8 - 12 years) 2.15pm - 4.15pm (8 - 12 years) Station Masters House, 39 Gugeri Street, Claremont. Cost $20
Come along and paint your own paper umbrella inspired by ancient Aztec designs. Think geometric patterns, bright colours & bold shapes!
For ages 5 - 8 and 8 - 12

Flower Power
8th April. 10am - 12am (5-8 years) 12.30pm - 2.30pm (8 - 12 years) Station Masters House, 39 Gugeri Street, Claremont. Cost $20
Make & take home your own box of happy sunflowers. Then get busy making felt & fabric flowers for our Floral Graffiti community art installation!
For ages 5 - 8 and 8 - 12

Smart Phone Photo Walk
10th April. Three sessions commence at 10am, 12pm and 2pm. Town Centre. Cost $20
Join us for a walk around the local 'hood' to capture great photos and learn the tips and tricks of mobile phone photography.
For ages 12 - 16




---

Learn to Sail - Royal Freshwater Bay Yacht Club
Peppermint Grove. Tues 7th - Fri 10th April and/or Mon 13th - Fri 17th April. Cost: Fees start from $150 for a 10 hour course.
www.rfbyc.asn.au

See RFBYC website for course times and prices. All equipement is provided.
Participants must be able to swim and be water confident. All courses are conducted in the safe sheltered waters of Mosman Bay on the Swan River.
For more details contact Barry Martin on 9286 8209.
For ages 5 - 17




---

The Fairy Shop - School Holiday Programme
Joondalup. 7th, 9th, 10th, 13th, 15th, 16th, 17th April. 9am - 12pm and 1pm - 4pm on 16th. Cost $40. Quote Buggybuddys to receive your booking for just $30!
www.facebook.com/thefairyshopjoondalup

3 hours of Fairy Fun every school holidays! A time for fairy fans to sing and dance to The Fairies songs, listen to stories, make fairy craft, eat fairy snacks ...what more could a fairy fan want! Book early so you don't miss out. Children must be toilet trained. Bookings essential call 9300 0196
For ages 2 - 6




---

Jack and Jill's Garden
Nedlands Monday 13th - Friday 17th April. Cost $35 - $40 per session
www.jackandjillsgarden.com.au

Two hour craft and activity programs for kids.
Monday 13 April
9.30-11.30 Frozen Friends
12.30-2.30 Canvas Craft
3.00- 5.00 Frozen Themed Cupcake and Biscuit Decorating

Tuesday 14 April
9.30-11.30 Frozen Craft
2.30-2.30 Make Your Own lipgloss, bathsalts and bath fizzies
3.00-5.00 Cinderella Craft

Wednesday 15 April
12.30-2.30 Cinderella Pampering
3.00 -5.00 Make your own lipgloss, bathsalts and bath fizzies

Thursday 16 April
9.30- 11.30 Frozen Friends
12.30-2.30 Alice in Wonderland Craft
3.00- 5.00 FrozenThemed Cupcake and Biscuit Decorating

Friday 17 April
9.30-11.30 Frozen Craft
12.30-2.30 Cinderella Pampering
For ages 5+




---

Taste Budds Cooking School
Highgate. 8th, 9th, 15th & 16th April. 10am - 2pm. Cost $75
www.tastebudds.com.au

Give yourself a break these school holidays & let us look after your budding chefs for a 4-hour cooking workshop whilst you enjoy some time off!
Our workshops are hands on from beginning to end so they will leave your children with the skills to re-create them at home (under supervision of course!). All you need to do is drop them off before 10am and return and you are welcome to return around 1:30pm to sit down and enjoy their creations together.

Classes:
8th & 9th April - Banana and Chocolate Muffins, Baked Panko Chicken Tenders with Basil Aioli and White Bread made from scratch.
15th April & 16th April - Chocolate Fondant, Sushi and Macaroni Cheese

Please make sure children are dressed appropriately with long hair tied back and comfortable shoes, aprons will be provided. These workshops are aimed at children from 8 to 14 years old due to height restrictions.
Gluten-free menu is available, when booking please let us know of any allergies along with their ages.
For ages 8 - 14




---

Bricks 4 Kidz
Tranby College, Baldivis. 7th - 16th April. Half and one day courses available. Cost: $45/$90 per session
www.bricks4kidz.com.au

Our programs provide an extraordinary atmosphere for students explore the concepts of science, technology, engineering and mathematics in a fun, creative environment. Children build unique creations, problem solve, play games and have loads of fun using LEGO® bricks.
If your child loves LEGO®, then enrol them for one of our brick-tastic holiday workshops. We have classes themed around Frozen®, LEGO City®, Minecraft®, TMNT® and old school gaming characters like Mario and Sonic.
We also have a new Master Builder Academy, and some old favourites too!
At Bricks 4 Kidz® BALDIVIS WE LEARN, WE BUILD, WE PLAY......
For ages 5 +




---

Play With Clay Pottery Classes
Pottery Centre, Whiteman Park. 7th, 8th, 14th & 15th April. 10.30am, 12.30pm & 2pm. Cost: $6 kids aged 6 and under. $10 (1 hour) $13 (1.5 hours) Kids ages 7+
www.whitemanpark.com.au

Pieces will only by fired by request at a cost of $2 per piece. Adult supervison required at all time. Cash only. To book contact the Pottery Centre on 9249 4380
For ages 3+

---

What's 2 Eat? - Kids Cooking Classes
Wanneroo Tuesday 7th - Friday 17th April. 90 minute sessions at 10am and 1pm. Cost $22 per session
www.whats2eat.com.au

This is an ideal opportunity for children to learn heaps while having fun at our Wanneroo kitchen. Our recipes develop a range of cooking skills for making yummy healthy snacks. Parents of children aged 3 - 5 years will be asked to stay and help. An apron will be supplied and all classes are nut free.
For ages 3-16

---

Decadance
Joondalup. Sessions Tuesday - Friday throughout the School Holidays. Cost $10.
www.decadance.net.au

Keep your cool these Summer holidays indoors with Decadance. Our 2 hour sessions are only $10 per child. Includes DJ, party, and heaps of games and prizes
For ages 5 - 13




---




Scitech School Holiday Programs
Scitech, City West, Perth
www.scitech.org.au

Amazing Magnets. 8th April 9.30am-10.30am/11.30am-12.30pm. Cost $10 members and $12 non members
Harness the amazing force of magnetism to make objects hover, roll and spin. Create your own magnetic contraption to take home.
For ages 4 - 6 and 7 - 9 years

Catapult Engineers 9th April 10am - 11.15am and 12pm - 1.150pm. Cost: $12 members $15 non members
Learn about forces, energy and projectile motion as you build your own miniature catapult. Then test your design as you launch marshmallows at a target.
For ages 8 - 11 and 11 - 14 years

Fizzy Chemistry 14th April. 9.30am - 10.30am/11.30am - 12.30pm/1.30pm-2.30pm. Cost $10 members and $12 non members.
Experiment with acids and bases to make some fizzing chemical reactions. Use colourful indicators to test your mixtures, then make your own bubbling lava lamp to take home.
For ages 4 - 6/ 6-8/ 8-11 years

Squishy Circuits 15th April. 10am - 11am and 12pm - 1pm. Cost $10 members and $12 non members
Discover how to make electrical circuits with a difference. Test out our conductive and insulating dough to learn about electricity and make some crazy electrical gadgets.
For ages 7 - 9 & 10 - 14 years

Edison Robotics. 16th April. 10am - 11.30am and 12.30pm - 2pm. Cost $15 members and $17 non members.
Come in and play with Scitech's new Edison robots. Take on our robotics challenges as you program your Edison robot to follow lines, use sensors and navigate obstacles.
To see what the Edison robot can do, go to: meetedison.com
For ages 8 - 11 and 11- 14 years

---

City Summit Rock Climbing Centre
Malaga. Monday 13th to Wednesday 15th April Cost $150 for 3 days.
www.citysummit.com.au

City Summit's 3 day kids climbing course runs twice during the school holidays. Your child will learn valuable skills in team work, navigating graded climbs, belaying competency and bouldering techniques. Graduation concludes on the final day with a pizza party and students awarded a Certificate of Achievement. Cost is $150 and includes the pizza party plus all day entry and gear hire for the duration of the course.
For ages 6+

---





Bibbulmun Track Foundation
Kalamunda
www.bibbulmuntrack.org.au

Camp Cooking for Kids. Tuesday 14th April 9.30am - 12.30pm or 12.30pm - 3.30pm. Cost $35 Kids $5 Adults
School Holiday Fun! Enjoy a 4km return walk to a typical Bibbulmun Track campsite where kids learn to make things like damper and pizza and get to eat their creations. The kids will love this hands-on camp cooking experience! 1 hr from Perth. Choose from two sessions.
For ages 6 - 12

Dr Dolittle Goes Bush. Saturday 18th April 3.30pm - 6pm. Cost $35 Kids $10 Adults
A 2 km return stroll on the Bibbulmun Track for children (5-12yrs) to a typical campsite to see and learn about our native animals from the Kanyana Wildlife Rehabilitation Centre. Watch their faces light up as they interact and learn about our native animals.
For ages 5 - 12

---

Tiny Tots Tennis
Joondalup, Innaloo, Hillarys, Bayswater, Ellenbrook and Canning Vale.
www.tinytotstenniswa.com.au

Keep the kids busy this school holidays with daily one hour tennis lessons with Tiny Tots Tennis. Available for children aged 4 to 12 years of age and all skill levels. Tiny Tots Tennis is a specially developed program of tennis related activities and ball skills specifically tailored for children under 12 years. The purpose of the Tiny Tots Tennis program is to enhance the children's co-ordination, awareness, confidence and gross motor skills.
For ages 4 - 12

---

Zoo Crew - Perth Zoo
Perth Zoo. 7th, 8th, 9th, 14th, 15th and 16th April. Cost $86 per day.
www.perthzoo.wa.gov.au

Zoo Crew is a new Perth educational adventure day for kids aged 8 - 13. Drop your kids off at the Zoo and they will get up close and personal with Zoo animals, make special animal treats and go into restricted areas of Perth Zoo. Your little monkeys can hang with us at the zoo while you get a day off.
For ages 8-13




---

Tramp Camp BOUNCE inc
Cannington. Camp 1 Tues 7th - Friday 10th April. Camp 2 Monday 13th - Friday 17th April Cost: $120 Camp One $150 Camp 2
www.bounceinc.com.au

Non-stop fun – Great Exercise – Awesome new friends
The new BOUNCE Tramp Camp is the best way to beat boredom these holidays. Exclusively designed for kids aged 9-12, they will be fully supervised every day, whilst they get to explore Bounce's awesome facilities. They'll get to develop their aerial skills, throw dodgeballs, launch themselves into giant airbags and join the free-jumping revolution.
For ages 9 - 12

---

Holiday Swim School, HBF Stadium
Mount Claremont.
www.hbfstadium.com.au

Our Holiday program offers an intensive learn to swim opportunity with classes held daily during the school holidays. Small class sizes ensure great improvements will be made in your child's swimming. Friendly qualified instructors make learning to swim a fun and educational experience. Available for all levels from preschoolers to advanced swimmers.
For ages 2 - 17 years.

---

Kids Sports Club, HBF Stadium
Mount Claremont
www.hbfstadium.com.au

For 5 – 12 year olds Kids Sports Club offers days full of cool sporting and recreational activities under the guidance of qualified, experienced and fun instructors. Visit the website to view the complete schedule of activities and enrol now!
For ages 5 - 12 years

---

Kids Gym, HBF Stadium
Mount Claremont
www.hbfstadium.com.au

Holiday Kids Gym classes help children develop their confidence, independence, balance, coordination, and motor skills.
With Toddler Gym, Kindy Gym, Advanced Kindy Gym, Junior Gym, Primary Gym and Advanced Primary Gym classes for kids aged 18 months to 10 years, you're sure to find a Kids Gym class to add some zing to your child's day. Visit the website for more information and to enrol now!
For ages 1.5 - 10 years

---

Morley Sport & Recreation School Holiday Program
Cnr Wellington Road & Mangini Street, Morley
www.morley.ymca.org.au

Gym and Acrobatics. Wednesday 8th Arpil 10am - 2pm. Cost: $30
This class combines both basic gymnastic movements and acrobatics. This combination not only allows students to develop their physical abilities (eg strength, flexibility, coordination, balance) but also to enhance their responsibility and cooperation skills. No experience required.
For ages 5 - 12

Young Master Chefs/Craft. Tuesday 7th April 10am - 2pm. Cost: $30
This is an excellent opportunity to foster your child's creativity while having fun. Materials will be provided and a snack will not be necessary as they will be preparing their own.
For ages 5 - 12

Combo Dance/ Cheerleading/ Fun and Game. Thursday 9th April 10am - 2pm. Cost: $30
This class combines both dancing and acrobatic skills to provide kids with a fun and challenging environment. This class is run by one of the Wild Cats Cheerleading Dancers. Maybe one day you can also join the Wild Cats and become a Cheerleading Girl!
For ages 5 - 12

Mini Socceroos/Basketball Friday 10th April 10am - 2pm. Cost: $30
Mini Socceroos - For all budding soccer players and players looking to continue playing after the soccer season. Quality accredited coaching and skills based principles on our indoor court.
Basketball - This sport offers a great opportunity to develop interpersonal skills and cooperation while interacting with others in a competitive/friendly environment. It will be run by experienced coaches who will prmote technical and tactical skill development, progressing into a formal game situation.
For ages 5 - 12

Inclusion for All. Tuesday 14th April 11am - 2pm Cost: $30 Free for term enrolled children.
We will be running an "Inclusion 4 All" session for all kids enrolled into the "Inclusion 4 Life" program, which is for all children who may have a disability or not. This session is free for all those who have enrolled with payment during the Term program; however any interested kids who want to join the holiday session who have not participated in the program will be charged $30 for the full activity. (2 games of 10 pin bowling, a snack and transport to and from Morley Sport and Rec Centre) All are welcome
For ages 8 - 16




---

Little Kickers
Across Perth. Programme runs throughout the school holidays.
www.littlekickers.com.au

Play not Push' is our motto! Little Kickers is a positive, fun-filled pre-school program executed in a friendly, pressure free environment that encourages children to "Learn through Play". We recognise that every child is an individual and feel that children develop their skills best when they are playing with other kids of a similar age and ability. We focus on the physical well-being of the child and also promote the development of social skills such as turn taking, following instructions and sharing. These skills are put into practise at a key stage of your child's growth. Simple problem-solving activities provide the perfect informal framework for encouraging our fledgling Socceroos to advance their basic attention building and listening skills. By playing fun games that include specific actions and movements children gain greater body control, whilst working on balance, co-ordination and gross motor skills. Our program also helps children to transition from parent-supported participation, to active, independent interaction through building skills and confidence.
Find a location near you:
LK Perth - Leederville | Mount Hawthorn | Bibra Lake | Hamersley | Swanbourne | North Perth | Peppermint Grove | Wembley. Contact 0466 606890
LK Perth North - Joondalup | Ocean Reef | Padbury. Contact 0409 888503
LK Perth East - Aveley | Beechboro | Ellenbrook | Midvale | Morley. Contact 0481 115147
LK Rockingham - Jandakot | Kwinana | Rockingham. Contact 0423 623633
LK Perth South East Metro - South Perth | Como | Canning Vale | Shelley | Rossmoyne | Southern River. Contact 0451 226891
For ages 2 - 17 years.




---

The Brick House
Willetton. 7th - 16th April. 9am - 12pm or 1pm - 4pm. Cost: $30 per child per camp.
www.thebrickhouse.com.au

Are your children interested in some LEGO® building fun during the Easter School Holidays? Why not come along and join us at one of our School Holiday Camps. Running from 9am to 12 noon and from 1pm to 4pm from Tuesday 7th April to Friday 10th April and from Monday 13th April to Thursday 16th April.
Our Camps are suitable for children in full time school aged from 5 to 11+.
As well as participating in Junior Engineering Workshops (under 7s) and Engineering or Robotics Workshops (7+) we will also have a permanent LEGO® MINECRAFT® zone, LEGO® City zone and LEGO® Friends zone set up for the Easter School Holidays. Plus, LEGO® games, speed build competitions, 2 new earthquake tables and 2 new racing ramps.
Please note that the Engineering and Robotics Workshops are on offer every day with a new theme each day.




---

Ooh La La Day Spa
Claremont. Unique high quality hair and spa treatments for kids make great holiday fun.
www.oohlalasalonandspa.com.au

Mummy and Me
Say thanks to Mum for all her hard work. Enjoy a mini manicure together for $75 featuring OPI gel for Mum. $75

Pampered Princess
Be treated like a princess! Child's welcome drink. A wash, style cut plus get your nails painted. $50

Chocolate Obsession
Great to book with a friend. Make your own chocolate bath salts and enjoy a relaxing foot bath. Mini manicure and nailpainting with chocolate hand creme. Cute drink and choc chip cookie $45 per person (45minutes)

Frozen Makeover
Get your nails done in Frozen colours, make a crown, glitter hair spray application, Frozen clip for your hair, plus eye shadow, stick on earrings and lipgloss $45 per person

Cinderella Makeover
Child's welcome drink. A wash, style cut and dry off. Ribbon for your hair plus get your nails painted. Lip gloss application plus a Cinderella surprise!! $60




---




---




---

Pagoda Little Princess High Tea
Pagoda Resort & Spa. Saturday 18th & Sunday 19th April 10am - 12pm or 2pm - 4pm. Adults $49.95 Children $29.95
www.pagoda.com.au

Looking for an awesome kids school holiday activity? Look no further than the Pagoda Resort and Spa and join us for a Snow Princess High Tea Experience like no other!The Pagoda Resort and Spa enjoys a great location opposite the banks of the Swan River and 5 mins from the Perth CBD conveniently located in South Perth.
Bookings are available for private tables of 10-12 guests. For smaller bookings of 10 guests or less, you and your little princess will be placed on a shared table with other guests.
We encourage Little Princesses to dress up in your favourite Fairy Tale costume! Paparazzi will be ready to take your photo so wear a big grin!
You and your little princess will be entertained over high tea with a very special appearance from Elsa, Anna and Kristoff. Includes singing, meet and greet and photo opportunities.




---

Arty April
Think outside the box as the Town of Claremont and Claremont Now brings you Arty April! It's a month jam packed with creative flair and abstract art all in the heart of the Claremont Town Centre. There's workshops to keep the kids busy during the school holidays, art installations, open mic nights, live street art and a boutique art market the whole family can enjoy.
www.claremont.wa.gov.au

Neon Dinosaurs
When: Tuesday April 7 to Friday April 10
Where: The Claremont Quarter Kids Pod on level two of Claremont Quarter.
We are re-colouring history! Help us paint and name our pint-sized pre-historic friends as they prepare for their 'hide and seek' journey around the Claremont town site. Don't forget to #neondinos and #claremontlife

THE BOUTIQUE ART MARKET
When 19th April 2015
Where: Southern end of Bay View Terrace
Time: 11am-3pm
Free event
The Boutique Art Market will be a showcase for all things 'handcrafted'. Featuring stalls in design, art, boutique craft, delish food and live music. There will even be a crafty kids 'make & take' corner!




---

Scitech Easter Extravaganza
Scitech, City West, Perth Monday 13th April 5.30pm - 8.30pm. Cost $18 members $22 Non members. Parents Free.
www.scitech.org.au

Our ever-popular Science Nights are on again and this April we're getting into the chocolate (literally) with our Easter Extravaganza.
What happens at Scitech once the sun goes down? Prepare for chocolate overload at this exclusive after-hours event just for kids. Be amazed by the Ignite Your Curiosity show in the Lotterywest Science Theatre, explore and sleuth through Scitech's exhibitions as a part of the ultimate Scitech Easter egg hunt and conduct some Easter egg-speriments in the CSIRO Lab.
Pizza and drinks will be provided for booked attendees. Gluten free and cheese free options are available upon request.
Parents attend for free and will be provided with tea, coffee and biscuits. aption to take home.
For ages 6 - 12




---

Chipmunks Easter Disco
Thursday 2nd April 5.30pm - 8.30pm. Cockburn, Port Kennedy, Whitfords, Wanneroo, Kelmscott and Mandurah
www.chipmunks.com.au

Hop on over to 1 of 6 Chipmunks indoors kids play centres in Perth and grab tickets to our extra special Easter parties.
Hosted on Thursday 2nd April 2015, Chipmunks easter parties are always very popular and are a great way to celebrate the easter school holidays.
With easter games and prizes and twilight play, be sure to join in the "easterlicious" fun with your friends and family at Chipmunks.
Tickets are always popular and sell out kick, so be sure to grab a ticket and support your locally owned and operated Chipmunks playcentre.




---

The Fairy Shop Easter Disco
Joondalup. 17th April. 1.30pm - 3.30pm ages 2 - 4. 3.30pm - 5pm ages 5+. Cost $15.
www.facebook.com/thefairyshopjoondalup

Tickets include entry, prizes, a glow stick, drink, a packet of chips, facepainting and a chocolate egg hunt. Call 9300 0196 for bookings.




---

Whiteman Park School Holiday Program
www.whitemanpark.com.au

AL KAZAM THE MAGIC MAN
Al Kazam the Magic Man returns to Whiteman Park with his unique interactive magic show. There will be special appearances from magical friends and magic tricks with much fun and laughter.
Date: Thursday 9 April
Times: 10.30am, 11.30am & 12.30pm
Cost: $5.00 per child (bookings essential)

CAPTAIN CRAZY THE PIRATE
Join Captain Crazy and be part of his crew as he searches for his lost pirate 'treaaye' (treasure!). Join in the fun with the Australian raven puppet, talk like a pirate and swap lots of crazy pirating tales of the tall seas!
Date: Wednesday 15 April
Times: 10.30am, 11.30am & 12.30pm
Cost: $5.00

THE RAINBOW PAINTER
Take a journey into the Enchanted Forest and meet a magical friend called Sunshine, who lives inside a tree!! Sunshine has some gorgeous Forest friends, who will need your help in creating a beautiful rainbow.
This is a fun, interactive and cheeky story featuring music, puppetry and dance.
Date: Thursday 16 April
Times: 10.30am, 11.30am & 12.30pm
Costs: $5.00 (bookings essential)




---

Easter Piazzarama Northbridge
Northbridge Piazza. Sunday 5th April 12pm - 4pm. Cost: FREE
www.northbridgepiazza.visitperthcity.com

The City's FREE themed family activity day returns on the first Sunday of every month with all-ages entertainment including face painting, balloon artistry, roving characters and two family movies on the LED SuperScreen at noon and 4pm. Dress-ups encouraged! Please note that face painting and other activities will stop at the commencement of the 4pm film screening.

---

Free Flicks for Kids
Northbridge Piazza.
www.northbridgepiazza.visitperthcity.com

The Free Flicks for Kids film season returns to the City of Perth's Northbridge Piazza screen for its fifth year of free family entertainment, screening feature films every Saturday afternoon from October 2014 to April 2015. Films being screened during the school holidays are:
Cloudy with a Chance of Meatballs Sat 4th April 5.30pm
Ratatouille Sat 11th April 5.30pm
Fantastic Mr Fox Sat 18th April 5.30pm




---

Find more events

---

---






School Holidays at the WA Museum
WA Museum, Perth. Saturday 4th - Sunday 19th April. 10.30am - 12.30pm Cost: Free
www.museumwa.gov.au

Come and explore the fascinating world of the cute, spiny, slimy, feathered and furry creatures in our own backyards.
Investigate the animal tracks and traces that tell the keen observer about how, where and which creatures are moving around in the wild.
Which native animals have you fallen in love with? Let's celebrate WA's hidden suburban creatures.




---

Maritime Museum, Fremantle
Tuesday 7th - Friday 10th April and Monday 13th - Friday 17th April 10.30am - 12.30pm. Cost $2 Poppy Wreath, $2 Signal Flag Door Hanger, $3 Morse Code Bead Bracelet.
www.museum.wa.gov.au

Join us for an exciting April school holiday program at the WA Maritime Museum. Relive Australia's first naval victory at The Last Gentlemen of War exhibition. Explore what maritime conflict was like in the era of Australia's first official navy. Use the signals and code systems that have transformed communication between ships and the shore through our hands-on school holiday activities.
Make a signal flag door hanger to tell people when it's time to come in or stay away, or create your own Morse code bead bracelet. Craft a remembrance poppy wreath for the ANZAC centenary, or take the Indian Ocean Raider Mission trail challenge.
For ages 4+




---

Bennett Brook Railway
Whiteman Park. 3rd - 19th April. 11am - 4pm. Cost: $8 Adults, $7 Seniors, $4 Children aged 6 to 16, $2 Children aged 2 to 5. Children under 2 are free.
www.bbr.org.au

Visit Whiteman Park's Bennett Brook Railway during the April school holidays. (entry into Whiteman park is free! entry from either Lord street, or Beechboro road.)
Trains run from Easter Friday, 3rd April, every day until Sunday, 19th April, inclusive.

Travel through the pristine coastal woodlands on our historic train while our volunteers tell you amazing stories. Did you know that your train travels over a huge lake of water? The only reason you wont get wet is it's full of sand. Yes, our trains travel over the Gnangara aquifer. Approximately 50% of Perth's drinking water comes from the Gnangara mound. While there we recommend you visit the Revolutions Transport Heritage museum. (gold coin donation) Learn all about Park benefactor Lew Whiteman and other wonderful stories.

Train timetable.
Weekends and public holidays, trains run every half hour from 11.00am to 4.00pm.
Weekdays, from 11.00am to 3.00pm.




---

Scitech
Backyard Adventures. Scitech, City West, Perth
www.scitech.org.au

A hidden world just outside
Take a closer look at what's outside your back door in Backyard Adventures and discover a hidden world of science.
Use special lenses to look at a garden through the eyes of a dog or jump on board the flying bee for a bees' eye view. Observe how living things interact with structures at The Changing House exhibit before getting your hands dirty in the DIY science garden.
Backyard Adventures shows you healthy skills you can develop in the outdoor environment with particular emphasis on being active. Warm up with backyard cricket or baseball before having a go on our giant mechanical skipping rope.
This is an exhibition to inspire wonder and fascination about the science that is always ready-and-waiting in your very own backyard.




---

AQWA
Hillarys Boat Harbour. Open 10am - 5pm. Cost: Adults $29, Children aged 4 - 15 $17, Concession $21, Children under 4 are free.
www.aqwa.com.au

Visit AQWA these school holidays and discover more! From creatures with 5 noses, to animals that eat with their feet and sharks that are twice your size, there's always something new to discover at AQWA!
We've jam-packed these school holidays with amazing prizes and chances for ocean explorers to discover the weird and wonderful underwater world;
From April bring in a coupon to score an AQWA marine animal Collectors Card! Featuring the iconic and incredible marine life of WA, there are 10 to collect in series one. Each card uncovers the sea creature's secrets and super powers. What will you discover? Visit www.aqwa.com.au , follow on Facebook or keep an eye in the papers to grab a Collectors Card coupon.
Join us on Wednesday April 8 and 15 at 11.30am for a free reading of the children's book, Fish Jam! You'll be seated in front of one of the largest living coral reef displays in the world watching the fish whizz by as you listen to the author read her jazzy underwater tale!
Visit AQWA's Discovery Pool and do MORE than just touch the animals! Now featuring underwater viewer scopes, kids snorkel masks and an on-hand Ocean Guide to answer questions daily!
April 13 is our Sharks' Birthday! Help the sharks, fish, stingrays and turtles celebrate, as our divers feed them an icy fish cake! Join us at 12pm in AQWA's Shipwreck Coast.
If your ages 12 and over you can discover diving with AQWA's Reefwalker! Go on an underwater walk through one of the world's largest living coral reef exhibits. Hurry, season ends April 26!
PLUS visit in April and tell us "what you discovered today" to go in the running to win a Family Ocean Pass to AQWA. There will also be a GoPro Hero camera up for grabs! All you have to do to enter is post a picture of your newest discovery at AQWA to our Instagram (discoverAQWA).
AQWA is open 10am – 5pm every day including Good Friday, Easter Monday and ANZAC Day Public Holiday.

---




Revolutions Transport Museum
Whiteman Park. 3rd - 19th April. 10am - 4pm. Cost $1 per child
www.whitemanpark.com.au

School holiday fun at Revolutions.
Let's get moving at Revolutions Transport Museum with fun transport activities. Two transport trail programs Carried Awayand Keep On Moving will get you trekking around the museum and the Jigsaw activity will have you looking high and low for the puzzle pieces you need! There are also plenty of crafts, games and a chance to win one of our sensational prizes.




---




Lollipop's Playland & Cafe
Unit 4, 622 Karel Avenue, Jandakot
www.jandakot.lollipopsplayland.com.au

Lollipop's Playland & Cafe kids Indoor Play Centres are great Kids Party Venues for birthday parties or simply giving kids a treat while parents relax over a cup of coffee and a treat from our quality cafe. Our Indoor Play Centres are safe, secure play centres where kids can have hours of fun climbing, sliding, jumping and spinning.
Opening hours
9.00am to 6.00pm daily.
Pricing
Childen aged 4 and over
$12.90 Weekends, Public Holidays & School Holidays
Children aged 1 - 3
$10.90 Weekends, Public Holidays & School Holidays
Babies 0 - 12 months
Free
Adults
$3.50 (includes free coffee or tea)
Phone | (08) 9417 1760




---

BOUNCE inc
Cannington.
www.bounceinc.com.au

JOIN THE FREE-JUMPING REVOLUTION
Fly through the air and bounce off the walls. BOUNCEinc is a massive indoor trampoline universe which is all about jumping high and landing soft & safe. Imagine over 100 interconnected trampolines, over 500 square metres of big air bags and padding to land on. Perfect for kids parties, Bounce is a fun way to celebrate a birthday or special occasion.




---

Fired! Ceramic Cafe
29 Winton Road, Joondalup
Phone | 9300 1811
www.firedcafe.com.au

Fired! Ceramic Cafe is the perfect place to meet with family and friends and relax and have fun while you paint your own pottery. With a large selection of pieces, an extensive cafe menu and a secure play area, you can capture your little ones prints on a piece for gifts or bring your older children along to create their own artwork. Once you are finished you leave your items with us to glaze and fire and then come back and collect a functional piece that can be used everyday. We are open Tuesday - Saturday from 10am - 5pm and Sundays for group reservations and parties.




---



The Pottery Playroom
Unit 4/19 Mercer Lane, Joondalup
Phone | 9301 2080
www.potteryplayroom.com

The Pottery Playroom is Perth's only ceramic painting studio and cafe with a FREE soft play area (don't forget your socks)! An ideal venue for children's birthday parties with painting instruction by a dedicated host. Our NO STUDIO FEE policy ensures fun for everyone!

---
Find more attractions in Perth
---

Karrinyup Shopping Centre
Hoot & Hootabelle. Stage Show and Craft Activity.
www.karrinyupcentre.com.au

Hoot & Hootabelle Live on Stage. Mon 6th - Sun 12th April. Show times 9.30am & 11.30am (Tues - Sat) Mon 6th & Sun 12th 11.30am & 1.30pm.
Meet and greet times 10.30am (Tues - Sat) 12.30pm Mon 6th & Sun 12th Cost: Free
See Hoot & Hootabelle live on stage this April at Karrinyup! Plus the chance to meet and greet your favourite Owls from the popular tv show Giggle & Hoot.
Hoot and Hootabelle are best owl-pal's who love playing and singing together and invite the boys and girls to join in on the awesome fun! With lots of singing and dancing to some of their famous tunes, this show is sure to have the whole audience hopping along.
*Please note the number of people that can meet and take a picture with HOOT & HOOTABELLE will be limited to what is possible within the advertised interval. LINE UP early so you don't miss out!

Hootabelle Craft Activity. Mon 13th - Fri 17th Apri 11am - 2pm. Cost: Free
Join the world of Hoot and Hootabelle where kids can let their imaginations soar while they decorate their own owl. Children will be given everything they need to design, decorate and take home their own owl creation.
Bring the little ones down to Karrinyup to join in the free fun, located on the Ground Floor, between Dick Smith and Australian Geographic.




---

Ocean Keys Shopping Centre
Join in the free fun at Ocean Keys Shopping Centre this school holidays!
www.oceankeys.net.au

Sand Art Craft Workshop Monday 6th - Saturday 11th April 11am - 2pm. Outside Kmart. Cost: Free
Create your very own sand art with lots of beautiful colours to take home.

Despicable Me 2 Minion Activity Village. Monday 13th - Saturday 18th April 11am - 2pm. Outside Kmart Cost: Free
Join in the free fun at the Ocean Keys Despicable Me 2 Activity Village and create your very own clay Minion to take home.
Meet and Greet a Minion
Bring the kids to meet and greet one of the Minions from Despicable Me at Ocean Keys!
When: 11am – 1:30pm, Saturday 18 April
Where: Ocean Keys, near Target

School Holiday Meal Deals
Enjoy tasty savings for the whole family at Ocean Keys these school holidays!
When: Monday 6 – Sunday 19 April
Where: Ocean Keys, participating food retailers




---

Stocklands Riverton
Mr Jim & Drippy the Dragon. Monday 13th - Friday 17th April 11am and 2pm daily. Outside Woolworths. Cost: Free
shoppingcentres.stockland.com.au

The amazing Mr Jim and Drippy the Dragon will be visiting Stockland Riverton during the April school holidays. Come and join in the fun for a free 45-minute stage show.




---

Carramar Shopping Village
Sand Bottles Workshop. Weds 15th - Sat 18th April. 11am - 2pm. Cost: Free

Kids can get creative with coloured sand to produce a sand bottle masterpiece they can take home!





---

Livingston Market Place
Sand Bottles Workshop. Weds 15th - Sat 18th April. 11am - 2pm. Cost: Free

Kids can get creative with coloured sand to produce a sand bottle masterpiece they can take home!




---

---




---

Beatty Park Leisure Centre
220 Vincent Street Perth
MAP

Entry Charge: Adult $6.00 Child (5 to 15 yrs) $4.50 Child (3 to 4 years) $1.50 Under 3 free
Opening times: Mon - Thurs 5.30am - 8.30pm Fri 5.30am - 8.00pm Sat 7am - 4pm Sun 8am - 4pm
Facilities: Indoor pool with slides | Outdoor Lap Pool | Gym | Creche




---

HBF Arena Joondalup
Joondalup Drive, Joondalup
MAP

Entry Charge: Adult $5.50 Child $4.30 Under 4's Free Spectator $2
Opening times: Mon to Fri 5.30am - 8.00pm Sat 6.00am - 6.00pm Sun 8.00am - 6.00pm Public holidays please see website.
Facilities: 2 Lap pools | Leisure pool | Toddler Splash Pool | Lazy river and other water features | slide | Playground




---

Cannington Leisureplex
Cnr of Queen and Baldock Streets, Bentley

Entry Charge: Adult $5.70 Child (3 - 15 years) $4.20 Under 3's Free
Opening times: Weekdays 6am - 9pm, Weekends & Public Holidays 8am - 7pm.
Facilities: 25m Lap Pool | Recreation Pool | Beach pool | Zero-depth Outdoor Water playground | 50m Thrill slide




---

---
THE WITCHES
4th, 5th, 7th - 12th April. Subiaco Arts Centre
Tickets available from Ticketek

When one little boy unwittingly stumbles into the annual meeting of witches, he hears their nasty plan to get rid of all the children in the world – by turning them into mice! It's going to take smarts and sneakiness to stop them and not get squished in the process.
Think you can outwit a witch and outrun a mouse? Then book your tickets to The Witches, when it bursts onto the stage of the Subiaco Arts Centre as a mind-boggling and madcap one-man show.

---

GIGGLE & HOOT AND FRIENDS
4th, 5th, 6th April. Regal Theatre
Tickets available from Ticketek

Jimmy Giggle, Hoot and Hootabelle are setting off on a giggle-icious live stage adventure with their friends the Bananas in Pyjamas and Hoopla Doopla's Zap, Mimi and Jango this summer!
Starring in the live children's show of the year, 'Giggle and Hoot & Friends' is a 50-minute stage spectacular with everyone's favourite songs, dancing and of course fun and laughter.
Giggle and Hoot, the multi award winning and much loved ABC4Kids preschool program, focuses on preschooler's lives and routines through songs, stories, friendship, laughter and imagination. The live show, incorporating these themes, will be one of the most anticipated and hottest tickets for families this summer.
But every adventure needs some friends, so joining Jimmy Giggle and the owls onstage is everyone's favourite twins, the Bananas in Pyjamas, B1 and B2 who are now in their 22nd year and continue to be loved by children and parents globally.
For the first time ever on stage, joining the show will be Zap, Mimi and Jango from the very popular ABC4Kids show Hoopla Doopla. The three extraordinary characters, each with their own amazing physical skill; tumble, juggle, leap and somersault in and out of trouble. However, whenever anything goes wrong - and it usually does - they always have each other to fallback on.




---

SPARE PARTS PUPPET THEATRE PRESENT MOOMINPAPA AT SEA
4th -18th April. Spare Parts Puppet Theatre, Fremantle
Tickets available from Spare Parts Puppet Theatre

Moominpappa at Sea will take you on a compelling journey of self-discovery through the eyes of a small family of adventurous Moomintroll's.
Moominpappa at Sea sees the family of Moomins embark on a great adventure to find a new home in the sea. At 45 minutes and suitable for ages four and above, Moominpappa at Sea is a charming and timeless show that will delight and inspire all ages to be more curious about the world around us.




---

WALKING WITH DINOSAURS
18th & 19th April, Perth Arena
Tickets available from Ticketek

Dinosaurs will once again roam Australian soil when the spectacular production, Walking With Dinosaurs - The Arena Spectacular, based on the award-winning BBC Television Series, returns in 2015.
Walking With Dinosaurs - The Arena Spectacular will commence its strictly limited tour in Sydney and then take over arenas in Melbourne, Brisbane, Newcastle, Adelaide & Perth.
Worldwide, more than 8 million people in 243 cities have seen the show and in 2010 it was named the Number One worldwide tour by POLLSTAR. Internationally renowned designers have worked with scientists to create 20 life-size dinosaurs, including the terror of the ancient terrain, Tyrannosaurus-rex! It's a dazzling $20 million arena spectacle of unprecedented size and quality set to captivate young and old alike.
This updated production will showcase spectacular and colourful changes to the dinosaurs based on the latest scientific research including the likely feathering of some species.
The show depicts the dinosaurs' evolution with almost cinematic realism. Walking With Dinosaurs - The Arena Spectacular has scenes of the interactions between dinosaurs, how carnivorous dinosaurs evolved to walk on two legs, and how the herbivores fended off their more agile predators.




---

Vacation Care HBF Arena, Joondalup

HBF Arena Joondalup's Commonwealth funded Vacation Care programme is back bigger and better than ever this schoo holidays. New split age grouping, 5 - 8 years and 9 - 15 years with age appropriate activites and excursions to thrill and entertain them. The fun and educational incursions and excursions will include access to our fabulous, newly refurbished Aquatic Centre for some wet and wild fun. The programme takes place every school holidays and is guaranteed to keep your children happy, safe and busy during the school holidays. Vacation Care in Joondalup has never been this much fun!
Phone | (08) 9300 3355




---

Cannington Leisureplex Vacation Care, Cannington

Something different and exciting provided each week day of the school holidays (excluding public holidays) for 5 to 8 year olds and 9 to 13 year olds. With access to our Kids' Gym, indoor sports courts, splash pad and waterslide, plus excursions and specialist instructors, there's plenty of fun on offer. Child Care Benefit if available, as well as 50% out of pocket expenses rebate to make things more enjoyable for parents too.
Enrolments open 4 weeks prior to the commencement of each program. Visit the website to see what's on offer and download an enrolment form now.
Phone | (08) 6350 7300




---

Vacation Care Morley Sport and Recreation Centre

During the school holidays we provide a fantastic Vacation Care program for children aged 5 - 12 years with excursions, games, sport and art & craft activities to keep everyone happy and entertained. Vacation Care is available during school holidays from 7am to 6pm. CCB and CCR is available.
Phone | (08) 9375 7300




---

Go Bananas Vacation Care, Joondalup

Vacation Care takes place during school holidays from 6.30am to 6pm.
During Vacation Care a variety of active, fun filled activities are provided during incursion days, and on excursion days children get to go out on fun trips to the movies, bowling and local parks, and participate in sports - kids love it!
The Vacation Care Program and Booking Sheet is usually available 4-6 weeks prior to school holidays - call 1300 BANANA or email oshc@gobananas.net.au to obtain!
Phone | (08) 9301 5133




---

Lake Joondalup 3+ Program
10 Neville Drive, Wanneroo 6065
Our programs foster children's academic development in pre-reading, maths, science, art and fine and gross motor skills in an interactive educational environment where children can play, explore and discover the natural world of plants, nature and animals.

The first five years of a child's life are fundamentally important. Early life experiences have a direct impact on how children develop learning skills as well as social and emotional abilities.
As educators we embrace the privilege of witnessing and shaping a child's growth, development, happiness and learning achievement.

We cater to all children in the community promoting inclusion and support for children with additional/special needs and disabilities. We have experience working with young children with a wide variety of needs, from children with food allergies or asthma, to children with high dependancy medical needs. We have a registered nurse on-site at all times.
Phone | (08) 9405 7006




---

Chipmunks Playland and Cafe - Whitfords

Chipmunks Playland and Cafe Whitfords has been voted "Best Play Centre in Western Australia" for children upto11 years young. With engaging adventure styled playgrounds suitable for under and over 5's; Chipmunks Whitfords is an action packed sun-safe venue to enjoy with family and friends.
CCB approved Outside School Hours and Vacation Care is available at Chipmunks Whitfords. Download our brochure and enquire today.
With dedicated facilities, we coordinate school drop off, pick up, homework, after tea or breakfast is also included.. Our team keep your children entertained with a variety of daily activities suitable for children aged from kindy to year 7.
Choose Chipmunks Whitfords for the permanent of casual care of your children.

Outside School Hours Care Timetable
6.45am - 9.00am for Before School Care
2.30pm - 6.00pm for After School Care
6.45am - 6.00pm Vacation Care

Outside School hours Pricing
Full time before school care: $17.00 per day
Casual before school care: $20.00 per day
Full time after school care: $20.00 per day
Casual after school care: $25.00 per day
Full time Vacation care: $75.00 per day
Casual Vacation care: $90.00 per day





---

Whitfords Occasional Childcare

Whitfords Occasional Childcare offers casual or regular childcare by the hour or day for children aged 0 - 6 years. As one of our main strengths is flexibilty, we have children who only spend one hour with us as well as those who spend the whole day, and all are very welcome.
Our aim is to provide a warm, trusting, stimulating and fun environment in which the individual developmental needs of each child can be met.
We are open from 8am - 4.30pm Monday to Friday. The centre is closed on public holidays and for two weeks over the Christmas / New Year period.
Phone | (08) 9307 4977




---

YMCA Family and Children's Services

We provide fun school holiday programs. Our centres go on exciting excursions and provide morning and afternoon snacks. Your children will definitley be asking to attend these programs! We have a number of centres throughout the Perth Metro area as well as in Bunbury.
Phone | (08) 9473 8480
---

Fd

Buggybuddys Top 100 School Holiday Activities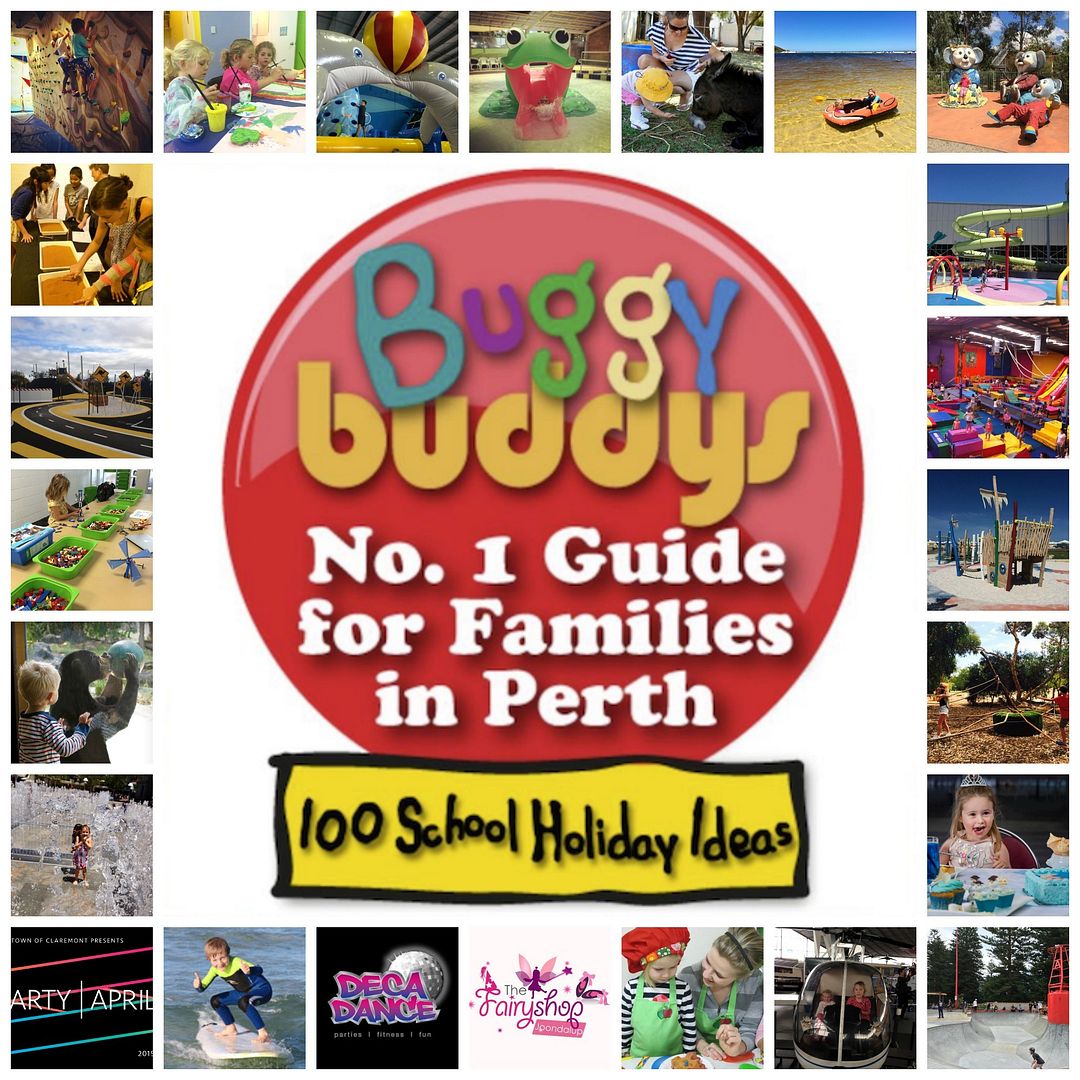 ---

1.
Check out the brand new Atlantis Playcentre. Fabulous fun for kids of all ages!


Location: Clarkson Suitable for kids aged 0 - 12 years.




Cost: $3.50 - $11.95

---

2.
Treat your little Princess to Princess High Tea at the Pagoda Resort & Spa. Special appearances from Elsa, Anna and Kristoff.


Location: South Perth




Cost: $49.95 Adults $29.95 Kids.

---

3.
Learn to sail at the Royal Freshwater Bay Yacht Club.


Location: Peppermint Grove Suitable for: Ages 5 - 17.




Cost: $150 for a 10 hour course

---

4.
Beautiful day? Then grab a blow up dingy and a fishing net and head to Moore River.


Location: Guilderton

---

5.
Get crafty with Hoot & Hootabelle at Karrinyup Shopping Centre from 13th - 17th April. They will also be live on stage at Karrinyup from 6th - 12th April.
Location: Karrinyup Shopping Centre

---

6.
Have fun checking out over 30 planes at the Aviation Heritage Museum of WA. Kids will love getting behind the controls of a helicopter!


Location: Bull Creek Suitable for: all ages.




Cost: $10 Adults, $5 children 4 to 16. Family pass $25 (adults and 4 children)

---

7.
Book in for kids cooking lessons at What's 2 Eat?, a cooking school specialising in healthy eating.
Location: Wanneroo Suitable for: Children aged 3+. Drop and leave available for school aged children.
Cost: $19.50 per 90 minute session.

---

8.
Explore the fascinating world of the cute, spiny, slimy, feathered and furry creatures in our own backyards at the WA Museum


Location: WA Museum, Perth




Cost: Free

---

9.
Skate, ride, scoot or hang at the Esplanade Youth Plaza in Fremantle - a world classe skate park catering for skaters of all abilites. They also run free school holiday activities.


Cost: $19 Adults $13 Children (includes grip socks)

---

10.
Bounce off the walls at BOUNCEinc, Perth's largest trampoline park!
Location: Cannington. Suitable for: Children 3+
Cost: $19 Adults $13 Children (includes grip socks)

---

11.
Create your own Minion out of clay at the Despicable Me 2 Minion Activity Village at Ocean Keys Shopping Centre.


Location: Ocean Keys Shopping Centre

---

12.

Enjoy a visit to

Rio Tinto Naturescape

at Kings Park and have some old-fashioned dirty fun wading through creeks and building dams and cubby houses.




Location: Kings Park. Suitable for: All ages

---

13.
Let your kids get crafty by booking them into one of the school holiday activities taking place at Jack and Jill's Garden. Kids can take part in Frozen craft, Cinderella pampering or make their own lipgloss.
Location: Nedlands. Suitable for: Children aged 5+
Cost: $35 - $40 per session.

---

14.

Pay a visit to

Landsdale Farm School, say hello to the farm animals, wander through the herb garden and play in the covered playground.
Location: Landsdale. Suitable for: All ages.
Cost: $6 per person. Children under 2 are free.

---

15.

Spend the morning at

The Pottery Playroom. Not only can you paint your own pottery but kids will love having fun in the mini jungle gym. Don't forget your socks!
Location: Joondalup. Suitable for: All ages
Prices start from $10

---

16.

Pack a picnic and spend the morning plane and helicopter spotting at Jandakot Airport
Location: Jandakot Suitable for: All ages

---

17.

Book in for the 3 hour

Fairies School holiday Workshop

at The Fairy Shop in Joondalup


Location: Joondalup. Suitable for: Children aged 2 - 6 (Must be toilet trained)
Cost: $40

---

18.
Take your Fireman Sam fan to the FESA Education and Heritage Centre. The museum offers a whole floor of interactive safety exhibits with hands on demonstrations. You can even dress up as a fire fighter!
Location: Perth City Suitable for: All ages
Cost: FREE

---

19.
Enjoy a relaxing breakfast or lunch at the gorgeous Taylor's Art and Coffee House in the Swan Valley. Kids will be entertained for aged in the big sandpit area.


Location: Swan Valley. Suitable for: All ages

---

20.
Check out the brand new Russell Brown Adventure Park with its huge focus on nature play.


Location: Mosman Park

---

21.
If your child is a LEGO fan then make sure you check out the school holiday workshops at The Brick House. They'll enjoy Engineering and Robotics Workshops plus LEGO Minecraft, LEGO Friends or LEGO City Zone.
Location: Willetton Suitable for: Ages 5 - 11
Cost: $30 per child per camp

---

22.
Get back to nature at the Subiaco Theatre Gardens Playspace.


Location: Subiaco. Suitable for: All ages

---

23.

Let the kids climb the walls at

City Summit Rock Climbing Centre

in Malaga. School holiday programs are also available.




Location: Malaga Suitable for: Children aged 5+




Cost: Adults $18, Children over 7 $10 plus $5 harness hire. Children under 7 $12 including harness hire.

---

24.
Treat yourself to a relaxing coffee break by heading to Feast Cafe in Wembley. Little kids will have great fun in their sound proof playroom.


Location: Cambridge Street, Wembley

---

25.
Meet Mr Jim & Drippy the Dragon at Stocklands Riverton. Show takes place daily at 11am & 2pm from Monday 13th - Friday 17th April.


Location: Stocklands Riverton

---

26.
Visit the Buggybuddys Award Winning Ivey Watson Playground in Kings Park and enjoy lunch at Sticky Beaks Cafe.
Location: Kings Park, Perth. Suitable for: Children up to the age of 6

---

27.
Get your skates on and head to Rollerzone!
Location: Malaga
Cost: $10 per session plus $2 skate rental.

---

28.

Take the kids along to the school holiday sessions at

Decdance

in Joondalup. 2 hour disco sessions are $10 per child and include DJ, party games and prizes.


Location: Joondalup. Suitable for: Children aged 5 - 13.
Cost: $10 per child per 2 hour session.

---

29.
Learn to surf with the Big Wave Surf School. 2 and 4 day courses available throughout the school holidays.
Location: Secret Harbour. Suitable for: Children aged 5+
Cost: $89 - $189

---

30.
Check out the new nautical themed Stage Teal Park in Burns Beach.


Location: Burns Beach. Suitable for: All ages

---

31.
Enjoy lunch at the brand new Homestead Brewery in the Swan Valley. You'll find a great fenced and shaded playground to entertain the kids.

---

32.
Visit some of the world's most deadly sea creatures at AQWA.
Location: Hillarys. Suitable for: All ages
Cost: $29 Adults, $17 Children 4 - 15 years, Children under 4 are free.

---

33.
Have fun at Variety Place nature playground at Saw Avenue in Kings Park. Kids will have a great time balancing, swinging, climbing and running through the tunnels.


Location: Kings Park. Suitable for: All ages

---

34.
Visit the residents of the Cohunu Koala Park. Pat a koala, ride the steam train, feed a kangaroo and pose for a picture with the huge dinosaur models.


Location: Henley Brook. Suitable for: All ages




Cost: Adults $15 Children (aged 3 - 15) $7. Under 3's are free.

---

35.

Visit

Pitstop Playground

in Banksia Grove. Don't forget to take along your scooter or bike so you can race around the tracks!




Location: Banksia Grove. Suitable for: Children aged 4+

---

36.
Spend the morning at IKEA and make use of the free one hour creche facilities for children aged 3 - 8 while you relax with a $3.50 coffee and cake.


Location: Osborne Park. Suitable for: Children aged 3 - 8

---

37.
Book your LEGO fan into Bricks4Kidz school holiday workshops.


Location: Baldivis Suitable for: Children aged 5+




Cost: $45/$90 per session.

---

38.
Ride the big green frog slide at Beatty Park Leisure Centre.


Location: Perth. Suitable for: All ages




Cost: $6 Adults, $4.50 children 5 to 15yrs, $4.50 child 3 to 4 yrs. Children under 3 are free.

---

39.

Enjoy lunch at the historic

Parkerville Tavern

. There is a playground plus a huge amount of space in their beer garden for kids to run about on. Plus kids will love the resident emus and chickens.




Location: Parkerville. Suitable for: All ages

---

40.
Enjoy getting down and dirty with nature at John Forrest National Park. Kids will love wading in the brook and eating a picnic in one of the cute cubby picnic shelters.


Location: Hovea Suitable for: All ages




Cost: $12 per car.

---

41.

Visit the residents of Buggybuddys award winning

Perth Zoo. Don't forget to check out the recently opened Orangutan Boardwalk.


Location: South Perth Suitable for: All ages




Cost: Adult $24.50 Children $12.30. Children under 4 free.

---

42.
Have fun on the big green slide at Cannington Leisureplex. They also have a fun outdoor splash pad area for the little ones.


Location: Cannington. Suitable for: All ages




Cost: Adult $5.70. Children $4.20. Under 3's are free. Additional charge for the water slide.




---

43.

Spend the day at

Whiteman Park

. There is so much to see and do from museums to steam trains, water playgrounds to bush trails!




Location: Whiteman Park Suitable for: All ages

---

44.
Get crafty at Krafty Kidz. For kids over 6 you can also drop and leave 2 hours.


Location: Wanneroo. Suitable for: All ages 3+




Cost: $9 per child per session. $20 Drop and leave

---

45.

Check out you

local library

for free or low cost school holiday activities.

---

46.
Spend some time at Adventure World before it closes for the season.
Location: Bibra Lake. Suitable for: all ages
Cost: $54.50 Adults, $44.50 Children 4 - 13 years. Under 4's are free.

---

47.

Take the ferry from Barrack Street to South Perth.




Location: Perth. Suitable for: All ages




Cost: $2.80 Adult $1.10 Child one way. Under 5's free. Available with Transperth FamilyRider.

---

48.

Book a table at

Fired! Ceramic Café

and enjoy painting your own pottery.




Location: Joondalup. Suitable for: All ages




Cost: Prices start from $10

---

49.
Check out the brand new Annie's Landing District Playspace in Ellenbrook. There's something for both big and little kids.


Location: Ellenbrook. Suitable for: All ages

---

50.
Enjoy a Friday night at Gloucester Park Race course. Great family friendly atmosphere.


Location: East Perth Suitable for: all ages.




Cost: $12 Adults, Children: Free

---

51.
Enjoy a delicous treat at The Bindoon Bakehaus. Kids will have so much fun creating their masterpieces out of fresh dough in the play kitchen, leaving you to relax with a coffee and cake in peace.


Location: Bindoon

---

52.
Get wet at Ellenbrook's Rainbow Waters Playground.


Location: Ellenbrook. Suitable for: All ages

---

53.

Visit

Yanchep National Park

for Koala and Kangaroo spotting. Enjoy lunch and indulge in some chocolate at The Chocolate Drops Tea Rooms.




Location: Yanchep Suitable for: All ages




Cost: $12 per car.

---

54.
Hot day? Then head to Kidz Paradise in Carlisle for some indoor fun.


Location: Carlisle Suitable for: All ages




Cost: $9 children aged 1 - 4 $12 children aged 5 - 14.

---

55.
Take a day trip to Donnybrook Apple Fun Park– Australia's largest free

playground around a 2 hour drive south from Perth city.




Location: Donnybrook. Suitable for: All ages

---

56.
Grab some tickets for Giggle and Hoot & Friends. Extra show added on 6th April


Location: Regal Theatre, Subiaco Suitable for: All ages

---

57.

Visit the

WA Maritime Museum

in Fremantle and create your own Morse Code Bead Bracelet or poppy wreath.




Location: Fremantle. Suitable for: Children aged 4+




Cost: $10 Adults $3 Children. Activities range from $2 - $3.

---

58.
Stay ice cool by heading to Xtreme Ice Rink. Experience their Xtreme bumper cars on ice session!


Location: Mirrabooka.




Cost: $16 General Entry. Children under 5 $10. $5 for Bumper Cars on Ice Session.

---

59.

Take some time out to get your kids teeth checked at

Cherrygum Dental

. The most family friendly dentist around! The waiting room is a mecca for kids with free arcade machines and a play area. You can choose to have a check up Batman, Spiderman or the Tooth Fairy!




Location: Applecross. Suitable for: All ages

---

60.

Buy yourself some peace and quiet and the kids a whole load of fun by booking them into Vaction Care at HBF Arena.




Location: Joondalup. Suitable for: Children aged 5 - 15 years.




Cost: $65 per day (CCR and CCB available)

---

61.

Visit the

West Australian Reptile Park

in the Swan Valley. Kids will love getting hands on with snakes, Lizards and Dingos.




Location: Henley Brook. Suitable for: All ages




Cost: Adults $12 Children (aged 3 - 15) $7. Under 3's are free.

---

62.

Visit the

Castledare Miniature Railway

and enjoy lunch afterwards at the nearby

Canning River Cafe

.




Location: Wilson Suitable for: All ages




Cost: Adult $6 Children $3. Children under 2 free.

---

63.
Visit the Fairy Penguins at the gorgeous Penguin Island. Kids will love taking the ferry across to the island..


Location: Rockingham Suitable for: All ages




Cost: Ferry and Discovery Centre Adult $23 Children $18.50. Children under 3 are free.

---

64.

Head to

Woodbridge Riverside Park

. Great park for kids of all ages and abilities.




Location: Guildford Suitable for: All ages

---

65.

Get cuddly with a feathered or furry friend at

The Cuddly Animal Farm

in the Swan Valley.




Location: Henley Brook Suitable for: All ages.




Cost: $13. Children under 2 are free.

---

66.

Enjoy the outdoor splash pad area at Craigie Leisure Centre.




Location: Craigie Suitable for: All ages.




Cost: Adults $5.70 Children $4. Children under 2 are free.

---

67.

Take a tour of

HMAS Submarine Ovens in Fremantle. Children need to be over 5 to partake in the tour.
Location: Fremantle. Suitable for: School aged children over 5
Cost: $10 Adults $3 Children

---

68.
Spend some time at Chipmunks Playland and Cafe in Whitfords, winner of the Buggybuddys Award for 'Best Playcentre in WA'. Will your kids be brave enough to try the big red slide!
Location: Whitfords. Suitable for: All ages
Cost: Children aged 1 - 3 $9.90 Children aged 3 - 11 $12.90

---

69.

Do your kids love dinosaurs? Then head to the

Museum of Natural History

where they will get to meet a few.




Location: Guildford. Suitable for: All ages




Cost: $5 Adults $2 Children.

---

70.
Play Mini-golf! Great fun for the whole family. Check out Buggybuddys Top 10 places across Perth to play.


Location: Across, Perth. Suitable for: Children over the age of 2.

---

71.
Purchase tickets for the Spare Parts Puppet Theatre's latest show - Moominpappa at Sea.


Location: Fremantle. Suitable for: Children aged 5+

---

72.

Head to the award winning

Little Creatures Brewery

in Fremantle and let the kids play in the sandpit. If you visit on a Sunday kids will love being entertained by the fabulous

Balloon Artistry by Aaron Smyth

between 10am - 2pm.




Location: Fremantle. Suitable for: All ages

---

73.

Head to

Heathcote Reserve

, the Pirate Park




Location: Applecross. Suitable for: All ages

---

74.

Take a CAT bus ride around Perth City.




Location: Perth. Suitable for: All ages

---

75.
Visit Abingdon Miniature Village where a mini world awaits you!
Location: Barragup. Suitable for: all ages
Cost: $15 adults $8 children over 3.

---

76.

Pack a picnic and take a day trip to

Lake Leschenaultia

.




Location: Chidlow. Suitable for: All ages

---

77.

Visit

Lollipop's Playland

in Jandakot. Even the parents get to play on all the equipment!


Location: Jandakot. Suitable for: All ages
Cost: Adult $3.50 Child 1-3 years $10.90 Child 4 and over $12.90

---

78.
Head to Whistlers Chocolate Factory in the Swan Valley. Kids will have a ball playing in their huge sandpit while you sip a coffee in peace.


Location: Swan Valley. Suitable for: All ages

---

79.

Pack a picnic and head to

Synergy Parklands

in Kings Park and have fun climbing the dinosaurs.




Location: Perth City. Suitable for: More suited for children aged 3+

---

80.

Pay a visit to

Revolutions Transport Museum

at Whiteman Park where kids can 'Ride the Roo'. Take a ride on the

Bennett Brook Railway

afterwards.




Location: Whiteman Park Suitable for: All ages




Cost: Gold coin entry.

---

81.

Enjoy a picnic at

Bells Rapids

in Brigadoon. Kids will love discovering the tree swings over the other side of the bridge!




Location: Brigadoon Suitable for: All ages

---

82.

Have little people and don't want to join the 'big kid' crowd at the Play Centres? Then head to

Little Champs Playland,

a dedicated playcentre for under 5's.




Location: Bibra Lake Suitable for: Children under 5.




Cost: $7.50 entry per child.

---

83.

Spend the morning at

Faulkner Park. Kids will love the 'erupting' volcano!
Location: Belmont. Suitable for: All ages

---

84.
Head to Fremantle. So much to see and do from museums to markets, playgrounds to family friendly dining.
Location: Fremantle. Suitable for: All ages

---

85.
Enjoy a bite to eat at the Sorrento Beach Shack, Runner-up in the Buggybuddys Awards for Best Family Friendly restaurant. Has a great fenced play area for kids.


Location: Hillarys Harbour. Suitable for: All ages

---

86.

Have fun on the big green 50 metre slide and outdoor splash pad at Cannington Leisureplex.


Location: Cannington. Suitable for: All ages
Cost: $5.40 Adults $3.90 Children aged 3 to 15 years. Under 3's free.

---

87.

Spend the day in

Kings Park,

runner-up in the Buggybuddys Awards for Best Family Day Out

. With a choice of 3 amazing playgrounds, a tree top walk and a tower to climb you can easily spend the whole day there!

---

88.
Cool off at Outback Splash at The Maze Family Fun Park.
Location: Bulls Brook. Suitable for: All ages
Cost: $33 Adults $24 Children aged 4 to 15 years. Under 4's free.

---

90.

Take a day trip to

Rottnest Island

and enjoy the calm waters of one of the 63 seculded beaches.

---

91.
Gorgeous sunny day? Then head to Port Coogee Marina where you'll find a shelter beach and a water splash and a Dome Cafe close by.


Location: Port Coogee Marina. Suitable for: All ages

---

92.

Enjoy a bite to eat at The Mezz by visiting family friendly restaurants

The Peasant's Table,

where Kids get FREE babychinos and an activity pack or Missy Moo's Burger Bar with it's very own kids play area. Have some fun on the

playground

next to the restaurants after lunch.




Location: Mount Hawthorn Suitable for: All ages

---

93.

Take a train ride – kids love train journeys. Don't forget you can purchase a Familyrider which allows unlimited system-wide travel for a group of 2 adults and 5 children aged 5 and over after 9.00am during the school holidays. The ticket costs just $11.60




Location: Across Perth Suitable for: All ages

---

94.

Book the kids into the

Kids Sports Club

at Challenge Stadium. Kids will enjoy a day packed full of fun sporting activities.




Location: Mount Claremont. Suitable for: Children aged 5 - 12 years




Cost: $32 half day $52 full day.

---

95.

Pack a picnic and head to the

Meadow Springs Quarry Adventure Park

.




Location: Mandurah. Suitable for: All ages

---

96.
Don't let the kids climb the walls! Let them jump off them instead by taking them to Flip Out Trampoline Arena. If they can walk then they are old enough to jump.


Location: Malaga Suitable for: Children aged 18+




Cost: $14 per hour session.

---

97.

Go Wild at

Jungle Gym in Willetton. Play gym for kids 5 and under 9.30am – 11.00am. Special school holiday activities for older children in the afternoon.
Location: Willetton. Suitable for: Under 5's
Cost: $6.50 per session

---

98.
Stay cool and have fun in the city by heading to the Water Labyrinth. You will get wet!


Location: Perth. Suitable for: All ages.




---

99.

Head to the fabulous playground at

Yokine Reserve

. A great playground for kids of all ages and abilities. Don't forget a spare change of clothes as kids are not able to resist the water play area.




Location: Yokine. Suitable for: All ages.

---

100.

Book a last minute getaway to

Margaret River

. There are so many fun things to do for both parents and kids. Pay a visit to

Sunflowers Animal Farm

, enjoy a beer at

The Cheeky Monkey Brewery

, let the kids run wild at

Xscape at the Cape

, and indulge in ice-cream at

Simmo's Ice-Creamery

.

---