Where to go when Spring has finally arrived? Araluen Botanical Park of course in Roleystone! The Yates Springtime Tulip Festival is in full swing from August 20th to September 18th and what a spectacular sight to see!
With 120000 Tulips planted throughout the park, you'll be pressed not to be impressed! Everywhere you look there are colour and beauty amongst the absolute exquisite grounds that are clearly well tended and loved. There were interesting sculptures scattered about too that offered great photo opportunities! 
The day we went to Araluen Botanical Park was glorious which of course complimented the Spring showcase, however we have been to Araluen on the dreariest of days in the middle of Winter and it is still absolutely majestic. 
We were a party of six, four "senior" (though very spritely) relatives and two super spritely children. The park is special-needs friendly with lots of nice steady pathways for wheelchairs, prams and people with rickety knees and aching backs. We were representing the latter though my kids enjoyed a few sneaky stair case short cuts to most destinations.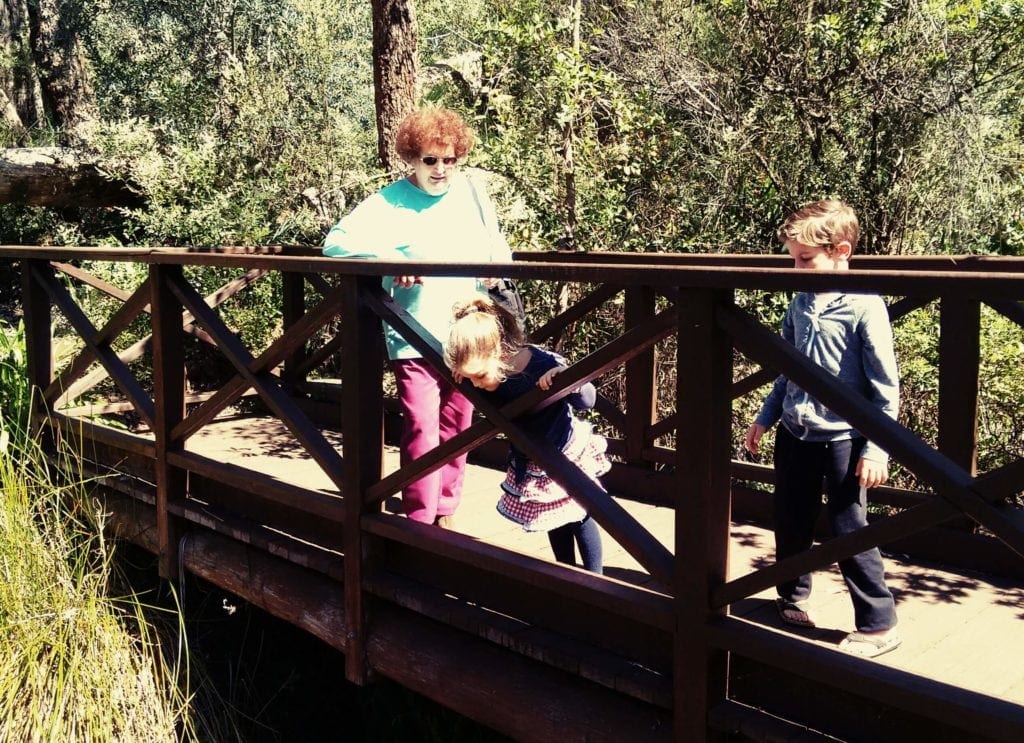 What we couldn't get to by foot we enjoyed seeing on the lovely Araluen Train which was enjoyed by young and old alike! Train tickets can be purchased from the information marquee in the Concourse and cost $5 adults and $2 children. 
There are so many discoveries to be made around every corner and it was really rewarding watching the children's fascination of each flower and plant. Their particular favourite was a tree they affectionately named "the Lorax tree" as it really did look like a Dr. Seuss creation! 
There were plenty of food options with a few marquees set up specifically for the festival and a lot of groups choosing a picnic option or utilising the electric barbecues. We even saw a family set up on a rug near a waterfall with the loveliest spread of sushi! (I had to swiftly re-route the kids as they made a drooling beeline towards them). 
There is also the Chalet Healy tea rooms and kiosk which is open all year round from 10am to 4am. But be warned, this is a very popular eatery of choice, my family and I are yet to dine there as it is always packed. My poor Dad tried to reserve us a table but was politely asked to give it up after about 10 minutes as they were extremely busy and he was copping an eyeballing from hungry patrons! Suffice to say my lovely Queensland cousins were given a stern eyebrow raise for taking too long in the gift shop! Which you can hardly blame them. It is amazing!
The "Roundhouse" building itself is charming and there are tables and chairs scattered around the side under an alfresco where many were sipping on coffee they had purchased from the van parked nearby. There was a large range of beautiful products and gifts for friends (or yourself) for all age ranges and interests. I desperately wanted to go in but I must admit with an energetic and exhaustingly curious three-year-old, I chose to avoid a catastrophe. Though the brief seconds we were inside, the staff were lovely. Actually, the staff we encountered from the front gate to the parking staff and on the grounds were really warm, friendly and very welcoming.
If you can't make it to the wonderful Araluen Botanical Park blooms of Spring, Araluen is open all year round and it really is such a beautiful place to take the kids and relax in such beautiful surroundings. There's a reason it's constantly packed with tourists and ironically many Sandgropers have never been. So take advantage of this hills gem right on our doorstep.
Opening Hours:
Open every day of the year (except Christmas)
The Park's opening hours are seasonal, please see below.
9am to 6pm August – November 30
9am – 8pm December – February 29
9am – 6pm March 1 – May 31
Admission fees apply. See website for up to date details.
For more information visit Araluen Botanical Park www.araluenbotanicpark.com.au

Find more walks and picnic spots