Visualise the award winning Cable Beach Club Resort & Spa in Broome, and your mind may conjure up images of loved-up couples sipping cocktails while watching the fabulous Broome sunset. Not exactly the kind of place you'd visit with the kids in tow right? Well, think again! The Cable Beach Club Resort & Spa is an absolute haven for holidaying in Broome with children.
The swimming pool is large and inviting with it's cascading waterfall, jacuzzi and a separate shallow area for young children which is covered with shade sails. There were plenty of noodles available for the kids to have fun floating in the water.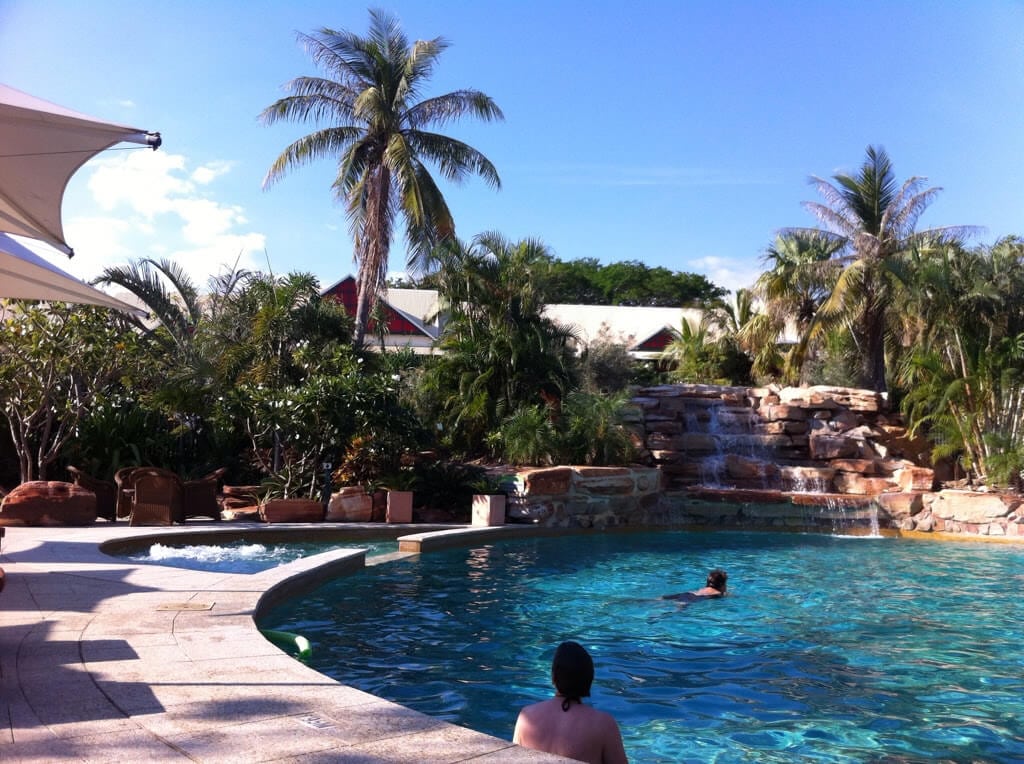 The water playground provides great fun for kids of all ages. There are water cannons, cascading water buckets, fountains and flowers shooting water. You won't hear complaints of being bored here.
Also in the area is a fun little mini golf course.
During our time spent hanging around the pool, I very rarely saw Miss 4. She had a fabulous time scooting from the pool, to the playground to the water playground with her new found friends. Who needs a kids club?
There is a pool side restaurant which serves an array of casual meals and cocktails. Dine in or order from the comfort of your sun-lounger. Bliss! The wait staff around the pool are very attentive and will bring you an iced jug of water within minutes of taking up residence on a sun-lounger.
Kids are well thought of at the Cable Beach Club Resort & Spa, from the colouring book and crayons presented on check in, to the free icy poles handed out around the pool at various intervals throughout the day.
For older children, there is a kids activities centre which includes foosball, table tennis and a plasma TV screen.
There is a range of accommodation options available to families at the Cable Beach Club Resort and Spa. We stayed in a classic Bungalow which was perfect for our family. The bungalow is styled on traditional Pearlers bungalows, a unique part of Broome's heritage.
They feature spacious living areas and a fully equipped kitchen which includes a microwave and dishwasher – let's face it, who wants to wash up on their holiday! There are two separate sleeping areas; a master bedroom with kingsize bed and an additional room which has 2 single beds. A cot can be requested if required for an additional charge. The only downside I found to the bungalows is that there is no outside seating area – we do enjoy sitting outside of an evening with a glass or two of wine once the kids have gone to bed.
Room service is available at the Cable Beach Resort and Spa which is great if you have young children and don't fancy taking them out to eat at one of the resort's restaurants. One night we ordered a pizza from the Sunset Bar and Grill which was delivered quickly and tasted great.
The Cable Beach Club Resort & Spa has three excellent onsite restaurants, The Sunset Bar & Grill, Rambutan, Zensai and the Club Restaurant, all of which offer child friendly menus. We ate at The Sunset Bar & Grill which is casual dining and over looks Cable Beach. The tables outside are great if you are dining with kids as they can run about on the large grassy area which is right in front of the hotel whilst you enjoy sipping a cocktail as the sun sets.
The kids dined on the usual fare of chicken bites, chips and salad. I was impressed with the quality as the chicken appeared to have been crumbed by the chef rather than serving up standard frozen nuggets. Other kids meals on offer are beef meatballs with salad and mashed potato, grilled barramundi with salad and chips and grilled sirloin steak with salad and a baked potato.
If you fancy a more intimate evening, the resort provides a babysitting service.
If you are in need of a spot of pampering you can book yourself into the luxurious Chahoya Spa & Salon where you can enjoy a massage, a facial and much more. The Spa has seven private suites, double Vichy shower room, hair salon and yoga deck. Unfortunately, I didn't get the opportunity to try it out.
So if you are looking for a fabulous get away within WA, I really do recommend the Cable Beach Club Resort & Spa. You'll come away feeling rested and ready to face the challenges of being a parent again!
Find out more www.cablebeachclub.com