Indian cuisine is something I LOVE. Sadly, for the best part of a decade, we've not enjoyed dining at Indian restaurants like we used to – which is down to a certain Little Chef. We had a win recently with our fussy eater. He suddenly decided he liked butter chicken. I could have wept with happiness!
We checked out Beaufort Street newbie, Chakra, which I was so pleased to find is child-friendly. There are high chairs, a kids menu and colouring in for the kids too. While we looked over the menus, Little Chef was kept occupied with some colouring in. He did a good job!
The stylish dining room, adorned with Indian lanterns and plush red and gold, and exotic, aromatic aromas. Chakra is best described as a modern Indian. Whilst the methods of cooking and recipes remain authentic, the modern presentation freshens it up and gives the food a fresh breath of life.
I thought I'd choose an authentic drink to go along with my meal and enjoyed the rich and creamy mango and avocado Lassi, topped with pistachio shavings.
First came the beef cones. These are a fresh take on traditional beef samosas, are filled with meat, sautéed onion and tomato. Chef tells me the carom seed flavoured cone is delicious and Little Chef scoffed the other. I love it when he's feeling adventurous!
I loved the seared scallop dish, served on a bed of roasted capsicum and tomato chutney, with Nigella seeds (DF,GF). The scallops were deliciously plump.
All kids meals are served with juice… and a smile!  And it's good new mums and dads – there's not only curry on the kids menu! Little Chef really enjoyed his butter chicken with steamed rice.
Chicken tenderloins and chips are available for little ones that aren't into curry.
I was impressed with the barramundi in madras curry sauce (GF, DF). The barra was incredibly well cooked – moist and bursting with flavour. On the side was a lemon rice, coconut and puffed fox nuts.
Chef loved the tender pulled beef empiler (GF). Piled high are layers of crisp kachumber salad, rice, pulled beef and topped with crunchy chickpea puffs. This all sits on a bed of pea and cauliflower sauce.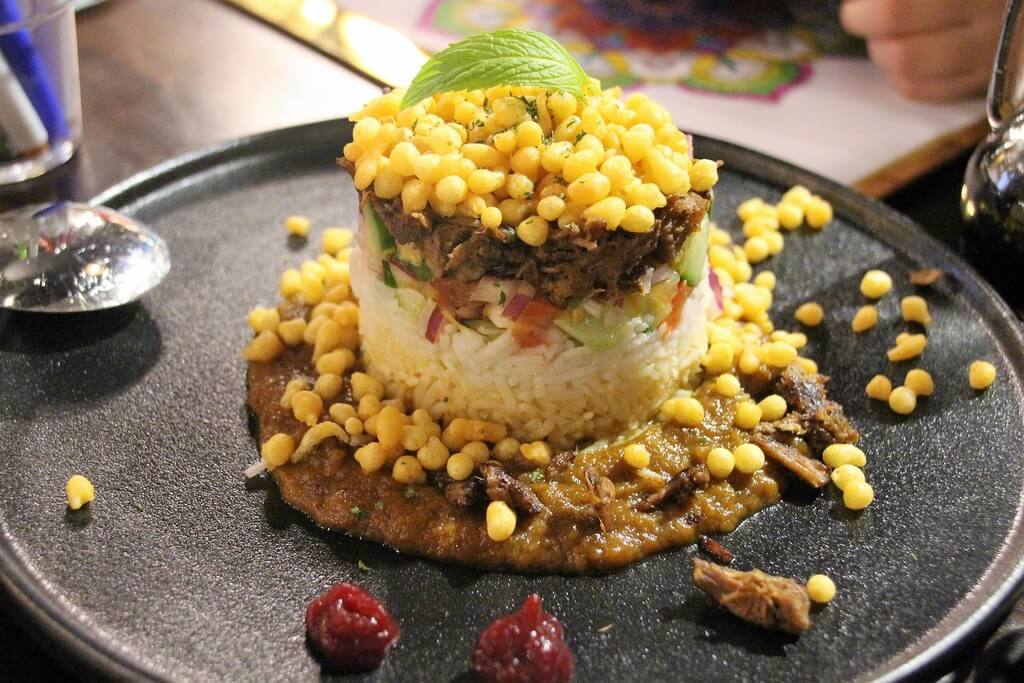 If you're a traditionalist and like your Indian staples, you can order traditional mains like butter chicken, chicken tikka masala, lamb korma and vindaloo too! We also relished cheese and garlic naan bread. I was SO pleased to see that they also have a gluten free naan available, and it tasted almost as good as the real deal. Little Chef was stoked with his dessert – chocolate naan and cream!
The Indian desserts are also a little different to what you may expect. A wheat bubble filled with a fennel ice-cream, cinnamon crumble and lychee jelly was an interesting flavour combo.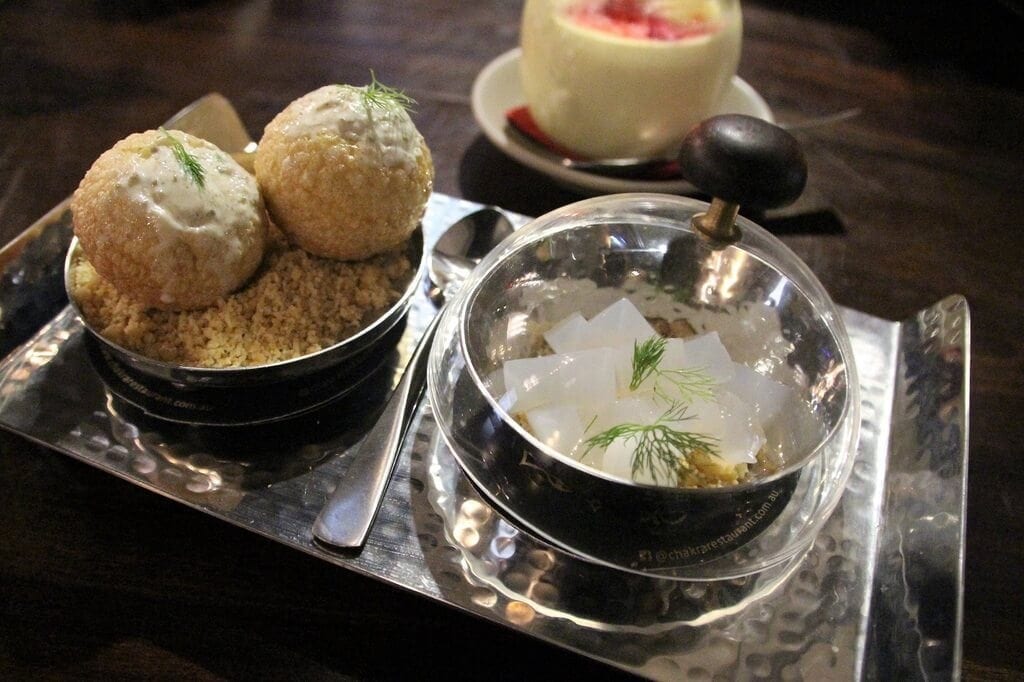 A pineapple halwa, with creamy vanilla bean ice cream, topped with pistachio and almonds was a hit with Chef, though we were really struggling for tummy space at this point!
To finish, we drank an infused herbal tea, which aids digestion. Handy, as we'd just eaten A LOT of food!
Thank you to Sonia, Kumar and the Chakra team, the service was second to none and you made us feel like Maharajas! The food was very well cooked and so flavoursome. I glanced over the prices and they seemed fairly reasonable too. It's so refreshing to find a spot like this that also welcomes children. We thoroughly enjoyed our dinner at Chakra and would happily return as paying guests.
Find more family-friendly restaurants in Perth
Amanda and her family were invited guests of Chakra.