One of my favourite things to do is grab a coffee, breakie or light meal at a Dome Cafe – it's always delicious and with an extensive menu there is something to satisfy you at any time of the day. Some of my favourite Domes North of the River are situated near playgrounds and provide a great opportunity to entertain the kids before or after – or if you grab a takeaway, you can combine it with your Dome experience. Here are three Dômes that I frequent often:
1.   Hillarys Boat Harbour, Sorrento Quays
The Dôme at the Boat Harbour is part of the assortment of eateries that have lovely views over the harbour waters towards the kid-friendly beach. The beach boasts a great sand based playground that is shaded in summer. It has a climbing structure with two slides, tunnel, bridge, and a separate bouncy boat and two rockers.
2.   Mullaloo Beachfront
This lovely Dôme has views of the sea across the road and rolling green lawns of Tom Simpson Park. The park offers two playgrounds for the kids – one has an enjoyable climbing structure to climb and slide down, as well as two swings nearby; the other one is sand based and has two wooden pirate ships as well as a large round base swing. Grab a takeaway drink and you can relax in one of the shaded picnic shelters near the playgrounds or on the grass. Tip: use the Dôme toilets while you there, as the park has a toilet block which is not as nice to use. 
3.   Mindarie Marina
This Dome has its own outside playground attached to it at the rear of the cafe.  You will need to sit close to the windows or at the outside tables near the playground to watch your kids. Sadly you miss out on the water views of the Marina, but it's worth it if you need to keep the kids occupied. The play structure is fenced in and gated.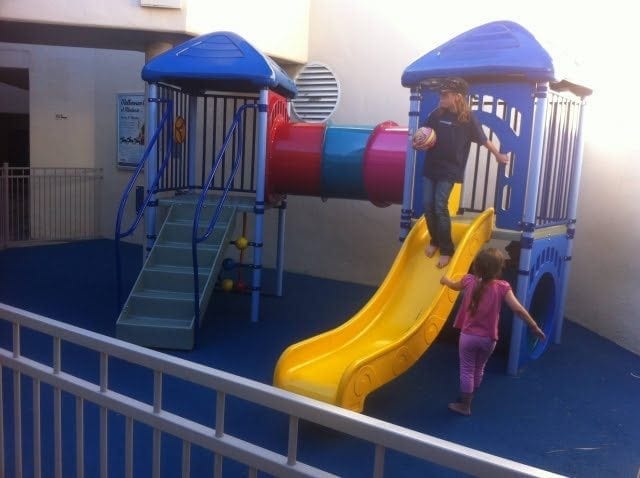 The vast Dôme drinks range includes great traditional coffees – hot or cold; teas; smoothies (Berry Bliss, Banana Burst, Mango Fandango); Espreskis (chocolate iced coffees blended with chunks of yummy choc pieces); traditional milkshakes and fresh juices.
For kids there are special coffee-free Espreskis – choose between Squashed Frog and Fluffy Koala. If you order a milkshake (choc, banana, mint, strawberry or vanilla) ask for a plastic takeaway cup, even if you are sitting at a table, to avoid spill disasters. The babychinos are served with two marshmallows, and are a real bargain at only $1 each!
The kids food menu is well thought out and includes: Fish & Chips; Chicken & Cheese Melt; Chicken Tenders & chips; Ham & Pineapple Pizza and Spag Bol. There is also a kid size Bacon & Egg Breakie and a delicious pancake stack.
For the adults there are endless salads; soups; sandwiches; full and light breakfast choices – including vegetarian and pancake options; snack plates, pastas and even pizzas! It would take a lifetime to sample it all.
For a sweet treat there is a great range of muffins, cake, slices and fun biscuits (e.g. speckles) on display at the counter.
The huge menu is illustrated with photos of every item, leaving nothing to the imagination! But it is well organised and easy to navigate with special tabs on the side to locate categories.
Service is pay at the counter, take a number and wait at your table for drinks and food. If it's a busy day the wait can be a while, which is the only downside. However all Dômes have a clever kids menu that doubles as a colouring-in page with extra activities such as mazes and quizzes written in-between the food on offer. This menu changes frequently, so we always seem to have a new picture to keep our 5-year-old busy (and you can take it home with you). They also provide the colour pencils, which are free with any order of a kids meal. You can borrow these anyway from the condiment kiosk that also houses paper cups and a free supply of water.
I am hoping to discover other kid friendly Dômes to visit around Perth, but I somehow always end up at the same ones.
For a café locator visit the Dôme website.