At the causeway end of Albany Hwy we found Hampton & Maley, a friendly and spacious cafe. We tried it out one Sunday morning for breakfast before a walk along the river. Parking is available at the front of the cafe which is free on weekends. Weekdays there is two-hour free parking under the building.
As we entered we were greeted and asked to choose a table. There is some outside seating, a couple of bar stool options at the window as well as the standard tables and chairs. The waitress followed with menus and water for the table.
We quickly ordered coffee and checked out the menu. There is are some menu choices "for the little kids". These are priced at $5 and included egg and soldiers, fruit salad & yoghurt or cheese on toast for breakfast. I chose the mushrooms on toast with soft eggs and my husband had avocado with a soft egg.
While we waited for the meals our meals our daughter occupied herself with colouring and playing with the toys in the basket. The meals didn't take long to come out and when they did we all enjoyed them.
As we paid at the counter I noticed the delicious looking cakes, pastries, bliss balls and sausages rolls on offer in the counter display.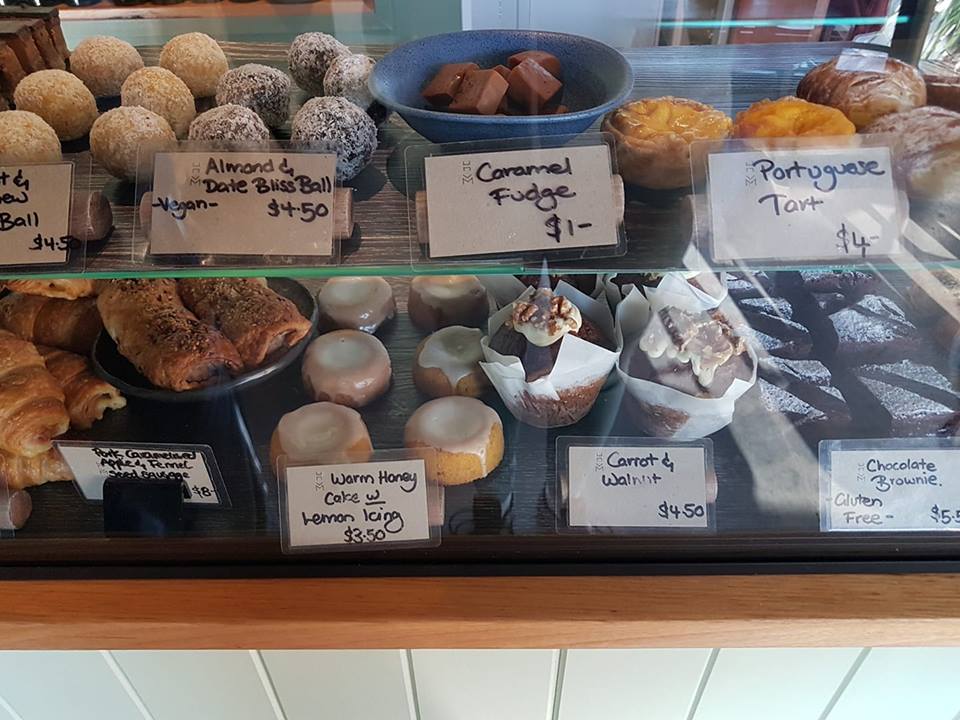 The restaurant is kid friendly, they have plastic cups, plates and cutlery for the little ones. There were plenty of high chairs available at the entrance and there was a change table in the toilets. There is a small selection of toys and they must have colouring available as even though we took our own I was struggling to find the pencils in my bag and the waitress quickly came over with a little cup full for our daughter to use. There is plenty of space in the cafe for you to have a pram. There is also a dog water bowl at the outside tables if you wanted to take your dog with you too.
We found Hampton & Maley to be a friendly casual cafe with lots to offer. As well as breakfast they do lunch and a Friday after work "Bevies & Bites" menu. Hampton & Maley are licensed so along with tea, coffee and smoothies they also have beers, wine, spirits and cider on offer. They are open 7 days, check out their website, Facebook or Instagram for details.
Hampton & Maley
59 Albany Hwy, Victoria Park, opposite the Victoria Park bus station.