Leaky Tap Mosman Park – Situated in the leafy suburb of Mosman Park is a quirky little cafe called The Leaky Tap. Owned by Olivia Vivian, an Australian Olympic gymnast, she created this cafe in memory of her father, well-known local plumber Craig Vivian, and in tribute to the factories and business the area was built on. So, as such, everything about the cafe has a distinct plumbing theme.
The clear plastic seats inside have mock toilet bowls underneath, with things kids would typically toss down the loo. These really spun out the kids! They couldn't work out how to get the toys and keys out. The knives and forks and table numbers are in PVC pipe holders, and painted toilet seats are mounted on the wall.
There's a neat kids corner with crayons and pencils for drawing, some toy tools, and even a pink toy toilet that flushes. Yes, even that has a plumbing theme! Miss almost 3 and her friend enjoyed playing there while we waited for our orders.
When you read the menu, everything sounds like a plumbing issue or a plumbing tool. There's the Nuts and Bolts (Fruit Toast), The Kitchen Sink (Big breakfast), and Rusty Screws (Zucchini, tomato and haloumi fritters) for example. There are children's options available. The Fluffy Flood, which is a serve of pancakes with a toilet bowl of maple syrup is just $7, and can be served with either blueberries or chocolate chips for just $3 extra. I tried the adult sized serve for breakfast, and it was delicious!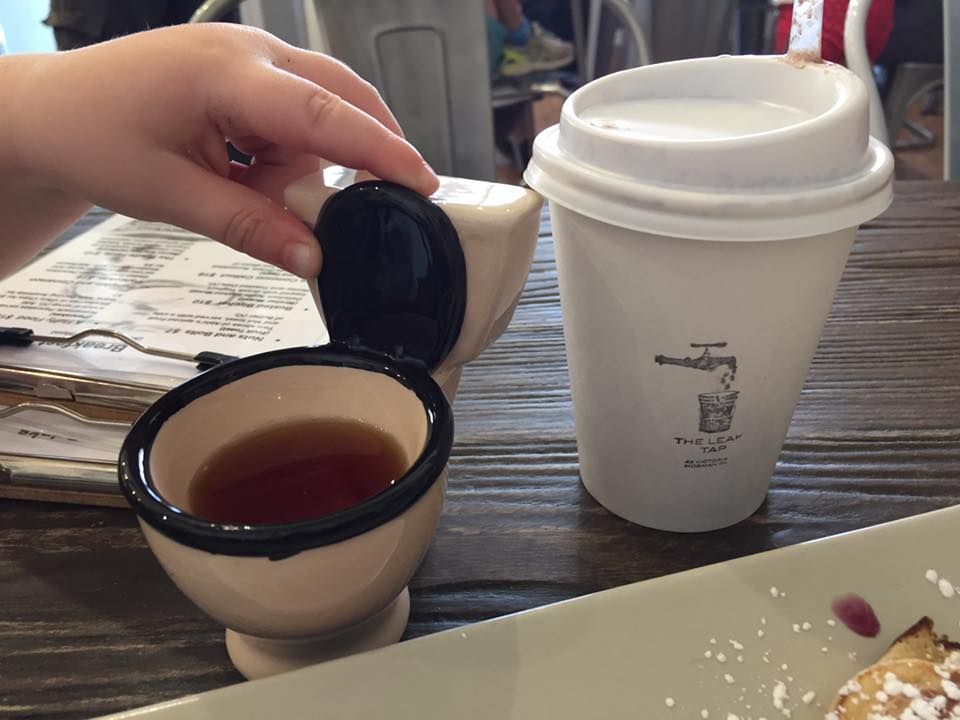 My friend and her boys grabbed a serve of hot chips, which came out with a dipping dish of tomato sauce. The boys had hot chocolates, and we mums had coffee. All lovely!
Besides the menu options, there is a selection of fresh food available in the glass case and in the counter by the register. Choose from raw balls, rolls, slices, and salads. Gluten-free and vegan options are available both her and on the menu.
In addition to offering great coffee, The Leaky Tap does a range of fresh juices in flavours such as Green Gutters, Light Leak and Cheeky Clean. They also cater for your furry friends with Puppacinos and Pupcicles. So there is something for everyone in the family to enjoy!
Built in what appears to be an old shop front, the cafe has indoor and outdoor seating available. If you need a high chair, just ask one of the staff behind the counter and they'll grab one for you. The inside of the cafe is on the smaller side, and won't accommodate more than a couple of prams among the seating. However the ladies behind the counter don't mind if you need to rearrange the tables and chairs. My friends eldest son took it upon himself to line up the free chairs in front of the counter this morning and they were very good about it.
Leaky Tap Mosman Park is located at 43 Victoria Avenue, Mosman Park, on the corner of Eastbourne Street.
The Leaky Tap is open 7 days a week, Monday to Friday from 7am to 4pm, and Saturday and Sunday from 8am to 2pm.
www.theleakytap.com.au