Nestled in the picturesque Perth Hills is a family friendly café called Masonmill. Locals will know it as "The Rose Farm", but this year it has undergone a dramatic facelift! It is now a modern café which also has a fantastic outdoor playground and shaded outside dining area. 
Masonmill is found in Carmel about 30 minutes drive east of Perth CBD. There's a choice of indoor or outdoor dining and it is relatively easy to navigate with a pram. There's plenty of high chairs too. If you sit outside on the terrace, you'll have a wonderful view over the garden and surrounding bushland.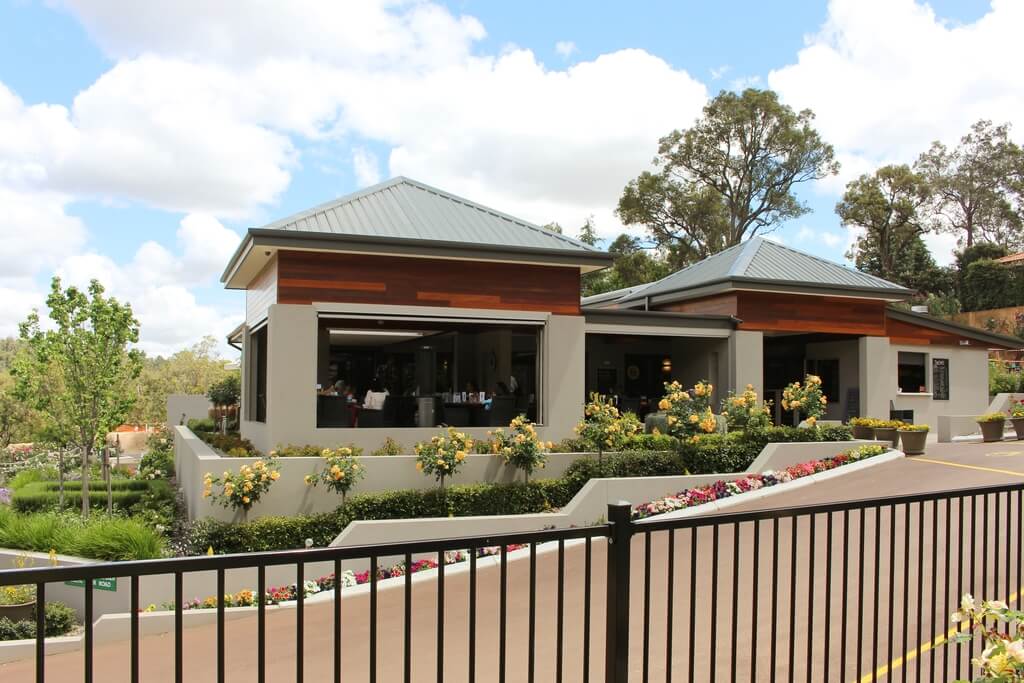 The food is a casual home cooked style. For the adults, the menu is full of options like burgers, fish and chips, salads, sandwiches and so much more. We had a burger and a vegetable stack, both reasonably priced at $21.50. The coffee is good and the café is also fully licenced. 
On the children's menu, each item is $10 and also includes a pop top drink and a lollipop. 
Fish goujons & wedges 
Chicken goujons & wedges 
Spag bol
Kids toastie with fries, 
Chicken wrap with chips or salad 
Kids mini burger served on an English muffin with fries
The brand new playground is fully fenced and there is a large pergola with tables for parents to enjoy a coffee. The pergola is also available for kid's birthday parties.
The playground features a beautiful cubby house, which has Ikea table and chairs inside for the kids to play house with. It is mainly a nature based play area, with wood chipped flooring. There are a lot of stepping stones and a wobbly log to balance on, as well as a slide and a lawned area to run about on too. It is fun and challenging for kids of all ages – though you will want to supervise toddlers. 
There are also extensive gardens and a pretty koi pond. Fish food is available to buy at the café. The kids will love watching the fish, but make sure you hold the little one's hands tight! 
Masonmill is open for breakfast, lunch, dinner and coffee n cake. With plenty of large tables, it's perfect for group catch up. 
You can also play a round of mini golf at their new mini golf course.
Masonmill is located at 40 Masonmill Road, Carmel.  For more information visit masonmillgardens.com.au