With all the colours, sounds and smells of an Asian hawker market plus the buzz, hype and vibe of a huge outdoor festival. The Night Noodle Markets is back complete with 20 food stalls, a selection of bars and nightly music, this year is set to another market not to miss.
We took advantage one cool evening to venture on down and see what all the hype was about, and also to sample that much talked about watermelon cake hailing all the way from Sydney. We decided to park the car at south perth and take the ferry across, which stops right smack bang at Elizabeth Quay itself. After you disembark, just look for the cloud of food-smoke and there you'll find the Perth Night Noodle Market. Check out my top tips (end of the post) to help you plan your visit.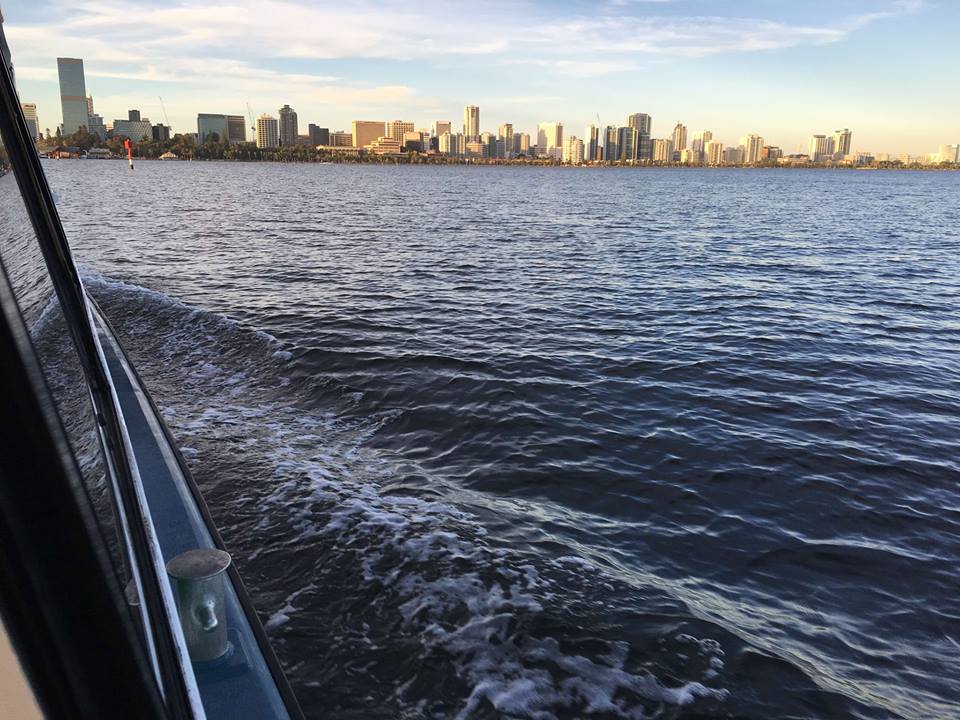 Ferrying into Elizabeth Quay
Elizabeth Quay
With a whole selection of all sorts of cuisine from both local, inter-state and international food being represented, we were indeed spoilt for choice! From Bao Stop, Hoy Pinoy, N2 extreme gelato to Black Star pastry, there sure is something for everyone. New for this year is Eastern state favourite Gelato Messina.
Check out the amazing list of 
menu
 here.
The event is fully licenced and NO BYO alcohol is permitted. Bags are check upon entry. Once we entered, we could smell meat being char-grilled and oh boy it smelt amazing! With mouths watering, we queued up at Hoy Pinoy and got ourselves some chicken skewers. Although the queue seemed extremely long, it was fast moving. Rows and rows of skewers char-grilling constantly ensuring that everyone is well-fed.
Charcoal flames arising from Hoy Pinoy
Next, seeing the line for N2 extreme gelato and Black Star pastry was rather short, I seized the opportunity to grab the watermelon cake. I ain't leaving till i try it and it did not disappoint. We also grabbed the creme brulee and cake smash gelato from N2 extreme gelato. Lip smackingly good.
Black Star Watermelon cake
Next stop Bao Stop. Couldn't decide on the trifecta (trio of traditional taiwanese buns stuffed with pork belly, peking duck and fried chicken) or the peking duck fries. Ah well, we grabbed them all. So so good.
Armed with all our goodies, we then proceeded outside and sat on the benches (or grass) to fully savour our meal. It was such a amazing experience. Last year seating was very limited but this year the footprint of the event is bigger with lots more seating added.
As the sun was setting, we got treated to some lion dance as well. Just like Chinese New Year!
The Night Noodle Market is on from the 22nd March until 2nd April
Top Tips:
Park at south perth and catch the ferry (2 sections). You might be able to spot some dolphins.
This year all the stalls take EFTPOS
Bring a mat so you can sit outside on the grass as tables inside the market itself gets pretty packed.
Don't get put off by the long queues. They do move pretty quickly,
If you can, grab the watermelon cake in a take away box first whilst everyone is lining up for mains. That way you can enjoy it after your dinner without the need to re-queue again.
Pack your own water, especially for the kids. I've noticed not many stalls sell water.
No BYO.
Pack a jacket or cardigan as it cools down quite early.
Head down early, enjoy yourself and soak in the atmosphere
Perth Night Noodle Market
Elizabeth Quay
Free Entry
Mon-Wed: 5-9pm
Thurs-Fri: 5-10pm
Sat: 4pm-10pm
Sun: 4pm-9pm
Find out more by visiting www.goodfoodmonth.com