High Tea in Perth – for me there is nothing more decadent than sitting down to high tea.  And if I'm paying good money for a bottomless cup of tea (!) and a few sweet and savoury treats I want to make sure I choose a good one.
Here are my best picks for High Tea in Perth:
Note that this list by no means exhaustive, but I wanted to cap it at 10. Who knows maybe I'll write another piece on the next top 10, a great excuse to book in some more high tea afternoons with my girlfriends!
1. Rochelle Adonis – high tea in Perth
In my opinion the very best high tea in Perth! The food, the decor, the service – it has all been outstanding every time I have been!
They have communal dining so be prepared to share a table with others unless you are booking out the whole table. And it's a lovely table at that – marble, set with absolutely gorgeous vintage china and they always have beautiful roses as a centrepiece. 
They serve one savoury and one sweet course, sorbet to cleanse the palette and a plate of cucumber sandwiches on the table. Do not overlook the cucumber sandwiches – they are delicious! The menu changes regularly based on seasonal produce so you never know exactly what you are going to get. And I believe they can cater to most dietary requirements with notice.
I like tea but I prefer coffee so I always start with a French press coffee (they serve Remedy) and then I like a sweeter tea to have with my sweet options (they serve loose-leaf teas by Love Tea).
Bookings are essential (in fact they often book out weeks in advance so plan ahead). Tuesday to Friday they have sittings at 12pm and 2pm and Saturday and Sunday they have sittings at 10am, 12pm, 2pm and 4pm. They encourage you to vacate your table within 1 hour 45 minutes so they can set up for the next group. High tea for adults and children alike. They have previously told me that there is no room for prams. BYO bubbles, corkage per bottle.
They usually offer to wrap up any leftovers for you to take home and there is a selection of sweets you can purchase to take away.
2 St Albans Avenue, Highgate
www.rochelleadonis.com
Read the Buggybuddys Review
2. The George
A great venue for high tea in Perth is in the middle of the CBD, high tea is served at the back of the bar, perfect for an intimate gathering.
They are currently promoting apple cider scones with raspberry, chilli and balsamic jam and cream as well as all the regulars – petit open sandwiches, tartlets, sweet and savoury treats and French macarons.
Bookings can be made between 1pm – 5pm on weekends, the last sitting is at 3pm. $45 for a traditional high tea, $50 with a glass of sparkling or $60 with Champagne.  The last time I went was for their Christmas special in December and I got a lovely glass of Mumm. A children's high tea is available for those under 10 for a reduced version of the high tea.  There is usually space for a pram but they don't have high chairs.
215 St Georges Terrace, Perth
www.thegeorgeperth.com.au
4. Peninsula Tea Gardens
If you're looking for something a little bit different, the Peninsula Tea Gardens may be what you're looking for as they are located right on the Swan River at the site of the historic Tranby House.
They call their high tea in Perth a 'Parisian Afternoon Tea' which includes tea sandwiches (cucumber and cream cheese, roast beef and horseradish, smoked salmon and salmon mousse, leg ham and Dijon mustard), cream scones and an assortment of French-style cakes and petit fours.
Weekend sitting times are 10am – 12pm, 12.30pm – 2.30pm and 3pm – 5pm. $33 midweek (call for booking times) and $38 on weekends.
2A Johnson Road, Maylands
www.peninsulateagardens.com
5. C Restaurant
With 360 degree views of our beautiful city, you can't really go wrong at C Restaurant in the sky for high tea in Perth
Delicate finger sandwiches, petit fours and freshly baked scones with your choice of leaf tea or coffee.
They serve high tea seven days a week, bookings are available between 2pm – 4pm Sunday to Friday (you can have the table till 5pm) and between 1.30pm – 2.30pm on Saturdays (you can have the table till 4pm). Children 12 years and younger can have high tea.
Hot tip – don't leave your handbag on the ledge! There's a reason why C is known as the revolving restaurant.
Level 33, 44 St Georges Terrace Perth
www.crestaurant.com.au
Read the Buggybuddys Review 
6. The Terrace Hotel
On the corner of St George's Terrace and Mount Street in the 'West End' of Perth's CBD is The Terrace Hotel, located in the heritage listed St George's House built in 1892.
The menu is always changing (finger sandwiches, scones and sweets) and their teas are from Harney & Sons.
The dining room is reserved for high tea every Saturday from 1pm – 4pm.
Note – the polished floorboards are very slippery in heels, I had a close call last time I was in there.
237 St Georges Terrace, Perth
www.terracehotelperth.com.au
7. Koko Black
Not your traditional high tea in Perth but a fabulous indulgence for all the chocoholics out there! Their high tea is called 'Queen of Hearts' and unlike most high teas in Perth, this one doesn't need to be booked as it is always available.
I love that you can watch chocolate truffles getting made and they occasionally serve samples throughout the restaurant.
Claremont Quarter, 23 St Quentin Avenue, Claremont
140 William Street, Perth
www.kokoblack.com
Read the Buggybuddys review
8. The Duxton
One of Perth's five-star hotels, the Duxton offers high tea in Perth daily with a good selection of sweet and savoury served on tiered stands and a choice of the finest exotic loose leaf teas.

Available from 12pm – 4pm, high tea at the Duxton in the Firewater Grille. Extra will get you a glass of sparkling Chandon.
1 St Georges Terrace, Perth
www.perth.duxtonhotels.com
TARTS ever popular High Teas in Perth are served with gourmet savoury and sweet treats. They offer High Teas on Saturdays and Sundays, with a glass of champagne. Also on offer are Gluten Free and Vegan options plus they have a separate High Tea menu for children.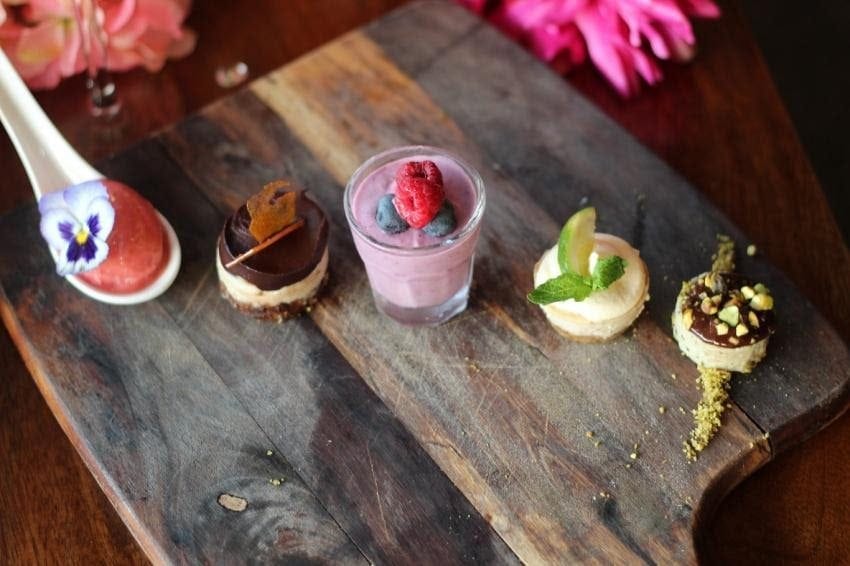 Bookings available Saturday and Sunday after 2pm.
Tarts Cafe
212 Lake Street, Northbridge
10. Café Elixir
Café Elixir offers a 'tea party' option when booking for 2 – 12 people. They set the scene with fine bone china tea cups and saucers, sugar bowls, napkins and a vase of flowers; the Elixir Tea Party has a real vintage feel. You receive two pots of tea (or two regular sized cups of coffee or hot chocolate) and an assortment of miniature sweets and savouries.
Bookings are available 7 days a week after 2.30pm.
3 Rocca Way Wanneroo Western Australia 6065
www.elixircafe.com.au
So here's to everyone enjoying a high tea soon! My hot tip – always book in advance and if you want to go on a public holiday, check if there's a surcharge.
Find more family friendly restaurants in Perth